10 Lithuanian Wedding Traditions You Can Add to Your Special Day
Honor your culture by embracing these Lithuanian wedding traditions.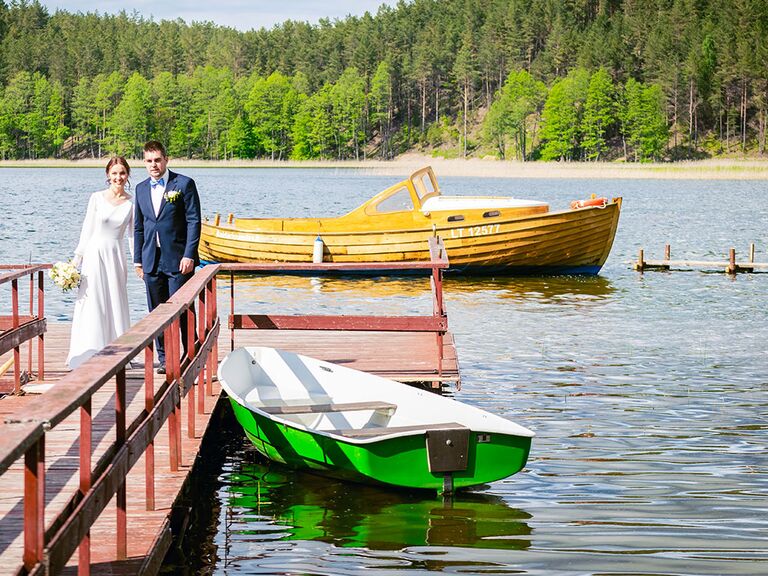 Shutterstock
Like in many countries, marriage is a sacred part of Lithuanian culture, with many time-honored customs and rituals that are still practiced today. In fact, many of these Lithuanian wedding traditions are similar to those commonly seen in the United States today, like bachelorette parties and a unique twist on the bouquet toss.
Whether you're planning to attend a Lithuanian wedding or are just curious about the beloved historic wedding traditions of the Baltic region, keep reading below to learn everything there is to know about Lithuanian weddings.
A Brief History of Lithuanian Wedding Traditions
The Baltic States, made up of Lithuania, Estonia and Latvia have very rich wedding customs and historic traditions. Traditionally, marriage was divided into three central parts. The first stage of the wedding process was to work with a town matchmaker who would put the couple together and arrange the dowry. Then, there was the wedding ceremony itself, which included several very specific customs, and finally, there was the atgriztai, or "coming back," during which the newlyweds returned to the bride's family home as guests. While much has changed since then, there are still fun and festive Lithuanian wedding traditions like hen parties, the veil gifting, and festive dances that are incorporated to this day in modern Lithuanian weddings.
Lithuanian Prewedding Traditions
Even before the big day arrives, the lead-up to traditional Lithuanian weddings is packed with meaning. Read on for the full scoop.
Arriving at the Groom's Household
Early in the morning on the day of the wedding ceremony, the bride symbolically leaves her family home and travels to the house of her soon-to-be husband. Upon entering, the bride places a red towel on the hearth next to the stove to gain the good graces of the house's spirits. She will then present the groom's parents with gifts of towels and sashes.
Hen Parties
Hen parties, also known as bachelorette parties, are when friends of the bride and women of great importance gather to celebrate the bride's special day. Each attendee brings their own baked wedding cake to enjoy while they sing songs, tell matchmaking stories, and give the bride-to-be marriage advice. Also at this time, the women put together the wreath of rue that the bride will wear to the ceremony.
Lithuanian Wedding Attire
Wondering what to wear to a traditional wedding in Lithuania? We're taking a look at everything you need to know about Lithuanian wedding fashion.
Bride and Groom Attire
Traditional Lithuanian wedding ceremonies often take place in a church, with brides wearing a classic white wedding dress. When entering the ceremony, brides wear a wreath made up of rue flowers, the national flower of Lithuania, which is soon replaced with a veil or headdress. Grooms sport the classic black suit or tuxedo, which is sometimes worn with a top hat but is not mandatory.
Lithuanian Wedding Ceremony Traditions
There are two notable ceremony rituals you can expect at a Lithuanian wedding. Here's what you need to know.
Wedding Ceremony Canopies
Traditionally, during a Lithuanian wedding ceremony, couples are actually seated while the bridesmaids and groomsmen hold a red or white canopy over their heads. Modern couples tend to use arches or structures with these colors incorporated to give their arms a break!
The Wreath of Rue
Once the bride walks down the aisle, Lithuanian wedding ceremonies often begin with the matron of honor or married woman removing the bride's wreath of rue and replacing it with a headdress. This is to symbolize the bride's transition from young girlhood into a mature woman.
Lithuanian Wedding Reception Traditions
At a traditional Lithuanian wedding reception there is generally lots of dancing and even a unique game that takes place.
The Bride's Dance
After the couple has their first dance, the best man, groomsmen and single men are invited to dance with the bride as a Lithuanian wedding custom, but there is a catch! In exchange for a dance, men are asked to give money to the couple that typically goes towards their new life together and honeymoon.
Groom Prediction and Veil Gifting
After the clock strikes midnight on the couple's wedding day, a bride no longer needs her veil. She will usually give it to a bridesmaid, sister or a young woman who will be married soon. After this, the groom is surrounded by all the subtle men. He is spun around a few times by his best man and then places his top hat on the next man to be wed.
Lithuanian Traditional Wedding Food, Drinks & Dessert
Wondering what's on the menu at a traditional Lithuanian wedding? Get ready to enjoy a tasty, and unique, wedding cake.
Bread and Salt Tradition
Upon entering the wedding reception, the newlyweds would drink wine and eat bread and salt, each symbolizing the three life elements they would now have together: joy, tears and work. Immediately after, couples are showered with grain and water while being wrapped in furs to symbolize bountiful harvests and a successful life together.
Lithuanian Wedding Cake
Known as raguolis or šakotis, the traditional dessert served at a Lithuanian wedding is a cake made of butter, eggs, flour, sugar, and cream, cooked on a rotating spit in an oven or over an open fire. As the cake rotates and cooks, more batter is added slowly. Because of the rotational cooking style, the cake has distinctive spikes that form during cooking.
Lithuanian Postwedding Traditions
The traditions keep coming, even after the big day comes to a close. Here are the rituals you can expect after a Lithuanian wedding.
The Atgriztai
The atgriztai or "coming back," is a bittersweet tradition where the couple returns to her parents' home after the honeymoon. Except now she is welcomed in as a guest rather than an immediate family member, symbolizing her transition from her family's home to her own.
Childbearing Ritual
According to Lithuanian culture, the day after a couple's wedding and prior to their honeymoon departure, a young child is placed in the bride's lap. According to Lithuanian culture, this was meant to promote fertility and encourage the newlyweds to start trying for a family of their own.