A Los Angeles Bachelor Party City Guide to Plan Your Weekend
The City of Angels offers plenty of chances to live it up at your bachelor party.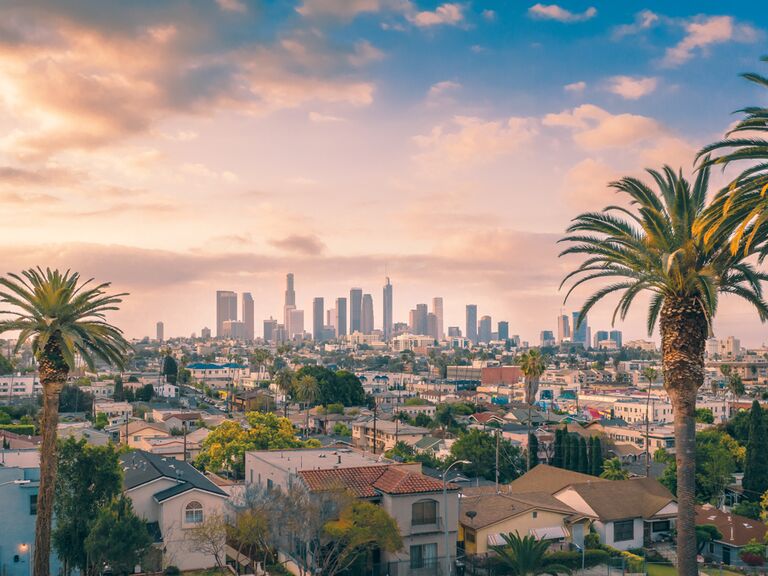 Marek Masik / Shutterstock
We have included third party products to help you navigate and enjoy life's biggest moments. Purchases made through links on this page may earn us a commission.
You may only think of LA as the land of Hollywood stars, but think again. This urban oasis offers plenty for a Los Angeles bachelor party, including hiking, beautiful beaches, a great nightlife, and plenty of good eats and drinks.
What Are Some Los Angeles Bachelor Party Ideas?
You might find yourselves overwhelmed by the options in LA, but don't be! You can easily narrow down your bachelor party to focus on your groom: Whether he likes the sand (think Santa Monica Pier and the Venice Boardwalk), a good beer (plenty of breweries on offer), or a night on the town that ranges from swank nightclubs to hole-in-the-wall dives. (Whatever you decide to do, don't forget to thank the crew for coming with gifts from The Knot Shop).
For the Beach Dwellers

Make time to hit the sand on the beaches of Santa Monica, where you can play volleyball, surf, or opt for a game of spike ball. You can also hit the rides on the beach's pier, or have some fascinating people watching at the eccentric Venice Boardwalk right nearby.
For the Partiers

It's no secret that LA has a prime nightlife scene, you just have to choose the flavor of the evening: posh speakeasy, DJ-pumping nightclub, or laid back coastal vibes. Whatever you're looking for, this city has it to offer.
For the Beer Lovers
There are a range of craft breweries throughout LA, including Santa Monica Brew Works, Mumford Brewing, and Boomtown Brewery. Consider hitting them all on a tasting tour.
What Do You Do at a Bachelor Party in Los Angeles?
Take our advice and follow this three-day Los Angeles bachelor party itinerary to make the most of your visit.

Day 1

Morning/Afternoon: Check in to your hotel or house for the weekend, then start your day with an easy brunch of breakfast sandwiches from Eggslut. Head to the Venice Beach location, so that you can make your way to rent electric bikes from Boneshaker when you're done eating. After brunch, take your bikes for a spin along the Venice Boardwalk, where you can check out the tricks at the skatepark, give yourselves a challenge at Muscle Beach, or stop along the way for a beer at the eccentric shops and bars that line the boardwalk. Follow the boardwalk right to Santa Monica beach where you can hang out on the sand, play some volleyball, or brave the cold waves. If you've worked up an appetite, stop in at Big Dean's right of the pier for good beers, bar bites, and whatever big game is playing that day.
Evening: Make your way to The Bungalow, a retro, surf-inspired spot right off Santa Monica beach that offers drinks around outdoor fire pits. Then it's off to get cleaned up for dinner and your first night out. Once you're ready, head to EP & LP for an Asian-fusion meal (don't skip the Dan-Dan noodles), and your events for the night. The restaurant's rooftop offers a fantastic view with drinks.
Day 2
Morning: Cafe Teragram is the place to be for brunch today, with its all-day brunch menu featuring items like the egg-in-a-hole breakfast burger and huevos benedictos. The rustic industrial eatery, set in a former ballroom, has a music stage that often has live performances throughout the day.
Afternoon: Today is all about the beer. Hop on the South Bay tour offered by LA Beer Hop to check out some of the city's best. The tour takes you to three breweries, with tasting flights and tours along the way. Options range from Strand Brewing Company, El Segundo, Absolution, Los Angeles Ale Works, Hop Saint, and Smog City Brewing, but your guide will lead the way based on your preferences and what's on tap that day.
Evening: Dinner tonight is at Wurstküche, a beer hall with an artisanal sausage menu that ranges from the knowon (Kielbasa and hot Italian) to the daring (think rattlesnake). Order you sausage and beer with a side of fries and your choice of 10 dipping sauces like Thai peanut and curry ketchup. There's often a live DJ playing to get you in the mood for the night ahead. After dinner, make your way to the club scene in West Hollywood. The W Hotel and Dream Hotel (both great spots for daytime pool parties on their roof's) also offer fun drinking escapades after the sun sets.
Day 3
Morning: Head to Dalia Cocina, a great spot serving all-day breakfast, so don't worry about setting the alarm. Choose from tasty Mexican fare like huevos rancheros, breakfast burritos, Machaca Tacos, chilaquiles, and more.
Afternoon: Today is all about an L.A. classic: the pool party. Check the schedule at the Ace Hotel downtown to see if you're here for one of their epic Sunday bashes. Don't be mistaken: This isn't about the pool, which at the Ace is fairly small. But what makes this pool party unique is the rooftop views of downtown LA, live bands and DJs, and the drinks, of course.
Evening: Head back to Santa Monica tonight for beers and dinner at Santa Monica Brew Works, which offers more than 20 beers on tap and a rotation of food trucks to choose from for your eats. After dinner, make your way to Hotel Irwin on Venice Beach. The chic spot offers ocean views and amazing craft cocktails, all with the eccentric boardwalk as your backdrop. If you're still hungry after drinks, head to the Local Peasant for late night eats (mini sliders, German-style pretzels).
Where Should I Stay in Los Angeles for a Bachelor Party?
Los Angeles is sprawling, and you'll want to see a lot of it. So don't base your stay on walkability. You're going to be relying on public transportations or Ubers most of the time.
Best Los Angeles Bachelor Party Hotels
The Dream Hotel in Hollywood gets you close to the nightlife action, and comes with its own fantastic amenities including a rooftop pool that hosts some parties of its own.
For bigger budgets, consider a stay within walking distance of Santa Monica Beach, book the JW Marriott Santa Monic Le Merigot, which offers upscale rooms and an outdoor pool.
If you need to spend less, book rooms at the Gateway Hotel Santa Monica, which is less than two minutes from the pier with coastal vibes and modern rooms.
Best Los Angeles Bachelor Party Home Rentals
A Beachfront Estate is the perfect option for large groups (up to 12) with a decent budget. This home steps from the Santa Monica Pier offers three levels of outdoor living space to enjoy the Cali weather.
For a bit of luxury closer to Hollywood, book this Dream House, which offers room for 8, an outdoor pool, and a barbeque set up.
This Private Oasis, with room for 6-8 and a private pool and hot tub, is a great spot centrally located for easy access to beaches, as well as to get downtown.