Exclusive: Love Is Blind's Alexa and Brennon Reveal Wedding Secrets You Didn't See on the Show
Plus, they share how the pods prepared them for life as a married couple.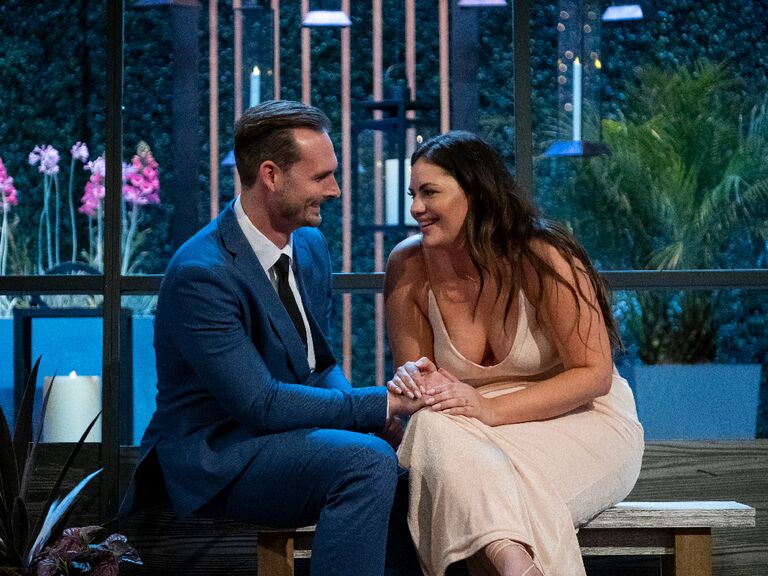 Netflix
For three seasons, we've watched hopeful singles take part in Netflix's reality television experiment Love is Blind to see, well, if love truly is blind. Each installment follows thirty contestants as they speed date without actually seeing each other—and while the show has facilitated quite a few engagements and weddings, not all have stood the test of time. But in the finale of the show's third season, which aired on November 9, fans saw five couples head to the altar, including early fan favorites Alexa Alfia and Brennon Lemieux.
The duo, who were the first to get engaged on Love is Blind season three, drummed up early support from viewers. As their love story unfolded, fans watched as Alexa and Brennon met each others' families and friends, and had critical conversations about finances, prenups, and their future goals. Finally, on the highly-anticipated Love is Blind season 3 finale and reunion episodes, we learned their fate: Not only did Alexa and Brennon get married at the altar, they're still happily together today.
Ahead of the Love is Blind reunion, The Knot exclusively sat down with Brennon and Alexa to talk about their love story beginnings, how they're making their marriage work, and their favorite wedding day memories—including a few behind-the-scenes moments you didn't see on TV.
In this article:
How Alexa and Brennon Found Love in the Pods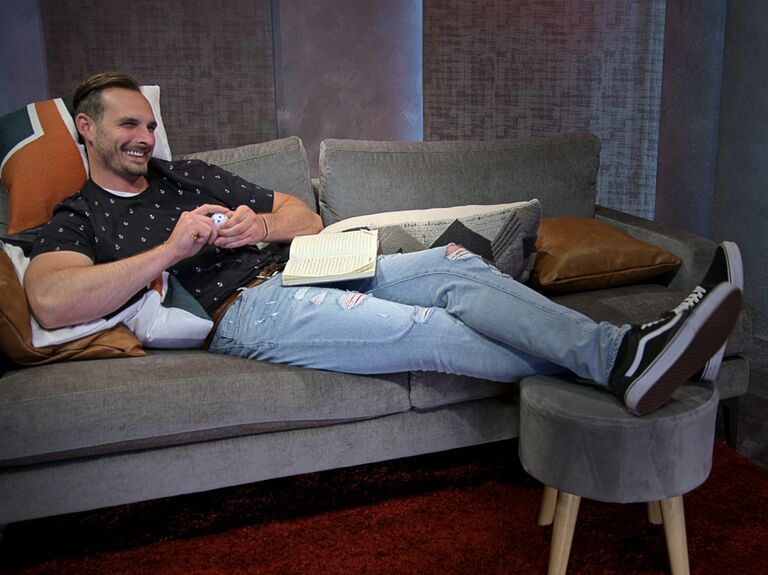 If you've ever wondered how contestants actually spark romantic connections in the Love is Blind pods, you aren't alone. (This is, in part, why the show continues to captivate millions of viewers.) Here's how Alexa and Brennon took their love story from the pods to real life.
They Prioritized Important Conversations
Since Netflix's love experiment places emphasis on finding an emotional connection rather than physical compatibility, Alexa and Brennon wasted no time getting vulnerable and having critical conversations about their values and goals, as well as their different religious backgrounds and family upbringings. "From day one, he was always my number one," Alexa tells us. "While we do come from very different backgrounds, we had a lot of similarities with our families, as well as struggles we've faced. I've never really talked to anybody about things like that, especially in a romantic way."
At first, Brennon found it challenging to engage in such honest conversations, saying, "I've never shown my emotions on my sleeve." But as his relationship with Alexa progressed, she helped him open up and visualize what their marriage could look like. "She never focused on who we were in the past, but rather how we wanted to be as a married couple," he says. "She's always looking towards the future, and that's something that really stuck with me."
Alexa Changed Brennon's Mind About Proposing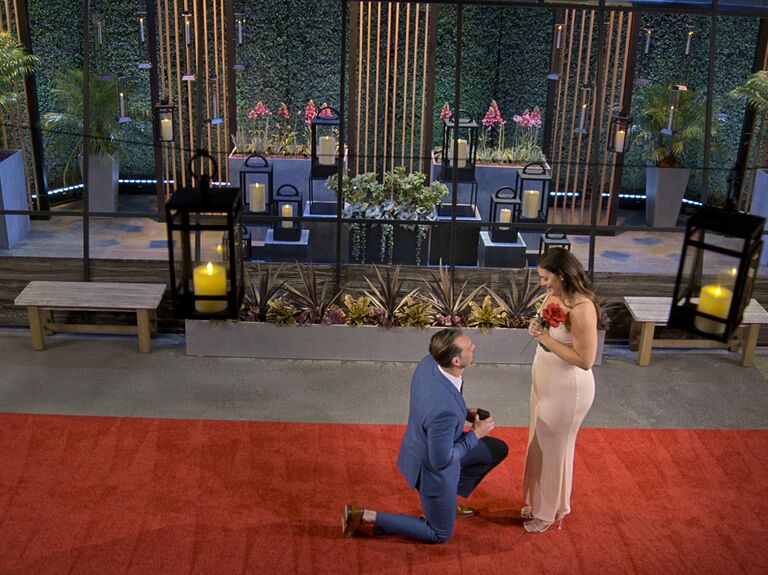 Despite their fast connection, Brennon tells us that he didn't actually intend on popping the question, revealing he even told producers to send him home early because he didn't think he was ready. "I didn't want to propose because I hadn't met her family, and we hadn't discussed a lot," he explains.
Ultimately, something Alexa said at the very last minute changed his mind. "The moment I realized that I was definitely going to ask the question was the last time we talked before the proposal day," Brennon reminisces. "I told her my feelings, and she said that it didn't matter whether we got engaged [in the pods] or at home, because she was still going to be with me. She even said I could throw her a ring pop, and she'd still marry me. That's when I realized that we were in this together."
They Didn't Discuss Physical Attributes
After Alexa said yes to Brennon's pod proposal, the time came to finally see each other in person. In keeping with Love is Blind's mission, the two never spoke about their physical attributes while in the pod—so the reveal was a true surprise. "He's not what I pictured because we didn't say anything about what we look like," Alexa says. "The producers literally could have sent any man down that runway and I would have been like, 'Oh, that's him.'"
Even though their reveal went off without a hitch, the couple tells us that the long-awaited moment was, indeed, stressful. (With a laugh, Alexa says she felt like she could have "passed out" before the doors opened.) Once they saw each other, though, everything fell into place. "We just loved each other so much that I didn't care what he was going to look like, and I knew he felt the same way," she says.
Their Families Provided Unwavering Support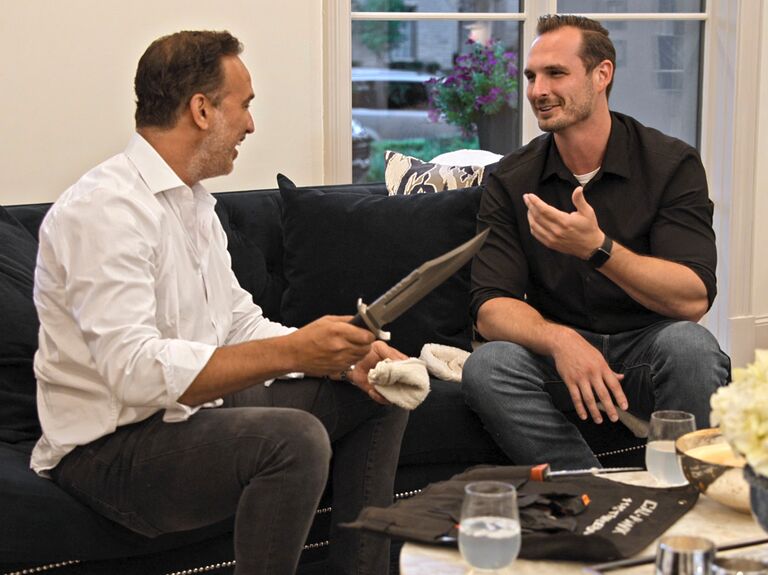 Once reality settled in, the new fiancés faced their next hurdle: introducing each other to their family and friends. The couple was filmed having tense conversations about their different upbringings and religious backgrounds while in the pods, which reached a fever point when Brennon met Alexa's father. When watching the show back, however, Alexa notes that what played out on TV didn't fully encapsulate what transpired in real life. "My dad immediately accepted him," she says. "He was like, 'Mazel tov! Welcome to the family, son.' He said that he trusts my judgment, and he loves him because I love him."
Alexa had a similar experience meeting Brennon's family—and to this day, their loved ones continue to enjoy joint holidays, Shabbat dinners, and Friday night football games together. "Both of us come from big families, and that's something that really we clicked on," he says. "Having her family accept us—and vice versa—has been really nice."
Alexa and Brennon's Favorite Wedding Moments You Didn't See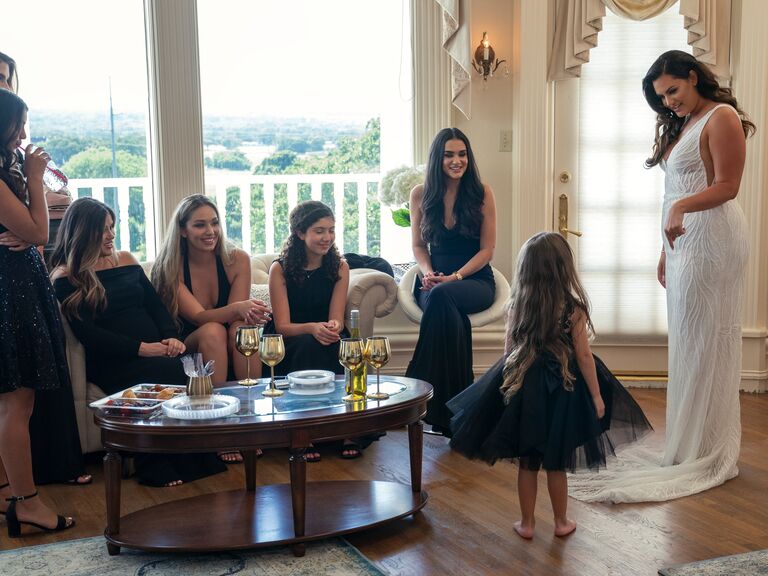 During the Love is Blind season three finale, we finally watched Alexa and Brennon walk down the aisle. But, as it turns out, some of the couple's favorite memories weren't ever captured by cameras—which we reveal here.
Brennon Proposed Every Day Leading Up to Their Nuptials
One of the reasons why viewers are so fascinated by Netflix's experiment is that couples don't reveal what they're going to say at the altar until that moment comes. But for Brennon and Alexa, there was never a doubt about what would happen that day. "There's no way I would have walked down that aisle if I thought in any part of my mind that he was going to say no," Alexa says. Echoing her thoughts, Brennon adds, "To me, marriage isn't a leap of faith. If I'm giving someone my word that I love them, and I want to marry them, I can't imagine then saying no."
He kept his word by repeating one very romantic gesture in the days leading up to their nuptials. "Brennon proposed to me every single day, from that first proposal to the wedding date," Alexa reveals. ("Just to check in!" Brennon interjects.)
They Included a Touching Tribute to Alexa's Grandmother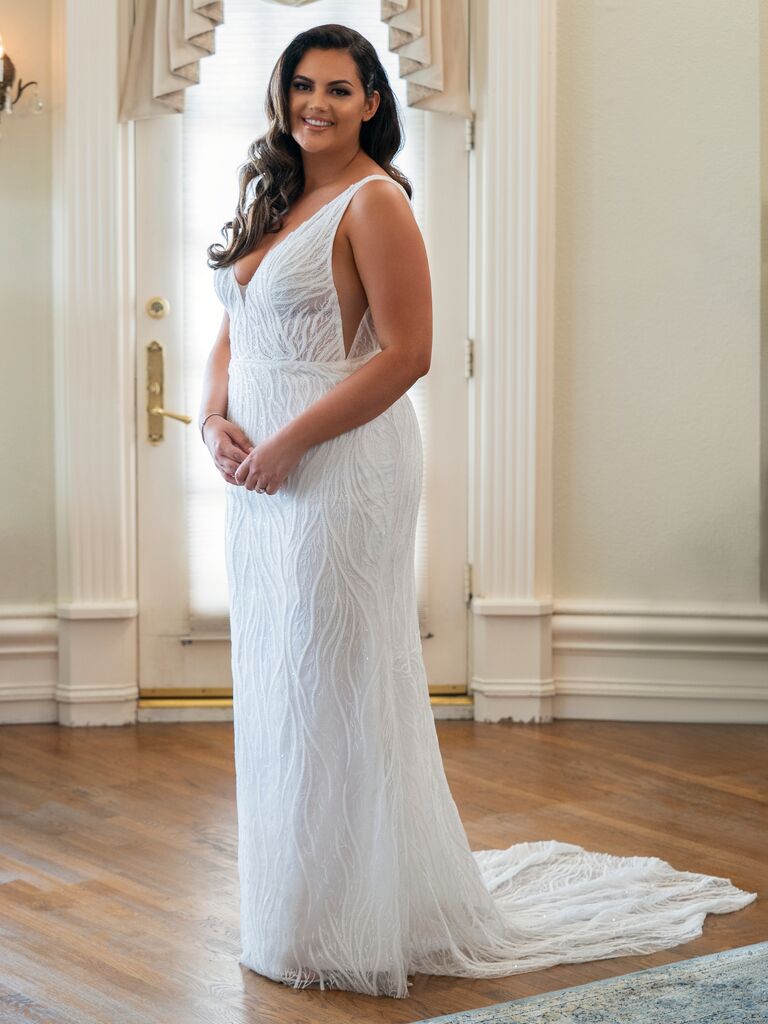 Cameras followed Brennon and Alexa on their wedding morning as they got ready and had final conversations with loved ones. But what viewers didn't see was a heartfelt tribute to Alexa's grandmother, which took place right before she walked down the aisle. "My grandma passed away two years ago, and I've always kept her voicemails," she explains, noting that some of the audio files included her grandmother talking about Alexa's future wedding. "I put some of the recordings together, and they played over the speakers right before I walked down the aisle. It was like she gave us a blessing. That was one of my favorite moments because it felt like she was there."
They're Already Planning a Vow Renewal
Now that the news of their marriage is public, Alexa and Brennon are already planning future celebrations—including another wedding. "I love the wedding that we had, but I think we would definitely renew our vows," Alexa tells us. Adds Brennon: "We have such a large family, and we couldn't invite everybody to our first one. We want another reception to have everyone come."
While there are no sequel ceremony plans just yet, the couple shares a vision for a tropical oceanfront soirée. "Getting married on the beach has always been our dream," Alexa says.
How Alexa and Brennon are Making Their Marriage Work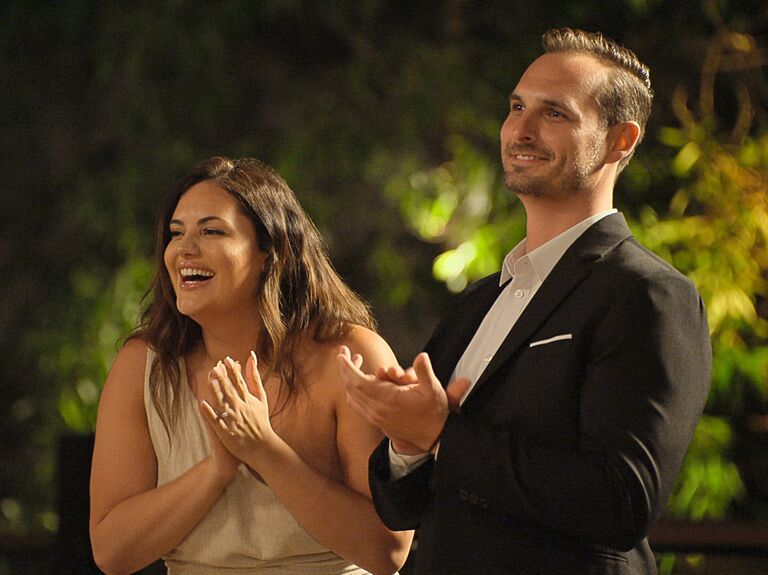 Because of Love is Blind's filming timeline, Alexa and Brennon have secretly been married for about a year and a half. During that time period, they had to disguise their relationship status both on social media and in real life. Now that they've finally hard-launched their marriage status, Brennon and Alexa give us an inside look at their life as newlyweds.
They Prioritize Communication
Healthy communication is one of the key factors that Alexa and Brennon continue to prioritize in everyday life—something they began doing early in their journey. "Communication really is the key to a successful marriage, we definitely learned from being in the pods," Alexa tells us.
As with any relationship, having healthy conversations about tough topics with your spouse isn't always easy. While the couple had to adjust to each other's different communication styles, which Alexa says was "frustrating" at first, it's been smooth ever since. "I tell everybody I feel like we might be doing marriage wrong," Brennon jokes. "We hear from people, including couples from previous seasons, how marriage is difficult. But for us, it's been the easiest thing in life."
They Find Joy in the Little Things
While Brennon and Alexa haven't been able to share much about married life just yet, they have learned to find joy in the little things, like spending time together at home, traveling, and, of course, gossiping. "Our fridge is full of pictures from different vacations and outings that we've done because we've had so many experiences over the past year and a half," Brennon says. "We just enjoy being around each other and having fun...and spilling the tea with each other," he adds with a laugh. "When you're with your best friend all the time, it's not really challenging," Alexa notes.
They're Making Plans for the Future
As for what's next, Brennon tells us that he's most excited to make his love for his wife publicly known. "I've been so private my whole life, so I didn't mind being in a bubble—but now I want to yell from the mountaintop, 'This is my wife!'"
When it comes to long-term plans, the couple agrees on their desire for children. "Starting a family is our next goal," Alexa muses. "We've been married for a long time and we want a very large family, so we gotta get on it."
Now that they've had plenty of time to reflect on their unique experience, Brennon confirms that he does believe love is blind. "We fell in love without seeing each other," he tells us. "I knew I loved this person and that I was going to do everything I could to make it work." Adds Alexa: "I fall more in love with him every day."