72 Creative and Romantic Conversation Starters for Couples
There's always more to learn about the person you love.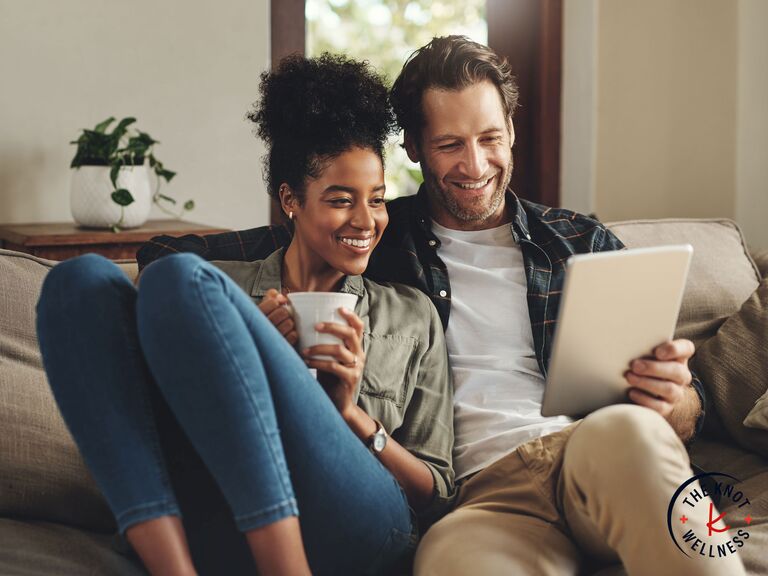 PeopleImages / Getty Images
Whether you've celebrated a slew of anniversaries with your other half or you're just getting to know each other, there's always space to learn and grow in your relationship. Conversation starters for couples are a fun and meaningful way to build connection and communicate your feelings. And they're just as important when things are going well as they are when there's a bump in the road, says Vagdevi Meunier, Psy.D., Master Trainer for the Gottman Institute and licensed clinical psychologist in Austin, Texas.
"When a couple is in a good mood and feeling connected, conversation starters become invitations to greater connection," says Meunier. She describes these invitations as high-level bids, or in other terms, a simple but important gesture for increased intimacy and vulnerability between partners. "A high-level bid shows more curiosity about the person and their internal world and creates safety and space to reveal things about each other," she continues.
The benefits of engaging in deeper discussions with your other half don't end with feeling safer and more connected. "The more we make time for these conversations, the more we create a positive atmosphere that impacts conflict management in a very good way," says Meunier, who has 35 years of experience as a therapist. Knowing how to have a vulnerable conversation with each other will help you navigate future conflict and reconnect more easily.
Ready to enhance your relationship? We've brainstormed 72 ideas to get you both talking, from lighthearted prompts to deeper conversation starters designed to spark interesting and productive discussions. Bookmark this page so that you're always prepared for a heart-to-heart with the person you love. Our list of conversation starters is the perfect accompaniment to dinner dates, road trips, pillow talk and beyond.
In this article:
Deep Conversation Starters for Couples
Want to dive right into the important discussions? We've got some great conversation starters for couples who want to broach key themes, such as family values, future goals and finances. These deep questions and prompts make it easier to talk about tricky topics so that you can align your values and get a head start on addressing potential future problems.
What do you value most about our relationship?

You're stressed… how do you react in that moment and why?

What are your financial goals for the future?

Is there anything you would consider a deal breaker in a relationship?

What does it take for someone to be considered your best friend?

Would you rather have a job you love with a lower salary, or a job you don't enjoy with a higher salary?

What do you think makes a long-term relationship successful?

Do you believe in love at first sight or the existence of soulmates?

Why do you think your past relationships didn't work out?

How do you define a healthy relationship?

Have you ever been to therapy or would you consider going to therapy?

Who do you think will be the most important people in your life 10 years from now?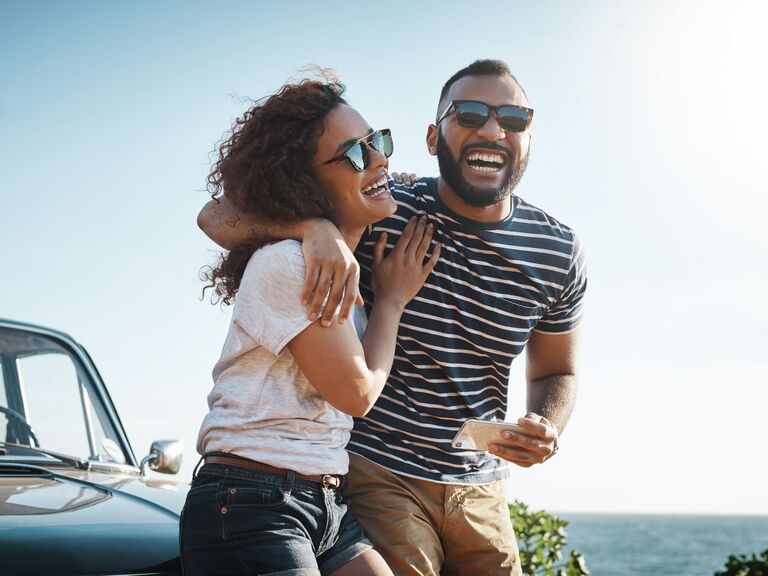 Fun Conversation Starters for Couples
Up for a laugh? We created these conversation topics for couples who want to have insightful discussions without delving into anything too serious. These playful and funny conversation starters might just keep you up all night swapping thoughts and stories. Bonus: They're not just great for convos with your significant other—these ideas work for friends and family too.
What was your favorite class in high school?

What's your idea of the perfect day off?

Do you have a favorite phrase or word? Why?

When was the last time you really laughed about something? What was it?

Tell me about one of your favorite memories from your childhood.

What's the best meal you've ever had?

Describe the worst first date you've ever been on.

Do you have a favorite funny quote from a movie or TV show? What is it?

What's your top funny story of an embarrassing moment you either experienced yourself or witnessed?

Describe one of your go-to outfits from when you were younger.

What's your best excuse for getting out of something you don't want to do?

What's the biggest mistake you've made that had a hilarious outcome?
Intimate Conversation Starters for Couples
Sexual wellness shouldn't be a taboo topic, especially when it comes to your romantic relationships. That said, it can still be difficult to start a conversation about sex, especially if one or both of you feels uncomfortable about it. One surefire way to make it easier? Good couples conversation starters like these.
What's your favorite part of my body?

How do you determine a good sexual experience?

Is there anything I'm not doing in bed that you would like me to do?

Do you like to feel in control during sex or do you prefer your partner to take control?

Is there anything I'm doing in bed that you don't like or that makes you feel uncomfortable?

Where do you like to be touched? Is there anywhere you don't like to be touched?

Was your first time having sex a positive or negative experience?

What puts you in the mood to have sex?

Do you feel satisfied with your sex life currently? If not, why not?

Which of our past sexual encounters do you like to think about?

Do you prefer your sexual partner to be gentle or vigorous?

Are there other sexual activities you would like us to explore, such as phone sex?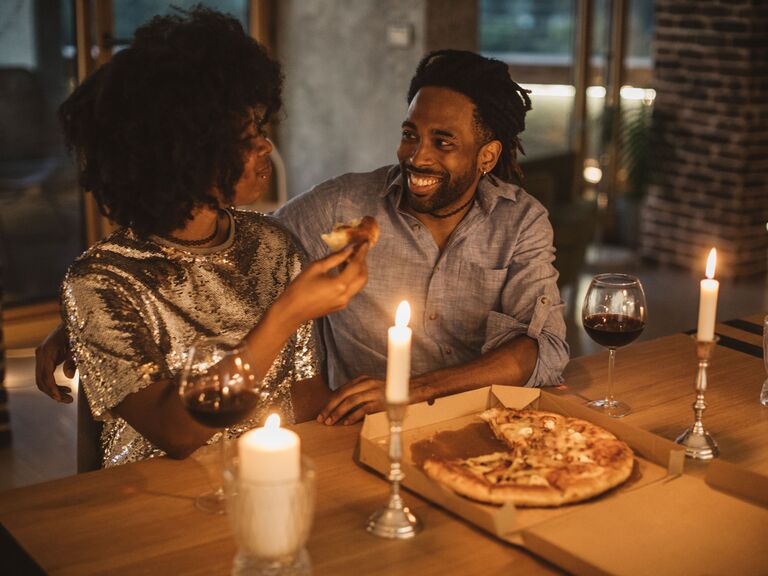 Romantic Conversation Starters for Couples
Whether you're looking for conversation starters for a long-term relationship or exploring something new, these passionate topics are perfect for date nights and candlelit dinners. From fun questions to thoughtful prompts, they're bound to put you both in the mood for romance.
When did you first realize that you loved me?

What's your favorite love song?

Describe your dream date night with me.

What's the first thing you noticed about me?

Why do you think we're a good match?

What's your primary love language?

What famous or fictional couple do you think we are most like?

If we could go on a date anywhere in the world right now, where would you want to go and why?

What do you admire the most about me?

How do I add value and happiness to your daily life?

Would you rather spend a night under the stars together or a night in a fancy hotel room?

If we could go on a double date with one celebrity couple, who would you choose?
Creative Conversation Starters for Couples
Looking for interesting conversation starters for married couples, new couples and everyone in between? These creative prompts are a great way to spark intellectual and meaningful conversations that aren't too serious. They might seem random at first, but we bet they'll reveal some fascinating things about your other half.
If you could only follow one person on social media, who would it be?

What fictional character do you identify with the most?

If you could have dinner with anyone throughout history, who would it be and why?

If you had to live in a TV show, which show would you choose and why?

Would you rather never have to wash the dishes again or never have to fold laundry?

What's the best thing you bought for yourself in the last year? Why?

What is your favorite time of day and why?

In your opinion, what's the worst thing about life in the 21st century?

If you could only listen to one musician for the rest of your life, who would it be and why?

What would be your plan of action in a zombie apocalypse?

If you were transformed into an animal, what animal would it be?

What movie have you seen more times than any other?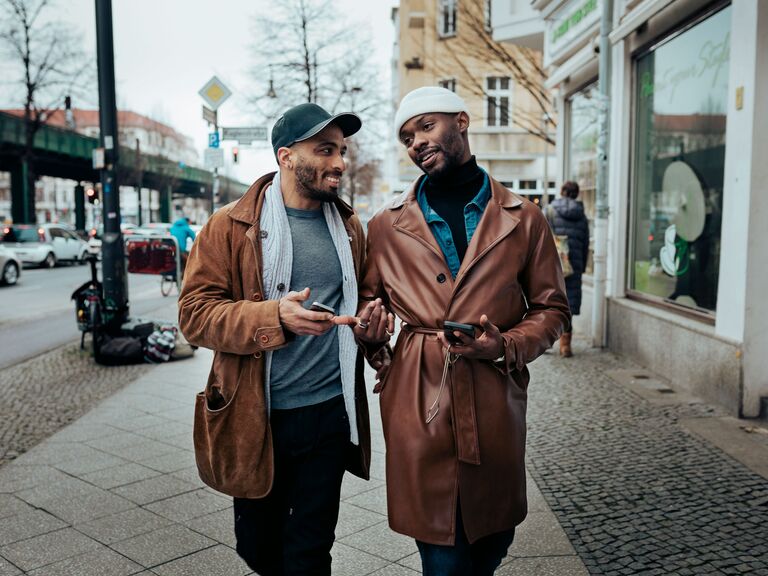 Conversation Starters for New Couples
If you just started seeing each other, it might feel a little intimidating to jump into the big topics right away. That's why we're also sharing the best conversation ideas for couples in new relationships. Find out more about each other's interests, values and ambitions without diving into anything too deep. (Psst, these are also great conversation starters for engaged couples and married couples who want to better align their future goals.)
What activities make you lose track of time?

What are the top three items on your bucket list?

You have a million dollars to spend on either your dream home or a trip around the world. Which do you choose?

What's your favorite thing about being in a relationship, and what's your favorite thing about being single?

What is the best gift you ever received? What made it the best?

When you were growing up, what values were most important in your family home?

What was your biggest childhood dream, and how does that compare to your goals now?

Do you consider yourself an introvert or an extrovert?

What's the craziest thing you've ever done on a night out?

Which family member do you most look up to and why?

What is the last book you read and what did you think of it?

What's the biggest fear you have overcome in your life so far?