12 Special Ways to Honor a Deceased Loved One at Your Wedding
Looking for ways to memorialize a dear friend or relative who's passed? Try one of these subtle, yet meaningful ideas.
by Bridget Clegg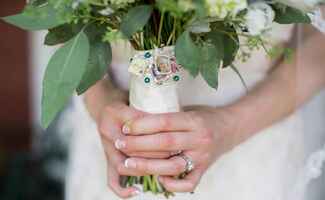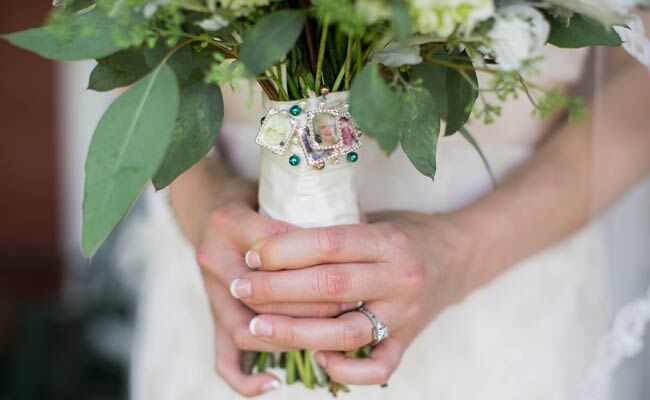 photo by
Kristin Sweeting
Your wedding day is a celebration with loved ones, so it's only natural to want to include those friends or relatives who've passed away before you get to say "I do." Your inclusion of a deceased relative can be as subtle as a symbolic white rose in your bouquet or as public as a moment of silence at the ceremony, and we rounded up 12 more ways below. It's also a good idea to check in with any close relatives who may be sensitive to the death—from there, you can decide how you'd like to honor them without turning the wedding into something that feels like a heavy memorial service.
Pin their photos to your bouquet.
Set up a memory table at the reception with photos of family and friends who have passed away.
From the album: A Coastal Garden Wedding in California
Lay a flower from your bouquet on an empty seat at the ceremony.
From the album: A Vintage Garden Wedding in Rochester, NY
Include a family recipe on the menu.
From the album: A Sweet Indoor Wedding in New Orleans, LA
Add a flower arrangement in their honor on the altar, then include a note about it in the program. (Tip: Gladiolus, rosemary, pansies and statice are flowers that signify remembrance!)
From the album: A Bright Whimsical Wedding in New York, NY
Include their favorite flowers in your bouquet.
From the album: A Romantic Garden Wedding in Norfolk, VA
Have a moment of reflection at the beginning of the ceremony.
From the album: A Chic Romantic Outdoor Wedding in Charleston, SC
Light a candle for them during the ceremony.
From the album: A Classic Timeless Wedding in Tampa, FL
Offer a special favor for guests at your reception in your loved one's memory and include a sign to explain the token. ("Take a cigar for Jim!")
Select one of their favorite songs for the ceremony music or reception playlist.
Toast to them at the reception.
From the album: A Vintage Chic Wedding in Pittsburgh, PA
In lieu of favors, make a donation to a charity that your loved one supported.
From the album: A Playful Modern Wedding in Los Angeles, CA
See More!
> Ask Carley: How to honor deceased relative at wedding?
> 21 guest books that make great keepsakes