Heartfelt Ways to Honor a Deceased Loved One at Your Wedding
Try one of these subtle, meaningful ideas.
While weddings are a joyous occasion, it's difficult to fully celebrate in the absence of a loved one. Despite the happiness surrounding the event, it's valid to feel the absence of your friend or family member can't be there in person. If you're wondering how to honor your loved ones at a wedding, we rounded up 15 different ways to pay homage to your friend or family member so they can be with you in spirit.
Your inclusion of a deceased relative or friend can be as subtle as a symbolic white rose in your bouquet or as public as a moment of silence at the ceremony. It's worth noting you don't have to plan anything special if it's going to be too much for you on your wedding day. Check in with close relatives who may be sensitive to the death, and note your own comfort levels. From there, you can decide how you'd like to honor your loved ones at the wedding. See 15 of our favorite ideas, below.
How to Honor a Loved One at the Ceremony
Do something special for your loved one before you said "I do." Here are our favorite ways to honor a deceased loved one at your wedding ceremony.
Include A Note on the Program
One way to honor a deceased loved one at a wedding is to include them in the program. Add an "In Loving Memory Of" tribute on your program with the rest of your ceremony details.
Pin Their Photos to Your Outfit
Place their photos in an ornamental case (perhaps a locket), and pin them to your outfit (inside your jacket or on the neckline of your dress). Another idea? Pin the photos to your bouquet wrap for your walk down the aisle.
Reserve a Seat
Honor your late loved one with a front row seat by reserving a place at your ceremony. Hang a custom illustration or picture on the front or lay a flower from your bouquet on an empty seat at your nuptials.
Incorporate Certain Flowers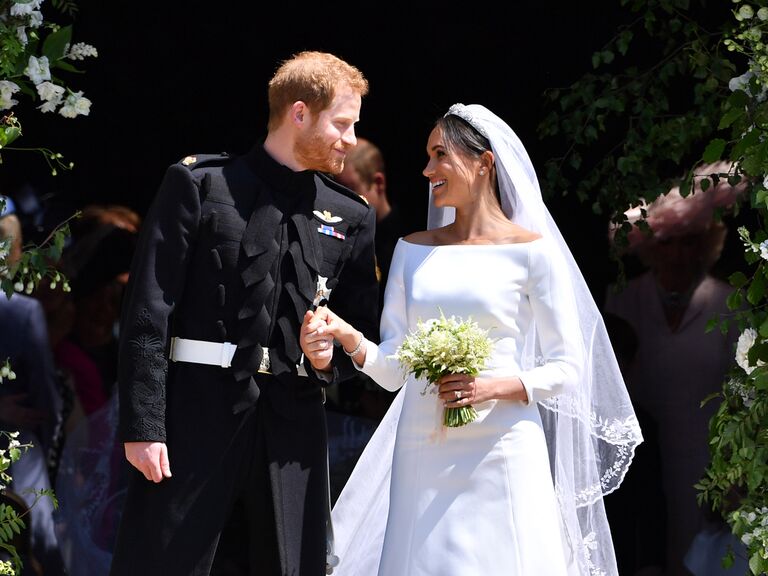 If you're missing a loved one at your wedding, consider paying homage to them with flowers. Fill the space with their favorite blooms, or simply pick ones that signify remembrance, such as gladiolus, rosemary, pansies and statice. Meghan Markle paid tribute to the late Princess Diana by incorporating forget-me-nots (Princess Diana's favorite flower) into her bridal bouquet in 2018. Be sure to make a note of it either on the programs or via toast so your guests can appreciate the gesture as well.
Have a Moment of Reflection
Yet another interactive way to honor a deceased loved one at a wedding is to incorporate it into the ceremony. At the beginning of your nuptials, have a moment of reflection or silence before carrying on with the celebrations.
Light a Candle for Them
There are several different kinds of ceremonies you can perform at your wedding. One we particularly love is lighting a candle to remember a deceased loved one. Either at your ceremony or reception, take a moment to light a candle in their honor.
Display a Custom Illustration
Custom illustrations are a popular stationery trend of 2021 for couples, but they can also depict your deceased loved one. Order one and display it at your reception or at your welcome table, and ask your guests to write down their favorite memory on it.
How to Honor a Loved One at the Reception
Take a moment to pay tribute to your deceased relative or friend after you exchange vows.
Arrange a Memory Table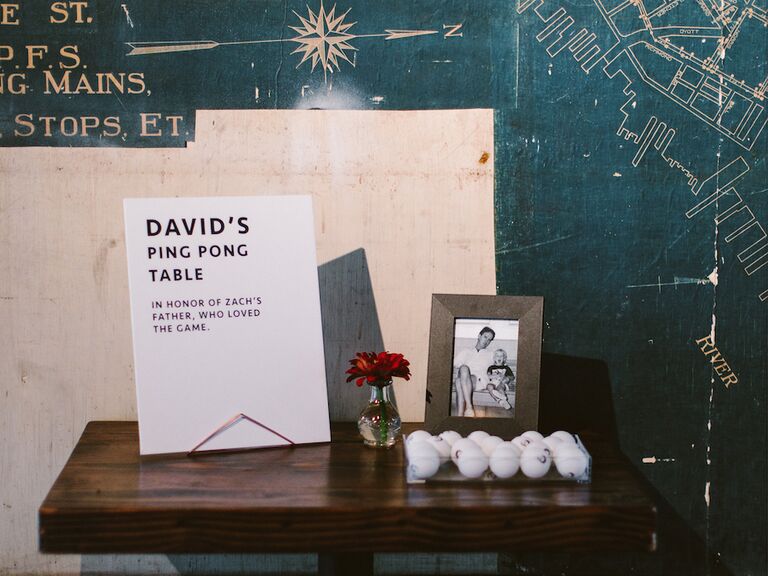 Reserve a special place at your reception by arranging a table filled with framed photos of family and friends who've passed away. You can also create a memory box, where guests can write down and share their favorite memories with your late loved one.
Share a Sentimental Recipe
One unique wedding memorial idea is to share a special recipe with your guests. Perhaps it's a favorite family recipe or your friend's favorite late-night snack. Your guests will enjoy the thoughtful addition to your wedding day menu.
Display Favorite Photos at the Reception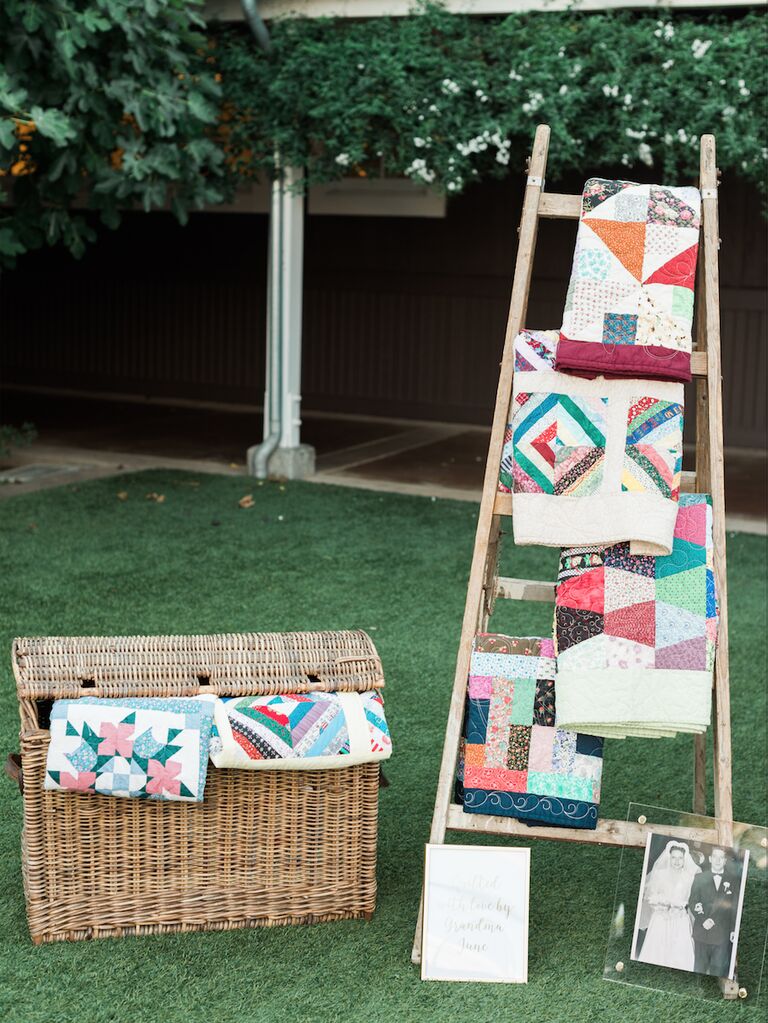 Create a photo installation to show your love for your friend or family member. Hang your favorite photos on a wall so your guests can enjoy looking at them throughout the event.
Play a Special Song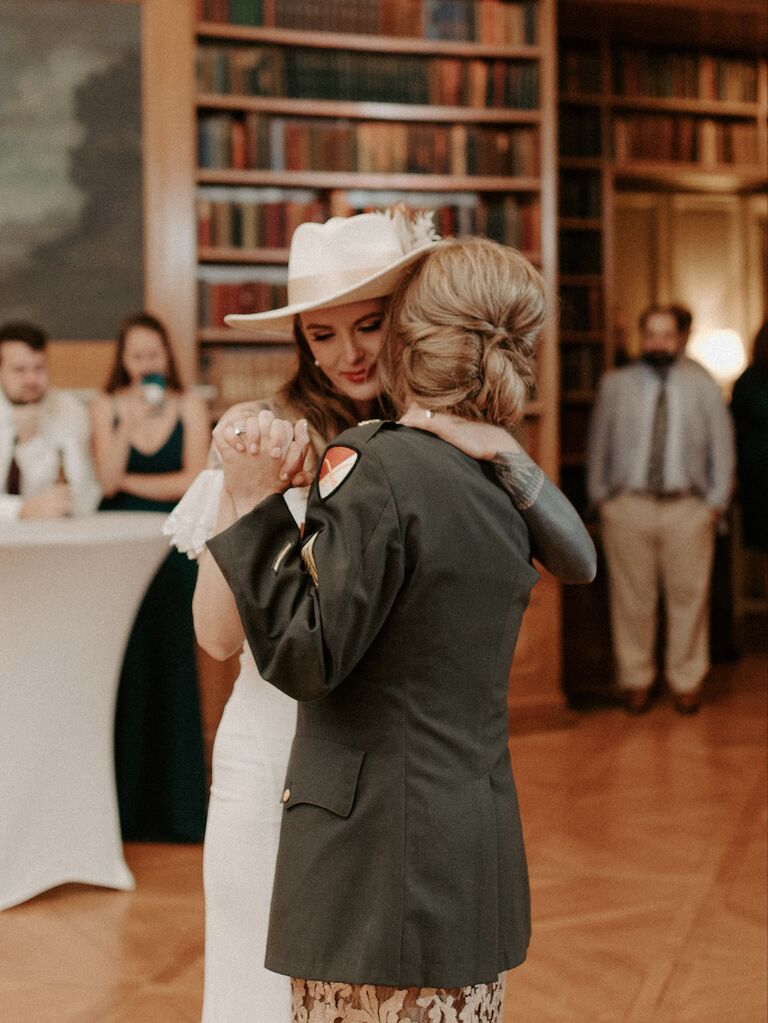 Maybe a moment of silence doesn't feel right to you. Consider playing a special song at your reception instead. You can invite guests to join you on the dancefloor while the song plays for a sweet, meaningful moment of memorium. Take it one step further by incorporating their attire into the dancing. Above, the mother of the bride wore the father's military jacket for a sentimental nod to a father-daughter dance.
Provide Favors in Their Honor
Leave your guests with a memory of your friend or family member who has passed away. Offer a special favor for your guests at your reception in your loved one's memory and include a sign to explain the token. For example: "Take a cigar for Jim!"
Deliver a Toast
Take a moment at your reception to remember your cherished friend or family member. Toast to them alongside all of your guests for a special moment you'll remember forever.
Display Their Wedding Attire
One creative way to honor your loved one at a wedding is to display their wedding attire. Use a mannequin to showcase their wedding dress, suit or other outfit they rocked for their nuptials. It's a thoughtful and interactive way to remember your friend or family member.
Make a Donation to a Charity That Your Loved One Supported
In lieu of a normal registry, have your guests donate to a special charity (you can set this up with The Knot Gifts Back charity registry option) in honor of your loved one. Or, instead of favors, make the donation yourself and place a sign at your reception indicating so.