12 Ways to Maintain a Healthy Relationship While Social Distancing
Hint: alone time is key.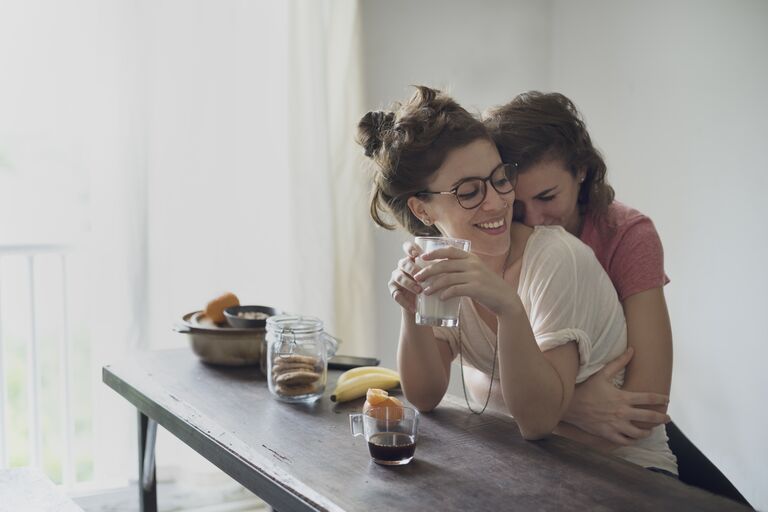 Rawpixel.com / Shutterstock.com
As the coronavirus pandemic continues to affect the lives of global citizens, officials are urging people to practice social distancing (meaning no gatherings and no unnecessary trips to crowded places). Several states in the U.S. have ordered Shelter-in-Place or Stay-at-Home guidances in an effort to contain the spread. If you're wondering how to maintain a healthy relationship while sharing an indoor space with your partner, here are 12 things you can do to keep your bond strong.
If you and your S.O. are in close proximity, Jean Fitzpatrick, licensed psychoanalyst, relationship therapist and premarital counselor, says it's natural to get frustrated with each other. "Staying inside together for weeks or months will be challenging," she says. "No matter how much you love each other, you have different habits and preferences. That can grate on you." Good news: there are several things you can do to mitigate conflict. Here are 12 tips on how to maintain a healthy relationship while social distancing.
Create a Routine
Even if you and your partner live together, your daily schedules create blocks of alone time. Commuting, work, childcare, errands and other obligations structure that space into your day. But with social distancing guidelines in place, you're both likely sharing your space all day, every day. To help ease this transition, Fitzpatrick suggests making a schedule to balance "me time" and together time. If you have meals together and spend the evenings watching Netflix together, then spend the mornings and afternoons on work, connecting with friends and family, working out and other self care rituals.
Take Time for Yourself
Spending all of your time together under one roof can be overwhelming at times. If you have the luxury of separate rooms, Dr. Marni Feuerman, a licensed psychotherapist and author, says to utilize them. If that's not possible, try to create your own spaces in the room you have. Consider working on different sides of the space so that you don't feel like you're together every second of the day.
Another tactic is to use your headset to mentally check out for a bit, Feuerman says. Let your partner know that you're listening to an audiobook, podcast or music playlist for a bit so that they don't interrupt. "Be direct about needing some time to yourself and communicate that you will reconnect in an hour or so."
Keep Your Space Neat
This tip may seem silly, but there's a lot of truth to it. Scientific studies have found that clutter can cause chronic stress and decreased focus—both of which can tax your relationship. Whether you're sharing a house or a small apartment, clutter can drag you down. Once a day, put on an upbeat playlist and tidy up your space together for 15 minutes.
Fitzpatrick says this is also a great time to renegotiate your chores. "Now that you're both home all the time, sit down and make a plan that feels fair to both of you," she says. "That way, no one ends up feeling resentful."
Address Issues Sooner Rather Than Later
Feuerman says that spending all of this time together will likely bring conflict. It may be tempting to avoid confrontation, but that's not a sustainable practice. Rather than waiting for all of your grievances to build up, Feuerman recommends bringing up problems sooner rather than later. "Don't wait until you explore or lash out," she says. "Address conflict directly, tone down reactivity and pick your battles carefully."
Fitzpatrick says this also helps couples avoid "kitchen-sinking" each other, meaning that you throw in everything you can think of except for the kitchen sink. Addressing your issues sooner rather than later allows you to focus on one topic at a time, which allows for a more productive conversation. "When we're upset we can't handle more than one subject," Fitzpatrick says.
Remain as Calm as Possible During Conflict
When you do choose to bring up issues, it's best to remain as calm as possible. While you don't want to wait too long to air your grievances, Fitzpatrick says it's OK to give yourself time and space to cool off. "Don't have an argument while you're still angry," she says. If you're feeling particularly upset, she recommends calming down by focusing on your breathing, doing some stretches or writing in your journal. Once you feel settled, then you can decide how to approach your partner constructively.
If a conversation escalates, Fitzpatrick suggests focusing instead on controlling your feelings. For example, if your partner loses their temper, focus on managing your own emotions instead of being reactive. Calming yourself will ultimately calm the situation, allowing you both to have a productive talk.
While it's a good idea to talk things through, Fitzpatrick says it's best to keep disagreements brief. "If you haven't gained any traction at all in five minutes, your argument isn't going anywhere useful," she says. "Postpone it and bring up the subject again later on."
Go Outside
Social distancing, Stay-at-Home and Shelter-in-Place orders don't mean that you have to be cooped up indoors. You can still go outdoors, so long as you stay six feet away from others and avoid crowded places. Feuerman says that it's a great idea to head outside.
Go for a long walk or a leisurely bike ride together or by yourself. If you live in a city, consider off-peak hours in less-condensed areas. Not only will the fresh air feel great, it will give you both a refreshing change of scenery.
Agree on Phone and Meeting Etiquette
As meetings, events and social gatherings are going virtual, you and your partner are likely on your phones and computers a lot of the time. Fitzpatrick says to get ahead of conflicts caused by this by agreeing on phone etiquette ASAP. "If partners don't appreciate overhearing each other's calls, find a quiet place where you can talk without disturbing the other person," she says. "Basic consideration like this helps your partner feel respected."
Say Sorry
This one seems obvious, but Rachel Sussman, licensed clinical social worker, therapist and relationship expert, says that sorry is a hugely important word in these new circumstances. Don't underestimate the power of a sincere apology, especially when you're spending so much time together. Be sure to apologize to your partner if you've had a fight or if you've made a mistake—and mean it. "Saying 'I'm sorry' is very useful and powerful," Sussman says.
Have a Daily Check-In
This is uncharted territory, which means it's still a learning process. Treat it as such by having daily check-ins with your partner. Talk through what worked and what didn't work. Maybe going on a walk in the afternoon helped boost both of your moods, or maybe taking that video call without headphones on was disruptive to your partner's day. Keep the conversation constructive and bring solutions to any issues to the table.
Have Fun Together
Staying indoors may limit your activities, so it's time to get creative (if you need some inspo, check out our list of couple activities you can do during quarantine.) Feuerman suggests doing fun activities together, like baking a cake or playing board games.
There are still ways to make each other feel special and celebrate your love too. Fitzpatrick recommends planning dates—and getting dressed up for them. "The pajama party is fun for a few days, but over weeks and months, it will bring you down," she says. "Why not dress up a little for a Saturday date night?"
Seek External Help
Real talk: this is tough. Sharing all of your time and space together may sound like fun, but it can bring real challenges. If you're unsure about how to maintain a healthy relationship while social distancing, consider downloading Lasting. The first of its kind, Lasting is a marriage health app that offers couples guided marriage counseling. Use it to help maintain a healthy relationship.
Show Grace (Especially to Yourself)
Remember that this is a trying time for everyone. The state of the pandemic has caused a massive shift in everyday life and the news surrounding the virus can cause anxiety, sadness and frustration. Be patient with yourself and with your partner as you both try to navigate this situation. This is likely a big change for both of you, so give yourselves time to figure it out together. "Everybody is just learning how to do this," Fitzpatrick says. "Give yourselves time to get it right and know that regular tuneup will be inevitable in order to keep things running smoothly."
Sussman adds that this will be a great learning experience for couples everywhere. Getting through these challenges will only make your relationship stronger. "There will be lessons and benefits to all of us personally and relationship-wise if we navigate these challenging times well."