The Relationship Challenges Couples Are Going Through During COVID-19
And how to work through them, according to real data.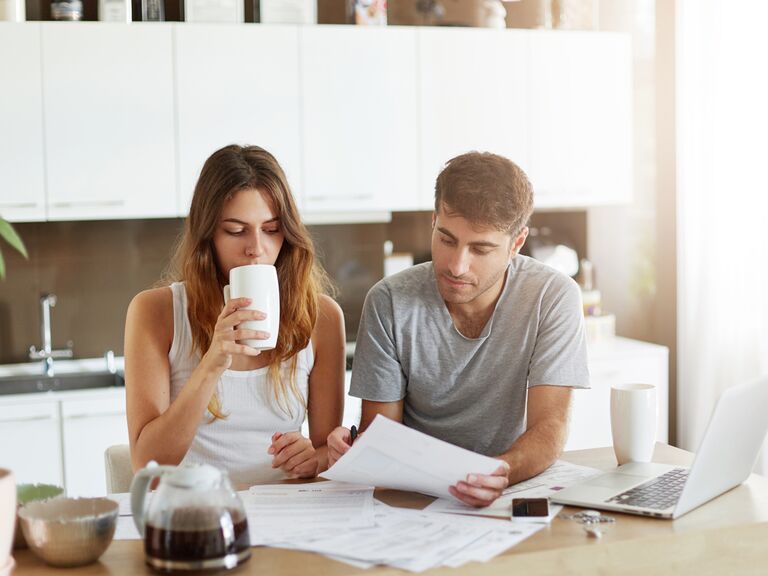 WAYHOME Studio / Shutterstock.com
Given current social distancing guidelines due to the COVID-19 outbreak, you're likely spending more time at home with your S.O. No matter the stage in your relationship, you've probably had to adjust to a new reality as you navigate life in quarantine. The good news is this could potentially be a healthy step for you and your partner. According to data from The Knot x Lasting State of Relationships Report, which surveyed over 1,200 engaged and married couples, relationships are benefitting as partners spend more time together. Sixty-six percent of engaged users say their relationship has strengthened, compared to 56 percent of married couples who feel the same way.
That's not to say this time won't come without struggles. While you're likely happy to spend more time together, small arguments may become more common. You might be balancing work, children, finances and so much more during an already stressful time, all in the confine of your living space. Here, we outline the most common challenges couples are facing right now according to our data—because you're certainly not alone. Plus, we share the best solutions to help you solve them together.
The Challenge: Small Fights Are More Common
According to the study, 75 percent of those surveyed spend more time with their partner—but that means more time for disagreements too. About 40 percent of married respondents say they've experienced an increase in small arguments since quarantining together, compared to 20 percent of recently engaged or newly married couples. It's important to note that this isn't a sign of serious relationship problems—frustration is inevitable when your WiFi goes out or you're both taking Zoom calls at the same time in a small space. Plus, given the emotions that come with living through an unprecedented pandemic, you're bound to feel more stressed than usual. As a result, you might find yourself bickering with your partner more often.
The Solution: Focus On Your Communication Skills
Working through this challenge requires a joint focus on communication skills. While it's easy to lose your cool because your S.O. didn't unload the dishwasher, it's not okay to take your frustration out on them. Instead of starting an argument or giving your partner the silent treatment, address any issues head on as soon as they arise. Lead with how their actions may have affected you and avoid putting the blame solely on them. Try saying something like, "I'm really stressed out with work right now and would appreciate it if you could unload the dishwasher today. I'll do it tomorrow." It's a great time to become increasingly aware of their needs and step up to help.
However, it's important to make a distinction between small and large fights. Disagreements are normal in any relationship—but if you notice your arguments are becoming more serious while quarantined, it's time to evaluate why it's happening and how best to move forward. Relationship apps like Lasting specialize in helping couples work through problems with help from licensed counselors without an in-person appointment.
The Challenge: You're Both Managing More Stress
The coronavirus can feel overwhelming—couples are already dealing with the concerns that accompany a pandemic on top of potentially navigating a postponed wedding or newlywed life in quarantine.
According to our data, 73 percent of newly engaged or married couples are feeling anxious right now, while 62 percent are stressed and half feel overwhelmed. The emotions you're experiencing can potentially make your relationship feel more tense than usual. Common stressors like having a work/life balance or raising children are now met with worry about finances, job security and the health of your loved ones.
The Solution: Be Intentional About Relaxation
If you're feeling the effects of living through a pandemic, be thoughtful about prioritizing your mental health and physical well being. Set aside time to disconnect from work or to decompress with your S.O. Over 70 percent of newly engaged and married couples say they're spending more time binge-watching TV shows, and 53 percent are cooking and baking together more than usual. Because of this, 64 percent of couples say this has strengthened their relationship as they're finding creative new ways to spend time together, which has helped them rediscover their love. Though you can't totally forget what's happening, take some time to watch a trending documentary or bake something together. Not only will it be a fun distraction, you'll be thankful to have uninterrupted quality time with your partner.
The Challenge: It's Harder to Have Alone Time
More time spent together means less alone time. While quality time with your S.O. is one positive aspect of quarantining together (and a must for a healthy relationship), you might struggle to find alone time just for yourself. It's important to note that wanting time away isn't a sign of an unhealthy relationship. Even if you're head over heels in love with your partner, it's normal to want some space, especially if you're sharing a small living area. Since alone time isn't always feasible while you're social distancing, it's normal to feel on edge if you can't decompress by yourself.
The Solution: Focus On Your Emotional Connection
In order to work through this challenge, it's necessary to accept what you can't change. If you're living in a studio apartment, you'll have to adjust your mentality since you physically don't have space to get some alone time. Even if you're living in a larger house, understand that alone time is a luxury that might not be feasible in the foreseeable future. Instead, use this time to focus on your emotional connection with your partner. Staying at home is allowing you to make your relationship stronger than it already is—something that might fall to the backburner amidst your normally busy life.
Nearly half of all survey respondents say they're focusing on talking about finances and money right now, and 61 percent are actively making healthier lifestyle choices. These topics often get pushed aside in normal day-to-day conversation because couples feel like they're too busy to address them. Now, couples are able to have those important conversations they might have been putting off before. In turn, speaking openly with your S.O. will grow your emotional connection as you feel like you can trust and rely on them even more. So, while you might miss having the living room to yourself for an hour before your partner gets home from work, transition your mindset to focus on the positive aspects of having more time together.
The Challenge: You're Both Working From Home
According to this study, 39 percent of couples are now remote employees. This presents an entirely new set of challenges to conquer. Focusing from home can be difficult enough—then, add in spotty WiFi, overlapping meetings, lack of space and child (or pet) care on top of everything else, and you're likely to feel overwhelmed with managing your new normal. So, how do you deal? It all comes down to communication and creativity.
The Solution: Create a New Routine
Creating a new work from home routine is a must. Work with your partner to craft a schedule that fits your needs. Whether that includes child care and meeting blocks or specific lunch time and quitting hours, it's important that you're on the same page about what you need from each other while working out of the same space. Understand that working from home during a global crisis isn't normal, nor will it be easy. What matters most is that you're empathetic toward each other and are consciously doing your best to make the situation manageable for both of you.
The Challenge: You're Apart From Loved Ones
Many couples self-quarantining aren't able to physically spend quality time with family and friends. Missing weekly happy hours or visits with your loved ones will inevitably make you feel sad—and with no clear end in sight, these emotions can potentially affect your relationship. Luckily, technology makes it easier than ever before to stay connected to the ones you miss most.
The Solution: Virtual Connections Are Easier Than Ever
Our data finds that nearly eight in 10 couples report an increased amount of screen time now. Seventy-five percent of respondents say they video chat with friends and family, and 46 percent have attended a virtual happy hour. Nearly 80 of couples spend time reading and commenting on social media posts from their loved ones, while 41 percent say they're watching more YouTube videos and 25 percent have turned to TikTok for entertainment.
While a virtual hangout can't replace in-person connections, it's the best way to stay in touch with the ones you love most. Given the reality of the current situation, it's important to put in the time to make sure your relationships are stronger than ever.