The Best Marriage Advice From Dads (#Awww)
Father's Day is today (you got him a gift already, right?), and we're celebrating by sharing some dads' best marriage advice.
by Julie Pennell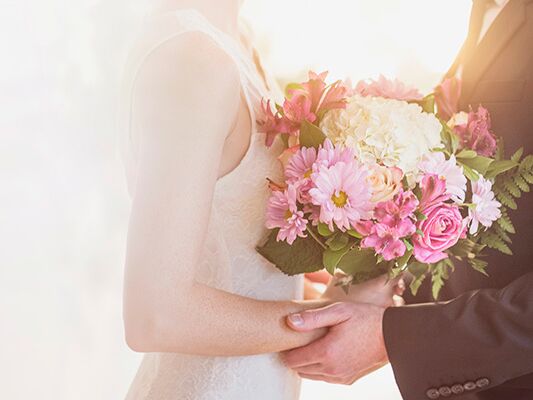 Remember Your Anniversary
"Being married is not just a vow, a commitment, or a declaration. It is a path for two people who love each other to follow throughout all of the changes life brings. Like any path, it will have its twists and turns, and ups and downs, but don't ever forget that it is taken together. Keep moving, and have a wonderful journey. Oh, and Valentine's day and wedding anniversaries are the most important days of the year." – Joe C.
Let Them Know You Care
"Love, I would hope goes without saying, is the backbone of marriage. I would suggest you not just sit back enjoying this awesome feeling of love, as if you are due it. Instead, always be working toward—be in the process of—earning the love or your spouse. Shower her/him with praise. Respect her/his thoughts and opinions. Think of her/him as more important than yourself. Let her/him know how wonderful they are and how much better your life is because she/he is a part of it. In the words of one much better at giving advice, "Tell her about it. Let her know how much you care… Though you may not have done anything, will that be a consolation when she's gone?" – Billy Joel. As a matter of fact, a good bit of closing advice might be to give the entire song a listen about once a week." – Billy H.
Take Lots of Pictures
"I told my daughter three things on her wedding day: Make great memories together, happiness is contagious, and take lots of pictures. It must have been good advice because they just passed their 12th anniversary still going strong!" – Timm B.
Read more on TheNest.com...