Who Should Hold the Wedding Rings Before The Ceremony?
Here's what you should do with your jewelry on your wedding day.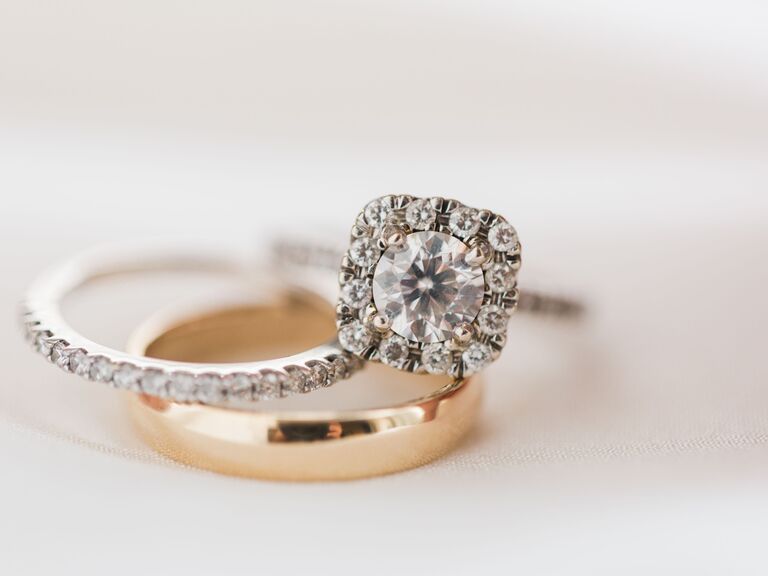 Valorie Darling Photography
As you begin the process of planning your wedding day, there's one important detail that shouldn't be overlooked: determining who will be holding your wedding rings during the ceremony. Though it might seem like a miniscule element, it's necessary to appoint the all-important duty to someone who will ensure your rings appear during the appropriate ceremony moment.
While there aren't specific wedding ring etiquette rules that dictate who has the job of keeping track of your rings, you and your partner should select someone you both trust. Deciding who should be in charge of holding your wedding rings isn't one of the more taxing planning duties (say, like, making your seating chart or finding your glam squad), but it's still an important decision that shouldn't be overlooked. Plus, if you'll be having children serve as ring bearers, you might want to consider having a trusted adult manage the wedding rings. (Don't worry, the kids will still get plenty of admiration as they walk down the aisle before you!)
As you map out the plan for your ceremony, here are some answers to a few commonly asked questions about wedding ring etiquette and managing your jewelry on the day of your nuptials.
Who Should Hold the Rings?
It's the big question: Who should be in charge of the wedding rings during the ceremony? While the best choice will be different for every couple, here are a few suggestions of those who can carry the rings on your wedding day.
The Best Man or the Maid of Honor
Tradition dictates that the best man holds both wedding rings before the ceremony. Of course, if you feel more comfortable giving the rings to the maid of honor (or another member of the wedding party), go ahead and pass it off to someone you trust. No matter who you pick, your bridesmaids and groomsmen will be standing right by your side as you say your vows, so having them hold on to your rings is a logical choice.
The Officiant
You might also consider having your officiant hold on to your rings. Given that they'll be presiding over your ceremony, having them keep your rings safe would make for a seamless transition from their statements to the moment you and your partner begin your vows.
A Close Family Member
Perhaps you and your partner might feel more comfortable passing your wedding rings off to a close family member, like your parents or a sibling. You know your family best—if you trust them more than a member of the bridal party or your officiant, give your bands to them before the start of the ceremony.
If you plan on having a child serve as the ring bearer on your wedding day, consider having them hold a pillow or ring box with fake rings—or no rings at all. While they'll still steal the show when they walk down the aisle, you won't have to worry about them losing or damaging your real wedding rings in the process.
When Should You Give the Rings Away?
There's no need to hand over your wedding jewelry months before the big day. In fact, it's probably better to keep them in your possession as long as possible! However, be sure that the person responsible for holding your wedding rings has them during the rehearsal.
You'll want to practice the hand-off so it's as seamless as possible on the wedding day. In order to do so, give yourself time to coordinate the plan with your ring carrier.
How Should You Wear Your Engagement Ring on Your Wedding Day?
Once you figure out who will be holding your wedding rings during the ceremony, you might wonder: how should you wear your engagement ring on your wedding day? While your jewelry styling options are completely up to you, here are a few popular options.
Wear It On Your Opposite Hand
One of the most common things to do with your engagement ring is to wear it on your opposite ring finger. While common wedding ring etiquette doesn't dictate one correct way to style your jewelry, ancient Egyptian tales suggest that there is a vein leading directly from your left ring finger to your heart, hence why many people opt to wear their wedding band first with their engagement ring stacked on top. If this is how you plan to wear your rings, consider moving your engagement ring to your right ring finger just for the ceremony, and then switch it back for the rest of the wedding.
Keep It On Your Left Ring Finger
Another popular choice is to simply keep your engagement ring on your left ring finger. Some may want to stack their jewelry in the order they received them. If that's the case, keep your engagement ring in place on your wedding day.
Have a Friend Hold It During the Ceremony
If you don't want to worry about moving around your engagement ring on your wedding day, have a trusted friend or family member hold on to it during the ceremony. Once you're ready to celebrate at the reception, place it back on to complete your wedding jewelry stack.