Is It Ever Okay to Uninvite a Wedding Guest?
Here's how to navigate this tricky etiquette situation.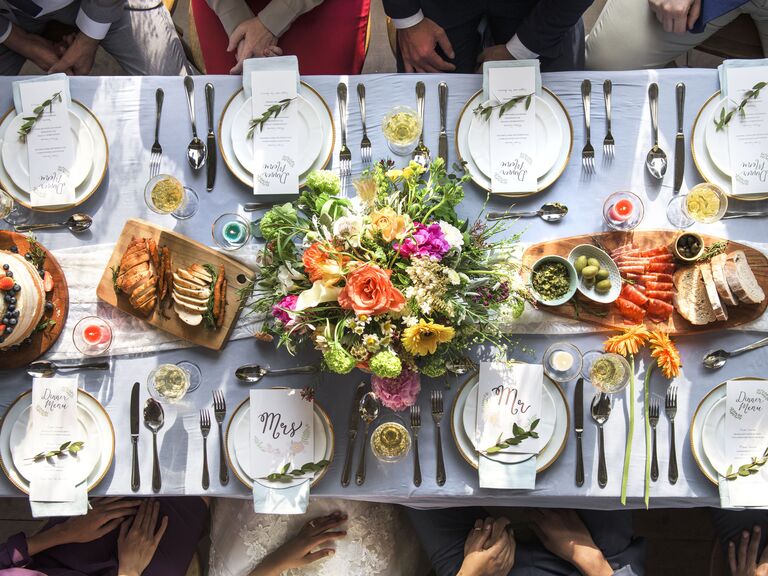 Rawpixel.com/Shutterstock
Life can throw a lot of lemons at you—especially during the emotionally heightened process of wedding prep—and it's not always something you can easily turn into lemonade. Relationships can change, possibly leading to a falling out or feelings of tension between you and a friend or family member. Unforeseen events, such as natural disasters (or worldwide pandemics like COVID) and other unexpected incidents, can unfold, leading to additional complications with guest lists. It's rare, but every once in a while a couple (or one partner) might have to uninvite someone (or larger portions of their guest list) after they've already asked them to attend the wedding. But is it ever okay to even broach the topic of how to uninvite someone to a wedding?
How to Uninvite Guests Due to a Disaster, Like COVID
It's now a familiar tale to many couples: Due to COVID-19, tens of thousands of couples had to postpone their weddings each weekend, ultimately leaving many to-be-weds with guest-list complications. If this situation applies to you (whether it's COVID-related, or a natural disaster that's caused a venue change) or some other unexpected curveball in the wedding planning process, we recommend communicating with guests as soon as possible. If you have to uninvite large portions of your guest list, especially due to COVID, it's better to relay it sooner than later. And remember: it's how you communicate. For specific help on uninviting guests due to COVID, see our guide here.
How to Uninvite Someone From a Wedding
Traditionally, uninviting a wedding guest who's already received a save-the-date or wedding invitation is in poor taste. And we don't mean that to sound snooty—it just simply isn't kind or polite (no matter how impolite the person you want to uninvite has been). A save-the-date is essentially a promise that an official wedding invitation is on the way, and a wedding invitation isn't something you can rescind on a whim (or that guests can transfer to one another like tickets). Here's a quick step-by-step guide to uninviting someone, as well as a few things to keep in mind.
1. Be Very Thoughtful About Your Guest List From the Start
Due to general standards of wedding invitation etiquette, it's infinitely easier to add to your guest list than it is to subtract from it. When creating your guest list, think long and hard about whom you choose to include. If budget restrictions or venue capacity are the reason you're tempted to downsize your headcount, it's perfectly okay to create an A list and a B list of guests. Much better to use this strategy than to overshoot on invites and have to revoke them later.
2. Ask Yourself If Uninviting Someone Is Really Worth It
Disinviting someone will make it hard to salvage your relationship—even harder than it might currently be—and will only create more drama. If you're questioning someone's invite, remember it might be worth grinning and bearing their attendance at your wedding in order to be able to mend your relationship down the line. And even if you might want to uninvite them in the heat of the moment, you might genuinely regret not having them around on your day.
3. Use Your Words (Preferably in Person)
Confrontation isn't everyone's forte, but in some circumstances, having a mature conversation about what's going on between you two is a necessary step toward resolution. Maybe you've had a falling out with a friend, a fight with a cousin or skeptical feelings about a family member's potential behavior at your wedding. Pick up the phone or knock on their door to have a frank talk about what you're both feeling and how to proceed. If the situation is inflamed enough, it's possible the person in question might change their mind and decide not to attend the wedding. (It might not be ideal, but in that case you'd be in the clear.)