Friday Weddings: How to Plan the Ultimate TGIF Celebration
Everything you need to know about planning the best day of your life on the best day of the week.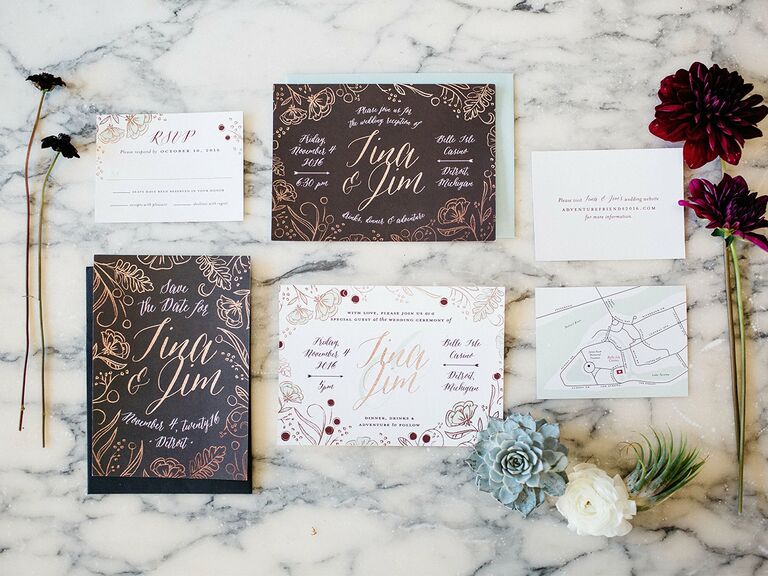 The Billings Photography
Considering a Friday wedding? Whether you're taking advantage of a national holiday by sliding in on a long weekend, trying to snag a deal with your venue, or just love Fridays (looking at you, Rebecca Black) there are a ton of great reasons to exchange vows on the best day of the week. This is especially true in this post-pandemic era we currently find ourselves in, when couples are being forced to get creative and squeeze in their postponed weddings just about anytime they can! Yes, Friday weddings are on the up and up, but what details do you need to keep in mind when going against the Saturday evening grain? Not to worry, we've got everything you need to know about planning that Friday wedding, right here in one convenient place.
Pros of Friday Weddings
Though they aren't as common as Saturday events, there are lots of reasons why Friday weddings rock. Here are just a few:
It's cost effective.
There are plenty of perks to a Friday wedding, the most obvious being cost. As we all know, Saturdays are the most common wedding days of the week, and from venue costs to catering, you pay a premium to snag that sought after Saturday time (especially after a global pandemic that postponed a year-plus worth of Saturday weddings!). You can save hundreds, even thousands, by shifting your wedding one day ahead. And even though you'll be saving a pretty penny, it won't come at the cost of ~vibe~: Fridays still have that same celebratory feel Saturdays have (the same can't be said for Sundays, which tend to be a little bit more low-key). Costs won't just be lower for you, they'll prob be lower for those traveling to your wedding, too.
Long weekend starts now.
Another pro of a Friday wedding? Loooong weekend, baby! Whether you're taking advantage of an existing long holiday weekend or just making your very own national holiday, getting hitched on a Friday night ensures an extra day off to decompress, destress, and even mini-moon following your nuptials! It also gives out of town guests a reason to party even harder—because they've got a whole extra day ahead of them to recover! Oh, and more time to travel back home (or soak up some quick getaway fun wherever your destination wedding might be!). Overall, you can expect a more convivial mood at your Friday evening wedding, because your wedding guests will be in vacay mode!
More vendor choices.
And because Friday weddings are less common than those on Saturdays, you'll have more choices when it comes to your vendors—top picks tend to book up quickly for Saturdays (again, this will be even more of a case now that we are coming out of the pandemic and people are rescheduling weddings).
Friday Wedding Considerations
Yes, there are a few things that may complicate hosting a Friday wedding—but they're pretty easy to overcome.
Logistics may be more complicated.
Probably the biggest con of a Friday wedding is it may be less convenient for guests and loved ones. For a typical Saturday wedding, guests can duck out of work early on Friday to travel to the destination, or even work their full day and travel Saturday morning with plenty of time to prep for the wedding ceremony. Friday weddings, however, may require many guests to take a full day off from work, arrange additional childcare, and more. Most guests will likely be fine with this (who really minds missing a day of work?) but you should expect a slightly higher decline rate than you might for a Saturday wedding, just considering that not everyone's jobs and lives are flexible enough to accommodate a Friday wedding. The flipside of this is, your besties and closest family members will definitely be able to make it no matter what, so take heart knowing the VIPs will be there to celebrate in full force.
In addition to some people not being able to come at all, others might have to get creative with scheduling and miss an event before or during your Friday wedding. For example, if you're planning on having your rehearsal dinner Thursday, that's an extra day to take off work (especially if there's travel involved), so there might be some complications there. And depending on how early your ceremony is, or how late your reception is, people might have to arrive late or leave early to accommodate their own schedules.
Some venues may not be available.
Another con? While many wedding venues see more availability open up for Fridays, not all venues may even offer Friday rentals at all. That's because some venues give the entire weekend, including Friday evenings, to couples who book for Saturday weddings. Other venues, like restaurants, might only offer wedding availability on Saturdays so they can keep Fridays open for regular dining. It all depends on where you want to get married, so you'll need to do some research, but just keep in mind that a Friday wedding might not be a sure thing at every one of your favorite spots. The same goes for other vendors like your caterer and rental company (although they are likely to be more flexible).
Tips for Planning Your Friday Wedding
Considering a Friday wedding? Awesome! Here's some of our best advice on planning a Friday ceremony and reception.
1. Give guests plenty of notice.
Since you'll be asking guests to take extra time off work and school to attend, you might consider sending out your save the dates earlier than you would if you were planning a traditional Saturday wedding. And be sure to have all logistics planned out and clearly listed on your wedding website at that time, including specific hotels you've reserved rooms at for guests, transportation details and timing of key events. The more legwork you do ahead of time, the more likely you'll get maximum RSVPs from guests!
2. Don't expect to save a ton of money—but it's great if you do.
At the end of the day (whether that day is Friday or Saturday!), weddings are weddings, and they can cost a pretty penny. Don't set yourself up for stress by going into your Friday wedding planning expecting to save a ton, and budgeting lower for everything as a result. Instead, keep your budget in the average range for the type of party you hope to have, and let yourself enjoy the excitement of finding out you've saved money when all is said and done. If you have hundreds left over to invest in your honeymoon? Great! If you use every last dollar? Great also—you were prepared.
3. Take advantage of the non-Saturday perks.
If you're throwing your ceremony and reception on a Friday, why not use Saturday to keep the festivities going, especially since most of your guests will probably stay in town for the rest of the weekend anyway? Dream up fun, low-key post-wedding activities like a picnic in a park, Saturday morning brunch, friendly competition (flag football, anyone?), hike, or group outing to a Saturday evening show. Shifting the attention from "the wedding" to "just having fun together" is the perfect way to treat your guests and thank them for celebrating with you!
4. Hire a wedding planner to help you make the most of it.
Especially in the wake of the pandemic, Friday weddings can be complex to plan and navigate, with all their own unique requirements and quirks. Consider hiring a wedding plannerhiring a wedding planner to help you figure out the best wedding date, figure out the best pricing you can get to bring the most out of your big day, and help you feel seen and heard in what till likely turn out to be a banner wedding season now that we are coming out of COVID. Sure it might tack a bit onto the budget, but when you take a leap of faith like planning a non-Saturday wedding, you deserve expert help from someone who knows the ins and outs of the industry to make sure everything goes off without a hitch!