Here's What to Do If You Have Wedding Photo Anxiety
For the camera-shy or self-conscious, here are the considerations to keep in mind from a body image advocate.
Influencer Victoria Garrick is a content creator and podcast host. Her mission in life, however, is to serve as a body image advocate, especially after struggling with her own binge eating disorder and depressive episode in college. While wedding planning, it became clear to Garrick that there was more to unpack, especially around her personal wedding photography anxiety and body consciousness.
"I really ended up getting here by following what I needed to do, to better my own mental health," says Garrick. "[In college,] I was just absolutely obsessed with Instagram, portraying the perfect image, and having the 'perfect body,' which to me meant matching the measurements of Victoria's Secret models. I remember being on diets when I was 12 or 13 years old, because the beauty standard was so apparent to me, even as a young girl… When I got to college, my mental health really took a toll. I felt like I was seeking validation from every corner of my life. That wasn't me. I was anxious about volleyball as a Division I athlete, and there was a lot of stress and pressure that came with being on the number one team in the country. When I was 18 years old, I ended up falling into a depressive episode, developing a binge eating disorder, and it was in my healing and going to therapy that I reevaluated, 'How did I get to this rock bottom?'"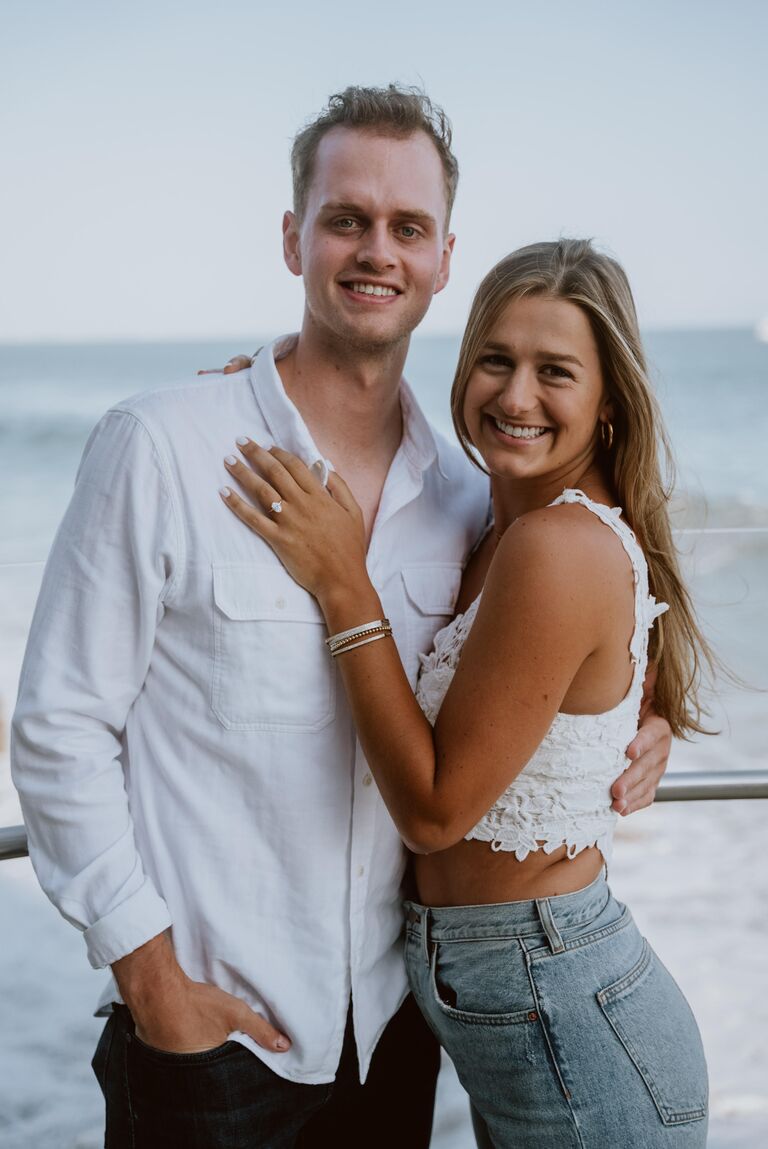 One avenue for healing, she learned, ironically played a role in her breakdown. "I realized a big component of [my rock bottom] was the way that I was portraying myself to the world, specifically on social media. In order to allow me permission to accept who I was and to lower my standard of 'perfection' and where I was, I began posting more candidly on the internet," she says. "I was no longer going to Photoshop my pictures, no longer going to edit them, and I wasn't going to post things because I wanted the likes and the comments from others… Instead, I'd post because I enjoyed the photo or because I was just trying to kind of take back ownership of my social media."
Today, Garrick uses her platform to combat the pursuit of perfection and body standards that are so often celebrated across Instagram and other social media platforms. "I started using the hashtag #RealPost. I didn't think much of it. I didn't think I'd build a brand around it. I had a thousand followers, friends and family," says Garrick. "But that was so captivating to people and they were so intrigued by it… I truly wasn't caring about keeping up the highlight reel."
In 2021, Garrick got engaged to longtime boyfriend Max Browne. While wedding planning, the bride-to-be found she still has much progress to make within the space. In part, she's confronting her own wedding photography anxiety–while questioning traditions and societal norms.
What Is Wedding Photography Anxiety?
There are those who are camera-shy or they consider themselves severely camera-conscious. Wedding photography anxiety, however, is a new condition related to the rise of social media and questionable standards of perfection. In fact, when someone suffers from wedding photography anxiety, it's because wedding photos may impact one's self-perception and self-confidence. Those with wedding photography anxiety often worry about the results on the film roll more than the actual moments themselves.
"I think we're in this really unique era where it's almost like your wedding is only as good as the photos. And it's ridiculous to think about that," reflects Garrick. "For example, I'll be in conversations with vendors and I'll hear someone say, 'Well, we should put flowers here just because when you're walking down the aisle, it's in the background of the picture. Or even yesterday, I was on a phone call about a chocolate or vanilla cake. I said, 'I don't really care…' and the vendor said, 'Well for photos, people usually prefer vanilla.' It's so wild to think about how nowadays so much of a wedding is curated for the images."
It's common for most couples to feel awkward or anxious about posing for photos (it's not exactly natural unless you're a model or influencer). What wedding photography anxiety perpetuates is for newlyweds to be incredibly self-critical about their appearance, with an unhealthy and unrealistic pursuit of perfection in stills.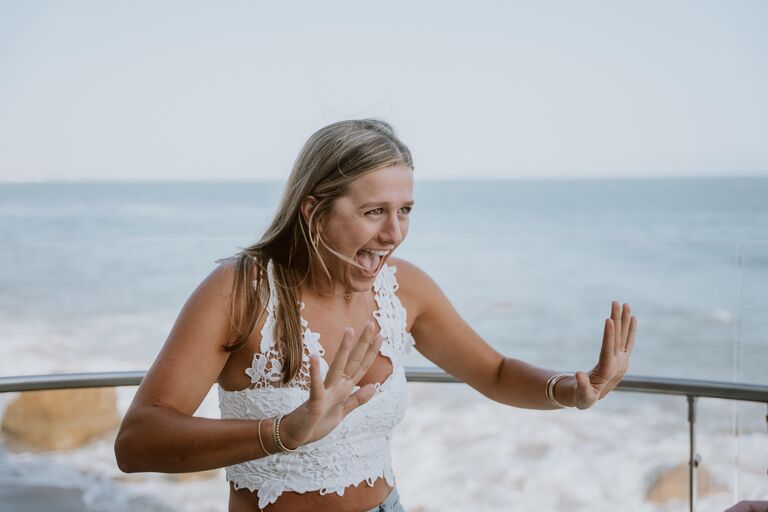 "That is something that does cause me a lot of anxiety and stress because when I wasn't in the best place, I cared a ton about the photos I wanted," she reflects. "A photo is supposed to be a memory at its core… There was a moment in time when a photo could be captured and then the next generation could say, 'This was your great aunt or your father's father.' Nowadays, anyone could take thousands of photos and it's almost like a currency that's inflated. We've become desensitized to it. No one seems to care about the moment being captured, but instead, how they look… I see it when I take photos with people and I say, 'I hate my arm in this.' But what about the fact that this is all of us on Christmas morning and we're never together?"
Tips for Combatting Wedding Photography Anxiety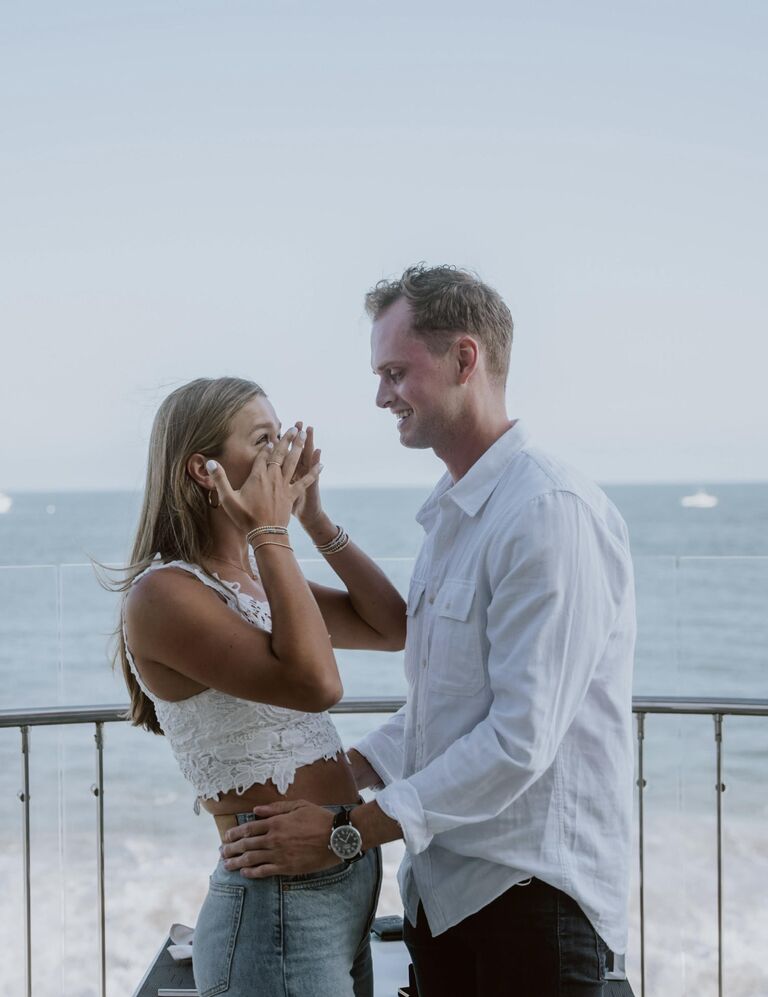 Prioritizing How You Want to Feel on the Wedding Day
So how can couples get ahead of this social media-centric craze that's happening around photography? "I think it's important to get really clear about what this celebration means to you and what it means to your partner," says Garrick. "Have that conversation and figure out what is most important to you and how do you want to feel on your wedding day like, I almost think the athlete in me comes to come forward in these moments where I'm like, 'You can't just show up to game day and like expect for everything to be perfect.' You need to think about it. You need to prepare and go over the things."
Simply being aware of the societal pressures that may most influence your wedding day is a great place to start. "If someone feels like photos are going to be things that stress them out? Maybe just do photos with your family… or moments when you feel really comfortable," she adds.
Saying 'No' to Filters
Name a filter and it's likely already on Instagram and TikTok: a blurred skin texture filter, a Julia Fox-inspired eyeliner filter, or a filter that instantly adds lash extensions to your face. But Victoria Garrick opposes any kind of filter. "Usually, everyone is tempted to swipe to get the Paris filter on your Instagram story because it smoothes out your face. It just makes everything a little bit, 'nicer.' …I will never swipe on Stories. I'm super particular about my photos on my page being real, being candid, and not having any kind of Photoshopping, editing, or smoothing. Because the brand I've built around myself is one that's conducive to authenticity. As a result, I'm comfortable posting about a bad breakout or that I'm feeling super bloated."
If you're reliant on filters and want to grow out of them, it's possible. "That's really my message," elaborates Garrick. "But in the very beginning, it was certainly difficult to accept me for who I was, and to admit things that are sometimes scary."
Mindfully Wedding Dress Shopping
Garrick made it clear at her fittings that she wanted to combat the "sizing down" narrative as a whole. Typically, wedding gowns are ordered eight to 10 months in advance to account for alterations. (Even longer with the weddings boom.) However, Garrick has seen how timing may influence the "transformation between the wedding" narrative.
"It's very hard because our bodies fluctuate all the time," she muses. "That's something I have a lot of anxiety about going in… My bridal consultant said, 'OK, you're measured at like XYZ.' And I replied, 'Great. Let's order that.' …Maybe she was a little bit refreshed that I wasn't like, 'Let's just do the one size down.' Because I feel like I've heard everywhere people ordering like one size down because that's their motivation to change themselves for the wedding."
Reconsidering Your Wedding Day Timeline
Garrick is scrutinizing wedding traditions even down to the first look. "It can be really special and really sweet to see those photos. I know many people do a first look because there isn't enough time for pictures later–especially if you want to have time with your partner and have photos before the wedding," she says. "People have asked me if I'm doing a first look and, for me, I feel like I've had to actively get ahead of my [wedding] photo anxiety. Even though I'm in a place where I'm super candid online and I'm okay with an 'imperfect' photo of me… I know myself and I know that I can fall back into old habits where I begin to obsess over photos."
Therefore, she plans to do away with the first look on her wedding day. "Personally, the first look feels like it'll be about how I look and how he'll react to my appearance," says Garrick. "I don't even want to put that pressure on myself… What if he doesn't cry or he doesn't have this reaction? I don't want to question myself with, 'Do I not look beautiful enough on my wedding day?' I'm trying to be realistic… Maybe that's my own complex. I know there are people who do it because it's about that moment with your partner. But that's an example of something where I can already sense myself making it about my appearance. As a result, I'm not going to do it because I don't want my wedding day to be about that. And so like that's something I'm doing to try to avoid it."
Placing Limits on Creating Content
One of the areas of opportunity where Garrick tested the possibility of wedding photography anxiety was at her recent bridal shower when she hired a professional to document the event. "There's an irony for me, right? Here I am saying 'I don't want to care about the photos,' but also, my job is social media. That means content and photos and video," says Garrick. "I hired a photographer for the bridal shower because I knew I would need to share it on social media."
After taking initial group photos, the photographer asked the bride if the group wanted more imagery with better lighting and a nicer backdrop. "I [respectfully] said, 'It's fine, the other ones will be good.' At that moment, I was at my bridal shower. We already did the photos. I'm not going to rally all the girls to go to a different location for photos," muses the bride-to-be. "That was a cool moment for me to say, 'I am really trying to practice what I preach here. Of course, I need photos. Of course, I hope they're cute. But I'm not going to make my whole day about these photos."
Stowing Away Social Media on the Wedding Day
Garrick has already made a decision to put her feeds away on her wedding day. "That's tough because I'm on TikTok. I'm on Instagram and I'm a YouTuber. I need to have TikToks on my wedding day," she reflects. "I'm currently figuring out how I'm going to [capture wedding moments] a week later or how I'll film the TikTok a week before. The last thing I want to do on my wedding day is get stressed about 'getting this video' or 'this perfect shot.'"
After all, dissecting photos from a moment can detract from the experience. "I recently wrote an Instagram caption about one of our engagement pictures. I hated my arm in the photo and it was the very first thing that I saw," says Garrick. "I really tried to do some work unpacking this photo and what I thought about it."
Trusting Your Vendors to Honor Your Wishes
Instead, the bride-to-be is focusing on the wedding moments she wants to capture–far in advance–and communicating them. "I'm that way with my photographer: I'll be very communicative about the shots that I want and the moments I want to be captured. This is what's important to me. Once I've communicated that and they've said, 'I've got it,' I need to let go and I need to enjoy my day," she notes. "I need to trust that I've hired this person to do their job. I think that's another example of who you can lean on for support: whether it's someone in your bridal party, family members or friends that can do the X-Y-Z thing for you. And a vendor, right? So that you can be more present or whatever it is that you want."
Avoiding Validation From Others
Wedding photography anxiety isn't only induced by self-judgment, but also the need to hear approval from others. "It adds a lot of stress and pressure. Not only are you trying to appease maybe the coolest people in your life, who have very strong opinions about how your wedding should be or certain things like that. But with wedding photos online, I wonder, 'How what are people gonna think of the way that I did my flowers or what are people gonna think of my dress?'" says Garrick. "Reminding yourself that no one knows your situation, but yourself, [is a healthy approach]. You know what's going on in your life. You know what's important to you and your partner. The most important thing is that you're happy and the people that you love are happy. You won't be able to please everyone."
Practicing Presence
Being present requires intention and diligence. "At my bridal shower, I really wasn't on my phone. I remember actively taking deep breaths, looking around and trying to soak in who was sitting where," says Garrick. "Weddings are big on expectations because when you were like a little person, you were maybe dreaming up this day or you've been watching movies about this day…My wedding mantra has been staying present without expectations."
Focusing on Your Love
As you're wedding planning, prioritizing your mental health and relationship wellness can diminish feelings of anxiousness. "My fiance Max and I are college sweethearts," says Garrick. "He played football at USC, I played volleyball. We actually met when I was a freshman at my very first college party… I just always thought he was the sweetest and he was so funny."
In August 2021, the couple got engaged during a staycation in Malibu. "I truly had no idea he was going to propose then. I didn't think the proposal was coming until Christmas time. I thought we were doing this little weekend trip just an hour outside of where we live in LA," recalls Garrick, who was shocked when her future husband dropped to one knee over margaritas. "I was so caught off-guard, I was shaking and crying. Then he told me we're not having dinner. We're not even staying at that hotel. There was a limo outside for us to take us to the next spot. So I followed him and we traveled up to the mountains and our friends and family were all there to celebrate our engagement. It was so special." One year later, the two will marry.