Tips for Planning a Military Wedding
For each branch of the armed forces there are different wedding customs and rituals that apply which showcase national pride and loyalty. Here, some tips for planning your military wedding.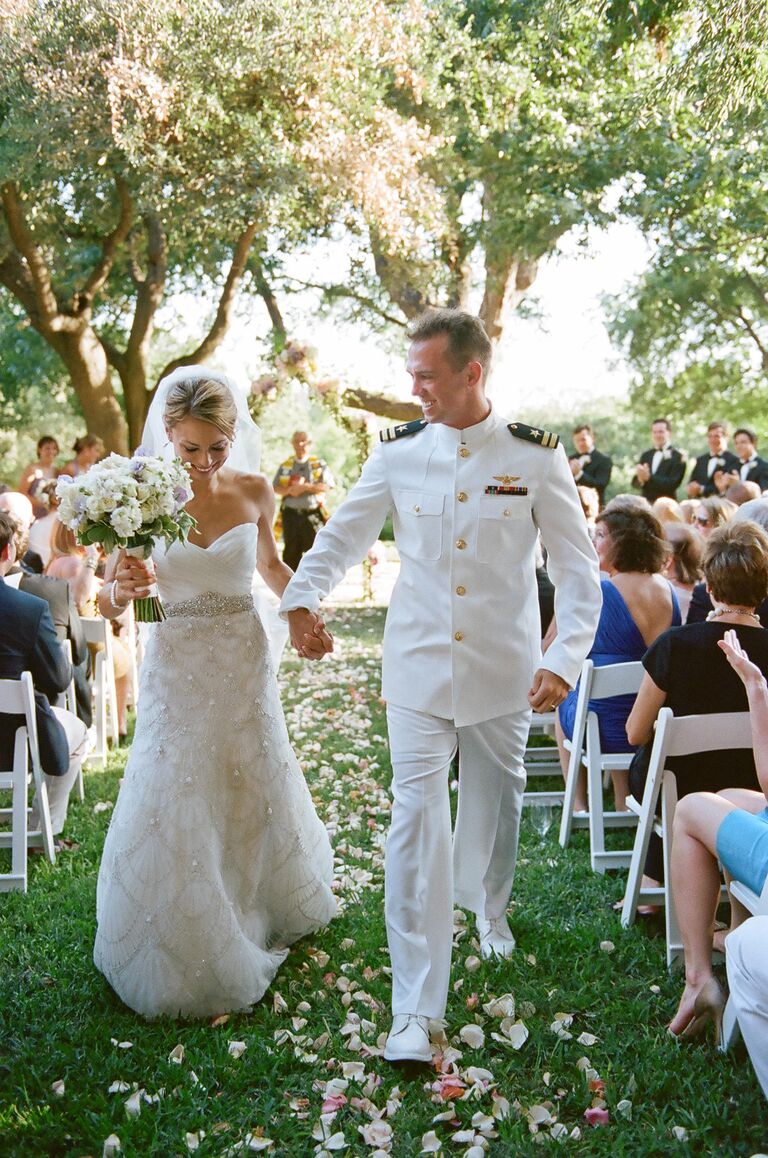 Suzi Q Varin
If you and your partner are looking to host a military wedding, there are a few rules and customs you'll want to keep in mind. Because these ceremonies are steeped in tradition, we've answered some of your most frequently asked questions regarding military wedding etiquette. We've even outlined some top tips to follow to ensure you follow all the appropriate rituals. Follow along and you'll be all set to host or attend a military wedding of your own.
What is a military wedding?
Anyone who has or is serving in any of the branches of the military can host a military wedding. While each military branch has different wedding traditions, it's a ceremony for active or retired officers, enlisted people or cadets who are getting married.
How long is a military wedding ceremony?
The length of the ceremony can vary. It really comes down to which traditions and rituals the couple would like to take part in. The more traditions, the longer the ceremony.
What should I wear to a military wedding?
The wedding guests should always dress according to the formality of the wedding, whether it's a casual affair or a black-tie occasion. When in doubt, ask the couple. If you are an active or retired military personnel, you are often invited to wear a uniform that best matches the dress code. For example, this could mean blue or white mess uniforms.
10 Military Wedding Etiquette Tips
1. Consider a Military Chapel or Academy Grounds
Many military weddings take place at military chapels or on academy grounds (Army, Navy, or Air Force). If you'd like to use another location, run it by your installation. Most military chapels are like other in-demand ceremony sites -- you need to reserve them at least a year ahead of time, often by applying in writing to the chaplain's office. All service academies have more than one chapel; at the Air Force Academy, for example, there are Protestant, Catholic, and Jewish chapels. To marry in a military chapel at a service academy, you must be a graduate or one of the following: a dependent of a graduate; an officer or enlisted person assigned to the academy complex, or his or her dependents; or a faculty or staff member, active or retired, or his or her dependents.
There will probably be no charge for the use of the chapel, but a donation to the chapel fund will be expected. Rules for decorating military chapels vary across the country, but all flowers, candelabra, and other decor are arranged by the Chapel Altar Guild and are the same for all weddings. Some chapels and churches do not furnish decorations; the couple plans them themselves.Military receptions at academies or bases are often held at officers' or enlisted clubs on the installation, or you can have a traditional hotel or restaurant reception.
2. Research Available Officiants
If you marry in a military chapel, the chaplain will perform your ceremony, and when you reserve the chapel you'll arrange a meeting. A few sessions of prewedding counseling may also be required. If you'd like your civilian clergyperson to co-officiate, talk to both officiants early about the possibility. Chaplains are commissioned officers and are paid by the service they represent; you do not need to pay them a fee (although you should make a donation to the chapel; see above). It's customary to offer any assisting civilian clergyman an honorarium.
3. Understand Each Branch has Unique Traditions
Keep in mind that each branch of the military has its own traditions. This means that an Army wedding will look different than a Navy wedding, For example, the saber arch ceremony may occur at different places and different times during the ceremony. At a Navy wedding, they traditionally do an indoor arch ceremony after the blessing, while Air Force and Army weddings have the choice of doing it indoors or outdoors.
4. Seat Guests According to Rank
Special considerations must be made when arranging the seating at a military wedding. All high-ranking officials (lieutenant, colonel, and above) must be seated in positions of honor at both the ceremony and reception. Additionally, a special place should be reserved for the commanding officer of the bride and/or groom. If the couple's parents aren't present, it's customary to seat their commanding officer(s) and spouses in the front pew. Following, military guests should also be seated according to rank.
5. Obey Traditional Military Attire
If the groom is a member of the military, he must wear his appropriate military dress uniform. Depending on his branch of service and whether or not he's a commissioned officer, the groom may decide to wear a saber or cutlass, which must be accompanied by white gloves. The bride stands to his right at the altar (instead of to his left, as traditionally done in nonmilitary weddings) in order to avoid the blade. If the bride is in the service, she has her choice of wearing either her military dress uniform or a traditional wedding gown. Either way, she may hold a bridal bouquet.
6. Adhere to Appropriate Grooming Rules
If you or your partner are planning to wear your military uniform to your wedding, you must follow appropriate military grooming standards. For men, this means clean-cut. For example, a groom wearing his uniform to his Army wedding is expected to shave his face, cut his hair above his ears and remove any visible earrings.
7. Display a Flag
Regardless of whether it is a Marine wedding or an Army wedding, there's a good chance you will see an American flag on display. As a sign of respect, the couple will often place an American flag to the left of the officiant during the ceremony.
8. Consider Incorporating the Arch Of Sabers
The arch is a symbolic act that ensures the newlywed couple safe passage into their new life together, but it should only be performed for commissioned officers. As soon as the ceremony is over, the ushers line up on either side of the aisle to the chapel steps. At the head usher's command -- "Draw sabers (cutlasses)" -- the ushers raise their blades, edge up, into the air, carefully forming an archway. If there are civilian ushers in the wedding party, they also line up and stand respectfully at attention while the arch is formed. The newlyweds pass under the archway, and at the command -- "Return sabers (cutlasses)" -- the ushers return their weapons to their sides. They then turn and escort the bridesmaids down the aisle. If weather permits, the arch may be formed outside the entrance to the ceremony site. Though specific commands and protocol may differ based on the military branch of the commissioned officer, the arch is a military wedding tradition highlight.
The arch is not mandatory, but it's definitely a memorable part of a military ceremony. On most bases, at least one chapel or an honor guard usually has sabers available for wedding ceremonies (actual swords are used in a Naval wedding). Another possible source is the local ROTC unit.
Only commissioned officers are permitted to carry sabers or swords and participate in this ceremony. (The Marine Corps is the exception, with NCOs also authorized to carry them.) Often the military groomsmen participate, but other officers (guests, perhaps) may be designated to help create the arch. Usually 6-8 officers are included. The head usher usually issues the commands, starting with "Center face," the signal to form two facing lines. When the order "Arch sabers" (or "Draw swords") is given, each usher raises his saber, cutting edge up, to form the arch. Officers have been known to detour from tradition, announcing the couple ("Ladies and gentlemen, may I present Lieutenant and Mrs. Smith") or lowering the final two sabers to block the couple's way and demand that they kiss! A Marine Corps tradition, often adopted by the Air Force, is for the last saber bearer to "tap" the bride with his saber and say, "Welcome to the Air Force, Ma'am."
9. Follow Military Cake Cutting Traditions
For commissioned officers, the military puts a unique spin on this tradition. On command, the saber or cutlass bearers enter the reception room in formation in front of the wedding cake, facing each other. The bride and groom pass beneath the sword/saber arch again, and approach the cake. The groom hands his new bride his unsheathed sword saber, and with his hands over hers, they cut the first piece of cake together.
10. Do the Receiving Line Justice
In the receiving line, protocol demands the uniformed groom to precede his bride. Often, national colors and distinguishing flags are displayed, directly behind the center of the receiving line.