The Ultimate Guide to Planning a Military Wedding
Here's how to respectfully pay homage to your military service.
Are you engaged to someone in the military? Maybe you're a service member yourself. Whatever the case may be, there's a good chance you have some questions about what's involved with a military wedding. Military weddings are steeped in tradition and are a beautiful way to honor both a couple's marriage and their military service to the United States.
We connected with event planners Melissa Williams and Alyssa Edwards of B Astonished Events as well as Danielle Leilani of Leilani Weddings to share their expert insights on everything you need to know about military weddings. Take note of the advice below are you dive into wedding planning for your military celebration.
In this story:
Common Military Wedding Planning and Etiquette Questions
"Many military couples come from a line of military personnel, so these traditions are not only important but sacred," says Leilani. "It's not only a time for military families to celebrate the couple but also their lineage and history while serving the United States." But with tradition comes certain expectations around protocol. We've answered some common military wedding etiquette questions so you know what's what.
What is a military wedding?
Simply put, a military wedding is a wedding where one or more of the marriers is on active-duty in the Armed Forces or is an Armed Forces veteran. Based on the preference of individual service members, some may choose to pay homage to the military in a significant way while others may only sprinkle in a few traditions and nods here or there.
How long is a military wedding ceremony?
Despite the ample traditions associated with military weddings, they still stick to a regimented schedule. Military wedding ceremonies are generally 30 minutes long.
How should attendees' rank be acknowledged and honored?
As with all titles and honorifics, it's important to pay close attention to military rank is all correspondence and planning.
With traditional wedding invitations, in much the same way that you'd acknowledge and honor a doctor who's invited to the wedding, the same should hold true of those in the military. When addressing invitations, military titles should never be abbreviated.
"It's important to address your guests by rank on invitations and seating arrangements," advises Williams. "Also branch, and acknowledging whether they are active duty, retired or in the reserves. For example, my mom Yvonne Prettyman-Beck just recently retired from the Army serving in the Army Corps of Engineers. Her now title is Retired Colonel Yvonne Prettyman-Beck."
Additionally, when it comes to assigning seats, regard for rank should also be taken. Especially high-ranking officials like Generals and Admirals, if they're in attendance, should be given preferential seats. Leilani shares that "it is customary to seat commanding officers and spouses towards the front, and military guests should also be seated according to rank."
Is there certain protocol that must be followed?
While a military wedding can take place anywhere, many couples will choose to tie the knot at a military academy chapel or host their reception on a military base in their military chapel. If you're unsure of the rules associated with using those venues, reach out to your base's protocol office and/or the chaplain for advice.
Most commonly, grooms in the military will wear either their Mess dress uniform or their Class-A service uniform. While military brides have the option of wearing their uniform, many opt for a traditional white wedding dress.
Parents and wedding party members who are also in the military or retired may opt to wear their uniforms to match the marriers, but civilians can simply wear suits or other attire of comparable formality. While the couple and their Best Man or Maid of Honor, if present, shouldn't wear gloves since they'll be handling the wedding rings, other military groomsmen and wedding party members should wear white gloves as part of their uniforms. Additionally, boutonnieres aren't worn with military uniforms—medals should be the only embellishments with military dress for the special day.
Military wedding guests may wear their uniforms. For couples who wish for military attendees to come in uniform, you can make a note of this on the invitation or wedding website.
Being drunk in uniform is a serious violation so military members should take some time to think about how much you intend to drink at your wedding when deciding what you'll wear. If you want the freedom to really let loose, maybe going the civilian route with a suit or tux is best.
Leilani also notes that uniforms and attire should be considered early on as seasonality and formality will play a role in any uniform decisions. "Something to keep in mind is the season and which uniform will be worn (e.g. for Marine Corps officers' dress blues, the uniform includes white pants, whereas during the winter it is blue pants with a red stripe). This could play a factor in your color scheme. Dress uniforms for the military are worn for the equivalent of black-tie events so this could play a role in the wedding party and guest attire and formality."
What rules exist for military wedding rings?
Per military regulations, a member of the military may wear up to two rings, with a wedding ring and engagement ring considered one ring since they're a set. The military also requires that rings be simple and "in good taste." Because of occupational hazards that could cause wear and tear to wedding rings, many couples choose to wear silicone rings on a daily basis and keep their precious metal jewelry for special occasions.
Beyond rings, strict rules also exist with regard to other body jewelry so to-be-weds should make sure they're allowed to wear extra jewelry like earrings and necklaces before planning their wedding outfits. Williams and Edwards note that "based upon the branch of service, the couple would need to adhere to the grooming guidelines of whom they serve. Most of the military branches require clean faces, certain hairstyles, and such."
What's expected of civilians when attending a military wedding?
If the wedding is happening on base it's smart to arrive early as it will take some extra time to get through the security gate with a military ID.
Civilians won't be asked to participate in traditions, like the saber arch, that are for service members, but it's still helpful to have a clear understanding of the proceedings. Knowing what you can expect to see at the wedding will help you celebrate more meaningfully and respectfully alongside the couple.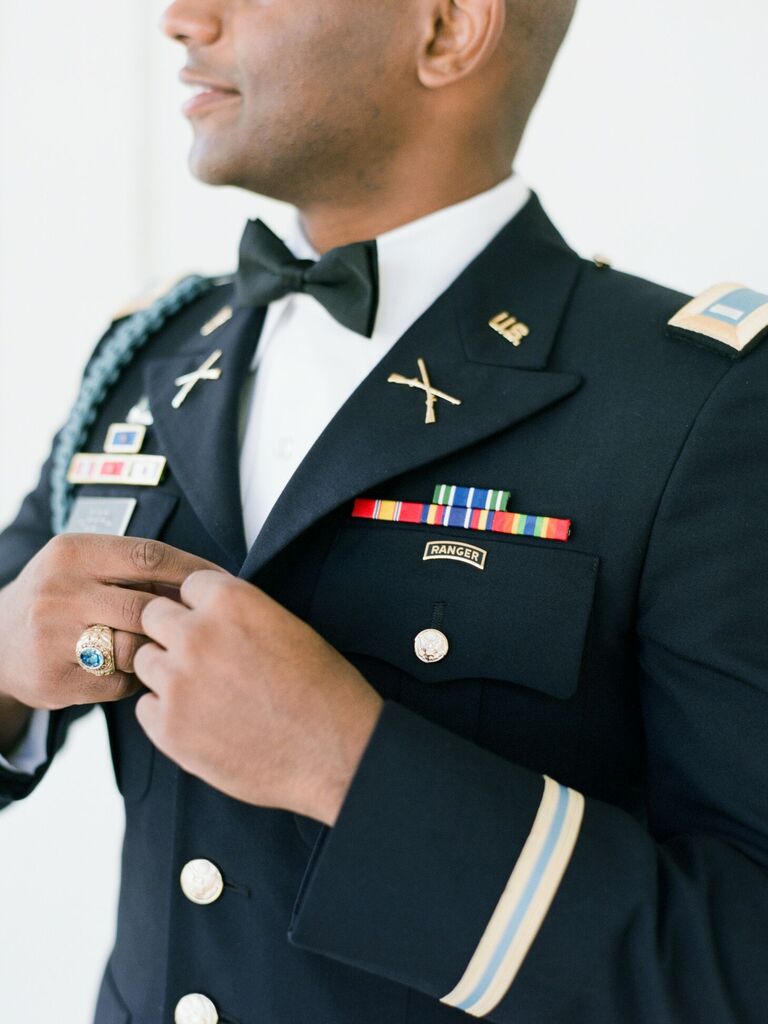 Military Wedding Planning Tips
Now that you have clarity on some of the most frequently asked questions about military weddings, here are a few top tips to help you plan a successful military wedding. In addition to keeping this planning advice in mind throughout the wedding journey, hiring experienced pros, such a wedding planners with knowledge of military life and weddings, is another important step you can take in ensuring the big day goes off without a hitch.
Consider a Military Wedding Venue
A military base or one of the service academies is a great option for a military wedding. If you're hosting your ceremony at a base chapel, speak with the chaplain ahead of time about flower arrangements and music selections, as you'll need to get their permission for altar arrangements and any non-traditional music choices.
Some base chapels require reservations very far in advance. Especially during the time right after graduation and commissioning, base chapels are in high demand.
Consider a Military Wedding Officiant
The most common officiant for a military wedding day is a chaplain. Military chaplains are able to preside over off-base weddings so they're also a great option even if you aren't tying the knot at a military venue. Chaplains don't charge a fee for officiating, but a small donation to the chapel where they're based is an acceptable way to show your appreciation.
Military Wedding Decor and Traditions to Include
Now into the fun part—incorporating nods to the military into the wedding program. From a dramatic saber exit after your wedding ceremony to a thoughtful flag display, there are multiple ways your service can be positioned front and center on the big day through military wedding traditions.
Military Saber Arch
The Arch of Swords or Arch of Sabers, depending on the branch, is one of the most iconic traditions at a military wedding. It is a fun addition to the recessional as the couple makes their wedding ceremony exit. This is when, according to Williams and Edwards, "service Members line up in pairs and make an arch with their swords or sabers for the bride and groom to walk under after the ceremony."
During the ritual, six to eight service members, these can be friends and wedding guests or local honor guards, will line up on two lines facing each other. They'll form a tunnel by holding their swords out to meet each other and the newly married couple will walk under the tunnel. Before they reach the final pair of sabers, those two service members will lower their sabers to halt the couple. The couple is encouraged to share a kiss before passing the final sabers and into their newlywed life.
Flag Display
Williams notes that it is "appropriate to have an American flag located at the wedding." You can have a flag flying on the flag pole outside of your venue. Many service members may also choose to display the flag of their military branch or possibly their unit's flag in addition to the United StatesSyars and Stripes. Additionally, if you're retired and have the American flag that you were presented with upon your retirement, you could consider displaying that prominently at the reception (the cake table or guest book table would be appropriate).
Military Cake Cutting
Sabers generally make a second appearance at a military wedding. While the saber arch is key to the wedding ceremony, sabers are typically used at the wedding reception to cut a couple's wedding cake.
Military Wedding Differences Based on Branch
While there are some commonalities you can expect across the board, each brand of the United States Armed Forces has some nuances in etiquette and protocol that you can expect. "Each military branch has its own traditions," explain Williams and Edwards. "Rank is very important when considering the different military branches. It's important that no matter the military branch, you should always have special seating for your officer commander at the wedding."
Air Force Military Weddings
Many Air Force couples choose to wed at the Air Force Academy in Colorado Springs, Colorado, because the base Cadet Chapel is known for its iconic architecture with 17 spires. Unfortunately, the chapel is currently under construction with an estimated completion date of 2027. As Leilani explains below, both the Air Force and Army have saber arches, while the Navy, Marine Corps and Coast Guard host a similar ritual known as an Arch of Swords.
Army Military Weddings
"The Army has the Arch of Sabers, which is a salute to a new couple. Meanwhile, the Air Force follows a similar tradition but with a couple of notable differences," explains Leilani. "For example, the saber bearers are allowed to participate as ushers in the ceremony in the Army branch but not in the Air Force."
Many Army couples select West Point in New York as their wedding location. There are also a couple of nuances to understand that change by branch when it comes to invitation addressing. Generally speaking, in the Army, if a commissioned officer is a captain or higher then their title should appear before their name, not after. Similarly, in the Navy the rule is if they're above lietenant senior grade or higher.
Navy Military Weddings
Many military members hosting a Navy wedding choose to do so at the United States Naval Academy in Annapolis, Maryland. While hats are generally not worn during weddings, Navy grooms may don their white uniform hat for a few photos.
Marine Corps Military Weddings
With weddings in the Marine Corps, couples may choose to include the branch's motto "Semper Fidelis," which is Latin for "Always Faithful," into the wedding in some form. Additionally, if military members will be wearing their dress blues with the iconic "blood stripe" then you could choose to coordinate the color palette for the special day by selecting a scheme of scarlet and navy.
Coast Guard Military Weddings
Coast Guard couples may choose to wed at the Coast Guard Academy in Connecticut. Many Coast Guard wedding traditions are similar to those seem in the Navy with both branches practicing the Arch of Swords. No matter how much tradition a to-be-wed and their military spouse infuse into the wedding, adding military customs and rituals is a beautiful way to celebrate while honoring a history of service.
Additional source: Military.com