The Best Silicone Wedding Bands You Didn't Know You Needed
For when you're working out, getting dirty or are just plain busy.
NSC Photography / Shutterstock
We have included third party products to help you navigate and enjoy life's biggest moments. Purchases made through links on this page may earn us a commission.
Once that sparkly, gleaming ring gets slipped on your finger, we don't blame you if you never want to take it off. But sometimes—and we hate to break it to you—you're going to have to. Enter silicone wedding bands, the cool jewelry alternative that makes it so you never have to go ringless, even when you're forced to shed your beloved metal band.
Be it pulling weeds in the garden, traveling or constantly washing your hands at work, there are times that are just not conducive to wearing a traditional wedding ring. Silicone wedding bands take the place of a metal band, so you don't have to go without that oh-so-special symbol of your love.
Intrigued? Again, we don't blame you! Here's everything you need to know about this versatile piece of jewelry—plus, see where to buy silicone wedding rings and some of the best silicone wedding bands that you can buy right now.
In this article:
What Are Silicone Wedding Bands?
While traditional wedding rings are typically made of metals like gold and platinum, silicone wedding bands are rubbery and flexible. They can be worn just like any other ring and can be customized to suit the wearer's personal style with plenty of different colors and details. They're also more durable and often less expensive than precious metal rings. Silicone wedding rings are a safe alternative as well, due to their non-conductive and flexible nature that makes them far less likely to cause ring avulsion and other related injuries.
Who Wears Silicone Wedding Rings?
Anyone and everyone who wants a more durable and less expensive (but no less cool) band can opt for and wear a silicone wedding ring. These flexible wedding bands are especially popular with athletes and those whose occupations don't allow them to safely wear metal rings. (Think: nurses and doctors, electricians and firefighters.) Soft yet strong, they're less likely to become damaged or cause injury in tough environments. Non-metal wedding rings are also particularly great for—you guessed it—people who have metal allergies.
But again, if you don't fall into one of those categories, don't let that stop you from slipping on a silicone wedding band. Newlyweds of all kinds can wear these babies! Some choose to also buy a traditional ring and only wear the silicone one when at work or the gym or while traveling (to prevent theft), while others wear them all the time. The choice is yours!
Where to Buy Silicone Wedding Bands
You can buy silicone wedding bands online, as well as in many storefront retailers. Due to their growing popularity, shoppers fortunately have tons of choices when it comes to silicone wedding ring designs and price points—although all those options can get overwhelming. To make things easier (you do have a wedding to plan, after all!), here are the best silicone wedding band brands to kick off your search.
Enso Rings: Enso sells unique silicone rings that are actually infused with precious metals, making them feel extra luxurious (although, those with precious metal allergies may want to look elsewhere). Enso also offers matching and complementary sets for couples.
Groove Life: With stackable rings and tons of color and custom options, the choices are seemingly endless at Groove Life. The titular grooves on the interior of their rings also allow for maximum breathability, making these some of the most comfortable silicone wedding bands.
QALO: We love the stackable and textured silicone wedding ring designs offered by QALO. And while you can create your own stack, the brand also boasts sets that are thoughtfully curated. You can even customize most bands with a name, date or special message.
Our Favorite Silicone Wedding Rings
Need a little more guidance? That's why we're here. We've scoured the sites above (and the rest of the web, as well!) for the best silicone wedding bands. No matter your personal style, budget or gender, you're bound to find your perfect fit below.
Groove Life Personalized Text Custom Ring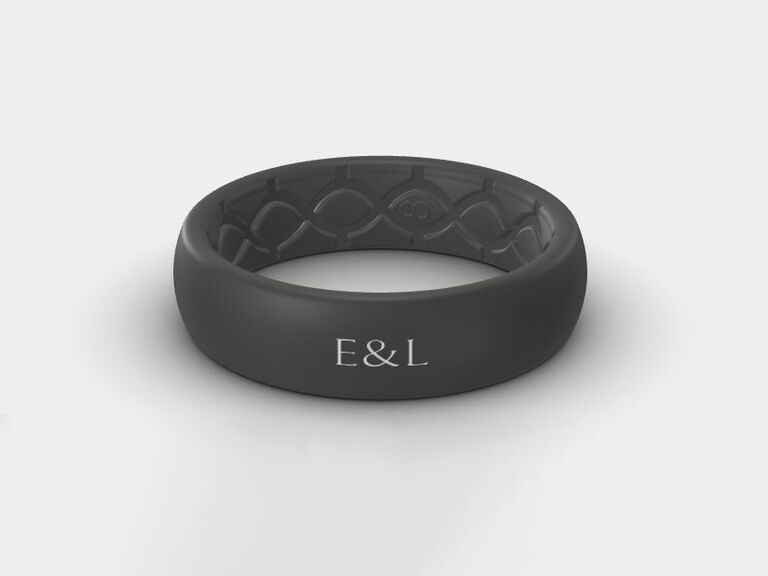 For a ring as unique as your love, this silicone wedding band can be engraved with numbers, monograms or icons, and customized to your preferred style and color. Besides their pieces being ultra-comfortable, Groove Life also offers some of the most durable silicone wedding rings, with a 94-year warranty that promises your ring will be replaced if it ever snaps or stretches out of shape.
Enso Elements Classic Thin Pearl Silicone Ring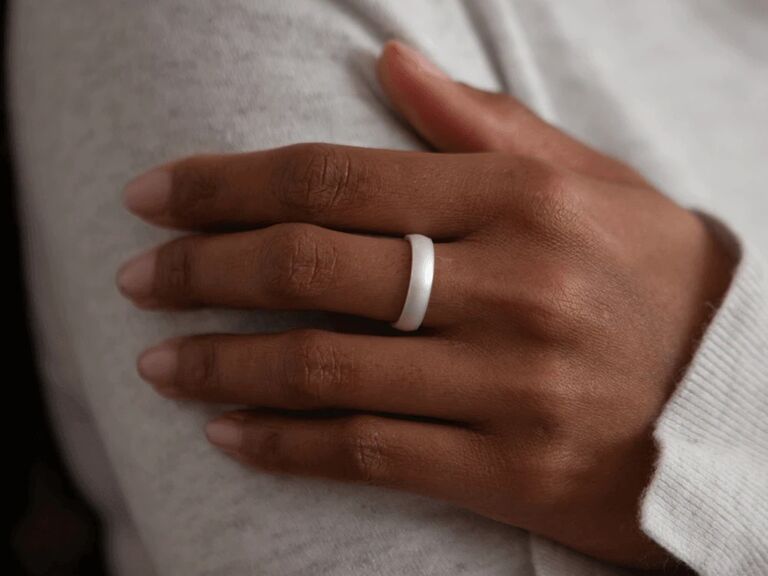 Infused with real pearls, this ring combines the glamour of precious metal bands with the comfort and safety of silicone. Be sure to check out the brand's similarly infused gold and platinum options too.
QALO Women's Ivy Strata Silicone Ring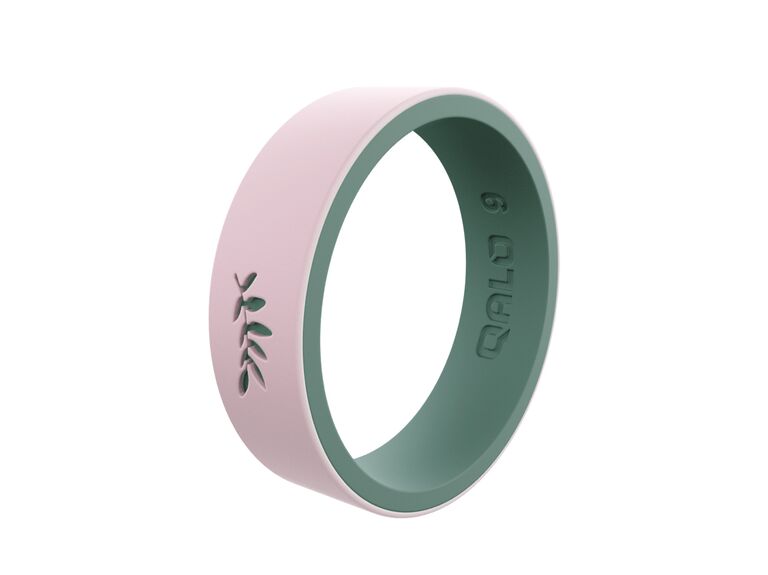 These silicone wedding bands feature a dainty, delicate ivy branch etched into the material. How pretty! You also have 10 lovely hues to choose from.
Modern Gents Trading Co. The Force Flex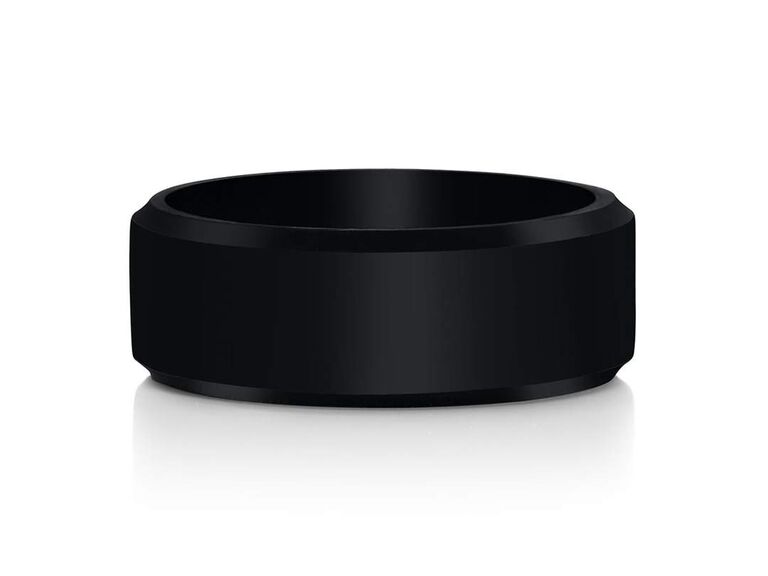 For a silicone wedding band that doesn't look like, well, a silicone wedding band, check out this black stunner. The beveled edges make it appear more like a traditional metal ring.
Enso Feather Silicone Ring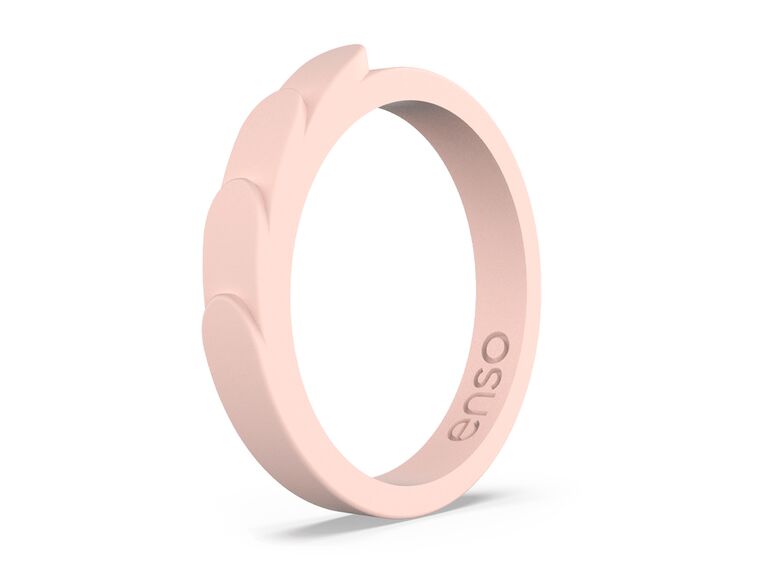 The feathery texture of this silicone wedding ring is delightfully unexpected. Eight colors are available and the company even donates a portion of sales to global charities as a part of their Rings for a Reason commitment. What's not to love?
Groove Life Blue Swirl Thin Ring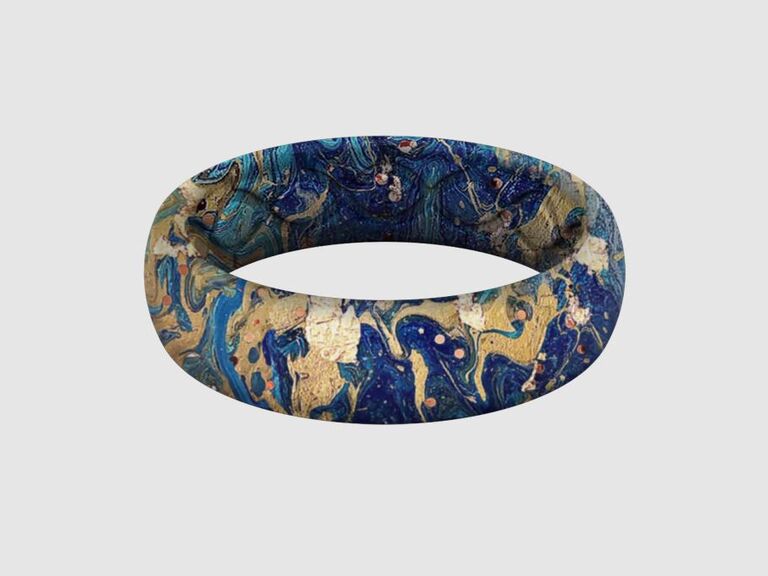 Here, medical-grade silicone gets an artistic makeover with eye-catching swirls of blue and gold. We love how unique this silicone ring is!
QALO Men's Adventurers Silicone Ring Gift Set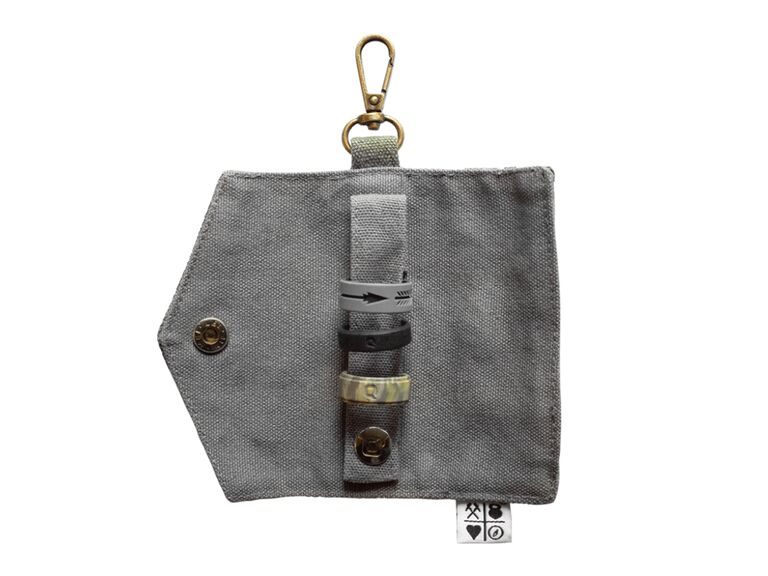 For a one-stop-shop of sorts, see this ring set from QALO. It comes complete with three cool silicone rings, all with a rustic-inspired flair.
Groove Life Luna Stackable Ring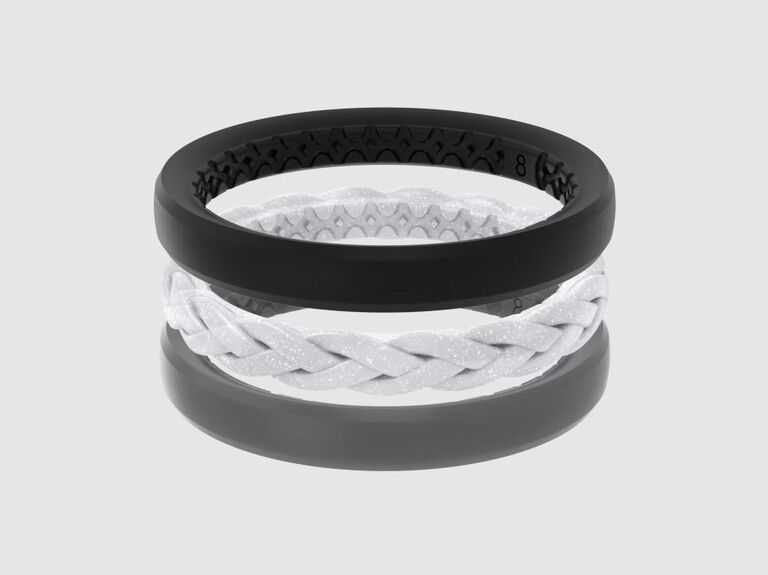 It's sometimes tough to put together a stackable set of rings. And who needs that work with everything else on their wedding to-do list? Cue these stackable silicone rings from Groove Life that perfectly complement one another. One can symbolize an engagement ring, another a wedding band, you get the idea!
QALO Men's Black Pinstripe Silicone Ring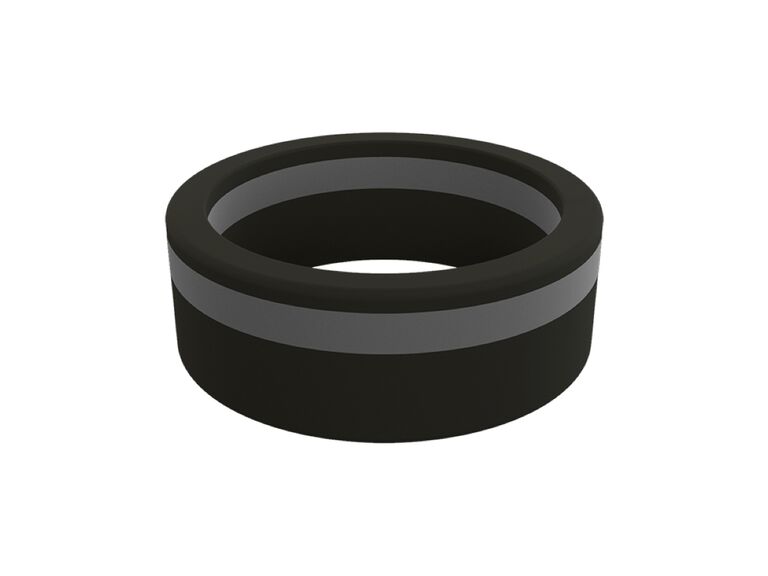 We love the modern, chic style of this pin-striped silicone wedding band. The contrast between the matte black base and dark gray stripe adds a subtle edge while maintaining minimalism.
ThunderFit Women's Triangle Diamond Stackable Rings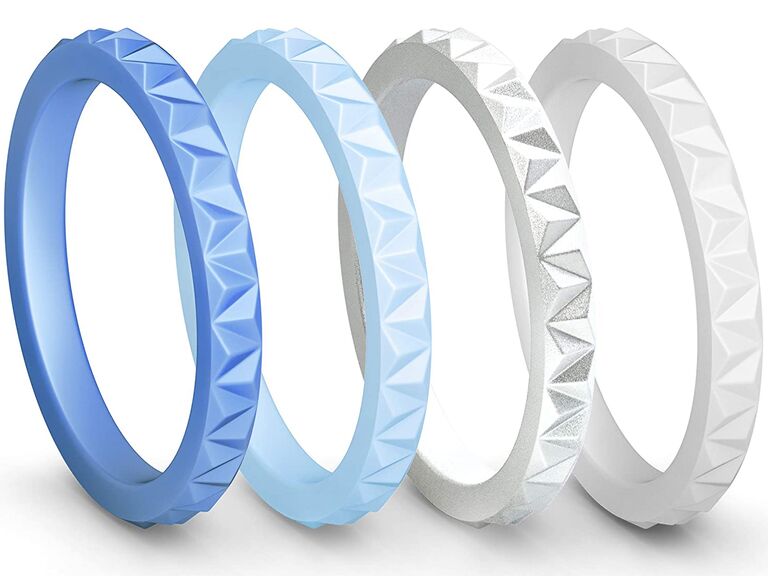 Who doesn't love choices? This set of silicone wedding rings features four fabulous bands, so you can mix it up from day to day.
ROQ Ornament Style Silicone Ring for Women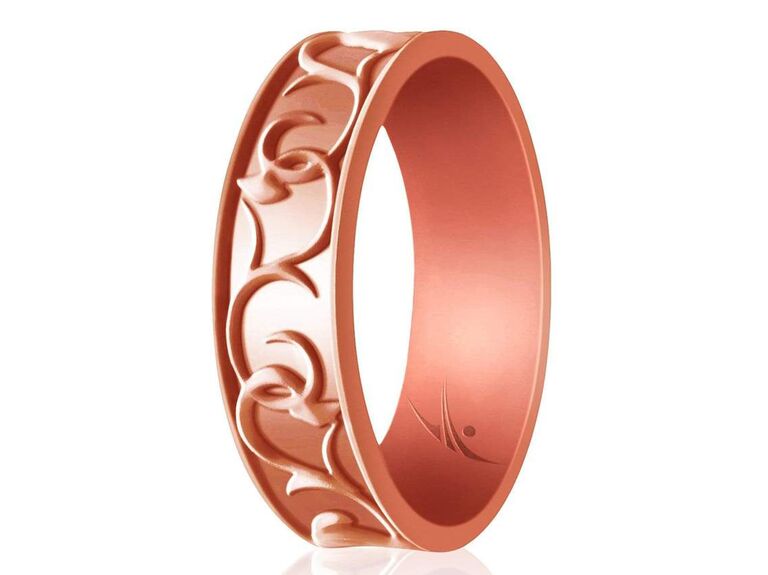 The textured, fleur de lis-like pattern adorning this pretty piece feels just so extravagant. (That rose gold hue certainly doesn't hurt either.)