The 20 Best Mumford & Sons Songs for Your Wedding Day
Commemorate your love with the perfect Mumford & Sons wedding song.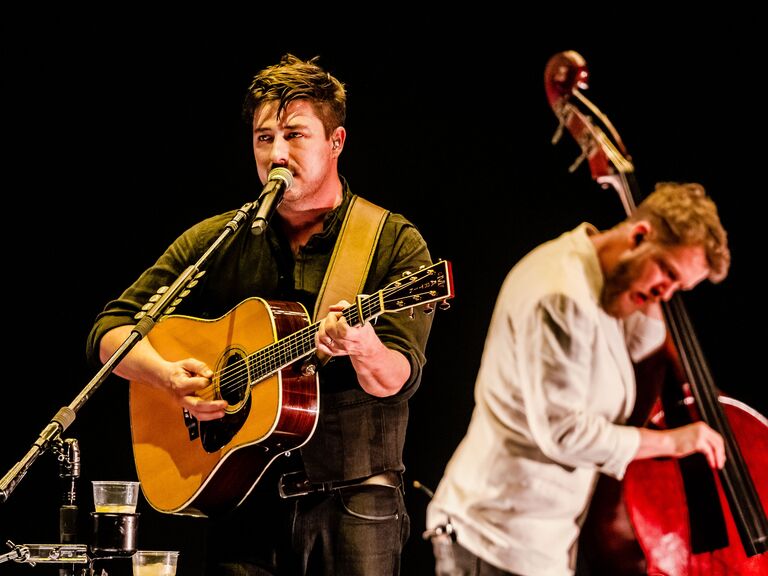 Ben Houdijk / Shutterstock.com
If you're looking for the perfect wedding song, look no further than Mumford & Sons. Since forming in 2007, the British band has graced the world with their unique flavor of indie folk-rock, and with that comes no shortage of romantic first dance songs. In fact, between Mumford & Sons' prolific discography and their many side projects (one of which is called The Wedding Band), we needed to dedicate an entire article to them.
Browse our list of Mumford & Sons wedding music, and once you've found the best songs for your big day, make sure to tell your DJ or band so they can work your requests into their final song playlist.
"I Will Wait," Babel
Lyrics you'll love: "And I'll kneel down/Know my ground/And I will wait, I will wait for you"
We're starting the list off strong with the group's highest-reaching Billboard Top 100 tune (it reached #12 in 2013) and top song on Spotify. The lead single off the then-quartet's 2012 album Babel, "I Will Wait" is a lively, jig-like tune that's all about the power of finding the right person for you. Check out the acoustic version for a softer sound that makes for the perfect first dance song.
"Guiding Light," Delta
Lyrics you'll love: "'Cause even when there is no star in sight/You'll always be my only guiding light"
From the soft introduction, to the catchy, upbeat buildup to the chorus, this song has the ideal sound for a wedding. Plus, the message about depending on one another is a beautiful sentiment to share on your wedding day.
"Rose of Sharon," Delta
Lyrics you'll love: "I will surround you/With a love too deep for words/Hold you from the world and its curse/So long as I have breath in my lungs/Long as there's a song to be sung I will be yours and you will be mine/Ever our lives entwined"
Also off the Babel album, Rose of Sharon's energetic, jumpy sound is more lively than some of their other work—and guaranteed to capture your guest's attention during your first dance. The song's title references the biblical Song of Solomon, which honors love and marriage.
"When I Get My Hands On You," Lost on the River: The New Basement Tapes
Lyrics you'll love: "When I get my hands on you/Gonna make you marry me/And now you know Everywhere on earth you go/You're gonna have me as your man"
Originally penned by legendary lyricist Bob Dylan in 1967, this song lay dormant until 2014, when it was picked up by The New Basement Tapes, a supergroup made of Marcus Mumford, Jim James, Elvis Costello and other greats. In this track, Mumford's expressive voice rings out over Costello's simple, repetitive keyboard riff. We love the confident, assertive message the lyrics deliver.
"The Ghosts That We Knew," Babel
Lyrics you'll love: "So give me hope in the darkness that I will see the light/'Cause oh that gave me such a fright/But I will hold as long as you like/Just promise me we'll be alright"
The song starts out on a slow and reflective note, with Marcus Mumford's singing accompanied by a soft piano. It then leads up to a string crescendo as other voices accompany Mumford's. The lyrics about supporting one another through hard times go along perfectly with the vows you'll recite on your big day.
Find your kind of venue
From barns to ballrooms, discover reception venues that feel like you.
"Not With Haste," Babel
Lyrics you'll love: "We will run and scream/You will dance with me/They'll fulfill our dreams/And we'll be free"
This song's gentle beginning showcases Marcus Mumford's voice, then works up to a crescendo of folksy sound as the guitar, fiddle and piano grow in intensity. The powerful lyrics speak to being set free by love, which is exactly how you'll feel on your wedding day.
"There Will Be Time" (feat. Baaba Maal), Live from South Africa: Dust and Thunder
Lyrics you'll love: "In the cold light, I live to love and adore you/It's all that I am/It's all that I have"
This unique song showcases Senegalese singer Baaba Maal's haunting Pulaar vocals, layered with Marcus Mumford and Winston Marshall's singing and set to a backdrop of guitar, drums and hand drums. The lively beat would work wonderfully as a wedding entrance song, or to welcome the rest of your guests to the dance floor.
"Forever," Delta
Lyrics you'll love: "So love with your eyes/Love with your mind/Love with your – dare I say forever"
This song features more piano than the others, for a ballad type of feel. But the group vocals make the message strong. This song is all about taking a chance in finding love.
"If I Needed You" (Townes Van Zandt cover)
Lyrics you'll love: "If I needed you would you come to me/Would you come to me, and ease my pain?/If you needed me I would come to you/I'd swim the seas for to ease your pain"
Mumford & Sons' cover of folk-country singer Townes Van Zandt's 1972 song is beautifully done, with Marcus Mumford's vocals doing the song justice. This song is all about partnership and being there for one another during the phases of life.
"Wild Heart," Delta
Lyrics you'll love: "It took a wild heart to tame mine/It took a wild heart to charm/Now a wild heart has gone and floored me/With this ever-lasting glance"
This soft song speaks to the intensity of finding your soul match. What could be more swoon-worthy than taming each other's hearts?
"Sigh No More," Sigh No More
Lyrics you'll love: "There is a design, an alignment/A cry of my heart to see/The beauty of love as it was made to be"
This bittersweet guitar-heavy song would work as a wonderful processional song during your wedding ceremony. The haunting sound is perfect for building up excitement as the wedding party begins to walk down the aisle. We love the raw, honest sentiment of "you know me" that's repeated as the song crescendos.
"I Take Your Hand," The Wedding Band
Lyrics you'll love: "Cause oh, my girl, I love everything you do/You and me make a pretty fine pair too/And I would do about anything for you/So let's dance 'til this whole night is through"
An upbeat, dancey song from a Mumford side project, aptly named "The Wedding Band," off their album The First Dance. A meta choice for a wedding, this song gives tribute to you and your love, your guests and all the dancing that will inevitably take place that night.
"Susie," The Wedding Band
Lyrics you'll love: "If I whisked you away, would you weigh light in my arms? When we leave this world will our love linger on?"
Another track from The First Dance album, this ballad takes a slower approach, featuring piano and light string instruments accompanied by stripped-down vocals that tell the story of a couple coming home to one another.
"Picture You," Delta
Lyrics you'll love: "And I picture you/Soaked in light/I picture you/And in you I have no doubt"
Off the band's 2018 album Delta, this song has more electronic, dance-inspired vibes. Its lyrics about being "a heartbeat away" from one another is a beautiful way of conveying the closeness you and your almost-spouse feel with one another.
"She Said Yes," The Wedding Band
Lyrics you'll love: "She said yes, she said yes/She said yes, she said yes/Praise the lord, glory hallelujah"
This jubilant narrative folk song tells the story of a couple's engagement from proposal ("down on one knee, the piano player waiting") to nuptials ("you weathered the storms and you followed our dreams, and now it's just you and your queen").
"Woman," Delta
Lyrics you'll love: "As the night descends, oh it's always slow again/But I am left in awe of the woman I adore'
The prominent drumbeat and lyrics about "those burning eyes" make this tune feel a bit sexier than the rest, perfect for holding your love close as you dance across the floor.
"Anmol Rishtey," Dharohar Project, Laura Marling and Marcus Mumford
Lyrics you'll love (translated): "The tale of love gives life connection/It will yield the branch that flower the connection of love to love/Love is a paradigm in life/Love ends enmity and bad blood/Love makes a human, human"
This high-energy track would be perfect for making your grand entrance, featuring beautiful vocals with meaningful lyrics about the power of love from Rajasthani musicians the Dharohar Project.
"Thumper," The Wedding Band
Lyrics you'll love: "I'll say oh if you love me the way you say you do/I know I could always be happy with you/I'm a believer"
The high-energy opener to The First Dance speaks to the confidence in committing to the one you love. It features the same jig-like tempo as the album's other songs, with a breakdown in the middle that would be perfect for your guests to join you on the dance floor.
"The Banjolin Song," Love Your Ground
Lyrics you'll love: "She stole my heart and made me sing/She stole me limb from limb"
A deep cut off their 2008 EP, Love Your Ground, this song features soaring vocals harmonizing with the unique sounds of the banjolin—a mandolin-banjo hybrid instrument that delivers a folksy sound.
"October Skies," Delta
Lyrics you'll love: "Oooh, your love endures/Oooh, I have hope once more"
This pensive and slow song does feature some bittersweet lyrics, but the overall takeaway is optimistic—that love will break through all barriers and provide faith and hope for a beautiful future.