The Knot Editors' Favorite Unique Wedding Songs That Will Make You Feel All the Feels
Turns out the best moments can also be the most unexpected.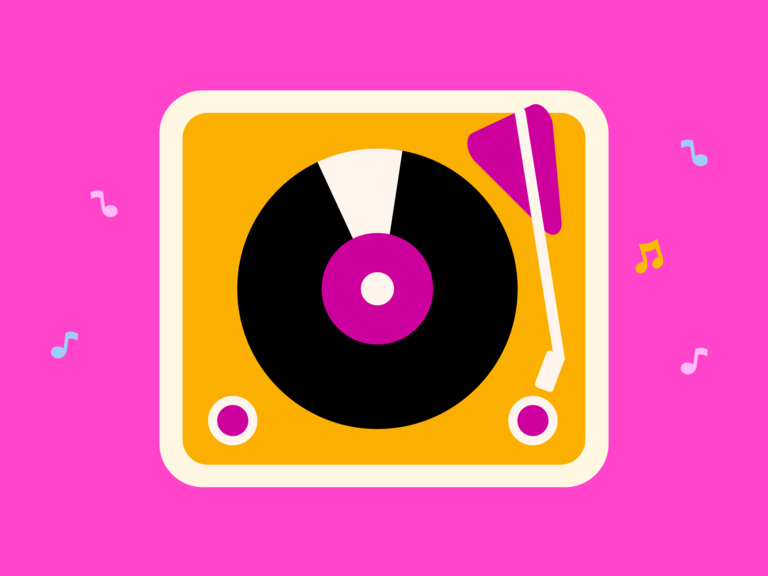 Illustration: Natalie Romine for The Knot
When it comes to choosing the music for your wedding, you can plot out the perfect playlist and work tirelessly with your band or DJ to select your favorite tunes. But you never know what's actually going to resonate with your crowd—and oftentimes it's the most unique wedding songs that turn out to be total bops.
While it's a good idea to choose songs for the most important moments of your wedding (first dance, parent dances, etc.), you'll want to put your trust in your band or DJ to read the crowd and choose the best playlist for your event. Of course, you can share songs that hold special meaning to your crew, but for the most part, we recommend letting your pros work their magic.
Our crew of editors at The Knot have been to a wedding or two, so to prove our point, we asked our team to share their most memorable music moments from weddings (either their own or ones they've attended). This list of unique wedding songs—both ones chosen in advance and others played spur of the moment—will hopefully give you some musical inspo and get you excited to hit the dance floor on your big day. They also serve as a great reminder of why we here at The Knot love weddings in the first place—the friends, family and fun.
"Such Great Heights," by The Postal Service
Our Senior Weddings Editor, Hannah Nowack, reviews hundreds of real wedding submissions on the daily, but when it comes to her favorite unique wedding song—and music moment—it's all about family. "Anytime Iron & Wine's cover of 'Such Great Heights,' by The Postal Service, comes on, I get emotional and nostalgic," she says. "My brother and sister-in-law chose this for their first dance and I was a puddle of tears the entire time."
"Tightrope," by Sara Bareilles
While your wedding is all about you and your new spouse, taking a moment to honor loved ones with a musical tribute can mean so much. That's exactly what happened to Alli Kennon, our TikTok Specialist. "After being a COVID bride, my husband and I didn't get to have our first dance," she says. "But, at my best friend's wedding, they surprised us with the chance to have a first dance to our song 'Tightrope,' by Sara Bareilles. We all bawled and they joined us halfway through for another first dance as well."
"Dancing Queen," by ABBA
We don't recommend overburdening your band or DJ with requests, sharing a few songs that hold meaning to you and your loved ones can make your playlist feel even more personal. And while we wouldn't say that "Dancing Queen" is the most unique wedding song (in fact, it's a dance-floor mainstay), it has special meaning to our Senior Social Media Manager, Mina Garagozlo—and got everyone to rush the dance floor at her friend's wedding. "Throughout my friend's 'Last Disco'-themed bachelorette trip, we danced and sang at the top of our lungs to ABBA in our '70s themed outfits. ABBA songs became our anthem for the trip, especially 'Dancing Queen.' A few months later at her wedding reception, "Dancing Queen" came on, and we all ran over to each other to sing it together one last time!"
"La Tarantella," Italian Folk Song
Infusing your wedding playlist with cultural songs will make your day all the more personal and special. In fact, dancing to an Italian folk song is Editor Samantha Iacia's favorite musical moment of any family wedding. "My dad's side of the family immigrated from Italy, and my favorite part of every family wedding is when it's time for 'La Tarantella,'" she says. "It's a Southern Italian folk song where everyone holds hands and dances in a circle. I have core memories of my aunts and uncles ushering everyone to join in and not taking no for an answer."
Get your party started
Find every kind of expert from DJs to musicians and more
"Bidi Bidi Bom Bom," by Selena
It's a good idea to give your DJ or bandleader a debrief on your wedding guests—where they're coming from, musical tastes, favorite artists, etc. so your pros can tailor their playlist to your crowd. At Fashion Content Strategist's Nic Taliaferro's friend's wedding, the DJ knew exactly how to bring the energy up. "The dance floor at my friends' Seattle wedding had been sparse for a while until the DJ played 'Bidi Bidi Bom Bom,' by Selena," Nic says. "The groom's family, who traveled in from Mexico, filled the floor with cumbia dancing and laughter and it was so fun to see everyone come together. 'Bidi Bidi Bom Bom' is not only one of my favorite songs, but it's a wedding reception must-play!"
"Father and Daughter," by Paul Simon
If you're feeling overwhelmed with wedding planning, delegating a task or two—like choosing a parent dance song—can not only relieve some of the stress, it can also make for a sweet surprise music moment. Our Director of Content Strategy MaryKate Callahan let her dad choose their father-daughter dance song, and he absolutely nailed it. "My dad wanted to keep our father-daughter dance song a complete surprise for everybody…including me," MaryKate says. "That's right, I had no idea what song he'd chosen for us to dance to for our father daughter song until I was literally walking out onto the dance floor and the music started playing. He'd chosen 'Father and Daughter' by Paul Simon, which turned out to be an excellent choice. It has turned into a sweet and special memory that the only detail of the entire wedding that I didn't plan myself was the song I danced to with my music-loving dad."
"Evergreen" by Barbra Streisand
Looking to add a sweet but unique wedding song to your playlist? Look no further than your parents', grandparents' or other loved ones' wedding song, just like Executive Editor Lauren Kay did. You can have your DJ or bandleader make an announcement acknowledging the tune's significance as an anniversary dance, or simply play it without explanation and wait for the tears to flow. "At our wedding, in addition to playing our first dance song and having parent dances, we played our parents' wedding songs," Lauren says. "My parents have been married almost 46 years and my husband's parents have been married 44. It was so fun to surprise them with their wedding songs and to give them the dance floor to relive some of their wedding memories. Our parents loved it and so did our guests!"
"Don't Stop Believin'" by Journey
Here's the thing about dance-floor favorites like "Don't Stop Believin'"—they're a reason why they're surefire hits (I myself made darn sure it was the last-dance song at my own wedding!). At Commerce Editor Cathryn Haight's friend's wedding, the Journey tune was the perfect way to bring guests back to the dance floor after a break (that's what DJs are for, right?!). "At my friend Liz's gorgeous wedding, there was a brief moment after lots of revelry where the dance floor emptied out as guests went to grab more drinks or rest their feet (myself included)," Cathryn recalls. "Then, the DJ played Journey's 'Don't Stop Believin'.' I locked eyes with my friend Katina and we both bolted to the dance floor and put on a RuPaul's Drag Race-rivaling lip sync and dance performance. The best part? The dance floor was located in a lower mezzanine, so we had guests looking over the railing above us like we were showgirls."
"Mr. Brightside," by The Killers
What makes a good last dance song? A tune that everyone can sing along to, of course! And for Associate Director of Editorial Video Ash Tulett's crew, that's the very unique wedding song "Mr. Brightside," by The Killers. "No surprises here for what gets a group of rowdy Brits going," Ash says. "It was one of my close friends' weddings and they even brought a live band in to do some amazing covers that got a decent-sized crowd dancing but it was nothing compared to the tsunami of flesh that smashed into the dance floor when the first few guitar notes started to ring out for 'Mr Brightside' by The Killers. It was the last song of the night, we were sweaty, intoxicated and full of the purest joy as a (rather drunken) chorus belted out the song. Beats crowd surfing at Glastonbury every single time."
"Edge of Seventeen," by Stevie Nicks
While you'll certainly have moments set aside during your reception to dance with your partner and your parents, don't forget about other relatives and friends who also deserve their own musical moment. Planning & Style Content Strategist Taylor Whitten's cousin requested a special song be played just so they could share a core memory on the dance floor. "Since I was old enough to remember, my cousin and I have connected over music," Taylor says. "At her wedding, she met with her DJ beforehand to make sure we had a moment to scream Stevie Nicks' 'Edge of Seventeen' at the top of our lungs like we were back in high school, driving around at night listening to our favorite songs. As her maid of honor, it made me feel like such a special part of her day, and everytime that song has played since, I am taken back to that moment. Crazy how music can truly unlock memories and send you back in time."
"You Are In Love" by Taylor Swift
We love an unexpected ceremony song, just like the one Entertainment & Celebrity Editor Sarah Hanlon encountered at a friend's recent wedding. An instrumental version of a pop hit can make for a truly unique wedding song—especially when it's a Taylor Swift favorite. "As a die-hard Swiftie, I get emotional any time I hear a Taylor Swift song at a wedding (even if it's All Too Well [10 Minute Version] at the after party)," she says. "But at my friend's recent nuptials, I simply couldn't control my emotions when the bride walked down the aisle to an instrumental version of 'You Are in Love.' Even without any lyrics, the poignant meaning of this love song made my heart swell—the tears were almost instantaneous. In my humble opinion, it's the best wedding song ever made in the history of time."
"Motownphilly" by Boyz II Men
Deputy Editor Esther Lee attended a wedding where the music didn't stop when the reception ended. In fact, the couple hired a brass band to lead their guests to the after-party. Bonus: They played a song full of local pride to make the parade even more fun and personalized. "My best friend called in a brass band to lead her wedding guests from the reception down the block to a local Philly bar," says Esther. "I'll never forget the anticipatory excitement and the January chill in the air as we followed the music, literally, to the afterparty. (And yes, karaoke-level group singing was involved.)"
"Cowboy Take Me Away," by The Chicks
There's nothing quite like a nostalgic moment at a wedding reception, which is what Nic Taliaferro recently experienced. Playing a song from your teenage years can instantly evoke memories, turning a standard slow dance into an emotional moment. "I will never forget watching several of my college friends slow dance with their partners and spouses to 'Cowboy Take Me Away' by The Chicks at my best friend's wedding," Nic says. "I never would have thought of that song as a wedding dance floor tear-jerker, but this group of Texas-raised millennials all felt a deep connection to it and it was the perfect soundtrack to watching my friends all grown up and in love."
"Teenage Dirtbag," by Wheatus
A unique first dance song can be even more memorable than a popular classic, especially if guests can join in. Associate Menswear Editor Tres Dean loved the unexpected first dance pick at a friend's wedding. "At a close friend's wedding the first dance was to an acoustic cover of 'Teenage Dirtbag' and all of the guests were invited to join in for the final chorus," Tres says.