A Myrtle Beach Bachelor Party City Guide to Plan Your Weekend
Everything you need for a beach and golf weekend on the Grand Strand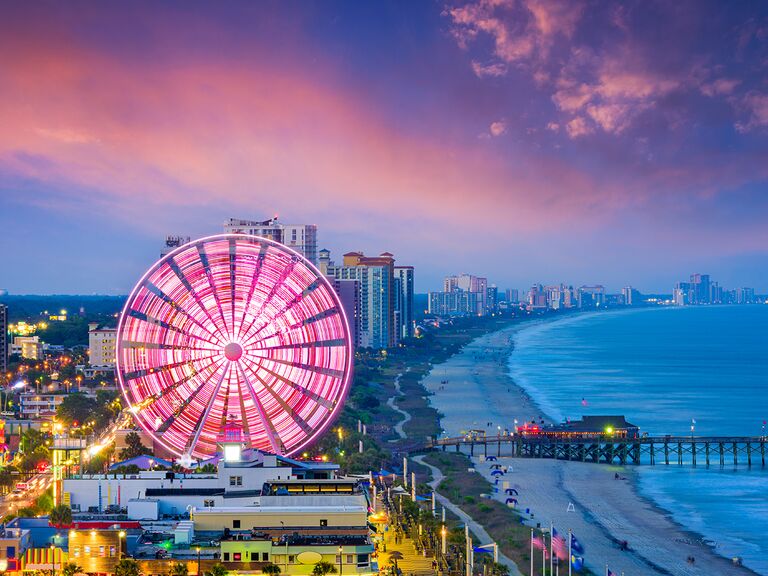 Sean Pavone/Shutterstock
We have included third party products to help you navigate and enjoy life's biggest moments. Purchases made through links on this page may earn us a commission.
If you're looking for a laid-back weekend that combines sand, surf, and golf, look no further than Myrtle Beach for the ultimate bachelor party. This South Carolina shore is meant for a guys trip. On a Myrtle Beach bachelor party you can play on any of the area's 90-plus golf courses, charter a boat for deep sea fishing, play a game of spike ball on the beach, and enjoy this beach town's plentiful nightlife, too.
What Are Some Myrtle Beach Bachelor Party Ideas?
You can do it all in Myrtle Beach on a bachelor party weekend, including spending time on the water, in the sand, and on the greens. There's something for everyone in this laidback beach town, you just have to know where to look. (And check out The Knot Shop for group gifts to make more of the ultimate weekend.)
For the Golfers
With more than 90 golf courses along Myrtle Beach's shore, it won't be hard to find a tee time for you and your crew. Plus, a top notch TopGolf makes for a great way to spend the day hitting a few.
For the Water Seekers
There are plenty of ways to access the beach for a day of fun in the sun, but you can also try your hand at a few other water adventures while on a Myrtle Beach bachelor party, including spending the day river tubing, taking surf lessons, or experiencing a wakeboarding and water adventure park all in in one day. Or take a spin on a brew boat for day-drinking on the water, or charter a boat for deep-sea fishing.
For the Beer Lovers
With plenty of options for getting your drink on, you'll also find top notch brew houses for craft beers, like The Grumpy Monk and New South Brewing. And consider pairing your drink with a cigar at Nick's Cigar World.
For the Night Owls
This beach town seems family-friendly by day, but there's a real nightlife scene that's not hard to find. From nightclubs to bar hopping along Broadway at the Beach you'll find plenty to drink, plus live music and DJs that make it a night to remember.
What Do You Do at a Bachelor Party in Myrtle Beach?
Plan the ultimate Myrtle Beach bachelor party with this three-day itinerary, that fits in everything you could want—from day drinking on the water to playing eighteen.
Day 1
Morning: Start the day with Myrtle Beach's most iconic breakfast: Johnny D's. Here, you'll definitely want to try their beloved Belgian waffles, with flavor options like cinnaroll, pecan, red velvet, bacon, and chicken and waffles. For non-waffle-lovers, there are also omelets, benedicts, breakfast platters, and biscuits and gravy on the menu. Then head to the beach for a bit of relaxation while you wait for everyone to arrive and move on to your first activity.
Afternoon: Get things off on the right pedal—err, we mean foot, with a ride at the Myrtle Beach NASCAR speedway. Here you can take three laps in a pace car, or go for it all with a ride along at racing speeds with a professional racing instructor. If you've got the jitters after that speedy thrill, head to The Grumpy Monk to take off the edge with special craft brews and bites like nachos and buffalo chicken dip.
Evening: Happy hour tonight is at the Tin Roof, where you'll find a rotating menu of 16 draft beers, a wide selection of innovative cocktails (try the brown sugar old fashioned), crafty shots (the FN8 is a Tin Roof tradition with strawberry vodka, peach schnapps, apple pucker, pineapple, and Bud Light), and crushes. Then it's off to dinner at Wicked Tuna, on the Marsh Walk. After you've dined on "hook to plate" fresh fish options, head next door to the Tuna Shak for an open air tiki hut where you can have drinks and listen to live music. If you want to keep the party going, explore the rest of Marsh Walk at spots like the Dead Dog Saloon for dancing, The Claw House for its outdoor beer garden, and Drunken Jacks for live music and drinks.
Day 2
Morning: Today, wake up for brunch at Tupelo Honey, where the all-day menu options include the Shoo Mercy Omelet (fried green tomatoes, ham, bacon, pimento cheese, pickled jalapenos) and mountain blueberry pancakes.
Afternoon: Today's activity is all about fun on the water. Visit Shark Wake Park where an all-day pass gets you unlimited access to the Cable Park for wakeboarding, knee boarding, water skiing, wake skating, and foil boarding—with options for every skill level. Plus, a chance to try your hands at the Obstacle Island, an inflatable park that may as well double as the set for Wipe Out. Plus, while you're having adventures, the Shark Shack offers beer, wine, snacks, and cold brew coffee on tap to keep your energy up.
Evening: Back on dry land, head to New South Brewing for a craft brew tasting before your night out. Then it's time for dinner at the ultimate southern comfort food spot: Big Mike's Soul Food. For just $10.75 you can get a meat and three—with options like fried chicken, chopped sirloin, BBQ ribs and sides such as baked mac and cheese, fried okra, potato salad, and corn. After having your fill head out to Broadway at the Beach for bar and nightclub hopping. Options include Oz, where you'll find a Vegas-like nightclub, plus its outdoor Malibu Surf Bar that has live music, confetti, and plenty of drinks after the sun goes down; Crocodile Rocks is a one-of-a-kind dueling piano bar; and Fat Tuesdays offers frozen drinks for a quick refreshment.
Day 3
Morning: Fill up for breakfast at Woodhaven Pancake House for breakfast where you'll find signature omelettes (don't miss the blue bayou with shrimp and crab), pancakes, and country fried chicken steaks.
Afternoon: Choose between water or land today, depending on your groom's preferences. For landlubbers, it's time to hit the greens. You can spend the day at TopGolf with beer and a driving range competition, or check out one of Myrtle Beach's amazing courses, including TideWater Golf Club, Caledonia Golf & Fish Club, or The Dunes Golf & Beach Club. If you'd rather spend your day on the water, book a ride on The BrewBoat, where your pedal power will glide you along the waters at Murrells Inlet while you drink and listen to your favorite music.
Evening: Head to happy hour at The Bowery Dinner tonight for $1.50 Bowery Beer and $3 house cocktails. Then you're off to dinner at Hook & Barrel for a feast of fried flounder and grits, crab cakes, and ribeye—along with great cocktails. For your last night out, choose between (or try to hit both) 808 Billiards & Bowling for a night of games, or Landing at the Boathouse, where you'll find a waterfront brewery, live music, theme parties (on the right night), and outdoor games like corn hole.
Where Should I Stay in Myrtle Beach for a Bachelor Party?
It's easy to get around Myrtle by cab—and in some areas by foot. Thanks to collective areas like Broadway at the Beach and the Marsh Walk, one cab ride often gets you to multiple restaurants and bars in one destination. So pick a spot that fits your group's needs and don't worry too much about location.
Best Myrtle Beach Bachelor Party Hotels
The Hilton Myrtle Beach is a great mid-range budget stay that offers amenities, including a spa and outdoor pool, plus beachfront views from your rooms' private balconies.
Breakers Resort is a budget-friendly option that includes ocean view suites and condos that can sleep up to 16.
Marriott's OceanWatch Villas at Grand Dunes is a luxury option with condo-like beachfront villas and resort amenities including multiple pools and restaurant options.
Best Myrtle Beach Bachelor Party AirBnBs
An Oceanfront Beach House that sits in the heart of downtown Myrtle Beach sleeps up to 8 and is just a two minute walk to the beach
This Six Bedroom Home is great for larger groups (it sleeps 16+), is in walking distance to much of downtown Myrtle and the beach, and has its own private pool.
For groups of 8 or less, this Oceanfront Penthouse has incredible views with panoramic floor to ceiling windows, plus access to an indoor/outdoor pool, lazy river, and hot tubs.
For other home rental options, we've found success using sites like VRBO and HomeAway.com.