A Simplified Guide to Getting a Maine Name Change
Attention Mainers! Here's what you need to know to make your married name official in the Pine Tree State.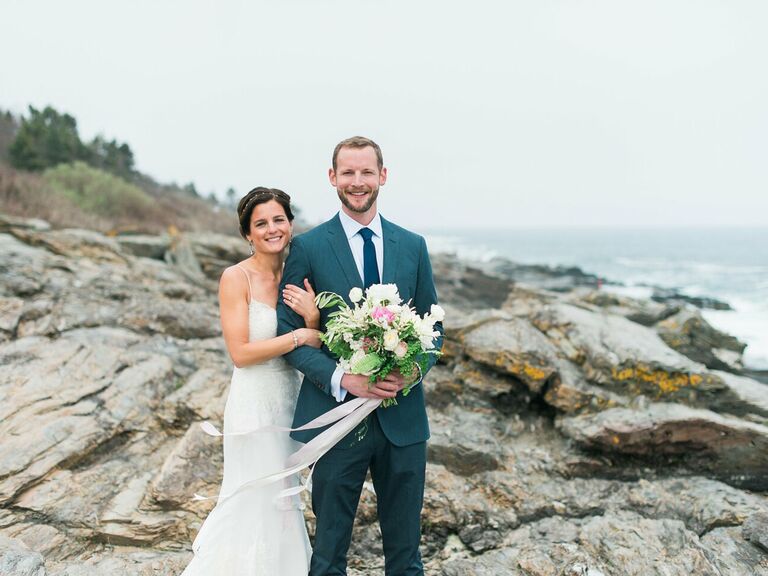 Fat Orange Cat Studio
We have included third party products to help you navigate and enjoy life's biggest moments. Purchases made through links on this page may earn us a commission.
So you've decided to make a postwedding name change in Maine? Congrats! Knowing the steps toward making the new moniker official will make the process a bit easier—and believe us, it's a process. You'll want all the help you can get! We've broken the how-to down below, along with some tips and tricks that can help make things go more smoothly.
If you want even more help, you can check out a name change service like HitchSwitch. This amazing sanity saver can take care of most of the name change steps for you. Seriously! You just fill out one form on the HitchSwitch website, and they complete your paperwork for you. You'll just have to fill in a few security-related details (like your Social Security number) and follow their personalized instructions to submit it all. So easy!
No matter whether you get some help or DIY, here's how to legally change your name after marriage in Maine.
How to Get a Marriage License
To get a marriage license, you'll need to apply in the state or country where your legal ceremony will take place. For a Maine marriage license, head to the city or town clerk's where either you or your soon-to-be spouse live. If neither of you lives in Maine but you're getting married in the state, you can go to any Maine city or town clerk to obtain the license.
What forms do you need?
You'll fill out the Intentions of Marriage Form. The form may be slightly different in some cities or towns, but it'll look a lot like this one from Portland, ME. Also bring along a government photo ID (like your driver's license). If either of you has been married before, also bring along a certified copy of a document that proves that marriage ended, such as a death certificate or divorce decree. Check with the clerk's office in advance to see if there are any other requirements they have.
How much does it cost?
Cost may vary from city to city, but in all the Maine cities we checked, a marriage license costs $40.
Important things to remember:
A Maine Intentions of Marriage Form will ask you and your future spouse to fill in your "proposed new name after marriage." It's important you fill in your new name at that time—so decide before you go what it'll be. If you fill this in, it doesn't mean your name will be officially changed but it'll make it easier to change your name later with the Social Security Administration.
After filing the form, you'll be issued a marriage license. Then, after the wedding, you'll be able to obtain a certified copy of your marriage certificate from the Maine CDC vital records office. This will be proof of your marriage that you can show the SSA for the name change.
How to Petition for a Name Change in Maine
There are some rare cases where a name change may require a court order. This may be the case for people who don't fill out the "proposed new name after marriage" section or for those who want a more complex name change than the typical take-your-spouse's-last-name.
If you're seeking a court order, you can petition for a name change in the Probate Court of the county where you live. More information on how to change your name in Maine via court order is available on the Maine Legislature website, and the name change petition for is available on MaineProbate.net. Call your Probate Court for full instructions.
How to Get a Social Security Card Name Change
Just like in the rest of the country, in Maine, a Social Security name change is required to make a new moniker official. Complete this step as soon as you can, since you'll have to show the new SS card when you update your name on your driver's license and passport.
Check out these instructions for getting a corrected card for the full details. We've outlined them below.
What forms do you need?
Fill out Form SS-5, print it, then mail or hand-deliver it to a nearby SSA office. Also bring along:
Your legal name change document (wedding certificate or name change court order)
Proof of identity (your current state ID or driver's license, for example)
Proof of citizenship (such as your birth certificate). This is only necessary if you haven't already established this with the SSA.
Use this locator to help you find a Social Security Office near you.
How much does it cost?
Good news! Changing your name with the Social Security office is usually free.
Important things to remember:
Bring originals or certified copies of your documents to the SSA office, since you won't be able to submit photocopies. If you don't already have these documents, you may have to request the certified copies from their issuing offices.
How to Get a Maine Driver's License Name Change
Next up is a trip to the Bureau of Motor Vehicles. That's because state law requires a Maine driver's license name change be done within 30 days of making the Social Security switch.
Visit your local BMV in person to make this change; here's a list of locations.
What forms do you need?
At the BMV, you'll request a duplicate license with your new name. Bring along your current license and proof of your name change (your marriage certificate or court order).
How much does it cost?
It costs $5 to get a Maine driver's license name change.
Important things to remember:
You'll need originals or certified copies of your proof of name change to show the BMV. Your new license will be mailed to you in a few weeks. In the meantime, you'll be issued a temporary paper license to use.
How to Get a Passport Name Change
When changing your last name in Maine, it's also important to update your US Passport, if you have one. (If you don't, maybe it's a good time to get one.)
The US Department of State offers full instructions on how to complete this step. They vary a bit from situation to situation, but we've summarized the basics below.
What forms do you need?
The form you need will depend on whether or not you currently have a passport and what kind of shape it's in. You'll need one of these three:
1. Form DS-5504: Use this passport correction form if you're requesting a name change within a year of receiving your current passport. You'll need to mail in:
The form
Your current passport
A certified name change document
A color passport photo (this is included in HitchSwitch's $99 package, so it's one more step you'll have help with if you use the service)
2. Form DS-82: This passport renewal form should be used if you have your current passport and it's in good condition. The hitch is that it has to have been issued within the past 15 years, and you must have been at least 16 years old at the time. You'll mail in:
The form
Your current passport
A certified name change document
A color passport photo
3. Form DS-11: Use this passport application form if your passport doesn't sound like either of the above or if you don't have one. To apply with this form, you'll have to make an in-person visit to a Passport Acceptance Facility instead of mailing the form in. Bring along:
Proof of identity, plus a photocopy
Proof of citizenship, plus a photocopy
A certified name change document
A color passport photo
Those who need expedited service will have to visit a Department of State Passport Agency. Though there aren't any in Maine proper, there are passport agency offices in New Hampshire and Vermont.
How much does it cost?
It depends on which of the above forms you're submitting. The passport correction form is totally free. (Yay!) For the passport renewal form, it'll cost $110 for a passport book and/or $30 for a card. If you're filling out the application for a passport, the cost is $110 for a passport book and/or $30 for a card, plus $35 in additional fees.
Important things to remember:
The number one rule of international travel is that the name on a travel reservation or ticket must match the name on the passport. So be careful how you time getting your passport. Some couples, for example, wait until after the honeymoon to initiate the name change. If you have a trip coming up and need your new passport fast, you can expedite your service for an extra $60.
How to Complete Your Name Change in Maine
After you've changed your name on your Social Security card, driver's license and passport, you'll be done with the most important pieces of identification. But that's not the end of the name change road.
In fact, there's a lot more work to be done! All your important accounts and records should be updated with the new name too. This means notifying your employer, insurance companies, bank, credit card company, and much more with your new info.
Thankfully, HitchSwitch can help with all this too. The service offers its customers checklists and instructions for almost every part of the name change process—the big stuff and the small stuff. It'll even walk you through changing your name on social media!