How to Get Legally Married in Maine and Plan Your ME Wedding
Lobsters, blueberries, and a marriage license—oh my!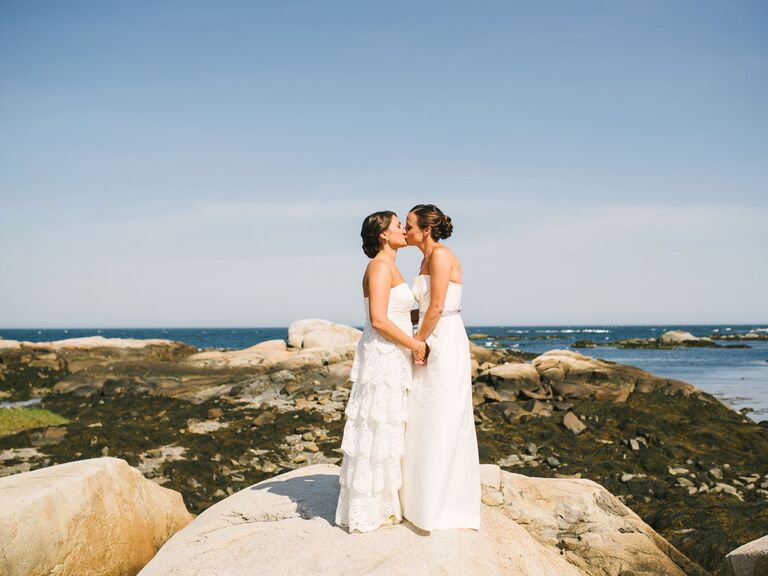 Callan Photo

Whether you are a lobster roll stan, blueberry fanatic, or a fan of coastal vistas, Maine is an idyllic state to be married in regardless if you live there year-round or are visiting for a special occasion. There's an abundance of towns spread throughout the state, each one unique in its New England vibes and varying in tourist popularity, from Ogunquit to Portland. Regardless of which ME town you choose for your ceremony and celebration, the process for obtaining a Maine marriage license is the same. In fact, the state of Maine allows any municipal office to approve a marriage license. You and your significant other will need to go to the Clerk's office with a photo ID. There is no blood test required but you will need to bring a certified divorce decree if either of you has been previously married. While the documents and vital records required are minimal compared to other states, there are still some details to keep in mind when acquiring a Maine marriage license.
How to Get Married in Maine
Is there a waiting period to get married in Maine?
While there is no longer a waiting period after the issue of a Maine marriage certificate, the license is only valid for 90 days. So, save the date for your marriage ceremony before the 90 day period ends!
What are the legal requirements to get married in Maine?
Under the state of Maine's laws, marriage is a legal union between two people. Persons under 18 years of age must bring written parental consent signed by a legal guardian in order to obtain a marriage license. The county judge may also grant consent after a legal hearing. Maine does not allow a municipal clerk to issue a marriage license to couples under 16 years of age.
Who can marry you in the state of Maine?
The officiant, whether an ordained clergy member, judge, lawyer, or notary, is also responsible for filing the license in the Clerk's office.
What's considered a common law marriage in Maine?
The state of Maine does not recognize a common-law marriage as legal.
Maine Marriage License 101
What Do You Need to Get a Marriage License in Maine?
Maine only requires that you bring a photo ID, such as a driver's license, to your municipal's office. You will also need a certified copy of a divorce decree if you or your SO has been in a previous marriage. Although this seems straightforward, remember to check in with your municipality to double-check the county's specific application process. You will also need to complete an Intentions of Marriage Form. After you declare your marriage intentions, you may indicate your name change on this form, although your new name will not be official until you receive a certified copy of your marriage certificate. In some cases, you may have to pursue a court order and contact a nearby Social Security office to have your name changed.
What Does a Maine Marriage License Cost?
The filing fee costs $40 and must be paid in cash, not via a credit or debit card.
How Long Does It Take to Get a Marriage License in Maine?
Your marriage license can be issued the same day as you complete the application, but this depends on which municipal office you visit. Contact your local office for more information regarding timelines.
Can You Apply for a Marriage License Online in Maine?
As mentioned, you must go to your town clerk's office to obtain a marriage certificate. Contact your local office if this requirement is not available to you and your SO.
Another factor to keep in mind is whether or not you and your SO are residents of the state of Maine. If you live in the same ME city, then the answer is straightforward: hop on over to your municipality's local office. Similarly, if only one of you is a Maine resident, then you must go to that town office. However, if you and your partner live in different towns, you can go to either clerk's office. If you are both non-residents of Maine, then you may apply for a marriage license in any town, but just know that the license will only be valid for a ME ceremony.
How Do You Get a Copy of Your Maine Marriage License?
In order to obtain a certified copy of your Maine marriage certificate, you must contact Maine Vital Records. The first copy will cost $15 and all additional copies cost $6.00.
How to Plan a Maine Wedding
Cities and Areas to Consider for a Maine Wedding
Maine is the largest state in New England, which means it is home to an endless amount of cute seaside towns perfect for your marriage ceremony and reception. Although Augusta is the capital of Maine, Portland is also one of the most populated cities in the state of Maine and consequently is a hot spot for couples. But don't rule out more intimate locations including Ogunquit, Wells, and Boothbay Harbor. Opting for an outdoor wedding in ME at a farm estate or local resort will give you and your SO those nature vibes with all the comfort your guests may desire.
What to Look For in a Maine Wedding Venue
Depending on which area of Maine you choose, your genre of venue may alter accordingly. There are intimate inns, rustic barns, and grander resorts all with waterfront or city views depending on your preferences. Maine is really about laid-back family-style events that incorporate the natural beauty of the state. This doesn't mean you can't splurge on a black-tie wedding, but just make sure to include lobster bibs in your guests' goodie bags.
How to Find Maine Wedding Vendors
You can't go wrong with ME local vendors as the state is known for its culinary creativity and fresh fare, especially seafood. But that doesn't mean you have to serve lobster rolls, clam chowder, and steamed mussels at the reception. Scrolling through this list on The Knot makes clear right away that Maine has more to offer than just fruit from the sea. That's right, barbeque is just as popular in the Pine State, as are craft cocktails and specialty frozen delights that may just question all of your flavor preconceptions.
When it comes to decorating your venue, you may want your local food offerings front and center. But don't veto classic red-and-white picnic table clothes and artsy wildflowers to make the red of your lobster (or lobster ice cream) really pop.
The Best Times of Year to Have a Maine Wedding for Good Weather
While there are benefits to hosting a summer wedding in Maine (hello, warm weather!), it does tend to be the busiest season with tourists filling hotels and inns around the state. On the flip side, you probably won't want to deal with multiple feet of snow for a winter wedding—though cold-weather events can be quite cozy. A spring or fall wedding may be the way to go as popular spots such as Kennebunkport and Scarborough will be less busy during these months, not to mention the temperature will be much more bearable.
Obtaining a Maine marriage license may just be easier than getting the lobster meat out of its shell...then again it's all worth it in the end for the Pine State's natural beauty (and wild blueberries, let's not forget).