Over 100 Instagram Caption and Quote Ideas for Your Nashville Getaway
Yee-haw! The likes will tumble on in with these snappy one-liners.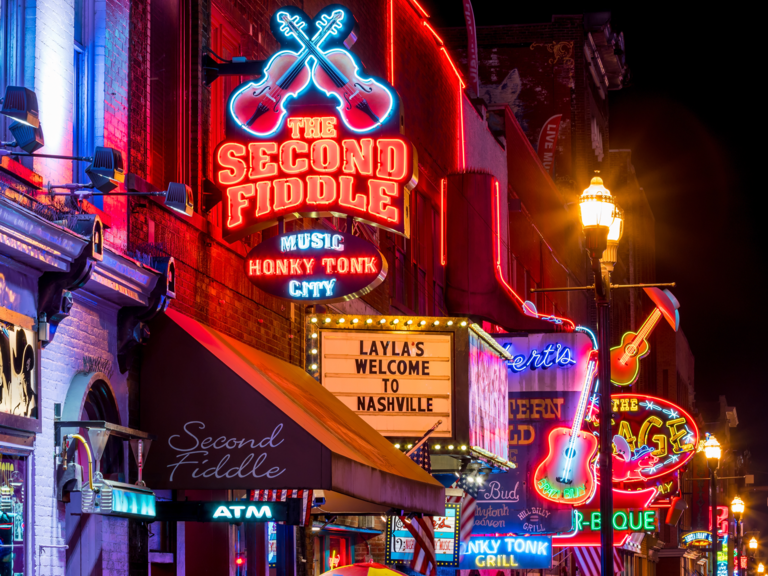 Photo: f11photo / Shutterstock
In a city known for its music, song captions are easy. Where else has been home to Dolly Parton, Johnny Cash, Miley Cyrus, Faith Hill and Taylor Swift? But Nashville isn't a one-trick pony. She hits the spot for hot chicken washed down with sweet tea; she's beloved for warm Southern sunshine and even warmer hospitality; and she's where bach parties can don their cowboy boots and dance the night away.
If you're heading to the Tennessee capital for a celebration, there's a high chance these are memories you'll want to hold onto long after the last whiskey drop is savored. We've put together a mammoth selection of captions to accompany those precious images. Perhaps you want to sum up the trip with your gals in one cheeky sentence, or you simply want to declare to the world (read: web) that you're head over boots in love. Well, we've got you covered. Here are over 100 captions to paste under those glorious Nashville memories.
In this article:
Funny Nashville Captions and Quotes for Instagram
Nashville may be in the conservative South, but all are welcome here. If you're visiting with the bach crew—or simply having a jolly time with your other half—here are some fun captions to raise a smile.
My favorite thing about Nashville is the hot chicken, what's yours?

Today's outfit is brought to you by Nashville.

Nashville made me do it.

Meet me at the honky-tonk, baches.

Nothing like a bit of whiskey to make the group a little bit frisky.

FEATURED VIDEO FROM THE KNOT

Dressed for Dollywood.

When you wear flannels, there's really only one place to go.

Bottoms up, Nashville!

Do these boots make my butt look big? Good.

Call me JOLENE.

I like my men like my tea: strong, sweet and Southern.

The higher the hair, the closer to Dolly.

Category is: cowboy chic.

I've wanted to come here ever since Hoedown Throwdown.

Has anybody seen my horse?

Weekend diet: chicken and whiskey.

See you next week with a country twang.

Save a horse, ride a cowboy.

Well, it's happy hour somewhere.

These boots are made for dancing, and that's just what they'll do.
Popular Nashville Hashtags and Short Captions
A city as famous as Nashville already comes with super popular sayings. Here are some of the best captions and hashtags to try against those classic shots.
Nashville uniform.

Tennessee tanning.

My Nashville diet in a picture.

The Southern sun never felt so good.

This city is as sweet as its iced tea.

Love songs from Nashville.

When Nashville calls, you just gotta strap on those boots.

Music City is my kind of city.

There ain't no better place in the world for live music than right here in Nashville.

Dear Nashville, I love you.

Find your kind of venue

From barns to ballrooms, discover reception venues that feel like you.

Keep calm and stay country.

Nashville, you're the only ten-i-see.

This city's really as sweet as a peach.

#AStarIsBorn

#NashvilleOOTD

#HigherTheHair

#NashVegas

#Cashville

#CountryStrong
Nashville Bachelorette and Bachelor Party Captions and Hashtags
Whiskey, honky-tonks and a fun-loving crowd bring the bachelors and bachelorettes to the yard. Here's how to speak volumes in just a few words.
Buckle up everyone, we're going to Nashville.

You'll find us at the honky-tonk.

Cowboys and cowgirls reporting for duty.

There are no bad tunes in Nashville.

Presented to you are the bridesmaids/groomsmen of Nashville.

City lights ain't got nothing on country nights.

Whiskey is the answer to everything, at least in Nashville.

Time for the meat sweats.

Celebrating (name)'s last rodeo.

Misbehavin' in the Bible Belt, as you do.

I'm a country girl, in a country world.

Oh hay, we're Southern belles.

It's a Saturday night every night in Nashville.

Giddy up, we're going to Nashville.

We're here for a good time, not a long time.

I'm so glad Northern me isn't here to frown upon Southern me.

I believe it's time to reign in some cowgirls/cowboys.

Just a lil' horseplay going on here.
Nashville Instagram Captions for Couples
Is there any better place to enjoy a love song? For couples in town who are celebrating love, be it Valentine's Day, an anniversary or just a random romantic escape, here are the best captions for your hand-in-hand pictures.
Living the cowgirl/cowboy life.

Nashville relationship goals.

I wanna honky-tonk with somebody who loves me.

Fried chicken is my love language, don't you know?

Nashville sure looks good on us.

Country tunes, disco lights and unforgettable nights.

Nashville, our Southern dream.

Yee haw, we're in Nashville.

Sweet dreams are made of country music.

Nash lovers forever.

Nashville feels like a warm hug every day.

There's something magical about this Southern state, and we can't get enough.

She's/He's the only ten-i-see.

Kiss me country style.
Nashville Instagram Captions for Honeymoons
Traveling to Tennessee for your honeymoon? Excellent choice. The state is known for delicious orange sunsets, beautiful ranches and, of course, love songs. Here's how to capture the essence of your special trip in a caption.
Love is someone to share your bucket of hot chicken with.

We go together like biscuits and gravy.

I love you more than Southern fried chicken.

Writing our next chapter in Nashville.

I love you all the way to Nashville and back.

Honeymoons are all about matching outfits. Yee haw!

All we need for romance is a guitar and lots of leather.

Honeymoons are best with country music and tasty Southern food, both in large quantities.

I always dreamed of marrying a good country boy.

A Nashville honeymoon is just what we needed.

Who would've thought we'd be so country?
Nashville Captions for Famous Attractions
Many visitors to Nashville are surprised by the sheer number of attractions in the city—from the Country Music Hall of Fame to The Parthenon, plus all of the distinctive corners that make Nashville, well, Nashville. Here's what to accompany your photos with.
How to visit Athens, Greece, without a passport.

And the Country Music Award goes to…

Writing our love song in Music City.

Always say yes to Dollywood, always.

I found the key to happiness, it's in Dollywood.

Did somebody say country music?

Whiskey lovers go to Nashville.

Not everyone loves country music, but not everyone has good taste. ;)
Nashville Song Lyrics for IG Captions
This is where IG users are spoiled for choice in Nashville. Country and pop music take center stage here, and there's a Kelsea Ballerini or Dolly Parton track to accompany almost any TikTok reel. Here are some fine-tuned ideas.
"Let's go, girls!" –Man! I Feel Like A Woman! by Shania Twain

"If you want to be a star, that's where you've got to go." –Down on Music Row by Dolly Parton

"That Nashville wouldn't be Nashville without you." –Nashville Without You by Tim McGraw

"It's a love story, baby, just say yes." –Love Story by Taylor Swift

"A little El Dorado and a little bit John Wayne, love is a cowboy." –Love Is a Cowboy by Kelsea Ballerini

"The best thing about being a woman is the prerogative to have a little fun." –Man! I Feel Like A Woman! by Shania Twain

"Man, it feels good to be country again." –Country Again by Thomas Rhett
Nashville Captions Inspired by Movie and TV Show Quotes
Nashville's a hotbed for movies and TV shows (albeit those of a more musical niche). Some of the biggies that have hit the mainstream include Walk The Line, Country Strong and, for older Gen Zers/younger millennials, Hannah Montana: The Movie. Here are a few of our favorite suggestions.
"Because you're mine, I walk the line." (Walk the Line)

"Don't be afraid to fall in love. It's the only thing that matters in life" (Country Strong)

"This isn't Dallas, it's Nashville!" (Nashville)
"I want to marry you and I am telling you it's the time." (Walk the Line)