A Nashville Bachelor Party City Guide to Plan Your Weekend
The ultimate itinerary for a guys' weekend in Music City USA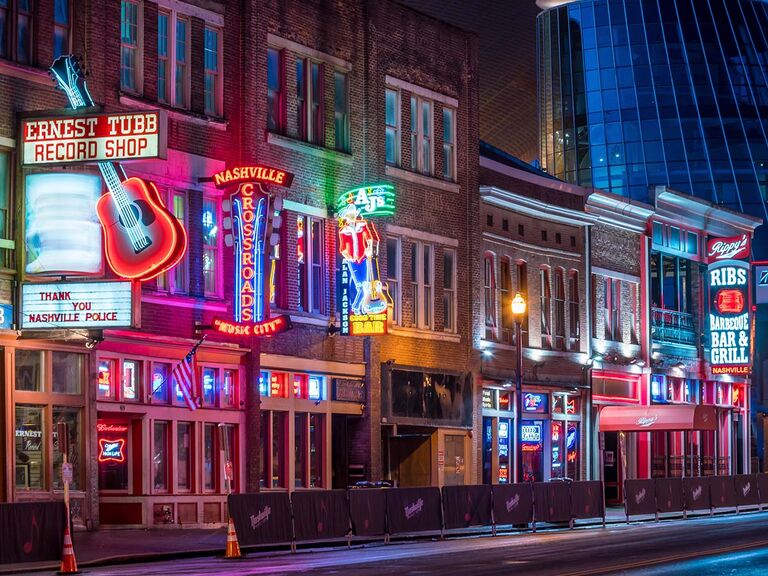 F11Photo
We have included third party products to help you navigate and enjoy life's biggest moments. Purchases made through links on this page may earn us a commission.
For the groom that is a music buff—country or otherwise—there's no question that a Nashville bachelor party is the way to go. This tune-filled town is the perfect spot to spend your nights listening to live bands, discovering cool bars, and eating tasty Southern fare. And there's plenty to explore during the day, too! 
What Are Some Nashville Bachelor Party Ideas? 
Whether you're diving into the music scene, looking for the best hot chicken, or seeking a bar crawl, Nashville has you covered. This is a city that has it all, from top notch dining and distilleries to professional sports and outdoor recreations. (And don't forget to thank the guys for coming with some swag from The Knot Shop.)
For Music Lovers
Whether or not your groom is a country fan, you should make the most of the musical city. That includes visiting the historic Grand Ol' Opry and even catching a show at the Ryman Auditorium. Or checking out one of the many live music venues up and down Broadway, Nashville's main thoroughfare. 
For the Foodies
This isn't just the country music capital of the USA, it's also a top tier destination for some of the best Southern food—from beloved hot chicken to tasty barbeque—all around. And if you like something to drink with your grub, you can also take advantage of the number of bars, distilleries, and brewhouses throughout the city. 
For the Partiers
Pick your poison: A bar crawl, a party bike, or a good ol' fashion dance floor (yes, there's line dancing, but you can find plenty of other spots with multi-level club vibes). Whatever you prefer, there's a nightlife destination for you in Nashville.
What Do You Do at a Bachelor Party in Nashville?
It may seem tough to narrow down a Nashville bachelor party to just a few days, but our itinerary will help you fit everything in to one perfect weekend! 
Day 1
Morning: Get the party started with your first breakfast, and make it at Biscuit Love, where you can bite into menu items like Bonuts (fried biscuit donuts), the Gertie (a buttermilk biscuit with chocolate gravy), or the Southern Benny (shaved ham and sunny side-up eggs on a biscuit). 
Afternoon: Here's a fun way to get to know downtown Nashville: a daytime ride through the city on the Sprocket Rocket Party Bike. With room for 16 peddlers (note: there is an electric-powered engine if you get too tired to push on your own), this BYOB peddle tour takes you on a ride to the cities best bars, with drink deals at each stop and a party along the way (you can bring your own tunes along with your own beer). 
Evening: Make tonight steakhouse night. Head to Merchants, a 30-plus year institution in Nashville, and book a table on the second floor, where you'll find a wide range of meats, including a 45-ounce tomahawk steak, and quality cocktails to pair with your meal. From there, head to Broadway to explore some of the live music venues. A great place to start is Honky Tonk Central, a beloved institution with three floors each playing a different style of music—and all with a great dance floor and bar. 
Day 2
Morning: You can't make a visit to Nashville without grabbing brunch at Puckett's. Once a grocery story in the 1950s, the restaurant now offers tasty breakfast fare that will get you off to a good start for the day. Think The Souther Stack (sweet potato pancakes topped with pulled pork, fried apples, and eggs) or the Smoked Brisket Hash Skillet. 
Afternoon: If your groom loves a good whiskey, it's worth heading out of town (just a little bit) to visit the Jack Daniel's Distillery, just shy of two hours from the city. It's worth the drive though (consider renting a party bus to get you there) to explore the history of the famous booze and experience some tastings. If you need lunch on your way back, it's time to put your stomach's to the test with some famous Nashville hot chicken. The place to try it is Princes Hot Chicken, but be warned, even the mild version comes with a heavy kick!
Evening: Start the night with dinner at Von Elrod's Beer Garden and Sausage House, where you can snack on bar food and enjoy five-pound liters of beer. Along with appetizers like fried cheese curds and soft pretzels, dinner includes barbeque options (spare ribs and brisket for starters) and five types of sausage sandwiches, and plenty more. 
From dinner, head back to Broadway where you can explore other bars you missed the night before. Tootsie's is a great spot for country music; you can check the concert schedule at Station Inn, or make your way to the Tin Roof for a great party (try making it for one of their 90s nights.)
Day 3
Morning: Make your way to The Mockingbird for breakfast today, where menu items include a chicken sausage breakfast sandwich or buttermilk biscuits topped with fried chicken. You'll also find a seasonal punch meant to be shared (it serves up to four). 
Afternoon: Today get your thrills with some high speed. At Music City Indoor Karting, you can race up to 40 miles per hour on an indoor track. After your ride, head to Hops and Crafts, which offers a rotating selection of 36 regional craft beers on tap. 
Evening: Make tonight count with a last dinner at Husk, the beloved Southern gem owned and operated by chef Sean Brock. The menu is seasonal but features Southern classics based on farm-to-table available ingredients that range from Rappahannock oysters to grilled catfish to pork prime rib. You can always go back to Broadway, or change things up for your last night with games at Pinewood Social, where you'll find bowling and a craft cocktail bar. 
Where Should I Stay in Nashville for a Bachelor Party?
If you're in downtown, everything in Nashville is pretty walkable or accessible by a quick Uber ride or bus. But you may get more for your money—especially with rentals—just outside of downtown or in the up and coming East Nashville area. Ubers are easy to come by, so if you stay farther out, you'll still be able to get where you need to be easily. 
Best Nashville Bachelor Party Hotels
Hilton Nashville Downtown offers a mid-budget option in walking distance to Broadway and right next door to the Bridgestone Arena. 
An affordable option in downtown, the AC Hotel Nashville Downtown is steps away from the Ryman Auditorium and lower Broadway, and offers a lobby bar, 24-hour fitness center, and outdoor pool. 
If you're looking for more of a resort feel (and a slightly higher price point), complete with a city view, consider the Margaritaville Hotel, which offers a prime location with a playful vibe, including a great pool and bar. 
Best Nashville Bachelor Party Home Rentals
Right in the heart of downtown, the Armstrong Corset Lofts condo offers a great spot for small groups (up to 5) within walking distance to everything you'll want to see and do. 
Just outside of downtown in East Nashville, this Four Bedroom House can sleep up to 12 and is an affordable option for larger groups who don't mind hopping a ride into the city. 
Those seeking a little more luxury, and still just minutes from downtown, should consider a Three-Level Townhome (sleeps up to 11) near the Gulch.