New Orleans Bachelor Party Itinerary: Hotels, Restaurants and Activities
Find everything you need to plan a bachelor party in New Orleans including ideas on hotels, dinners and party packages.
by Kathleen McCann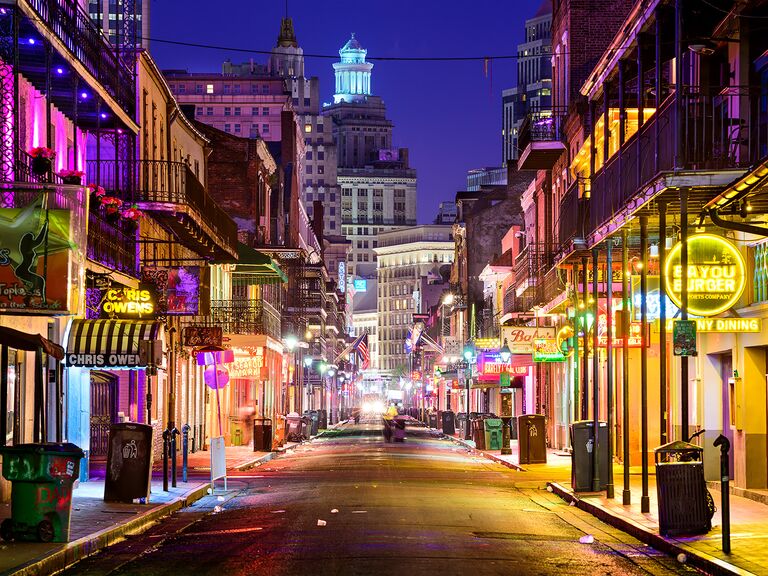 If you're looking for a rowdy and memorable bachelor party destination, consider New Orleans. Packed with historic bars, restaurants, and nightclubs, this Deep South city is the perfect place for your guys' weekend. Whether you're after seafood, booze, or jazz, this New Orleans bachelor party guide and itinerary has everything you need to eat, drink, and party, Big Easy style. To help with your bachelor party planning, you can also download the Travefy group trip planner app which allows you to easily book flights, accommodations and activities.
In This Article
New Orleans Bachelor Party Hotels
New Orleans offers upscale, historic hotels as well as more affordable options. The following list of hotels is sure to meet the needs of any bachelor party.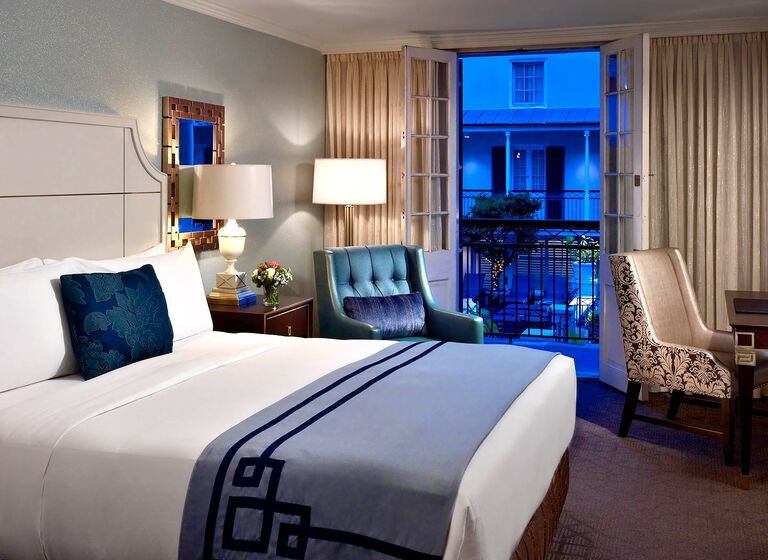 1. Royal Sonesta – French Quarter, 300 Bourbon Street

Many New Orleans bachelor parties begin at the Royal Sonesta, a luxury hotel located on Bourbon Street. In addition to its classy furnishings and courtyard pool, the hotel is home to three restaurants and two bars, including a jazz club that hosts burlesque shows on Friday nights. If you're looking for a glamourous way to party on Bourbon Street, the Royal Sonesta is your best bet. From $229/night.
2. Hotel Monteleone – French Quarter, 214 Royal Street
The historic Hotel Monteleone is located a block from Bourbon Street and offers elegant suites, a full-service spa, a heated rooftop pool, and a world-class bar, the Carousel Bar & Lounge. For beautiful, old-world charm and great service in a prime location, stay at Hotel Monteleone. From $199/night.
3. The Olivier House – French Quarter, 828 Toulouse Street
If you want an affordable stay without sacrificing NOLA flavor, check out The Olivier House, a charming hotel located just five minutes from Bourbon Street. All rooms are decorated uniquely with antiques, wet bars, balconies and/or fireplaces, and some even have two floors. The hotel also features an outdoor pool and a 24/7 coffee bar. From $139/night.
4. Four Points by Sheraton – French Quarter, 541 Bourbon Street
For a spacious, comfortable room in the French Quarter, the Four Points by Sheraton is an excellent, surprisingly affordable choice. Upgraded rooms include balconies overlooking Bourbon Street, and the hotel includes a restaurant/bar, an outdoor pool, and a fitness center. From $119/night.
5. Airbnb – French Quarter

For a more unique and affordable stay, check out Airbnb to rent a New Orleans bachelor party house. The site offers many party pads, such as this 2-bedroom apartment that sleeps 16 and ranges in price from $500 to $1,250 per night, depending on the season.
New Orleans Bachelor Party Restaurants
New Orleans is famous for its cuisine, from po'boys to oysters. This list contains several must-dine restaurants that are great for groups, and will satisfy everyone in your party.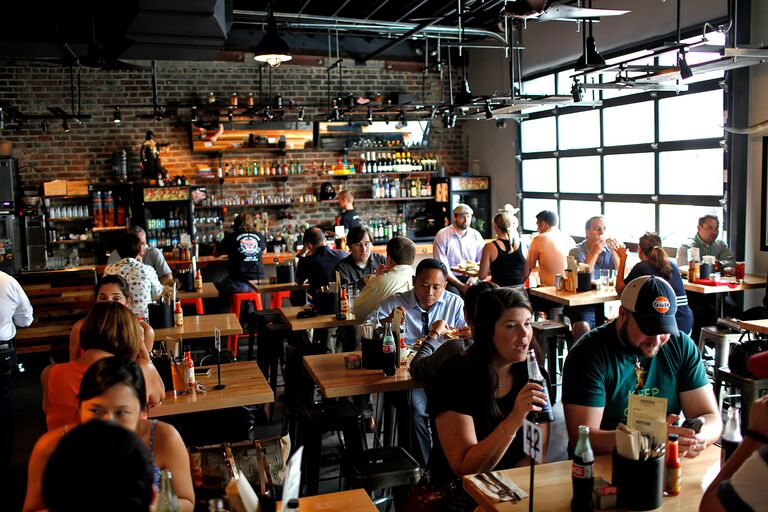 1. Cochon Butcher – Lower Garden District, 930 Tchoupitoulas Street

For an exceptional lunch in a casual atmosphere, head to Cochon Butcher—a butcher shop, sandwich counter, and wine bar in one. Their meat-heavy sandwiches include the Buckboard Bacon Melt and Le Pig Mac, and their beer and wine selection is top-notch.
2. La Boca – Lower Garden District, 870 Tchoupitoulas Street
For one of the best steaks in Montreal, look no further than La Boca, an Argentine steakhouse that also offers delicious pasta dishes, mouthwatering desserts, and an extensive selection of wine and cocktails. La Boca is perfect for large groups, as you have the option to order from the chef's tasting menu which includes appetizers, steak, pasta, salads, desserts, and sides for only $50 per person.
3. Felix's Restaurant & Oyster Bar – French Quarter, 739 Iberville Street
A trip to New Orleans is not complete without tasting the city's fresh, local seafood, and Felix's Restaurant & Oyster Bar offers the best. Felix's is most famous for their char-grilled oysters, but their menu also includes shrimp and fish dishes, as well as their own signature cocktails and local draft beer. The added bonus to Felix's is that you won't have to wait in line long—unlike other popular spots in the neighborhood.
4. Parkway Bakery & Tavern – Bayou St. John, 538 Hagan Avenue

Louisiana is known for its po'boys, and Parkway Bakery & Tavern serves up the very best. Local favorites include the golden fried shrimp po'boy and "Surf and Turf," two po'boys with roast beef and shrimp, topped with gravy. The casual restaurant also includes a full bar.
5. Café du Monde – French Quarter, 800 Decatur Street
The perfect New Orleans breakfast is beignets and café au lait, and no one does it better than Café du Monde. The restaurant is famous for their take on the French pastries, which are smothered in powdered sugar and melt in your mouth. Stop by for a beignet fix anytime—the café is open 24 hours a day.
New Orleans Bachelor Party Activities
While you can party on Bourbon Street all day and night if you want, there are many other things you should do while in The Big Easy. The following list includes daytime activities as well as the best places to go at night for the best bachelor party New Orleans has to offer.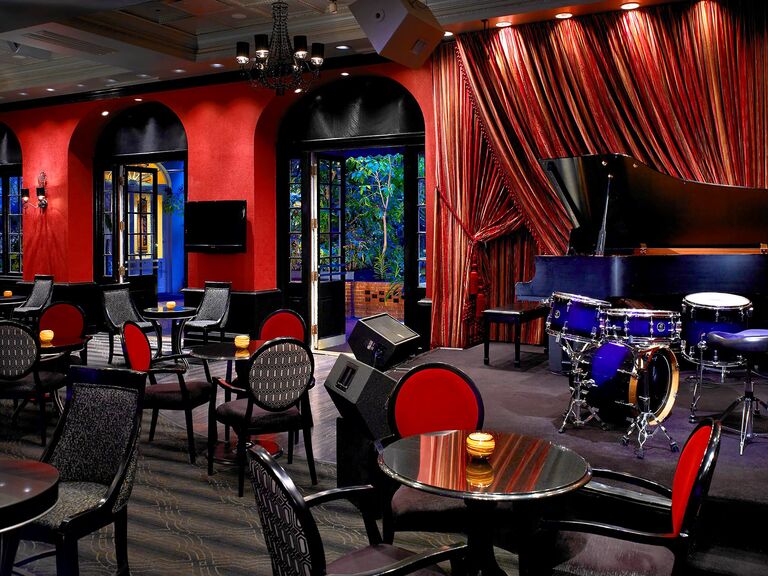 1. Listen to Jazz

New Orleans is synonymous with jazz, and there are many clubs you can visit to take in some amazing tunes. The Jazz Playhouse, located inside the Royal Sonesta Hotel on Bourbon Street, is a great place to listen to jazz while sipping a cocktail, and there's never a cover charge. Other places to enjoy jazz include Maison and The Spotted Cat Music Club, both located on Frenchmen Street.
2. Watch a Show at the AllWays Lounge & Marigny Theatre
Burlesque, cabaret, comedy, live music, and swing dancing—it's all at the AllWays Lounge & Marigny Theatre. No matter when you go, you can be sure that there will be something exciting to watch on stage and a lively crowd drinking and dancing the night away.
3. Go on a Swamp Tour
A swamp tour might sound strange to anyone not from New Orleans, but it's a fun way to enjoy some peaceful scenery while looking for gators, turtles, armadillos, birds, and other wildlife. The tour guides are both knowledgeable and hilarious, and at Jean Lafitte Swamp Tour, you'll even get a chance to hold a baby gator. The tours are offered by swamp boat or airboat, and are a perfect daytime activity for your bachelor party.

4. Take the Old New Orleans Rum Distillery Tour
Get a taste of America's highest-rated rum and learn how it's made on this 45-minute distillery tour. Each Old New Orleans Rum Distillery tour includes a welcome cocktail and the chance to sample favorites such as Cajun Spice and their 20th Anniversary Blend. The tours are offered daily at a cost of $15 per person. A complimentary shuttle from the French Market allows you and your crew to indulge responsibly.
5. Take the NOLA Brew Bus Tour
Craft beer is a recent addition to the New Orleans scene, and the NOLA Brew Bus Tour takes you on a 4-hour journey to four of the best breweries. At each brewery, you'll get a full pint of beer, as well as the chance to taste several others. The NOLA Brew Bus Tour is a memorable way to enjoy some craft beer and learn more about New Orleans' neighborhoods and history.
6. Go Racing at NOLA Motorsports Park
Get your adrenaline pumping at NOLA Motorsports Park, where you can drive some of the world's best supercars on their 1.8 mile-long racetrack or sprint course. Cars include the Ferrari 458 Italia, Lamborghini LP560-4, Porsche 911 GT3, and the Nissan GT-R. Their go-kart track is one of the fastest in the country, and the park has special packages for bachelor parties.
7. Go on a Kayak Tour
Feeling adventurous? Take a kayak tour down the historic Bayou St. John and Bayou Bienvenue, where you'll get a glimpse of the New Orleans skyline while passing gators, birds, and other scenery. Kayak-iti-Yat offers tours that last 2–4 hours, and are great for beginners as well as advanced paddlers.
8. Go to a Strip Club
No bachelor party would be complete without visiting a strip club, and New Orleans has many to choose from. Larry Flynt's Hustler Club, located on Bourbon Street, is one of the best in town, with beautiful dancers and friendly bartenders. Other clubs to visit include The Penthouse Club and Rick's Cabaret.
New Orleans Bachelor Party Bars
New Orleans is home to historic bars as well as famous cocktails. Check out the list below and you're sure to have the complete New Orleans nightlife experience.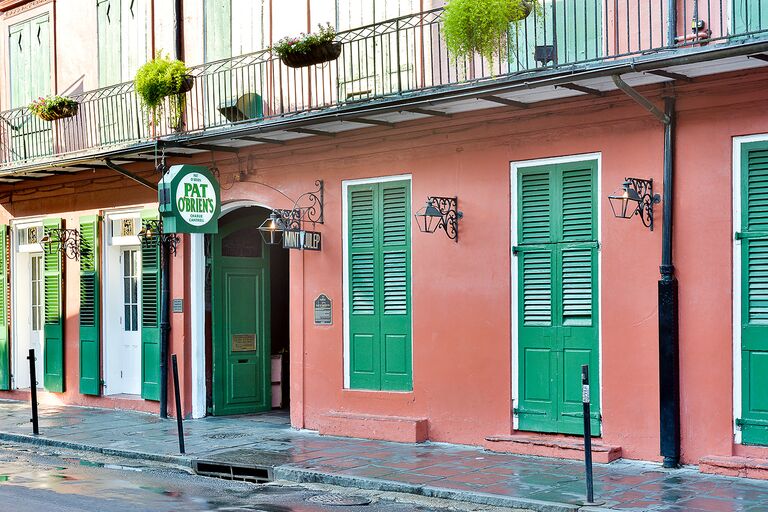 1. Pat O'Brien's – French Quarter, 718 St Peter Street

There are a few things you must do when you visit New Orleans, and sipping a hurricane, Pat O'Brien's signature rum-based cocktail, is one of them. While enjoying your drink, relax in the large courtyard, sing along to the dueling piano show, or enjoy a plate of wings from the restaurant. Open at 11 AM every day, Pat O'Brien's is a bar that's just as fun to enjoy in the daytime as in the evening.
2. Lafitte's Blacksmith Shop Bar – French Quarter, 941 Bourbon Street
You've never been to a loud, dark bar until you've visited Lafitte's. The oldest structure in the US to house a bar, Lafitte's has no lights, but that doesn't keep its patrons from partying and putting back Sazeracs until 3 AM. Lafitte's also serves their own version of the hurricane, as well as a nice selection of craft beers.
3. Erin Rose – French Quarter, 811 Conti Street
For some amazing Irish cocktails and tasty po'boys, stop in at Erin Rose, an Irish pub in the French Quarter that is always lively. Their frozen Irish coffees are a must-try, but they also make delicious Bloody Marys and offer traditional pub favorites like Guinness and Harp. The po'boy shop in the back of the bar serves up crowd pleasers like the "Dark & Stormy" Pork Belly and the Seared Gulf Shrimp po'boy, making this bar a great destination for lunch or late-night.
4. Avenue Pub – Garden District, 1732 St Charles Avenue
If beer is what you're after, visit Avenue Pub in the Garden District, which has the best craft beer selection in town, as well as an impressive list of spirits. With a laid-back, friendly atmosphere and an upstairs balcony to chill on nice nights, you won't find a better place to enjoy a high-quality beer or cocktail in New Orleans. The downstairs bar is open 24 hours, and the kitchen offers satisfying pulled pork sandwiches, burgers, and appetizers.
5. Cat's Meow – French Quarter, 701 Bourbon Street
If a loud, memorable night is what you're after, head to the Cat's Meow, a karaoke bar and reliable party spot in the French Quarter. This place packs a crowd every night of the week, ready to drink and belt out any song you choose. With talented singers, dancers, and emcees leading the night, this bar has earned its title as the "Best Karaoke Bar in the World," and is one you won't want to miss.
Disclosure: This post contains affiliate links, some of which may be sponsored by paying vendors.