One-Night Bachelorette Party Ideas and Day Trip Activities for Your Crew
When you're here for a good time, not a long time.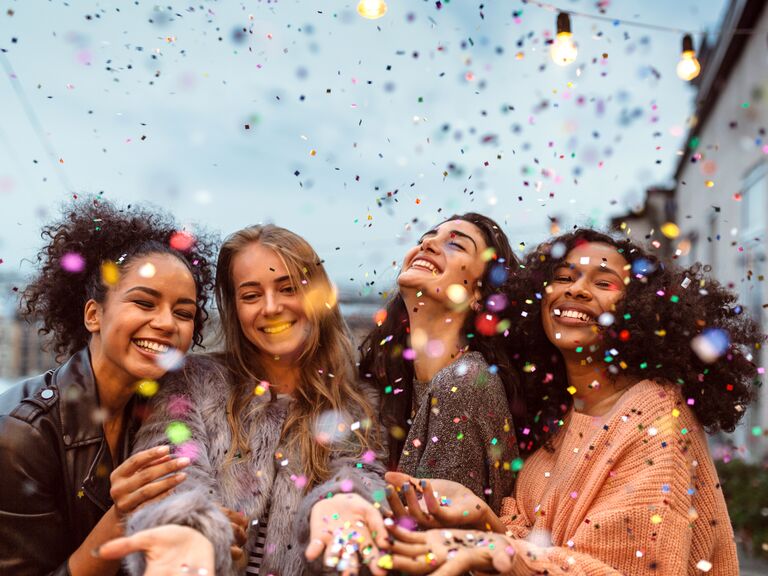 iStock
As fun as a long weekend in New York City or Palm Springs sounds, it's not always realistic—and not everyone's first choice—for a bachelorette party. Thankfully, a three-day bender stuffed with planned (expensive) activities and non-stop eating and drinking isn't your only option. Even as destination bachelorette parties keep gaining popularity, they're certainly not required, and a one-night bachelorette party never goes out of style.
We're not saying you have to choose between an epic weekend celebration and a short snooze fest, though—your night out or day trip can get as rowdy as you please, of course. We're just saying there's no need to force it for 72 hours in a row. Instead, why not plan for a final fling that stays high-energy for one day or night only, so you're able to be as in-the-moment as possible? (Added bonus: No need to worry about muscling through a bad hangover to keep the party going two nights in a row.) Here, we've rounded up some fun ideas for a condensed bachelorette party, along with some perks of throwing a one-day or one-night bash.
Have a Nature Day
If you happen to live near a beach or a lake or other large body of water, you've already got the perfect setting for a guaranteed good time. All you'll need in order to add some flair to the bachelorette day trip is some tasty themed food (potluck-style or a large array of the bride's favorite proteins and veggies to throw on the grill), some fun bridal games, and on-theme decorations, like streamers, tiki torches, or even bachelorette-themed beach towels.
As the day winds down, enjoy the sunset together (#selfietime) and consider that ultimate throwback to summers past with a bonfire on the beach. A fun alternative could be setting up a large portable screen and projector for an al fresco movie night—the perfect way to wind down a sun-and-sand-filled day.
Perks: There's no real limit to the number of guests you can invite to the bachelorette bash, and it'll be easy for late-comers to drop in without feeling too guilty.
Get Pampered
Your maid of honor and bridesmaids will have way fewer schedules to coordinate with a day—or night—of pampering, as opposed to cramming a massage session into an activity-packed weekend. If it's a day spa experience that you're into, the only real coordination will involve scheduling appointments and making sure there are enough masseuses on-hand to provide simultaneous services; if it's a girls' night in that's more your style, all you'll need are beauty products: face masks, nail polish, balms, moisturizers, and—depending on your preference—some wine or herbal tea to complete the evening.
Perks: Work, school, budget, family obligations and any other adult life factor you can think of can potentially keep friends from being able to join an extended bash. But a shorter, more low-key bash that involves a little fun TLC will likely ensure your entire A team can make it.
Get on a Boat
Just because you're coming up with one-night bachelorette party ideas doesn't mean that you can't still move a little. And by move, we mean hop on a chartered boat or yacht for a day-long excursion to sail the smooth seas. Celebrities do it all the time—granted, usually off the Amalfi Coast—for a reason, probably because it's a great way to luxuriate with your crew in a new and different way while also seeing some gorgeous sights (and catching some serious sun to boot!).
Call it "The Last Sail Before the Veil" and decorate the yacht with raunchy (or classy, depending on your group) bachelorette-themed decor. Dream up custom cocktails for the ride, like "Glitter 'n' Glide" (add edible gold glitter to any drink!), "Penis Pickle Shots" (yes, that's a thing), or "Kiss Kiss" (anything pretty and pink). An evening alternative is to rent out a boat for a dinner cruise around a picturesque harbor for a memorable meal your gals will be talking about for years to come.
Perks: You can get as drink-happy as you like aboard the ship without having to worry about repercussions and/or recovery the next day, and because it's just your crew aboard the ship, you're guaranteed to have a blast without the sometimes-hassle of bar-hopping or going out to a club on a crowded night.
Hit a Show
A great way to bond with all your gals and still splash out if you want to is to get tickets to the bride-to-be's favorite band or musician's show, whether it's in town or just a small road trip away. Consider all-day music fests for a more casual environment or tickets to a stadium show (think: Beyoncé or T-Swift, if either happen to be touring) for some megawatt fun. Get glammed up and pregame or go out for a fancy meal beforehand; the world is your oyster.
As an added bonus, it could be fun to wear some form of matching gear to make sure the rest of the crowd knows it's a special night out on the town for your crew: matching personalized T-shirts, light-up headbands, or, for the more ambitious, jackets with your bride-to-be's face emblazoned on the back, like the true fans that you are.
Perks: Feel free to go all-out for the one-night excursion, both budget-wise and energy-wise, because there's no need to conserve for Day Two. Since you won't be partying for several days straight, you'll have more room in the budget to make the one-night bachelorette party truly unforgettable.
Take a Class
Who says learning has to be dull? A great way to bond with your gals and ensure that they get to spend quality time with each other is to take a group class together—and pair it with alcohol. Wine and painting classes are popular because they're accessible, they're creative, and they're a surefire way to have a great night out. The Artful Bachelorette takes the concept to the next level, bringing handsome (nude) models to private residences—or hotel suites, or yachts, or any other sort of gathering space—for your group of gals to sketch whilst sipping on champagne and nibbling on cheese.
Other fun options include flower arranging classes a la Alice's Table, which provides instructors, cocktails, and blooms galore at the private home or venue of your choosing; a group workout class followed by cold-pressed cocktails or wine (think: pole-dancing, barre classes, or yoga, depending on the crowd); or even a cheese and wine pairing class at a local winery for an educational experience that also satisfies the taste buds.
Perks: Low-key doesn't have to mean low-energy. A weekend of carousing is a blast—but it's exhausting. By the end of an action-packed, albeit fun, weekend, everyone's energy is usually kind of meh, and getting the group to rally can be impossible. A one-night paint-and-sip class, then, is the perfect way to mix friend groups while also getting appropriately tipsy.