What Is a Bachelorette Party? Here's the Definition, Significance and More
Read up on the history before partying with your BFFs.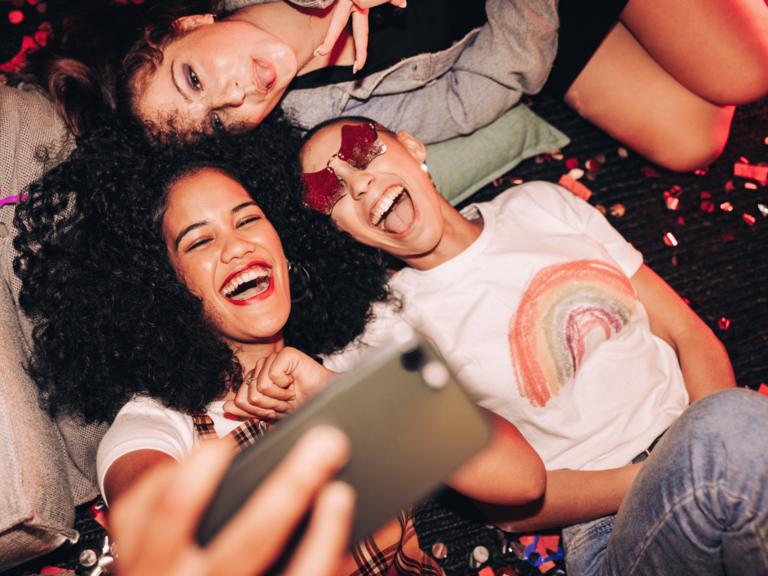 Shutterstock
We have included third party products to help you navigate and enjoy life's biggest moments. Purchases made through links on this page may earn us a commission.
The wedding day understandably gets a lot of attention, but there are plenty of prewedding events to look forward to—bach parties being perhaps the most notable of them all. But what is a bachelorette party, and exactly how did this tradition start? Whether you prefer a low-key self-care weekend with your fave crew or plan an all-out destination girls' trip, the bachelorette party is a fun way to let loose and relax before you say "I do." If you're looking for a little more detail on what happens at a bachelorette party, we've got you. Keep reading for the actual bachelorette definition, plus a brief history of the bachelorette party and some common ways to celebrate today.
In this article:
What Is a Bachelorette Party?
In the plainest terms, a bachelorette party is a prewedding celebration in honor of the bride-to-be. This traditional girls-only event includes the bride, bridesmaids and the maid or matron of honor—although by today's standards, you can invite whoever you want, regardless of gender or whether or not they're in the wedding party. It's different from the bridal shower, which is usually a more toned-down celebration involving relatives and family. The bachelorette party can last anywhere from a few hours to an entire weekend. Thanks to famous wedding movies, the bachelorette party sometimes gets a bad rap for being centered around raucous activities and shenanigans, but this event is more than its infamous reputation.
Try to imagine a sea of suitcases rolling through the domestic arrivals terminal of Nashville International Airport. It's Thursday night and women in their 20s and 30s are joyously reuniting and excitedly scurrying to hail a car service to their respective hotels. After all: it's bachelorette party time. This year alone, tens of millions of bridesmaids, besties and brides will partake in this prewedding tradition that's become deeply ingrained within American culture—some without realizing that its historical context is unduly linked to the rise of feminism.
To begin, the first known bachelor party traces back to 5 B.C., to the prominent warrior civilization of ancient Sparta, where a feast was held to honor a groom the night before his wedding. Women, however, didn't adopt this type of tradition until nearly two millennia later. While bridal showers sprouted in 16th century Europe, it wasn't until four decades after the term "bachelor party" was cemented (in a 1922 Scottish magazine) that the "bachelorette party" was born, coinciding with the women's liberation movement of the '60s.
"Women looked around and said, 'Hey, we get boring showers, while the guys get these crazy nights out.' So they started holding their own," says Eleni Gage, historian and author of Lucky in Love: Traditions, Customs, & Rituals to Personalize Your Wedding.
"Some think bachelorette parties started as a second shower just for friends, where the women could get tipsy and open more raucous presents, like lingerie, without Aunt Marge and the minister's wife watching on."
In the 1980s, the parties were solidified as a prewedding tradition, with the bachelorette meaning and definition continuing to evolve today. The significance and point of a bachelorette party, however, spans cultures as it's characterized by themes of friendship and empowerment. "The most fun (and feminist) act is having the kind of celebration you want before your wedding," says Gage.
Bachelorette Definition
Bachelorette Party: A celebratory gathering for the bride before she marries.
The bachelorette party definition might seem vague, but that's because there's no right or wrong way to throw one. To expand on the question "what is a bachelorette party?," let's start with a few other basic definitions. According to Merriam-Webster, the term 'bachelorette' is a "young unmarried woman," while its 'bachelor' counterpart is defined as "an unmarried man." In the United Kingdom and other countries, the bachelorette party is sometimes known as the "hen party" for women, with bachelor parties called the "stag night" or stag do" for men.
What Is the Point of a Bachelorette Party?
Bachelorette parties include underlying themes of friendship, freedom and oftentimes, sexual expression, whether that means getting dressed up for a night of dancing or surprising your guests with some racy party favors. "The truth is women have enjoyed their own prewedding gatherings since the existence of weddings, and there have been plenty of opportunities for them to get a little wild—in their own right," says Gage.
The point of a bachelorette party is to give the bride and her closest friends a chance to bond and have fun before the wedding in a way that reflects the bride's favorite hobbies or interests. But this event is also an opportunity to incorporate any special cultural traditions that might be relevant to the bride.
Infusing your culture into the bachelorette party is a fun experience to share with friends who may have otherwise never experienced something along those lines. "We had a making-of-the-bed ceremony three days before my wedding on the Greek island of Corfu, and my friends are still talking about it nearly a decade later," Gage explains. "It was a big cocktail party, but in the middle of it, there was this race against the clock to make the bed."
In South Asian cultures and Indian heritages, haldi ceremonies and mehndi ceremonies are other forms of prewedding bonding, typically only reserved for women. And in Bulgaria, a prewedding tradition involves something rather simple: baking pitka bread the Thursday before the nuptials.
What Happens at a Bachelorette Party?
Traveling to a special destination for the bachelorette party is becoming increasingly common, especially for groups who are already spread out across the country. Most bachelorette parties are planned around a specific theme, either inspired by the party location or something that the bride-to-be loves. A few of our favorite themes: western rodeo, Mamma Mia, Taylor Swift and Barbie. As an icebreaker or a way to fill gaps of time in between other activities, you can play a bachelorette party game or two (don't forget to have some covetable prizes on hand for the winners).
Whether your party is limited to one evening or extends for a long weekend, be sure to take the bride's interests into consideration when you're planning the itinerary. "Travel is great for making memories," explains Gage. "Just focus on what the bride likes to do—whether that's a long weekend of museum-hopping in her favorite city or a few days by the beach."
Even if the bride generally loves a large party or enjoys traveling, she might prefer a quiet or more basic bachelorette party in the midst of her wedding planning chaos. "Something even as simple as a pool party that lets everyone have fun—and ideally, not spend tons of money—also seems to be becoming more the norm," says Gage. "But really, the only bachelorette party trend you should worry about is what's trending with the bride. What does she want to do with her friends before plunging into marriage?"