What Is a Bachelorette Party? Here's the Definition, Meaning and More Details
Read up on your bachelorette party history before you enjoy it with your besties.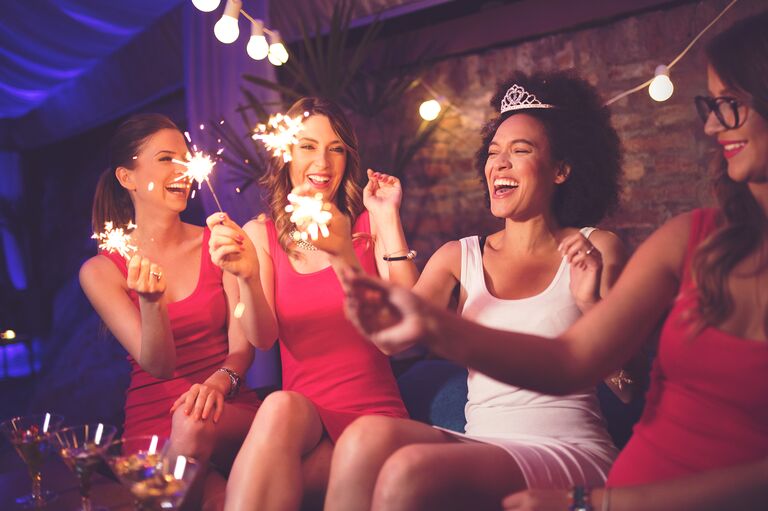 Getty Images
We have included third party products to help you navigate and enjoy life's biggest moments. Purchases made through links on this page may earn us a commission.
Although many brides are busy completing tasks for the main event, there are a variety of pre-wedding events to look forward to, too. First of all, you've got your bridal shower, which is almost always a fun experience filled with presents and pampering. There's also the rehearsal dinner –– a nice gathering of friends, family and out of town guests. Finally, you are probably looking forward to spending some quality time with your best girlfriends at your bachelorette party.
Whether you go with a basic bachelorette party or an all-out destination weekend, this event is a fun way to let loose and relax before you say "I do." Not sure how to get started or what to expect? No worries. We are here to help with Bachelorette Party 101 tips and advice.
What is a bachelorette party?
Try to imagine a sea of suitcases rolling through the domestic arrivals terminal of Nashville International Airport. It's Thursday night and women in their twenties and thirties are joyously reuniting and excitedly scurrying to hail a car service to their respective hotels. After all: it's time to bachelorette party. This year alone, tens of millions of bridesmaids, besties and brides will partake in this pre-wedding tradition that's become deeply ingrained within American culture—some without realizing that its historical context is unduly linked to the rise of feminism.
To begin, the first known bachelor party traces back to 5 B.C., to the prominent warrior civilization of ancient Sparta, where a feast was held to honor a groom the night before his wedding. Women, however, didn't adopt this type of tradition until nearly two millennia later. While bridal showers sprouted in 16th century Europe, it wasn't until four decades after the term "bachelor party" was cemented (in a 1922 Scottish magazine) that the "bachelorette party" was born, coinciding with the women's liberation movement of the '60s.
"Women looked around and said, 'Hey, we get boring showers, while the guys get these crazy nights out.' So they started holding their own," says Eleni Gage, historian and author of Lucky in Love: Traditions, Customs, & Rituals to Personalize Your Wedding. "Some think bachelorette parties started as a second shower just for friends, where the women could get tipsy and open more raucous presents, like lingerie, without Aunt Marge and the minister's wife watching on."
In the 1980s, bachelorette parties were solidified as a practice—with its definition and meaning continuing to evolve today. The significance of the event, however, spans cultures as it's characterized by themes of friendship and empowerment. "The most fun (and feminist) act is having the kind of celebration you want before your wedding," says Gage. Here, The Knot explores the various facets of bachelorette parties and what they've become today.
In this article:
Bachelorette Definition
To expand on the question, what is a bachelorette party?, let's start with some basic definitions. This will help us better understand the bachelorette party meaning. The term "bachelorette," according to Merriam-Webster's American-English dictionary, is a "young unmarried woman," while its "bachelor" counterpart is defined as "an unmarried man." So, then, what is a bachelorette party? The term was first derived from "bachelor parties," which was long known as the "stag night" for men and the "hen party" for women.
In the 21st century, a bachelorette party is generally defined as "a gathering" for a bride before she marries. The party is usually hosted months in advance of the couple's nuptials. However, there are instances when the bash is held the week of the wedding and sometimes even after the nuptials take place. "The bride's friends throw it and do it to spend time and celebrate typically before the wedding," Gage elaborates. "It's usually more friend-focused, rather than a family affair like a shower. And it's more of an opportunity to cut loose." Bachelorette parties today are more personalized and focused on the bride's interests as she's surrounded by her closest friends.
Bachelorette Party Meaning
The meaning of a bachelorette party includes underlying themes of friendship, freedom and oftentimes, sexual expression. "The truth is women have enjoyed their own pre-wedding gatherings since the existence of weddings," says Gage, "and there have been plenty of opportunities for them to get a little wild—in their own right."
Cultures around the world have long participated in bride-focused, pre-wedding traditions, though it isn't represented by the exact same term as bachelorette party. "Those might have been the making-of-the-bed ceremonies in Greek culture [known as the 'To Krevati'] and in Chinese culture, where the unmarried girls make the bed that the married couple will spend the night of their wedding. In Greek culture, the bride's relatives will sprinkle the bed with coins, rice, rose petals and other fertility symbols before bouncing babies on it to invite children into the marriage."
In South Asian cultures and Indian heritages, mehndi ceremonies are another form of female bonding. During this particular event, intricate and ornate designs are painted on the hands and arms of the invited women to bring luck and good fortune to the wedding. A Bulgarian pre-wedding tradition involves something rather simple: baking pitka bread the Thursday before the nuptials.
Infusing your culture into the bachelorette party is a fun experience to share with friends who may have otherwise never experienced something along those lines. "We had a making-of-the-bed ceremony three days before my wedding on the Greek island of Corfu, and my friends are still talking about it nearly a decade later," Gage explains. "It was a big cocktail party, but in the middle of it, there was this race against the clock to make the bed."
In the '80s and '90s, bachelorette parties were oftentimes limited to one evening—usually the week of the wedding. Since then, brides have chosen to isolate their hangovers by distancing the bachelorette party from their wedding dates. The single-day concept has evolved into a multi-day reunion for the bride and her friends with full weekend itineraries including a robust range of activities that reflect the group's interests.
"Travel is great for making memories," explains Gage. "Just focus on what the bride likes to do—whether that's a long weekend of museum-hopping in her favorite city or a few days by the beach." Another common question is what is a bachelorette party when it's wellness-driven? Increasingly, groups are implementing workouts like spin classes or a yoga practice (with an athleisure element) to their bachelorette weekend schedules. "They're becoming less about 'we can party as hard as the guys,'" Gage explains, "and more about taking the time to enjoy each other's company."
Ultimately, these bonding moments should reflect the bride's defined preferences. With the personalization of weddings, the pre-wedding events are much of the same. "Even bar crawls are becoming more focused around people's specific interests—like hitting the Bourbon Trail in Louisville," the author adds. "Something even as simple as a pool party, that lets everyone have fun—and ideally, not spend tons of money—also seems to becoming more the norm. But really, the only bachelorette party trend you should worry about is what's trending with the bride. What does she want to do with her friends before plunging into marriage?"
Bottom line: If you are planning a bachelorette party for a special bride in your life, we recommend that you discuss a variety of event options with her and follow her wishes. Even if she generally loves a large party or enjoys traveling, she might prefer a quiet or more basic bachelorette party in the midst of her wedding planning chaos.