There's Now a Company That Will Design a Snapchat Geofilter for Your Wedding
That elegant rose gold lettering isn't just for your invitations and escort cards anymore. Geofilter design services like Filtered Vows make it easier to design the wedding geofilter of your Snap-story dreams.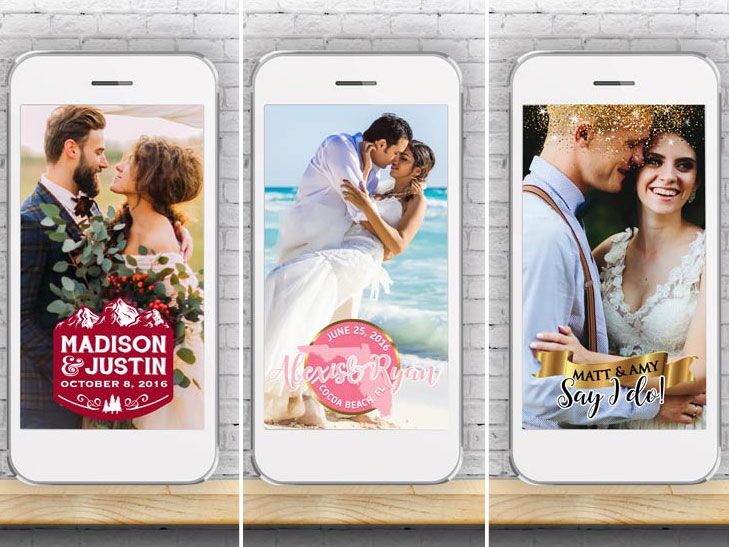 We're obsessed with personalized wedding geofilters, and it seems like ever since CEO Evan Spiegel's sweet proposal to Miranda Kerr via Snapchat, more couples are picking up on the next big wedding trend. As today's brides and grooms are finding fun ways to embrace modern technology, could it be that Snapchat, with all of its bells and whistles, is a welcome addition to the ever-popular retro photo booth?
We've shared how to create your own Snapchat filter, and even though it's simpler than you might expect, Snapchat does require you to choose a fixed template and meet some strict guidelines. Want something pretty and unique but feel daunted by the idea of designing something all on your own? Enter the design team behind Filtered Vows, an up-and-coming service that makes it easier than ever to create a filter that's beautiful and uniquely yours.
Filtered Vows offers several packages. The most popular is the five-filter plan, according to Cody McClendon, vice president of sales and marketing at Filtered Vows. Why more than one filter? Because it's more fun—not just for your guests, but for your wedding party too. "The more filters, the more you can use them for different events," McClendon says. A sweet, romantic filter for the rehearsal dinner? Check. A fun and festive hair-and-makeup prep filter? Check. And what's a bachelorette party Snap-story without a filter of its own?
After choosing a package, Filtered Vows immediately matches you with a design consultant whose job it is to get to know your style, from rustic to modern. Covering everything from how you met to your favorite color scheme, your personal designer will make sure your filter is one of a kind. They'll also provide you with "awareness materials," which can be placed in high-traffic zones like the bar and the escort card table, so no guest misses out on the fun.
Visit the Filtered Vows website and gallery for inspiration and looks we love.