Here's What No One Tells You About Getting Your Hair and Makeup Done
There are some things you won't learn until your first time in the getting-ready suite.
by The Knot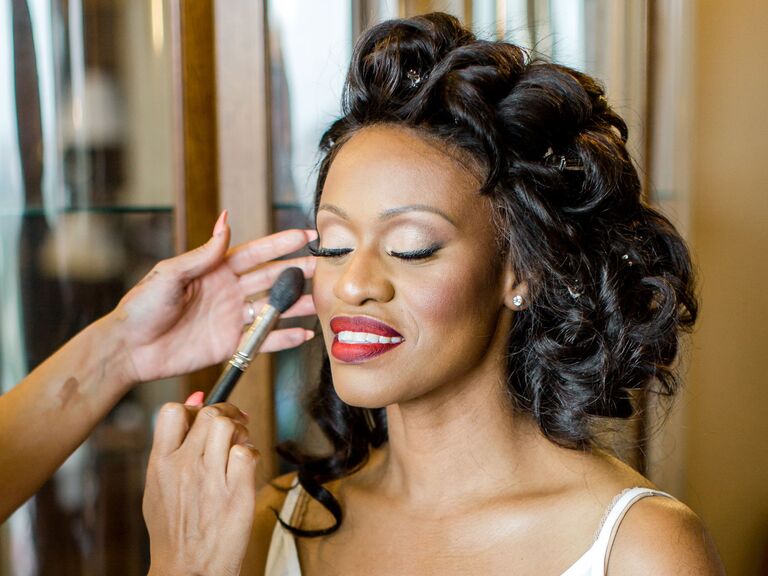 Iris Mannings Photography
Whether you're getting married or in the wedding party, doing your hair and makeup together before the wedding can be one of the most memorable parts of the entire day. Beyond selfies, mimosas and curling irons, there are some prewedding hair and makeup truths you don't really think about until it's your turn. Here are a few things to expect the morning of the wedding that you may not know.
It's an Early Start
No rest for the beautiful, we're afraid, and that includes you. The larger the wedding party, and the fewer the stylists, the longer the process will take. Factor in even more time if there's only one photographer expected to document both partners' getting-ready moments. Expect both hair and makeup respectively to take 30 to 45 minutes per bridesmaid (and mother of bride) and 60 to 90 minutes for the bride. We know, it's a long day—but it flies. Use down time to take photos, have a bellini and a bite, and soak in these special, last few hours before the ceremony.
There's a Primping Pecking Order
The bride will likely want to get her hair and makeup done last to ensure she's fresh for the first look, portraits and/or trip down the aisle—and the maid of honor will typically want to go as close to last as possible. As a bridesmaid, don't be surprised if you're assigned a 7 a.m. start time, even if the ceremony starts at 3 p.m. And don't panic, there will probably be time for touch-ups in case something fades or falls out of place.
There Could Be Some Awkwardness Over Who Pays for What
Here's the deal, whether the bride or the wedding party foots the hair and makeup bill depends on a case by case basis. Some brides require their crew get touched up professionally, in which case covering the cost would be a courteous, expected gesture. However, if the bride doesn't specify because it's not in her budget or she has no preference, but the wedding party insists on hiring pros, they should pay for it themselves. Long story short, have this conversation about who pays for what early on so the actual wedding day remains as stress free as possible.
Everyone Will Want to Charge Their Phones
Make sure you're prepping in a room with enough outlets—you and your wedding party will want to snap photos, check in with loved ones (or vendors) and keep busy in the hours leading up to the wedding. Everyone's phones should have enough juice to last them through the last dance.
You Should Get Dressed at the End
Getting-ready robes aren't just cute—there's a very practical reason to dress the squad in robes or button-downs. They'll catch stray makeup, hair spray or condensation from your getting-ready cocktail so your wedding or bridesmaid dress doesn't have to. Plus, they're easy to slip off without pulling them over your head and undoing your stylists' hard work.
You Might Want to Have Your Makeup Done First
This certainly isn't a rule, but depending on your hairstyle, you might want to get your makeup done first. It's no biggie, but if you have the choice and your hairdo could potentially be messed up from being moved to apply makeup, ask to put your face on first.
You Need to Tip Your Pros
Professional hair and makeup isn't cheap—and that's a good thing. Your stylists are experts through and through and charge what they do for a reason. The Knot 2017 Real Weddings Study reveals the average cost per person per service is just over $70 —and then there's the tip too. Tips are always appreciated for a job well done, and hair and makeup artists are no exception. Prepare to tip your beauty pros 15 to 25 percent at the end of their service, just as you would in a hair salon, and consider giving a little extra if there's a crisis requiring a last-minute redo.
You're Allowed to Change Your Look
Your makeup artist and hairstylists take pride in seeing their clients happy—they won't be offended if you ask to have a tweak made or, in the most extreme case, your look redone (if there's enough time, of course). The bride may have had a chance to go through a trial run or two before the wedding day, but that's usually not the case for the rest of the wedding party. If you don't feel comfortable or you haven't gotten your money's worth, feel free to speak up (politely, and within reason, of course).
It's Surprisingly Emotional
Speaking of touch-ups, you might need one after crying a few happy tears. Getting ready to walk down the aisle in a room full of your favorite people can make you (and them) pretty emotional. Keep tissues on hand and always opt for waterproof mascara, whether you're the bride, mother of the bride or a bridesmaid.