The 12 Trendiest Wedding Nail Designs of 2020
Nail your wedding look with these great wedding nail ideas
We have included third party products to help you navigate and enjoy life's biggest moments. Purchases made through links on this page may earn us a commission.
You already know what it's like to have your hands become the point of focus after getting engaged, but what about the wedding day? Manicures are a form of self-expression, and can add a fresh twist to your everyday personal style, so why should your wedding nails be any different? It's time to start thinking of wedding nail designs for your Big Day.
"Your wedding nails are a great way to showcase your personality and style, giving you a boost of confidence on your big day," says Paintbox's Chief Creative Officer Eleanor Langston. Amy Ling, the founder of the manicure studio Sundays, adds, "Consider customizing your art based on the ring based on what you have, or doing something very subtle to add personality."
Not sure how to buff up your digits for your special day? Take a look at 12 excellent bridal nail designs to give you a little inspiration.
1. Keep It Classic with a French Manicure
Let's start with the most traditional manicure option. A French manicure is simple yet elegant. If you want to keep your nails looking natural, skip the base coat and go for a classic white touchup on the tips of your nails. To add a little color to your nails, ask for a pink, nude, or buff undercoat.
A French manicure is a great choice for a bride who wants to look sophisticated without letting her nails steal the show. Best of all, a French manicure can simply be a starting point. Brides who want to get creative can add dress up their French nails in any number of ways.
2. Less Is More With Minimalism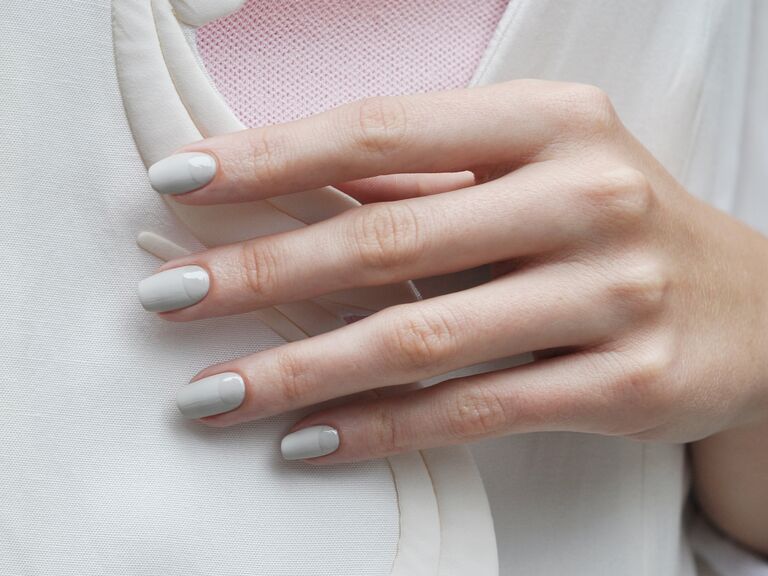 "The most timeless way to go with your wedding nails is the minimalist route," says Ling Lin. "A light pink pairs well for most with different dresses, and by adding a little bit of nail art—like an effortless line—you draw slight attention to your nails."
Other options for a minimalist manicure could include subtle moons and tiny dots on a natural base, Langston notes. A vertical line up the center of a nail is a simple way to create a slightly elevated effect to the overall bridal manicure.
3. All Things Personalization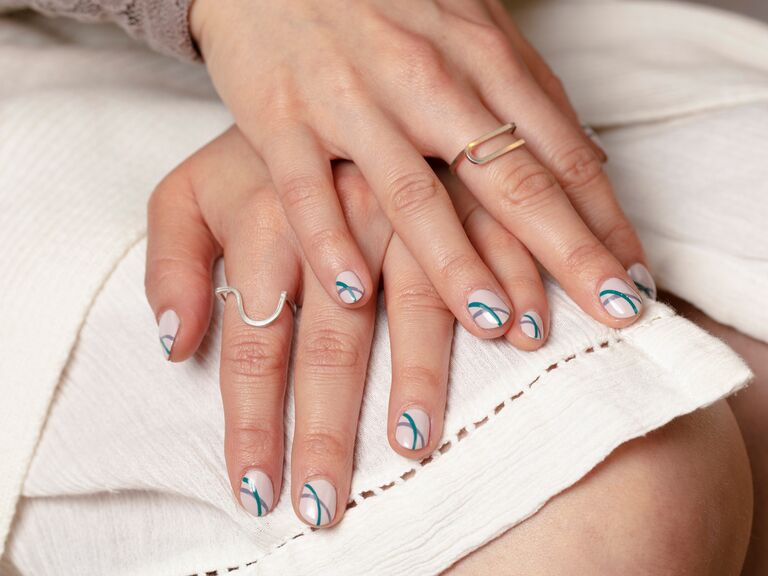 Wedding nails are another tangible way to implement your color palette into your bridal look. You can include a subtle nod to your wedding monogram or a symbolic reference. Even the simplest nail art choices can showcase personality. "We have a lot of clients who do one-tone nails, who will then add a little line, dots or an eye, which is a very spiritual design," says Ling Lin. "This could be on just one nail too, and it overall shows additional effort."
4. Soft Palettes
Say hello to dusty rose, subtle blues and undertones hues. A texture-less option can be a matte manicure, which is considered an ultra-modern bridal design. Paintbox recommends going with trendy grays, pastel peaches, roses, and pale mulberries.
Another trendy, of-the-moment 2020 wedding nail design is currently Pinterest's most popular nail color: lavender. The subtle purple hue that is versatile and adds a feminine touch to the hands.
5. Gold Accents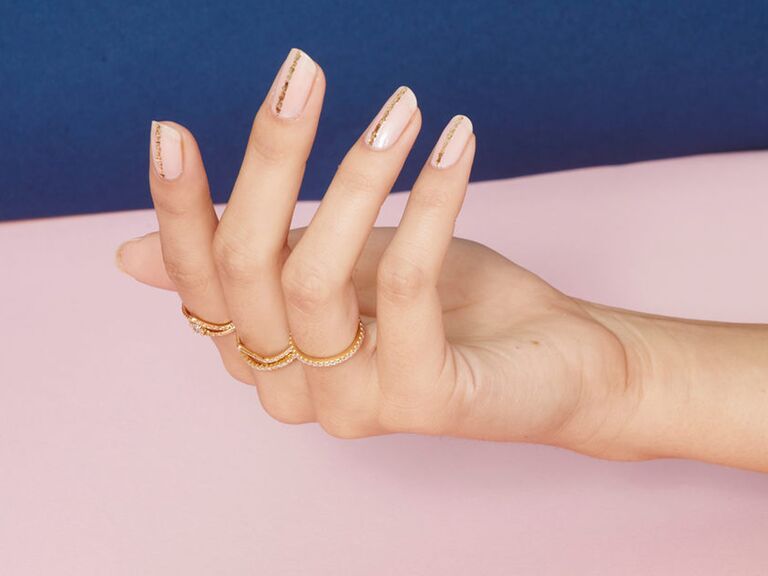 A few flecks of gold or a light brush of glimmer can create a high-end aesthetic for your wedding nails. "Gold accents take your manicure up a notch for your big day," says Langston. "They'll bring out the sparkle from your ring, adding a sophisticated touch of bling." With the range of metal types, brides can request everything from champagne to rose gold and even copper colors to accent their manicures.
"It's important to create harmony," says Ling Lin. "It's a comfortable way to see it, especially with the metals you have on your ring."
6. Natural Nails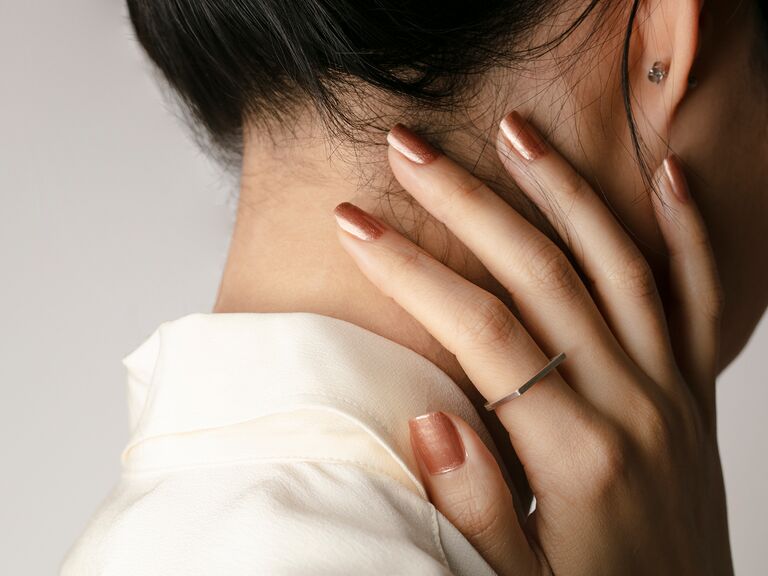 Natural nail art is an ideal option for Bohemian-style ceremonies or weddings taking place at relaxed venues like on the beach or the desert. Add organic-inspired elements like vines to your manicure or an earthy undertone color as a nod to Mother Nature.
And sometimes, wedding nails simply come down to self care. "I definitely suggest doing a rose treatment that's hydrating and rejuvenating to the hands before the wedding day," says Ling Lin. "It's like doing a facial for the hands. Having a cuticle cutting followed by rose water spray to make your hands look very moisturized. That way, your manicure will look even better."
7. Back to Geometry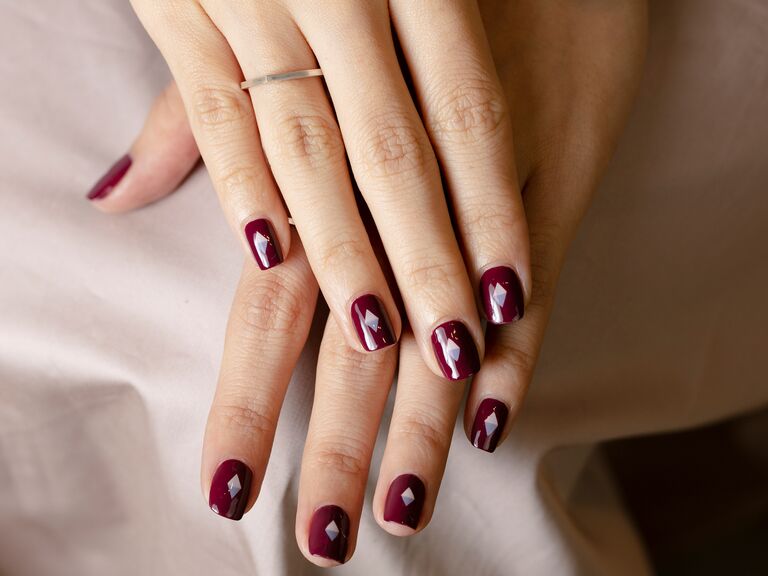 Have fun with all shapes and sizes. Geometric designs are particularly strong against with the use of negative space on the nails or a French tip. Sundays finds this option great for multicultural weddings that have added customization.
"We do a range of requests depending on the couple's culture," says Ling Lin. "We have clients coming in for their wedding nails based on their wedding colors. We have one client who wants lines that go well with her traditional Indian wedding dress. It's a form of self-expression especially for nontraditional brides who want to flaunt their personality and their culture." Her advice is to make it bold. "It's a statement… on your nails," she notes.
8. New and Neutral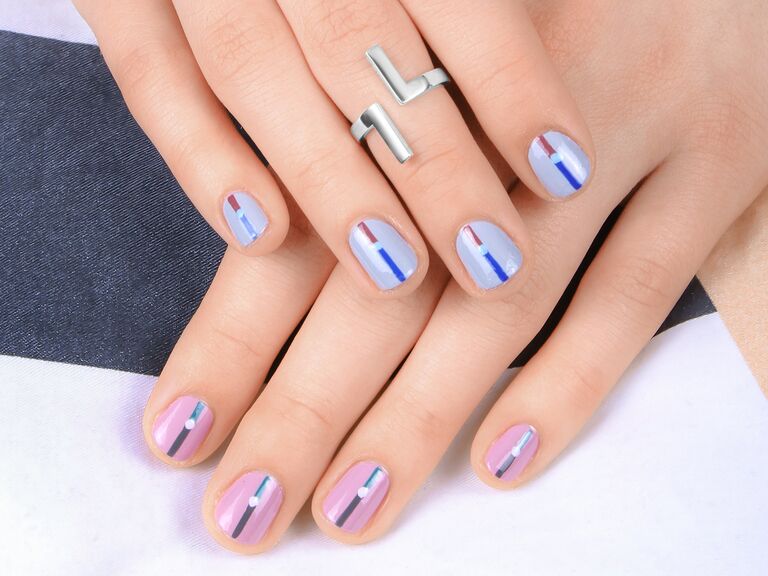 Who said it had to be just black or white? "For a fun touch to a bridal manicure, make your nails your something blue' for your day. After reds and neutrals, soft blues are the most requested shades at [our salons]—from hydrangea to pastel cornflower to mint blue," says Langston. "It's subtle, sophisticated, but still unexpected for brides." Either go with a single-tone color or mix things up with a design.
Here Comes High Shine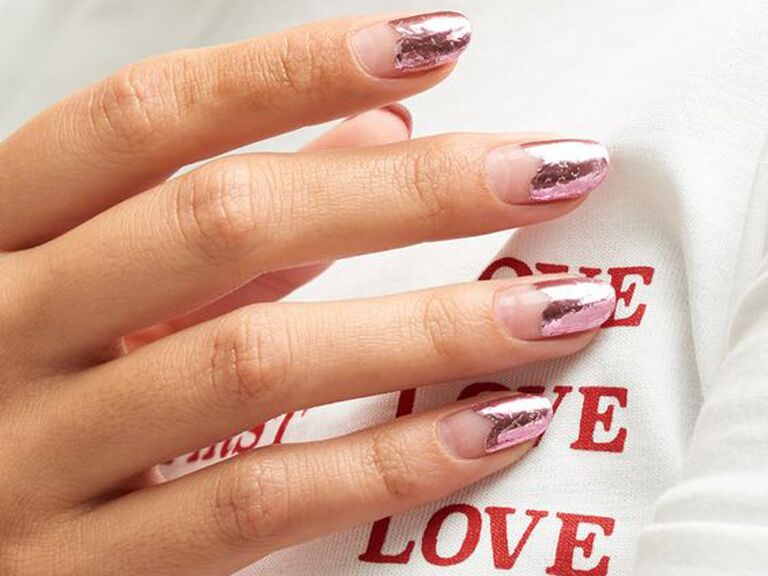 Max shine is a trendy option especially if you're opting for chrome foil or metallic accents to supplement your wedding nails. Langston notes that foil combinations don't have to be just aluminum; they can also include turquoise, gunmetal and champagne colors. In fact, she suggests matching foil colors to bridesmaid dresses for a personalized touch.
"Whatever look you decide to pick, use your nails as a special accessory that truly reflects your personal style," she concludes. "So that you'll feel your best self on your wedding day."
10. Diamontes
Add a little bling to your nails with pretty diamantes. These stick-on jewels can really make your nails stand out. Diamantes can go anywhere on your nails. Add a strand to the base of each nail bed or even across the top edge of your nails. For a look that's a little more demure, add one or two larger diamantes to just one nail. Diamantes look great by themselves or really stand out against dark nail polish.
11. Floral Designs
Flowers and weddings go together like kisses and true love. Add a pretty floral design to your nails for a whimsical touch. Top manicurists can offer a wide range of options, from an array of colorful blooms to more artsy flower patterns. The overall effect of the look will also depend on the colors you choose for your base and for the flowers. Even after you toss your bouquet, you'll still have some gorgeous blooms at hand… or should we say on hand.
12. Heart Designs
It's all in the name of love, right? So, instead of wearing your heart on your sleeve, how about on your nails? If you want a customized look that's in keeping with the spirit of your wedding, ask your manicurist to add some amor onto your nails in the form of hearts. There are plenty of options here. A huge heart on each thumbnail, for instance, or a cluster of tiny red hearts in the corner of your ring finger. Choose red, pink, purple, or white for your hearts. A white heart on top of rich red nail polish is a particularly stunning look.
Make Sure to Schedule Your Manicure
If these wedding nail designs have inspired you, make sure you schedule your manicure before your wedding. Many brides like to schedule full spa treatments, including a manicure and pedicure the day before their wedding. Bring your bridesmaids along to keep you company. If you really want to thank them for all their hard work and support, pay for manicures for all. This way, their manicures can match your own or complement your style.
Take a look at all our great manicure advice as well as more wedding nail ideas.