6 Questions to Ask Your Potential Destination Wedding Planner
Vetting your destination wedding planner is an absolute must.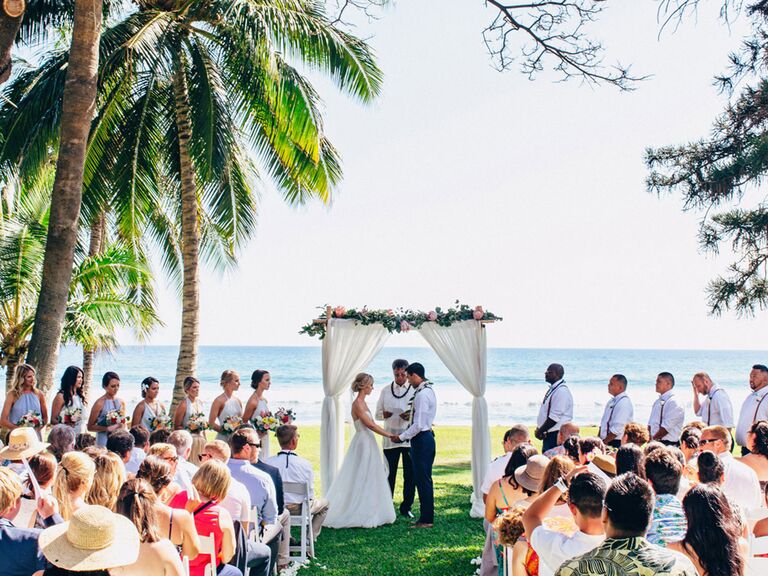 MAG & B PHOTOGRAPHY
Believe it or not, it isn't enough that your destination wedding planner know how to coordinate a wedding—they'll also need to be well-versed in the culture and laws of the country you're getting married in. And, of course, finding someone whose personality clicks with yours is definitely a top priority. Overall, a great wedding planner will not only make you feel like they've got it all under control, but will also make you feel at ease. These six questions will help you gauge whether your potential planner is right for you when you meet with them.
1. What's the typical budget of couples you've helped plan weddings for? Do you charge a flat fee or do you take a percent of our budget? And are rates affected by our guest list size or destination?
Why you want to know: You should know that some planners will only work within a particular budget range. That could mean weddings over $50,000 or weddings over $500,000 (yes, you read that right!). Either way, this should be at the top of your list of questions. For a destination wedding, there will probably also be other fees involved. You'll most likely have to factor in travel and hotel rooms for your planner and their team. If you're not able to find someone that can work within your budget, ask your venue about hiring extra help locally. Maybe you find someone to organize the escort card table, programs and other little details that you would otherwise have to take care of.
2. Have you planned weddings at my destination and venue before?
Why you want to know: A planner who knows the area, local customs and language will probably have an easier time pulling together all the details. And it's not necessarily a major red flag if they haven't done a wedding at your particular resort, but it is a bonus. Follow up with similar questions like: Do you know the marriage license laws? Are you familiar with popular area vendors like florists and makeup artists? And do you have any local ideas (like a steel drummer in the Caribbean or a mariachi band in Mexico) that would make the wedding day extra special?
3. Can I see photos from weddings you've done at my destination? If not, do you have photos from weddings that look similar to what we're going for?
Why you want to know: Photos will give you the best sense as to how your planner's weddings really turn out. And of course, you want to be sure that you and your planner are on the same page style-wise. You never know: Your planner's idea of an elegant wedding might not align with yours. Ask to speak to other couples they've worked with in the past and read reviews online.
4. Which other wedding vendors do you like to work with?
Why you want to know: This question will help you gauge their knowledge of the local industry—having go-to sources for things like local transportation and food should be pretty much a given. Your wedding planner may or may not give out specific names before you sign a contract (don't worry—they're trade secrets!) but you'll want to be plugged in to their enthusiasm about their colleagues.
5. Can I hire you to help me with my honeymoon arrangements?
Why you want to know: Many stateside destination wedding planners will also offer honeymoon prep services because they're already familiar with area properties, excursions and other insider tips.
6. How does the contract and deposit process work?
Why you want to know: Everyone works a little differently. Some planners will have you put down a deposit and sign a contract before you start talking vision and logistics. Others will present a plan to you before you sign. For full-service planners, you might end up giving them your credit card to use to pay for all the details, while others will guide you through the process but won't make payments for you. There are pros and cons to each, and only you can decide what works best for you. Either way, it's important you know how your planner works before you sign a contract.
Touring destination wedding locations? Don't forget to ask these top questions, here.
Find the must-know tips for planning a destination wedding here.