This Is How Much a Destination Wedding Costs on Average
According to real data.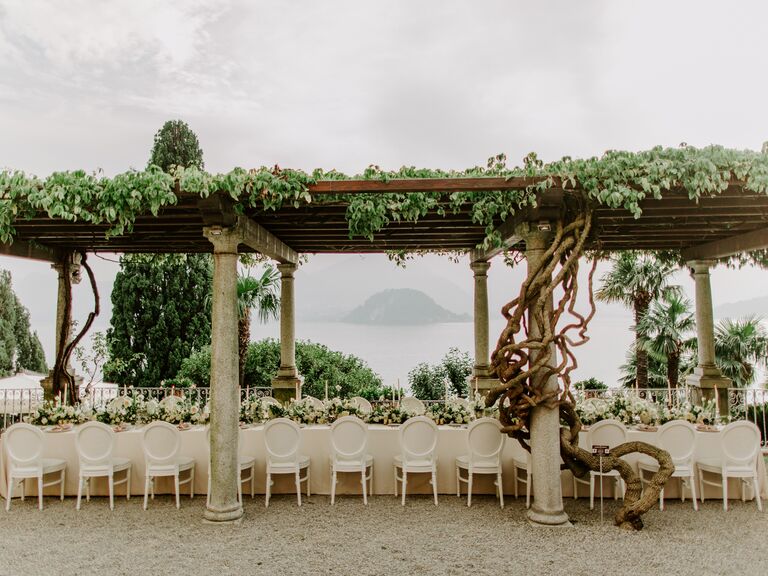 Joey Reger
You could be dreaming about exchanging I dos in a castle , at a luxury resort in Cancun or celebrating alongside your loved ones at a far-flung ceremony location in the U.S. A destination wedding is certainly a special way to celebrate your love, and so we're here to answer your budgetary questions to help you achieve the wedding of your dreams. We surveyed nearly 12,000 couples who got married last year to find the average destination wedding cost.
While the COVID pandemic put most destination weddings on pause, travel was back in a big way in 2021 and 2022. According to The Knot 2022 Real Weddings Study, in 2022, 18% of couples got married under what they consider a destination wedding.
In This Article:
Average Cost of a Destination Wedding
The average destination wedding cost in 2022 is $35,600, according to The Knot Real Weddings Study—an increase of 9 % over 2021 which was $32,700. As these numbers are averages, use them for baseline knowledge as you begin planning your own destination wedding.
And it's important to remember that this number is a national average, meaning we took numbers from couples all over the country with varying destinations, wedding packages, styles and guest counts and divided it by the total number of respondents.
Cost of Domestic vs. International Destination Weddings
It's important to note that destination weddings aren't only beach weddings in faraway tropical locations. In fact, most destination weddings take place in the continental U.S. Yes, these may be beach locations, but they can also be in the mountains, at a national park, near a lake or in a favorite vacation spot. A smaller number of weddings were held in international destinations. According to our study 44% of international destination weddings took place in Mexico, while 20% were held in Europe and 18% in the Caribbean. In terms of cost, the average cost of a domestic destination wedding in 2022 was $36,400, while it was $32,100 for an event that took place outside of the U.S.
What Are Some Costs to Consider in Your Destination Wedding Budget?
Destination weddings tend to cost more than hometown weddings. According to our study, the average cost of a destination wedding in 2022 is $35,600, as compared to the average cost of a wedding overall, which is $30,000. There are a few factors that come into play when explaining the difference in cost.
Obviously, travel expenses such as airfare and accommodations come into play when planning a destination wedding. One wedding venue option available to couples to help save money is an all-inclusive resort since the hotel room, meals, open bar and group activities are often included in their destination wedding packages. They also typically offer inclusive wedding packages that provide an onsite wedding coordinator, symbolic ceremony, wedding cake and flowers (e.g. bouquets, boutonniere and centerpieces), as well as, perks for the wedding couple like spa treatments.
The time of year when you choose to host your big day may also come into play here—hosting your wedding during the peak season may mean higher travel costs than choosing a wedding date during the off-season.
Couples were more likely to hire a wedding planner when planning a destination event. According to our study, 51% of couples who planned a domestic destination wedding in the U.S. and 70% of those who hosted an international destination wedding hired a wedding planner, as compared with 31% of those who married in their hometown. While a wedding coordinator is an added expense, if you're getting married in a location that's far from home, having someone to help book an officiant, local vendors and handle all the details during the destination wedding planning process is crucial.
What Are the Most Expensive Wedding Destinations in the U.S.?
If you're wondering what the most expensive wedding destinations are, the answer is it varies. International markets oscillate when it comes to destination wedding prices. However, our study reports the average cost of weddings in 2022 across different U.S. states. See the top 11 most expensive wedding destinations in the United States, below:
New Jersey: $51,000
New York: $46,000
Massachusetts: $46,000
Rhode Island & Vermont: $43,000
District of Columbia: $40,000
Connecticut & Maryland: $39,000
California: $37,000
Illinois: $37,000
Pennsylvania: $33,000
Virginia: $32,000
The takeaway is simply that the average cost of a destination wedding is case-by-case, so it's best to do your own research. Call local planners, venues, caterers and other vendors in your preferred destination wedding location to see what their prices look like—and then compare that to the wedding budget you've set. Don't have a budget yet? Take a look at The Knot Budget Tool. It will help you stay on track while planning your wedding.
How Do Couples Choose Their Destinations?
When it comes to wedding planning, the world is your oyster—literally. If you're feeling overwhelmed by all of the options out there, consider stealing strategies from the couples we surveyed. Nearly six in ten couples said that they chose their location because it was interesting, meaning it was unique or it offered great sightseeing. If you're looking for a way to personalize your wedding day, choosing a meaningful location is a great way to do so. Just over half of couples who wed in 2022 said they decided on their spot because it was special to them and their partner. Consider going back to the place where you first said "I love you" or the spot where you got engaged.
No matter where you decide to exchange vows, The Knot is here to help. Use our wedding website templates to keep your guests informed about destination wedding details, and start an online registry (complete with a cash fund, so you can plan the destination wedding of your dreams).