What is the Average Destination Wedding Cost?
How much is a destination wedding? Find out the average cost of an international and domestic destination wedding based on The Knot 2016 survey.
by Angela Guzman and Christin Perry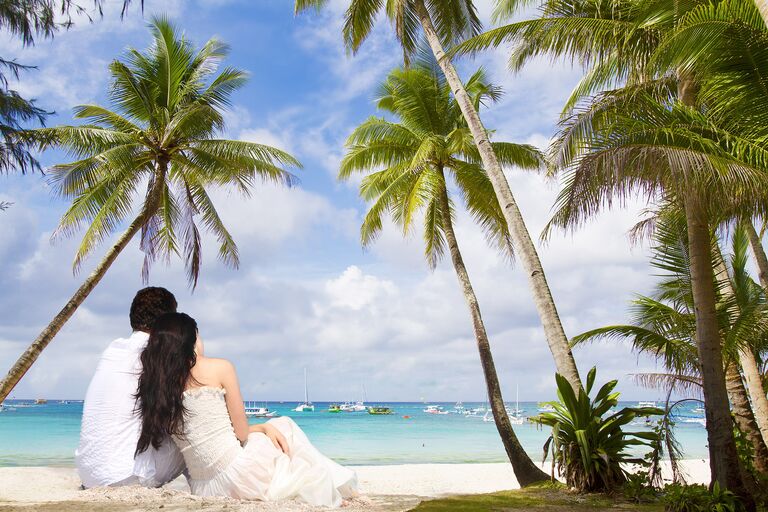 Have you ever taken a step back from planning your wedding and wondered if perhaps a destination wedding might be the right choice for you? The Caribbean Islands, Hawaii, Mexico, Asia, Florida, Las Vegas—let's face it, if you've ever dreamed of having a destination wedding, you're definitely not alone!
There are a ton of important elements that come into play when planning your wedding, one of which is determining the destination wedding cost vs. a traditional wedding. According to a comprehensive survey conducted by The Knot, in 2015, 49% of couples got married 200 miles or further from where they lived at the time they were married—up from 21% in 2014. Even though many couples do decide on a destination wedding, nearly one in five of them host another party when they return home in order to celebrate with friends and family who were unable to travel to their destination wedding. The same study also found that there are more than 350,000 destination weddings each year; of those, 77% take place in the continental US, and 23% at international destinations such as the Caribbean and Mexico.
How Much is a Destionation Wedding?
For most couples, price is the single most important factor in deciding whether or not to plan a destination wedding. Not only do you have the traditional wedding expenses like ceremony, reception, wedding dress, and officiant, but destination wedding cost may also have guests' expenses to think about. Are you going to pay for some or all of the destination wedding costs for guests? How do you decide? Will the added cost of shouldering guest expenses offset the savings that come with having a smaller wedding? Fortunately, The Knot 2016 wedding survey will help you uncover the average cost of destination weddings. Below we discuss some of the findings.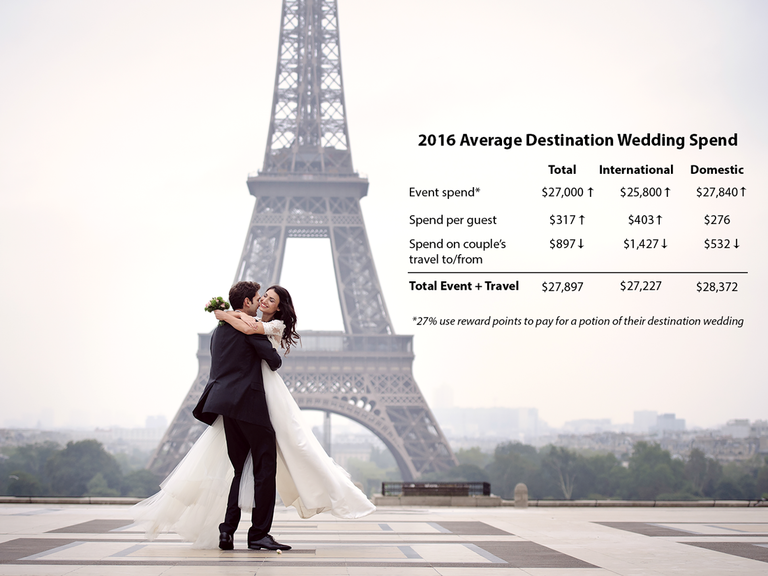 When planning your destination wedding, one of your first big decisions will be location. Should you go international and have a tropical affair in Costa Rica or Jamaica? Or should you plan a domestic destination wedding, like a warm, rustic event in Aspen, or a swanky party in New York City? According to our research, "total spend is greater for domestic weddings, but international weddings cost more per guest." The average wedding cost for an international destination wedding is $25,800, while domestic costs are slightly higher at $27,840. This is likely because the guest list for domestic destination weddings is larger. However, with the total amount spent for a traditional, at-home wedding as high as $32,641 in recent years, destination weddings remain a cost-effective option for you to consider.

Another factor you will need to consider as you decide on your wedding's location is travel expenses. According to the 2016 survey conducted by The Knot, you will need to factor into your budget an additional $1,427 for international travel expenses, and $532 for domestic, and that's just for you and your soon-to-be spouse! In 2016, 40% of couples planning destination weddings contributed money toward their guests' travel and accommodations expenses, which is up from 38% in 2013. The survey revealed that couples are much more likely to contribute when their guest list is fewer than ten people. But, with total per guest expenses clocking in at $2,479 for domestic weddings and $3,839 for international weddings, it's clear that assisting guests with their travel expenses could eat up a huge part of your budget. To reduce costs, 27% of couples getting married use reward points to pay for a portion of their destination wedding, so start racking up those points as you pay for your wedding by signing up for a credit card with a great rewards program, then be sure to pay it off each month.
Despite the destination wedding cost, our research found that 80% of international and 83% of domestic destination brides said it was important that the destination and accommodations are affordable for their guests. You will want to share your big day with your loved ones, so be sure to plan your domestic or international destination wedding far in advance in order to provide guests with the opportunity to save money for travel and other expenses.
Your wedding will be one of the happiest and most memorable days of your life, and a destination wedding may be the perfect choice for you. If you decide to exchange vows in an exotic location outside of your hometown, you may not have every single friend or family member with you, but your wedding is sure to bring happy memories for years to come, as well as some amazing pictures!