8 Must-Know Tips for Planning a Destination Wedding
Having a destination wedding? You need these tips from Jet Fete by The Bridal Bar.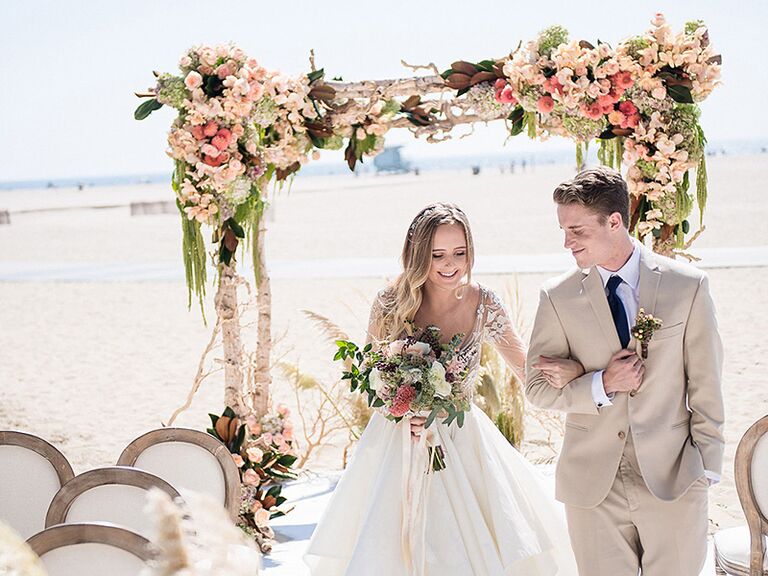 Andre Maier Photography
Planning a destination wedding can be a ton of fun, but it can also add a bit more stress to the process—especially if you're heading to another country. Follow these eight destination wedding planning tips to ensure seamless nuptials away from home.
1. Carry On Your Wedding Dress
Your wedding dress is precious cargo, and running the risk of losing it along with any luggage is not worth it. Take your wedding dress and any other important essentials on the plane with you so everything arrives in time and in one piece.
2. BYO Photographer
A quality photographer is paramount for capturing every moment of your destination wedding. While you may find local talent where you'll be saying "I do," it's wise to bring your shooter with you. The process of prewedding or engagement photos will be a breeze from home, as will ordering your wedding album and communicating your needs throughout the process. That little extra security of working with someone near home will help you rest easy when it comes to something as important as this. Plus, if you fly them in for the weekend, they might even shoot some additional on-location events or experiences for you at little to no cost—just ask.
3. Shop Local
Shipping is expensive—especially internationally. Avoid customs fees and the risk of losing your favors or other décor by shopping local. You'll be supporting local markets and craftsmen while giving your guests an authentic experience they'll never forget. Head to your wedding destination early (or do this during your site visit) and invest in some local art, gifts, welcome basket treats and other amenities that infuse the region into your day.
4. Know the Law
If you want to wed legally at your destination, check up on the local requirements before you go. Many countries have residency requirements, meaning you have to be in the location for a certain period of time (often a few days) before you can tie the knot, so book your travel accordingly. And take note: During major holidays and different times of the year, the offices you need to visit could be closed. Check what's required of you well in advance, otherwise opt for a spiritual ceremony and make it legal back home.
5. Go on a Site Visit
Hotels, wedding venues and even scenic sites can appear differently in person than they do online. Make sure the quality you seek is up to par by planning a site visit before you actually book your venue. This is also a great time to interview local vendors you may be hiring and get your major plans in motion for the wedding day.
6. Have a Backup Plan
Weather can play a factor on any wedding day, and a destination fete is no different, especially since there's a higher chance you'll be getting married outside. Book a site with a proper backup plan to avoid letting unforeseen weather put a damper on the day.  
7. Speak the Language (or Know Someone Who Does)
If you're hosting a destination wedding in a foreign country, language barriers can make wedding planning tricky. Hire a planner who speaks both languages or be confident in your translation skills so communication issues don't get in the way of the planning process.
8. Be Prepared to Let Go
Ever heard of island time? Bank on it at a destination wedding. What you're used to at home—a sense of urgency, a level of service or even a style—may or may not be exactly what you find on location. Come your wedding day, just let go and enjoy—no matter what happens. This is your time to celebrate, don't forget to make it a happy experience!
Harmony Walton is the founder of The Bridal Bar, host of Bridal Bar Radio airing on iHeartRadio and editor of the destination wedding blog, Jet Fete by Bridal Bar. With a vast celebrity clientele and over a dozen years of experience, her brands have been recognized around the world and featured in media outlets such as The Associated Press, The New Yorker, The Knot, The New York Times, Entertainment Tonight, People Magazine, The Los Angeles Times and many more.