The Best Caribbean Destination Wedding Spots
Get a taste of the tropics with a wedding at one of these nine sun-drenched Caribbean islands.
If you're thinking of having your destination wedding in the Caribbean, you can't go wrong with any of the islands. With a sunny atmosphere, gorgeous backdrops and sand underneath your toes, what's not to love? Here's a guide to nine Caribbean destination wedding hotspots, below.
Antigua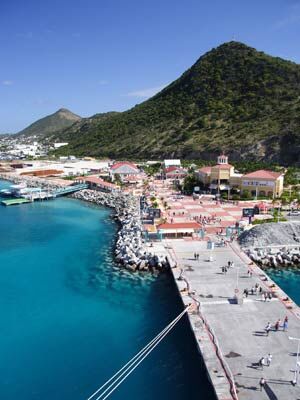 Why: This idyllic island not only has a whopping 365 beautiful beaches, but it's also steeped in nautical history. In the eighteenth and nineteenth centuries, Antigua was home to a huge British naval base and its harbor is still a popular yachting destination for the international jet-set. If you want to host your nuptials at a high-end all-inclusive resort, look no further -- many of the world's swankiest are here.
When to go: The high season runs from mid-December through April. After April, rates go down as much as 40 percent, but some places do close between August and October. The humidity and rainfall are low year-round, and hurricane season runs from June through November.
Guest activities: History buffs can tour Nelson's Dockyard National Park at historic English Harbor. Those up for some exercise can hike to the Megaliths of Greencastle Hill, with mysterious six-hundred-foot-high rock formations said to have been created by early inhabitants for better worshipping of the sun and moon. The uninhibited might want to hit the clothing-optional beach at Hawksbill. Even if you're camped at an all-inclusive, try to steal away for a few meals off property. Try some of the traditional West Indian dishes at the Home Restaurant in Gambles Terrace.
Best spots to get married:
Jumby Bay: Situated on a private three-hundred-acre island two miles off the coast of Antigua, this elegant resort focuses on enhancing its lush natural surroundings and on fostering serene seclusion. Say your vows on one of the three sandy beaches or take the opportunity to reserve the entire resort for your celebration.
Jolly Beach Resort: Antigua's largest resort is a great way to stretch your dollar, offering all-inclusive stays on the beach. Huge pools and a wide range of activities keep guests busy day and night. The more guests you bring, the more the resort throws in for free.
The Bahamas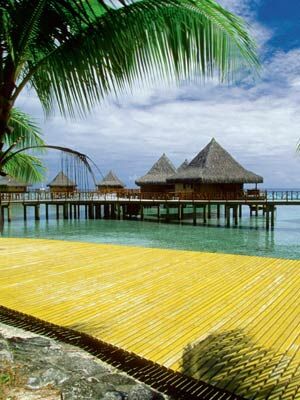 Why: This collection of 700 islands has something for every taste—enjoy complete privacy by renting your own island, or host hundreds of your favorite people at a megaresort. Nassau and Paradise Island are two of the most visited and activity-packed destinations, while more remote areas such as Harbor Island and the Exumas tend to feel more laid-back. And since the Bahamas are just a 35-minute plane trip from Florida, it's an easy journey for guests.
When to go: The high season lasts from mid-December to mid-April, while summers are sleepier. Although hurricanes are infrequent, they can occur, so it's best to avoid the area June through November.
Guest activities: Scuba dive around Andros Island (the third largest barrier reef in the world), stroll the white-sand beaches, tour the historic homes of Nassau, and sip Goombay Smashes while snacking on conch fritters.
Best spots for weddings:
Coral Sands Hotel: This gorgeous boutique oceanfront hotel located on Harbour Island in the Bahamas (50 miles east of Nassau) has the type of charm where the staff knows your name, desert island-style privacy to make you feel completely at peace, and a subtly luxurious vibe that's apparent from the elegant, airy rooms to the world-class amenities.
Pelican Bay at Lucaya, Grand Bahama Island: A beautiful boutique setting on Grand Bahama Island, this resort can accommodate wedding parties with up to 80 guests. Host your ceremony on the beach and head to the Ferry House nearby for your reception dinner.
Bermuda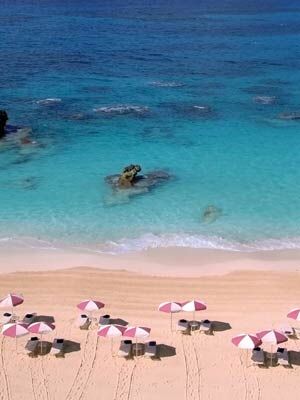 Why: Though geographically removed from the Caribbean, Bermuda shares many of the traits of those beachy, beautiful islands. If you love the idea of a Caribbean destination wedding but also want something formal and elegant, consider Bermuda. Famous for its tranquil pink-sand beaches and proper British history, the island has no casinos and few fast-food restaurants. But perhaps its biggest selling point is that it takes just a couple of hours to fly there from the East Coast, and flights are often cheaper than those to Caribbean destinations.
When to go: May through early September. Bermuda is only 850 miles off the coast of North Carolina, so its weather resembles the coastal US's more than it does the Caribbean islands' to the south. Typical temperatures hover around 85 degrees in the summer and climb to only around 70 in the winter. Although hurricanes are infrequent, they can occur, so be aware of any warnings from June through November.
Guest activities: Spend days teeing off on one of the country's eight golf courses (this island is a links-lover's paradise), visiting the botanical garden, or scuba diving among reefs and shipwrecks. Rent a scooter (lots of fun but also a practical necessity, as visitors aren't allowed to rent cars) to tour around the island's iconic pastel-hued houses.
Find your kind of venue
From barns to ballrooms, discover reception venues that feel like you.
Best spots for weddings:
The Hamilton Princess Hotel & Beach Club: Known as the iconic "Pink Palace," modern luxury is the name of the game here, with a spa, golf, tennis, pools, watersports and more at the ready. Internationally acclaimed chef Marcus Samuelsson also has an upscale restaurant at the property, Marcus', with a world-class menu.
The Reefs: An award-winning resort with one of the best spas in all of Bermuda, The Reefs is set on a beautiful stretch of private beach overlooking the Atlantic. Stay in an oceanview guest room (try to book the Point Suites), or reserve one of the cliff-hugging cottages spread out over the property.
Jamaica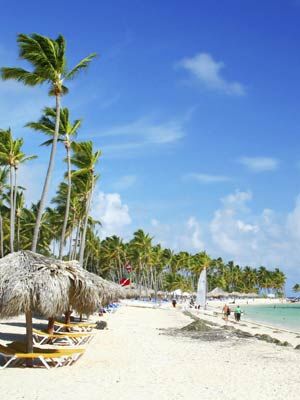 Why: Jamaica offers much more than just beaches and palm trees—it's steeped in world-class culture: reggae, Rastafarianism, and indigenous spice. And glamorous globetrotters call it home (Ian Fleming wrote the first James Bond book, Casino Royale, from his seaside abode here). The site of many all-inclusive resorts, Jamaica can be one of the most affordable of the Caribbean islands, but it has super-posh options too, including private villas that come with their own chefs, housekeeping staffs, and security.
When to go: Avoid March, aka spring break season, as well as the hurricane season, June through November.
Guest activities: See a live reggae performance, indulge in a spa treatment featuring indigenous ingredients and techniques, and absorb the local culinary culture by dining on jerk chicken, munching plantain chips, having an ackee and saltfish breakfast, or by sipping Jamaican rum.
Best spots for weddings:
Half Moon: Rent out one or two of the royal villas (with up to seven bedrooms each) or put guests up in the many rooms and suites with ocean views at this Montego Bay beachfront resort. Couples can choose from beautiful beach, gazebo, or terrace settings for their ceremony location.
Strawberry Hill: Nestled in the lush Blue Mountains overlooking the bustling capital city of Kingston, this tranquil spot with jaw-dropping views is a destination for spa lovers and their guests alike (it's the only full-service Aveda Concept Spa in the Caribbean). Highlights include an amazing infinity pool, superb New Jamaican cuisine, and romantic four-poster mahogany wood beds.
Nevis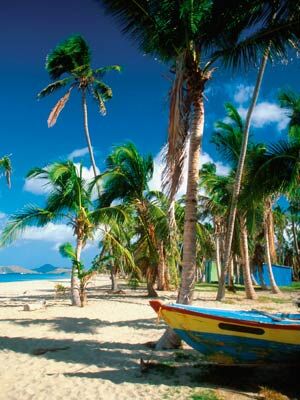 Why: Nature lovers, this is your island. Known as the Queen of the Caribees, Nevis has a high-end, posh pedigree and is home to some of the Caribbean's best-preserved beaches, rainforests, and reefs.
When to go: Nevis maintains temperatures averaging between 72 and 87 degrees year-round. Be aware of hurricane season, though, which lasts from June through November.
Guest activities: Experience the sights and sounds of exotic animals as you explore the rainforest -- or climb to the top of Nevis Peak (3,232 feet). Saddle-savvy guests will enjoy an equestrian outing (horseback riding is very popular here) along the pristine beaches, trails, and mountain slopes. For an educational tour, take a walk on the beach alongside a biologist and learn about sea turtle nesting—or check out night beach-walking tours where naturalists help guide as you observe and study the faraway stars.
Best spots for weddings:
Four Seasons Resort Nevis, West Indies: Palm trees flank the large glass doors, which open onto white sand and the Caribbean Sea beyond at this resort's ballroom entrance. Couples looking for an equally evocative but less formal setting can opt to exchange vows at the historic Sugar Mill Ruin or in the barefoot comfort of a ceremony in the sand.
Anguilla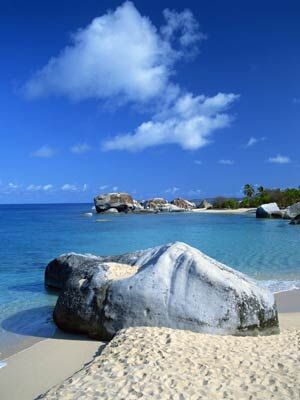 Why: Tiny Anguilla, just 16 miles long and three miles wide, is one of the most exclusive spots in the Caribbean, and it is peppered with upscale resorts, four-star restaurants, unspoiled scenery, and pristine white beaches (no cruise ships, high-rises, or casinos allowed). You won't get a direct flight from the States (you'll have to take a boat from St. Martin), but you and your guests will consider the destination well worth the extra travel time. As a bonus, native Anguillans are known for their hospitality, and the island is virtually crime-free.
When to go: While you should be aware of hurricane season, which runs from June through November, temperatures are perfectly pleasant (highs in the low 80s and lows in the low 70s) year-round.
Guest activities: Any Anguillan agenda should include swimming, snorkeling, and savoring the chance to wear shoes as infrequently as possible. Guests who are less beach-focused will enjoy exploring the island's archaeological and cultural sites, such as the Heritage Collection Museum in East End, and taking a guided bird-watching tour. The island is known for its delicious food (some of the best in the Caribbean) at both beach shacks and elegant restaurants such as Blanchard's, which may be its most famous. For first-rate nightlife, send guests to Elio's, a small but stylish Valley bar that offers a selection of high-end sipping rums and two hundred brands of cigars.
Best spots for weddings:
Cap Juluca: With 18 stark white, Moorish-style villas set against the bright blue sea, this resort looks like no other in the Caribbean. Its long list of celebrity guests guarantees it doesn't feel like anything else either. Choose from intimate villa ceremonies or beautiful vow exchanges right on the beach.
Carimar Beach Club: These seaside villas are each outfitted with outdoor grills and fully-equipped kitchens, making Carimar an excellent choice for couples inviting guests on a variety of budgets. The resort can accommodate weddings of all types, from casual lawn lunches to formal beach ceremonies.
Puerto Rico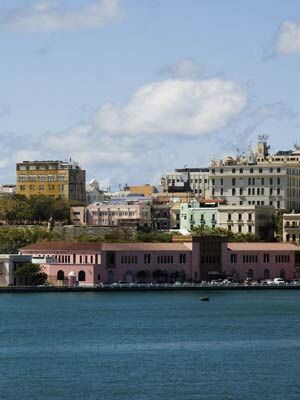 Why: Puerto Rico's got all the assets of the other Caribbean islands—gorgeous beaches, friendly locals, plush resorts—plus one big one that sets it apart: It's a US territory. That means you and your guests will have few if any of the hassles associated with travel abroad: no passports are required, you won't need to go through customs, phone service is excellent, and most people speak English.
When to go: As with the rest of the region, beware of hurricane season, which lasts from June through November.
Guest activities: Puerto Rico offers a blend of both traditional beachy relaxation and unique cultural and historic sights (your non-beach-going guests will appreciate the options). Consider suggesting this perfect day: Begin by sipping some of the country's famous locally grown coffee, move on to a beach outing (if you're staying in busy San Juan, it's worth the drive to Luquillo beach, a white-sand stretch with a coral reef), and cap off the afternoon with some sightseeing through the streets of Old San Juan, which look much as they did during the colonial era. Although American-style restaurants are everywhere, suggest that guests try dining at one of the many restaurants serving Criolla cuisine, which is a blend of Taino, Spanish, and African influences. Tostones (fried green plantains) are a staple.
Best spots for weddings:
Horned Dorset Primavera: This Spanish-style property, perfect for small weddings, sits on a stone retaining wall over the ocean on Puerto Rico's secluded west coast. Choose from open-air dining options or the more formal second-floor dining room. Duplex suites have private plunge pools.
El Conquistador Resort & Golden Door Spa: For beautiful oceanside ceremonies with all the benefits of a big hotel wedding, El Conquistador, with its on-property Golden Door Spa, makes a great location choice. Choose from outdoor settings such as the trellises and Mirador Terrace, or grand indoor spaces like the Magnolia or Grand Caribbean Ballroom.
St. Thomas & St. John
Why: Along with Puerto Rico, The US Virgin Islands may be one of the most hassle-free places to have a Caribbean destination wedding. There are lots of direct flights to St. Thomas (and St. John is a short ferry ride away), airfare is usually competitive, the US dollar is the official currency, and you should have great cell phone service. St. Thomas can sometimes feel a bit crowded, since it's a main stop on the itineraries of many cruise lines, and it's quite developed for the Caribbean. But it's nonetheless brimming over with natural beauty. St. John, while a bit harder to reach, is more rugged, unspoiled, and higher-end, with fewer big resorts.
When to go: Tourist season is at a high from mid-December through mid-April. Highs are in the mid-80s and lows are in the 70s year-round, though hurricane seasons runs from June through November.
Guest activities: In St. Thomas, visit the capital city of Charlotte Amalie to see historical sites such as For Christian, built in 1672, and for tons and tons of duty-free shopping. St. John is known for its plentiful and easily accessible snorkeling sites— especially Trunk Bay, which has underwater signs that identify the fish—as well as its national parks, which can be explored via one of the many hiking trails or by renting a jeep and driving through.
Best spots for weddings:
Caneel Bay, St. John: Although this luxurious property includes seven beaches, don't limit your festivities to the water's edge when there are so many diverse settings to choose from. Plan an intimate rehearsal dinner in the romantic, candlelit Sugar Mill Ruins and then host a postwedding brunch on the grassy knoll at Turtle Bay Point.
Wyndham Sugar Bay Resort and Spa, St. Thomas: Carved into the mountainside and overlooking the beach, this all-inclusive resort has a good range of activities for guests of all ages and interests. A kids' program and on-site child care keeps little ones busy and supervised, while the Journeys Spa and Ocean Club Gaming Center (casino) attends to their parents.
Turks & Caicos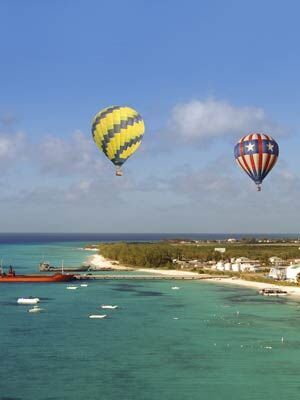 Why: Less developed and more upscale than much of the Caribbean, this collection of 40 islands, eight of which are inhabited, has an intimate feel. Many of the islands are surrounded by a natural reef, making the turquoise waters just offshore clean, calm, and full of sea life. The islands are also relatively easy to reach, since you can fly direct from a number of US cities to Providenciales, the main island.
When to go: The climate is sunny and dry, with highs between 80 and 84 degrees from November to May. However, during the summer and early fall, daytime highs range from 85 to 90 degrees, sometimes reaching the mid-90s in late summer. Hurricane season also runs from June through November.
Guest activities: Snorkeling and scuba diving are great takes, since Turks and Caicos has some of the best underwater sightseeing around. Historic Cockburn Town on Grand Turk is also worth a visit for history buffs—some say it's the spot where Columbus first landed in 1492. Whale- and bird-watching are two other popular activities, and sunsets over Grace Bay are unforgettable.
Best spots for weddings:
Grace Bay Club: Small and elegant, this resort has adopted a Spanish architectural style with all suites leading out to oceanview terraces. The suites and penthouses have four-star amenities, including full kitchens, Egyptian cotton linens, and flat-screen TVs. New villas on the property welcome children, and the resort has developed a comprehensive kids' program.
The Palms: This chic property on Grace Bay beach features a spectacular infinity pool, a first-class restaurant, and one of the most serious spas in the Caribbean. Host your ceremony right on the beach (one of the most jaw-dropping stretches of white sand and azure water you've ever seen) or in the beautiful private function room above the resort lobby.