The Complete Guide to Planning a Destination Wedding in the Bahamas
Everything you need to know about planning your dream destination wedding in paradise.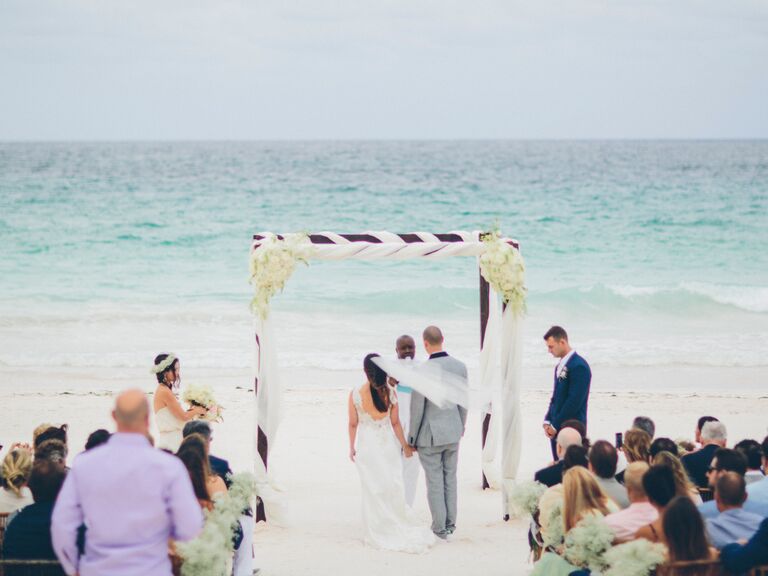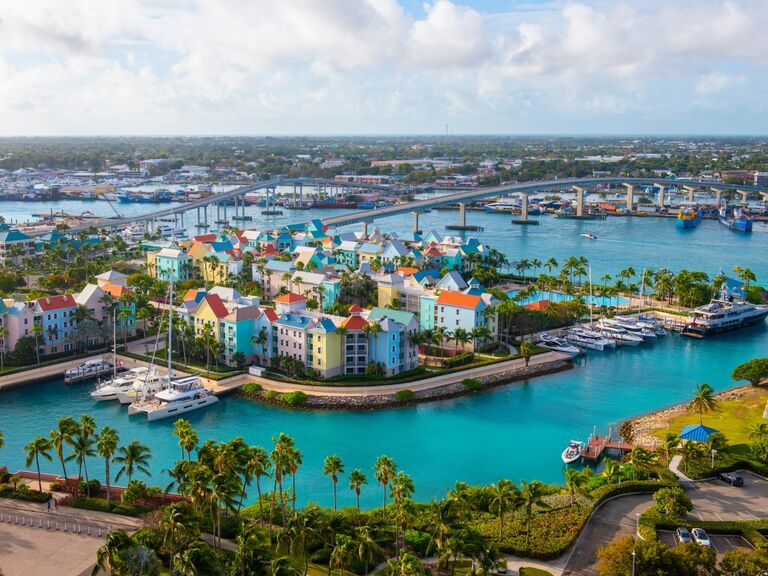 A short distance away from the East Coast, the Bahamas is a destination known for its weather, beautiful Caribbean beaches and reasonable flight times. A Bahamas destination wedding will often involve the gorgeous backdrop of pink sand beaches or the natural, breezy Bahamian landscape only found in aspirational postcards.
The warm sunshine and beautiful atmosphere make the Bahamas a perennial getaway for many couples, so most are naturally inclined to exchange their "I dos" in oceanfront nuptials. Plus, guests will enjoy the getaway too. Your friends and family will have the time of their lives snorkeling, boating, or simply relaxing on the beach.
While hosting a destination wedding may seem spontaneous, a lot of planning must go into it to ensure your special day lives up to all of your expectations. Navigating the legal red-tape and determining your venue and vendors can get a little tricky if you're not on the island in person. We spoke to Lindsay Sims, principal and lead planner at TOAST events to get the complete details on the ins and outs of planning a Bahamas destination wedding.
Why Couples and Guests Love the Bahamas
From the beautiful Bahamian beaches to the fresh seafood, there's a lot to love about the collection of islands that make up the Bahamas. The endless boutique resorts, blue waters, sunny weather and tropical activities are certainly great reasons to hop on a plane. "That crystal blue water is really hard to find," Sims notes. "The scenery is what really draws people." Plus, it's a close flight from the South and major cities like New York. Sign us up for a dream wedding in a tropical escape that's only a few hours away.
The Best Places to Get Married in the Bahamas
While getting married anywhere on the stretch of islands that make up the Bahamas will undoubtedly be beautiful, there are a few specific locations that are more popular than the rest due to their outstanding wedding venues and romance offerings. Whether you're looking to spend your ceremony at a glamorous all-inclusive resort, or hoping for something more private at a boutique hotel, you're destined to find your perfect location.
Nassau: You can't go wrong with a tropical beachfront wedding in the capital city of the Bahamas. Here, you'll have your pick of local services and talent, as Sims notes that many popular wedding vendors are stationed in Nassau. The beautiful white sand beaches, ocean views and all-inclusive resorts will impress all guests. Most will have to fly into Nassau anyway. Why not stay?
Great Exuma: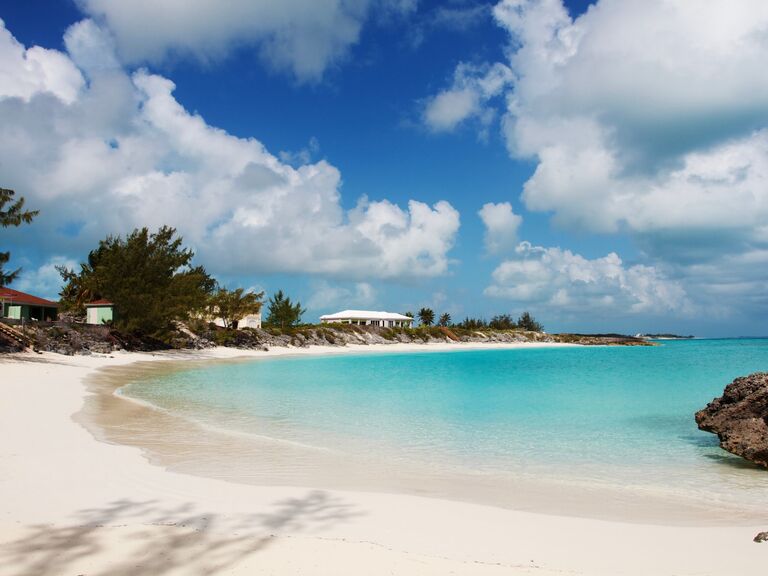 Great Exuma is a paradise featuring national parks, tasty spots, fun shopping, sightseeing and unforgettable views. Spend your wedding day on this island where you'll have your pick of luxury services among top wedding resorts. You may have seen pictures of people swimming with pigs in tropical turquoise water, and the nearby island of Big Major Cay is where they go to do so. While you probably won't tie the knot surrounded by swimming pigs (and we don't judge if you decide to go this route too), it is a fun wedding weekend excursion for friends and family.
Paradise Island: For the true tourist experience, head to Paradise Island where you'll be able to make your love official at the hidden city of Atlantis. Exchange your vows on a stretch of gorgeous white sand and celebrate all night with a party that will be remembered forever. Spending your big day at Atlantis means that your celebration can easily turn into a vacation for everyone involved.
The Bahamas Wedding Legal Requirements
Legal Weddings vs. Symbolic Weddings
For couples interested in pursuing a destination wedding in the Bahamas, choosing between a legal and symbolic ceremony comes down to a few key points. While legal weddings will be fully binding and recognized back home in the United States, symbolic weddings will save couples money and time. Many choose to host a real wedding in their hometown so they can simply engage in a symbolic ceremony in the Bahamas and avoid any legal red tape that may take up their time or distract from their nuptials. Whether you decide to make things legal in the Bahamas or get formally hitched before hopping on the plane, it's perfectly doable as long as you do your research and follow the correct steps.
Required Legal Documents
Getting legally married in the Bahamas comes with a few steps. You and your partner will need to have a government-issued photo ID, like your passport, along with proof of the date you've arrived in the Bahamas in the form of an immigration card or entry stamp. To-be-weds will also need to share divorce or death certificate papers if they've been previously married or widowed. Finally, you'll need a notarized document swearing that you're single, which you must get legally notarized in the Bahamas or the US Embassy in the Bahamas.
Legal Marriage Timeline
Before you walk down the aisle, all couples need to be in the Bahamas for 24 hours before they can apply for a marriage license. You'll receive your marriage license 24 hours after you apply, and from there, you can proceed with your ceremony. Once you've tied the knot in front of two witnesses, you'll be able to turn in your signed marriage license in order to process it. "You definitely need to plan ahead," Sims suggests.
Legal Marriage Cost
Be prepared to pay a few extra dollars in fees if you want to make your marriage legal. A marriage license will cost you around $120 USD, and you will have to pay additional fees depending on the officiant you'd like to secure. Sims encourages couples to get a good wedding planner or work with their hotel or resort representative to ensure everything goes smoothly. In some cases, legal fees will be included in the wedding package.
The Bahamas Wedding Planning Tips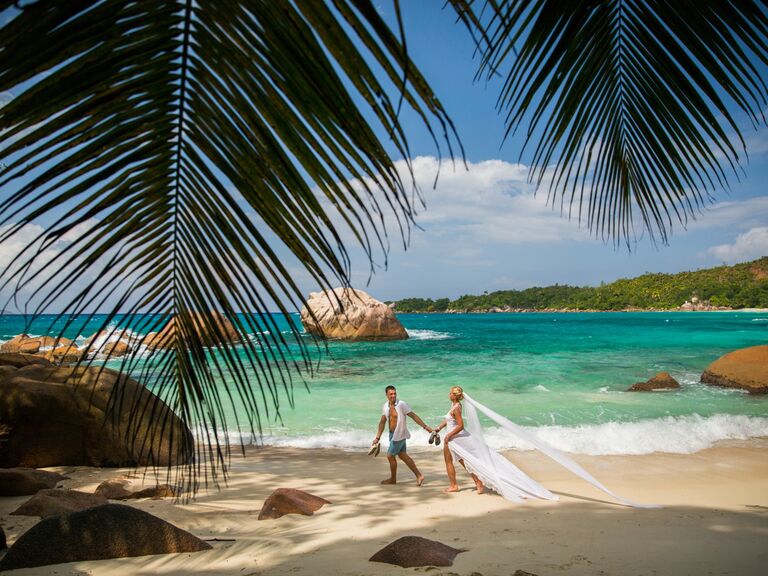 Now that all the legal details are out of the way, it's time to untangle the logistics of your special day. "Engage a planner that has experience planning in the Bahamas," says Sims. She also encourages couples to spend some time on the ground in the country before they plan their wedding ceremony. "I suggest doing at least one sight visit if not two. Leaning on your representative from the hotel, or a planner if you have one, is also good," she adds. You'll want to spend at least some time checking out venues, firming up menus, and meeting vendors.
How to Get There
"Travel adds a layer of complexity," Sims admits. While The Bahamas has a number of international airports, it's likely the one you'll be going through is in Nassau. Flights from the US will only be a few hours, and if you're coming from Miami, you may spend as little as 45 minutes in the air. Once you land, the best way to get around is by taxi or rental car. If you're staying at an all-inclusive resort, you won't need to be doing much travel. For additional connections, this adds another layer of travel. "You may have to catch another plane or boat [from Nassau], so the transportation component can be tricky and weather dependent," notes Sims.
The Bahamas Weather
The Bahamas off-season is from June to the end of November during hurricane season. Sims reminds couples to "be mindful of hurricane season." She elaborates, "Certainly, people get married all the time in hurricane season, but if you do, get wedding insurance." It's also great to have a backup plan if you're set on that outdoor beach wedding so your special day doesn't get rained out.
Choosing your Venue and Vendors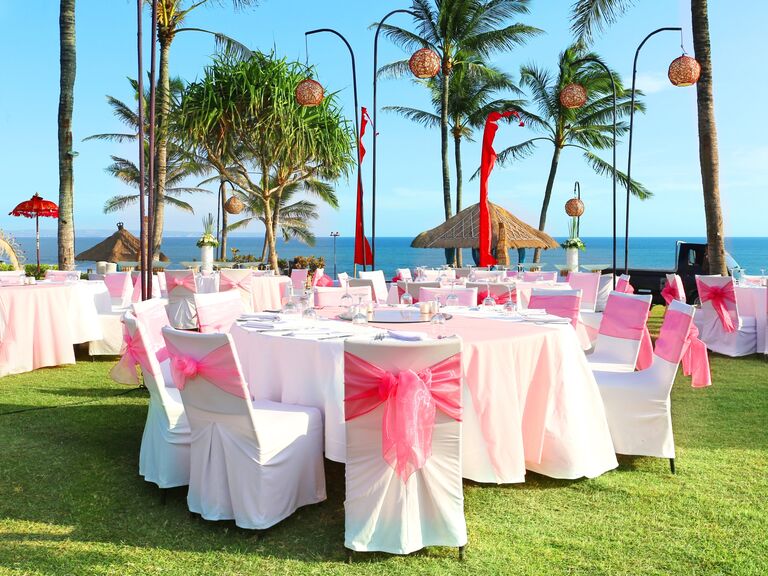 Don't overlook the local talent in the Bahamas. If you're outsourcing vendors and services from the US, be prepared to pay tariffs on everything you bring into the country, Sims says. If you work with a local wedding planner or hotel representative, they'll be a "wealth of knowledge" on talent and what's available between the islands.
"As much as you can find or source locally is a great help," she says. And if your contacts aren't getting back to you immediately, don't fret. "Island time is a real thing and the sense of urgency [in the Bahamas] is quite different than it is in [the US]," she explains. "The hospitality there is wonderful and they do a great job, but it can be a little nerve-wracking waiting to hear from them."
Budgeting Tips
"Budgeting is one of the very important first steps, just to see what is possible [for your wedding]," Sims says. Expect to pay a pretty penny for a fancy wedding in The Bahamas or that iconic Harbour Island aesthetic as the budget for this type of wedding is usually pretty high, she explains.
"If clients are focused on all of the details and ultimately care about the specifics of everything, the budget will be pretty high," Sims says. "If, however, you're just looking for a place to get away with your guests at an all-inclusive resort, that will be much more affordable." With a smaller budget, you may have to sacrifice some customization, but if you do your research and understand what's offered locally, you'll be sure to have a breathtaking wedding. It is the Bahamas, after all.