15 Green Flags in Relationships You Should Embrace with Open Arms
Red flag, who?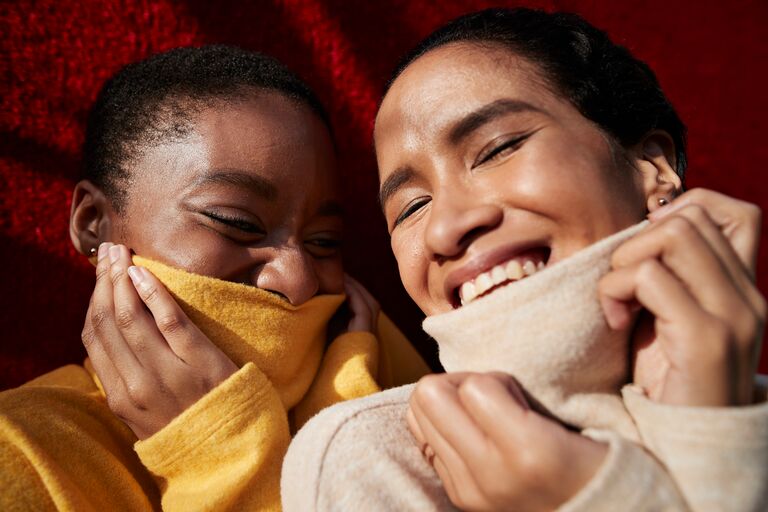 Photo: Getty Images | Klaus Vedfelt
While talking about the warning signs of relationship trouble is important (be it red flags or the newly dubbed beige flags), let's not forget about sharing some positivity, too. Green flags in a relationship should be celebrated and sought after—and we're here to tell you all about 'em!
As opposed to potentially toxic red flags in a relationship (which should be paid thoughtful mind to), green flags can be seen as the healthy, happy, fulfilling attributes that can serve as signs of smooth sailing ahead. Think: the traits in a partnership or person that can be indicative of a strong relationship and a caring, communicative partner.
To get clarity on green flags in a relationship and why they are important, we spoke with Co-Owner of Blueprint Mental Health Michele Mopper (Levin), LPC, LCADC, ACS, for her expert insight.
In this article:
What Is a Green Flag in a Relationship?
Green flags are essentially like green lights in the dating world. "It means it is safe to go forward and can lead you on a good path," Mopper explains. "Think of these as signals from your mind and body that make you feel fully comfortable, interested, attracted and excited."
The signals can be qualities, characteristics, someone's lifestyle, values, things in common, plans for the future—pretty much anything a partner does or says that gives off positive vibes.
"Green flags in relationships make you feel good and your nervous system feel calm," Mopper says. "They are important because they are predictors of a successful and happy relationship."
Green Flags vs. Red Flags vs. Beige Flags
While green flags are generally warm and fuzzy, it's important to not confuse them with the other types of relationship flags—particularly red flags and beige flags. Mopper says that all flags in a relationship are "signals to yourself and predictors of the relationship satisfaction potential." But while a green flag is a safe and positive signal, others are more of a warning sign or cause for potential concern.
According to Mopper, red flags "are signs of dangerous or toxic characteristics, and require you to listen to yourself when you feel them and discuss relations with this person."
Meanwhile, beige flags—a term that got its start on TikTok—can refer to both signs that your partner is well, uh, boring, or more neutral qualities or personality quirks. You can learn more about them here.
15 Relationship Green Flags to Fly High
So, what are some of the best green flags to spot in a healthy relationship? And what makes them so good they're green? Scroll on to learn all about the top green flags in the dating world.
Knows and Understands Your Love Language
Whether it's acts of service or words of affirmation, a green flag we love to see is when your partner can demonstrate their love in ways that align with your love language.
Treats You Like an Equal Partner
You might hear that relationships are 50/50, but that isn't always the case. An equal partnership doesn't always mean an equal divide of responsibilities and weight—it actually means that you're able to consistently meet each other where you are and have the ability to give and take as needed.
Safe and Secure Communication
According to Mopper, this is the most important green flag. "Open and safe communication means that both people feel they can talk about things that are uncomfortable without being met with anger, silent treatment or punishment," she explains.
True Companionship
You don't have to have all the same interests, preferences or favorite ways to spend time together. But, when you engage in your daily lives (the big and the small), the feeling of having a true companion along for the ride is priceless.
Unconditional Support
A true green flag in a relationship is your partner demonstrating unconditional support. Not sometimes, not on a case-by-case basis—but truly unconditionally.
Ability to Compromise
A happy, healthy relationship doesn't come without inevitable conflict. But the ability to amicably compromise when necessary is definitely a green flag.
Transparency
True transparency means doing what you say, saying how you feel and being your authentic self. When you feel you're getting this from a partner, it's a green flag.
Honesty
Going hand in hand with transparency, honesty builds trust. (And we really don't have to tell how important trust really is in a relationship.)
It's Easy
All relationships take work and can be complicated at times—and there is no such thing as a "perfect" relationship. But when you step back and take a look at the partnership as a whole, if it often feels "easy" and your baseline is happiness and closeness, that's a great thing.
Healthy Relationships Outside of Yours
If your partner has healthy relationships with family, friends, coworkers and others outside of your romantic partnership, it can be a sign that they are independent, consistent in their words and actions and are being their authentic selves.
Unwavering Respect
Feeling respected in your relationship is everything. It's pretty much a non-negotiable— but when the respect is so apparent and continuous, it's definitely a green flag.
True Connection
Another green flag in a relationship is if your partner can pick up what you're putting down, even without words. When you're truly connected with your partner and they can intuitively give you what you need without asking for it, it's a beautiful thing.
Apologizes
Apologizing isn't always the easiest thing to do, and it can be harder for some than others. The important part is that it gets said when it should be said, and that it is said authentically. There, you have a green flag.
Speaks Positively When You Aren't Around
The way someone speaks about you when you aren't in the same room can be exceptionally telling. And knowing or hearing that your partner speaks positively and happily about you even when you aren't around should give you all the warm and fuzzies.
Random Acts of Kindness
Something as simple as an unexpected text, a compliment or taking something off your to-do list can go such a long way—and is a green flag that shows they're thinking of you and your wants and needs.
Aside from red, green and beige relationship flags, Mopper has sage advice for her clients in the single, dating or relationship world: She recommends taking inventory of your wants, needs, relationship dealbreakers and lifestyle. As she says, "These four categories are necessities for you to know about yourself and can act as your compass to help you evaluate a relationship's potential happiness."