Experts Say These Are The Best Questions to Ask in a New Relationship
Ready to spill? (It's only fair that you answer them, too!)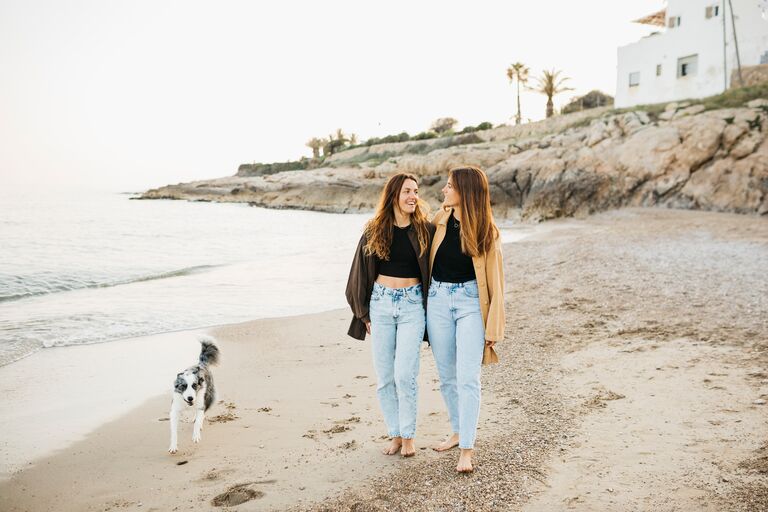 Jordi Salas | Getty Images
Is there anything more exciting than getting to know someone at the beginning of a relationship? You could stay up all night discovering every little detail about your partner—from childhood scars to family relations to the movies that made them cry. Need somewhere to start? A round of 21 questions for a new relationship can reveal new facets of your partner and spark some juicy conversation.
Learning about your partner and what makes them tick is one of the most basic components of building a relationship and encouraging it to thrive—so we turned to some experts to help you get the lowdown on your love: With over 20 years of professional experience, Dr. Catalina Lawsin, PhD is a licensed psychologist who helps her over 160K TikTok followers (@TheIntimacyDoc) embrace and prioritize their sexuality. Leanna Stockard, LMFT is a licensed marriage and family therapist with LifeStance Health. And Susan Trombetti is a professional matchmaker and CEO of Exclusive Matchmaking.
Below, you'll find the relationship questions that these pros encourage you to ask to dive deeper into your partnership, drive conversation and even share some laughs. (Remember: The best questions to get to know someone don't always have to be serious.)
Ready to spill? (It's only fair that you answer them, too!) Read on for 21 questions for a new relationship, plus some bonus Qs and more on why asking them can help your new love flourish.
What Is the 21 Questions Game?
No one wants to feel like they're on a job interview during a date, so a game like 21 questions is the perfect way to learn more about a person while keeping things fun and approachable. So, how do you play? The game is pretty straightforward: You simply go back and forth, asking and answering 21 conversation-starting couples questions. Alternatively, one person can ask the other 21 questions all at once, before it's the other partner's turn to ask their thought-provoking Qs.
The one rule? Be honest!
The Benefits Of Playing 21 Questions for a New Relationship
Diving in deep with relationship questions helps you and your partner learn if your core beliefs and values align, and allows you to explore your compatibility.
Additionally, as Trombetti explains, playing 21 questions for a new relationship can actually help "cement" the partnership. "When you talk about someone's hopes and dreams or nostalgic things from the past, you are investing emotionally in [one another]," she says. "This leads to true romance, bonding and intimacy."
In short, a desire to learn more about a partner demonstrates a desire for a future with that person. "Anytime you can encourage someone to open up, you are increasing your chances of success in forming a great relationship," says Trombetti.
The 30 Best Questions to Get to Know Someone
Game on! If you're looking to play a revealing round of 21 questions with a new partner, select your favorite Qs from the expert-approved list of relationship questions below.
1. What does monogamy mean to you?
"Exploring individual perspectives on monogamy allows for an understanding of each person's expectations regarding exclusivity and fidelity. This question helps establish compatibility and alignment of values in the context of a long-term partnership." —Dr. Catalina Lawsin, PhD
2. If you could choose any one (or three, or five) people in the world to invite to a dinner party, who would you choose?
"The dinner party question allows you deeper insight into how your partner thinks. You'll be able to hear the people that they would choose and why, gaining the knowledge of what they deem to be important." —Leanna Stockard, LMFT
3. If money wasn't an object, what would you do with your life?
"This can reveal someone's values... If they said they would work at a homeless shelter or join the peace corps, it's telling that they are very altruistic. If they would sit home and play video games and sleep late everyday [is] also very telling." —Susan Trombetti
4. What are your thoughts and experiences with therapy or counseling?
"Discussing attitudes toward therapy enables partners to explore their openness to seeking professional help when needed. This question encourages dialogue about emotional well-being and demonstrates a progressive approach to personal growth within the relationship." —Dr. Catalina Lawsin, PhD
5. Who was your first crush or first kiss?
"This isn't the normal, 'Do you want to get married and have kids?' question!" —Susan Trombetti
6. What are you looking for in a partner?
"You shouldn't try to change yourself to be what they are looking for, nor should you try to change them." —Susan Trombetti
7. How do you prefer to receive support when you're feeling distressed?
"Knowing how your partner appreciates support during difficult times helps foster emotional intimacy and connection. Understanding their needs and providing the desired support promotes a secure and supportive foundation for the relationship." —Dr. Catalina Lawsin, PhD
8. Tell me two truths and a lie—and let me guess!
"You can deduce their secret hopes and how daring they are by what they reveal." —Susan Trombetti
9. What is your favorite memory from your childhood?
"It can open the door to a deeper conversation of your partner's childhood and, of course, [provide] some additional insight into the experiences they've had that has led them to the person they are today." —Leanna Stockard, LMFT
10. What's your idea of a dream vacation?
"This is a great one because it can reveal lifestyle and compatibility… and also, [give] you an idea of what makes them excited and how they would spend money." —Susan Trombetti
11. What's your relationship with your mother or father like?
"People repeat childhood relationships patterns with their partners, so you want to be aware of that." —Susan Trombetti
12. What was the first concert you ever attended?
"This nostalgia-inspiring question will have your partner sharing both past and current musical tastes, as well as an endearing memory." —Jamie Cuccinelli, Senior Sex & Relationships Editor
13. How do you define cheating within a committed relationship?
"Establishing a shared understanding of what constitutes infidelity is crucial to building trust and maintaining relationship boundaries. This question helps clarify expectations and promotes open communication regarding exclusivity." —Dr. Catalina Lawsin, PhD
14. Do you see yourself in a committed relationship in the future?
"Too often, people wind up breaking up because this wasn't addressed early on and they just stay and hope for the best." —Susan Trombetti
15. How comfortable are you expressing your sexual desires and preferences?
"Sexual compatibility and satisfaction are integral aspects of a long-term partnership. By discussing comfort levels in expressing desires, individuals can ensure that their sexual needs are met and create an open space for exploration, enhancing sexual intimacy." —Dr. Catalina Lawsin, PhD
16. How significant is sexual compatibility in a relationship? How would you approach discrepancies in sexual desires?
"Sexual compatibility plays a vital role in relationship satisfaction. Discussing its importance and past experiences helps ensure that partners can openly communicate about their sexual needs and preferences, fostering a healthy and fulfilling sexual connection." —Dr. Catalina Lawsin, PhD
17. Are you a dog person, a cat person or a pet person in general?
"This is a fun question, but at the same time can provide insight into their ability to care for an animal and explore what it is about specific pets that they enjoy." —Leanna Stockard, LMFT
18. What is your go-to karaoke song?
"Make sure they know you aren't forcing them to sing karaoke with you! After all, it's not everyone's jam. This is simply a fun question to spark conversation, laughs and Spotify playlist trades." —Jamie Cuccinelli, Senior Sex & Relationships Editor
19. How much importance do you place on honesty and transparent communication in a relationship?
"Open and honest communication is the cornerstone of a strong and lasting partnership. This question assesses the partner's belief in transparent communication and emphasizes the value of trust, authenticity and effective dialogue within the relationship." —Dr. Catalina Lawsin, PhD
20. Who's the "one" that got away and do you still regret it?
"It can reveal whether someone has commitment issues, what their fears are, their ability to take accountability and [so] on." —Susan Trombetti
21. What were the best and worst days of your life?
"This intimate question encourages vulnerability from both you and your partner." —Jamie Cuccinelli, Senior Sex & Relationships Editor
22. What is the best piece of life advice you've ever received?
"This question taps into what your partner has remembered and what is important to them." —Leanna Stockard, LMFT
23. What habits from past relationships are you actively working to change in a new partnership?
"Acknowledging and addressing unhealthy relationship patterns from the past is crucial for personal growth and building a healthier foundation for a long-term partnership." —Dr. Catalina Lawsin, PhD
24. What is your ideal day? One that includes a full work day and doesn't?
"You can discover if you and your partner want a similar 'ideal' lifestyle that you may be able to work towards." —Leanna Stockard, LMFT
25. What is the last book you've read?
"What do they like to read? Do they like to read? If not, how else do they spend their spare time?" —Jamie Cuccinelli, Senior Sex & Relationships Editor
26. If you woke up tomorrow and every single thing you wanted to change changed, how would your life be different?
"With this question, you may be able to understand ways that you can support your partner in the relationship and encourage them to be the person they want to be." —Leanna Stockard, LMFT
27. What's the best gift you've ever received?
"This thoughtful question may help you uncover what your partner most values in life. Even if it's a funny story about a gag gift, you're learning that they appreciate humor and levity." —Jamie Cuccinelli, Senior Sex & Relationships Editor
28. What lessons did you learn about relationships while growing up, taking into account the positive aspects you observed in your caregiver's relationship(s), as well as the attributes you wish to avoid?
"Understanding the influence of childhood experiences on relationship expectations and behaviors can help you reflect on your own desires and goals for a long-term partner, ensuring they strive for healthy dynamics and avoid replicating harmful patterns." —Dr. Catalina Lawsin, PhD
29. How do you envision a relationship fitting into your current lifestyle? How would you like that to evolve in the next five years?
"Understanding each other's expectations regarding the role and trajectory of the relationship helps individuals assess compatibility in terms of future plans and life goals." —Dr. Catalina Lawsin, PhD
30. What would your Real Housewives tagline be if you were cast?
"Okay, so this question may be a bit niche—but how fun is it? Laughs (and spats over franchise rankings) are pretty much guaranteed." —Jamie Cuccinelli, Senior Sex & Relationships Editor