Wild and Wonderful Rodeo Captions for a Rootin'-Tootin' Cowgirl's Night Out
Saddle up, we're in our rodeo era.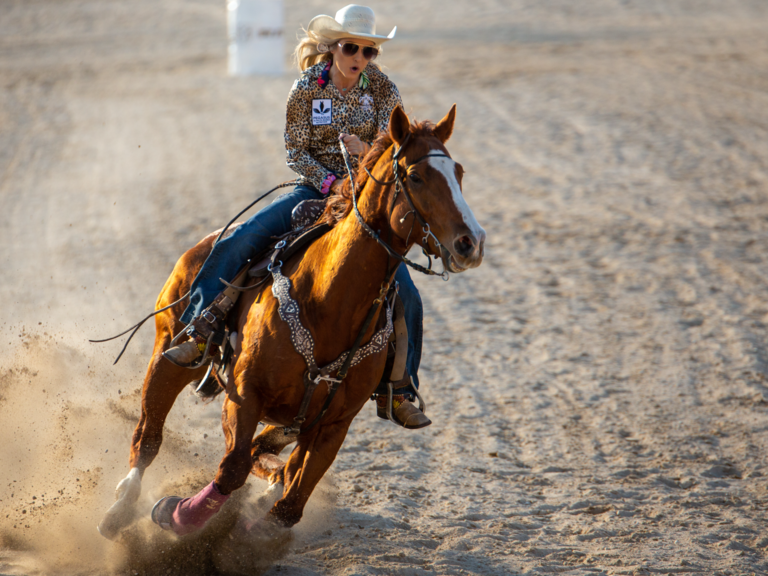 Photo: YES Market Media / Shutterstock
Whether you're going for a night on the town or having a buck wild bachelorette party, these rodeo captions are the perfect addition to your Insta post. And these ideas are great for bachelorette captions, rodeo parties and even bridal shower captions, to show the world just how "roped" into rodeo you really are. If you're a rodeo-loving cowgirl and country girl, then you might want to keep reading about the best captions for your rodeo date. Check out all the quotes, puns and more we've gathered like a herd of cattle.
The Best Rodeo Captions in This Story: Quotes | Puns | Funny Sayings | Cute | Short | For Couples | With Friends
Rodeo Quotes
We've lassoed some of the best rodeo quotes from folks who know the business inside and out. Here are some of the best quotes to add to your rodeo photo dump.
"Courage is being scared to death and saddling up anyway!" – John Wayne
"It's the ropes and the reins, and the joy and the pain. And they call the thing rodeo." – Garth Brooks
"Don't mess with me fellas! This cowgirl has been to the rodeo before." – Joan Crawford
"Dirt is cowgirl glitter." – Fallon Taylor
"A good old rodeo never hurt anyone." – Taylor Kitsch
"There never was a horse that couldn't be ridden; never was a cowboy who couldn't be thrown."
"The rodeo ain't over till the bull riders ride." – Ralph Carpenter
"Boots, class, and a lil sass, that's what cowgirls are made of." – Candice Nicoles
"Cowgirl is an attitude, really; a pioneer spirit, a special American brand of courage." – Dale Evans
"Good girls are made of sugar and spice, cowgirls are made of whiskey on ice." – Rita Cynder
"And that even she could not hold herself back because her passion burned brighter than her fears." – Mark Anthony
"I'd rather ride on a Mustang, than in one." – BaileyAnn Neal
"Sometimes I think life is just a rodeo, the trick is to ride and make it to the bell." – John Fogerty
"Life's a rodeo and all you have to do is stay in the saddle." – George Jung
"Rodeo ain't no ordinary life but a cowboy ain't no ordinary man." – Tracy Byrd
Rodeo Puns
These fun rodeo puns put the "wild" in the Wild West. These also make great Insta captions for your roundup of Western bach party shenanigans or even your Western-themed wedding.
No ifs, ands, or bucks.
Along for the ride 🤠
Rope that dream.
Do no harm, take no bull.
I'm not horsing around 🐴
It's a ropin' good time
Let's buck tradition 😉
Time to hoof it to the rodeo
Bull-ieve me, the rodeo is the place to be.
Having barrels of fun 🐂
The rodeo, where cowboys and cowgirls go to let off some steam
Trying to steer clear of trouble, but the rodeo keeps roping me back in! 🐮
Making some 'bronco-nnections' at the rodeo
Chute, there it is
Funny Rodeo Sayings
Whether your rodeo looks more space cowgirl or disco cowgirl, these funny captions will capture the spirit of your photos. Here are some of our favorite rodeo jokes and quips.
You can take the girl out of the rodeo, but you can't take the rodeo out of the girl!
Where did you park your horse? 🐴
Whatever lassos your lightning ⚡️
I'd rather be at the rodeo.
Let's show 'em how the West was won 🐂
They say, 'Take life by the horns,' so I went to the rodeo.
When life gives you bull, make it a rodeo 😂
Hanging onto the weekend like a cowboy on a bucking bronco
The rodeo: Where helmets are replaced with cowboy hats 🤠
Saddle up for an unforgettable experience
Who said you can't ride with style? 😎
A little "yee" and a lotta "haw"
Hold on to your hats 🤠
Life's a rodeo, and I'm just here for the wild ride (and the occasional cowboy hat)
Cute Rodeo Captions
Time to put on your best cowgirl boots and hat. These cute rodeo captions are a fun way to showcase your big night out.
It's a rodeo thing.
In my cowgirl era 🤠
Another day, another rodeo.
This ain't my first rodeo.
Time to cowgirl up.
Meanwhile, at the rodeo…
Livin' that rodeo life. 😍
Rodeo's in my blood
Grab life by the horns 🐮
Catch me at the rodeo…again
Hold on tight and saddle up for the thrill of the ride!
In the arena, legends are made
The secret to happiness? Just add a little rodeo spice. 🌶️
Ready, set, rodeo
Short Rodeo Captions
The country queen himself, Dolly Parton, is full of snappy quotes and Southern wisdom. Here are some of our favorite short rodeo captions that get the point across so the pictures take the spotlight.
Howdy, y'all.
Giddy up!
Yeehaw 🤠
Let it ride.
Go big, or go home.
Saddle up! 🐮
Rodeo vibes.
Rodeo is life 🙌
Ride, baby, ride.
Dust, adrenaline, and a whole lot of heart
Bulls, broncs, and barrels
Chasing glory in the saddle 🐴
Where cowgirls roam
Riding high at the rodeo 🐎
Rodeo Captions for Couples
There's no love like a rodeo love, and these captions are perfect for that country-lovin' couple. These captions will also come in handy for your joint rodeo bachelor/bachelorette party.
You had me at rodeo.
Just country boys and girls getting down on the rodeo.
​​Find someone who loves you the way a cowboy loves rodeo.
Fell in love with a cowboy ❤️
Meet me at the rodeo.
With my mane squeeze 🐴
On my high horse here at the rodeo 😉
Can't rein my feelings in 😍
Save a horse, ride a cowboy.
Riding off into the sunset together 🌅
Lassoed my heart right from the start
Our love story: a wild ride with a perfect landing
Riding alongside you feels like the perfect rodeo 🐎
In the arena of love, you're my favorite ride
Like the best rodeo partners, we're in sync.
Catch us in cowgirl hats and boots, AKA the Nashville uniform
Rodeo Captions With Friends
This ain't your first rodeo (and it definitely won't be your last rodeo either). Here are the captions for when you and your best cowgirls go out on the town.
Ready to stirrup trouble 😉
Wild wild west 🤠
"This one time, at the rodeo…"
Saddle up, cowgirls 💖
These (cowgirl) boots were made for walkin'
Grab your boots, throw on your hat, and let's rodeo
Time for the Hoedown Throwdown 👢
Friends who rodeo together, stay together
The best rodeo crew ❤️
No bull, just the best times with my favorite cowgirls
Hats off to rodeo friends!
My true rodeo or die squad 😉
Riding shotgun with my favorite cowpokes at the rodeo.
From chute to victory lap #RodeoSquad