The Most Out-of-This-World Ideas for Planning Your Space Cowgirl Bachelorette
This theme will have you saying "yippee-ki-yay" all bach weekend long.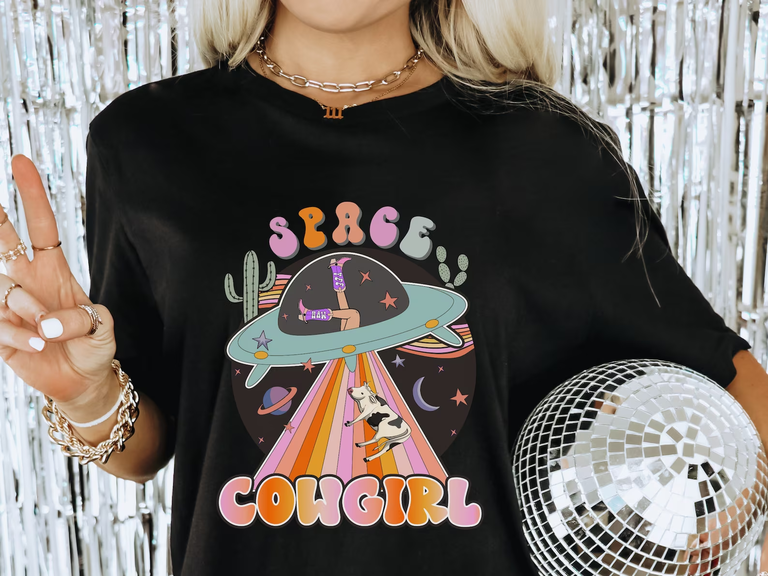 Photo: tuckerandtabari on Etsy
We have included third party products to help you navigate and enjoy life's biggest moments. Purchases made through links on this page may earn us a commission.
If NSYNC's "Space Cowboy" has ever been on repeat on your music playlist (or maybe even Kacey Musgrave's song of the same name,) then there's no doubt you're already planning a space cowgirl bachelorette party. Sure, some of the other trendy bachelorette party themes have probably called your name, but at your core, you love a little sparkle and the allure of the Wild, Wild West. Get your bachelorette party planning checklist as you check out all the fun space cowgirl-themed party supplies you'll need that'll make your weekend feel out of this world.
In this story:
Space Cowgirl Bachelorette Party Decorations
Time to set the scene with some extraterrestrial decor. We're talking wild wild west meets the cosmos. Here is some fun inspo for your space cowgirl party.
Let's Go Girls Bach Party Banner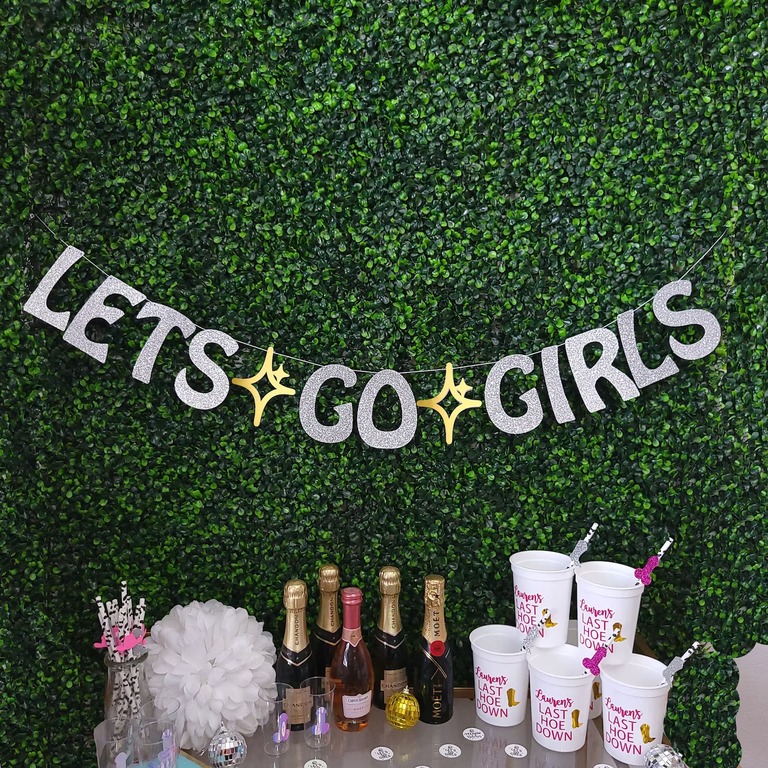 Shania Twain's famous "Let's go, girls" is a catchphrase for many bach parties, and this banner will properly greet your guests for the best Space Cowgirl bachelorette weekend. The best thing about being a bride is the prerogative to have a little fun.
Out-of-This-World Dried Floral Arrangement
This bright color combo and pampas grass give you the best of both worlds, and no, we're not talking Hannah Montana. This floral arrangement gives the ultimate space cowgirl vibes.
Spacey Yee Haw Balloon Decor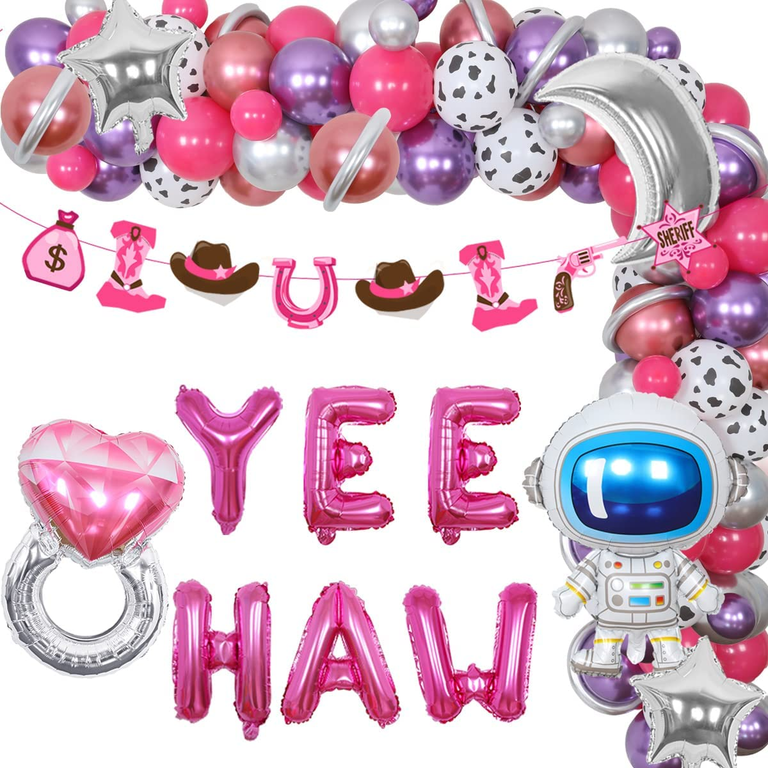 Who needs moon boots when you've got cowgirl boots? These balloon decorations take all the pink, sparkle and Western aesthetics that make the space cowgirl theme so fun for any shindig.
Dazzling Rose Gold Backdrop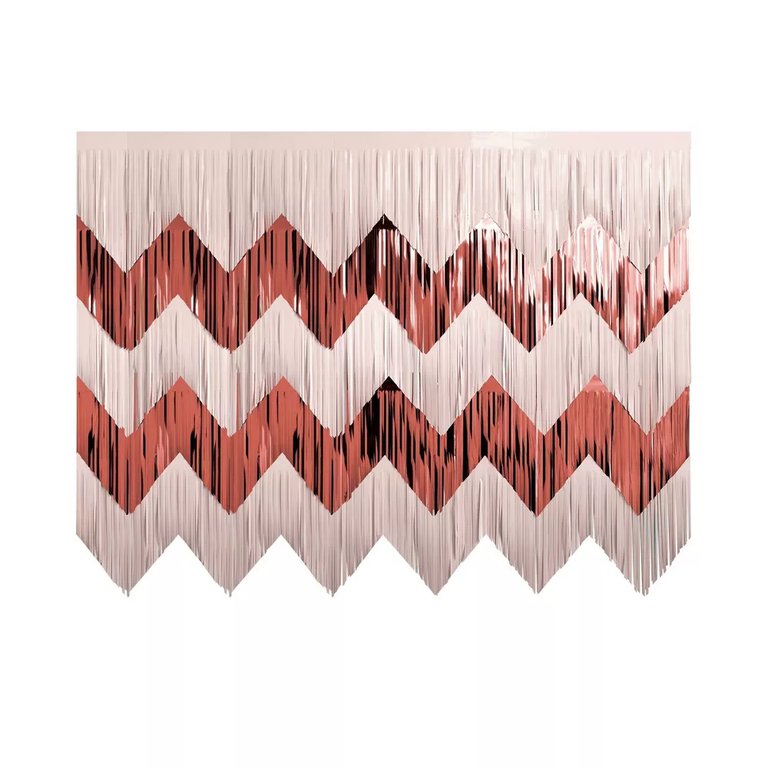 Go digging for (rose) gold with this backdrop, a perfect accent for your bachelorette party. Place it behind your cake table or even incorporate it into a photo opp space… no pun intended.
These Boots Were Made For Moon-Walkin' Balloon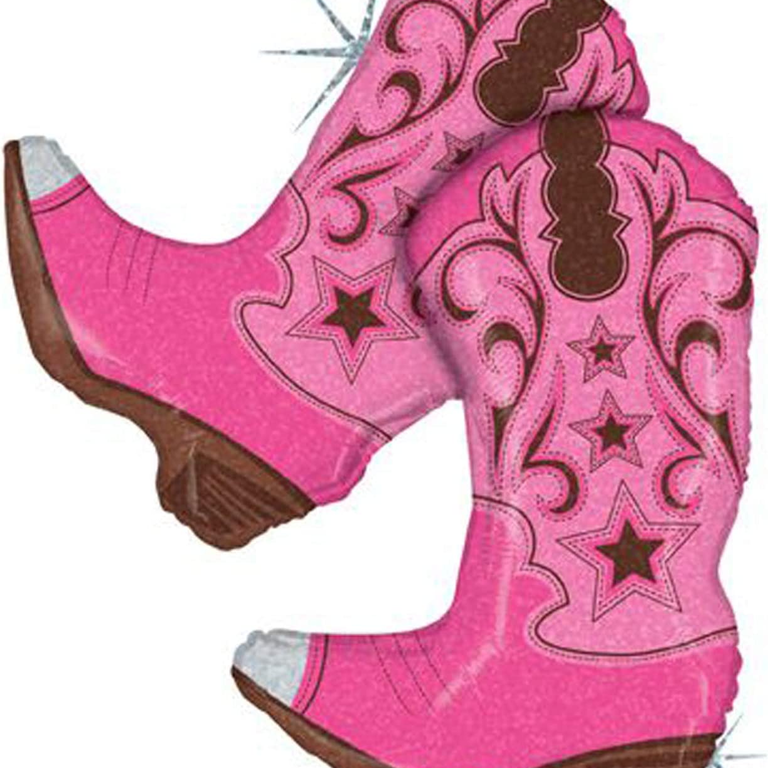 Jazz up your bach party with these space-tacular cowgirl boot balloons. Fill 'em up with helium to give the feeling that they're floating in orbit, especially when you set them against a starry backdrop.
Space Cowgirl Bachelorette Party Games
What party is complete without a few games? These party games will stay on-theme while keeping the fun going all night long for you and your besties.
"Welcome to Tipsy Land" Party Game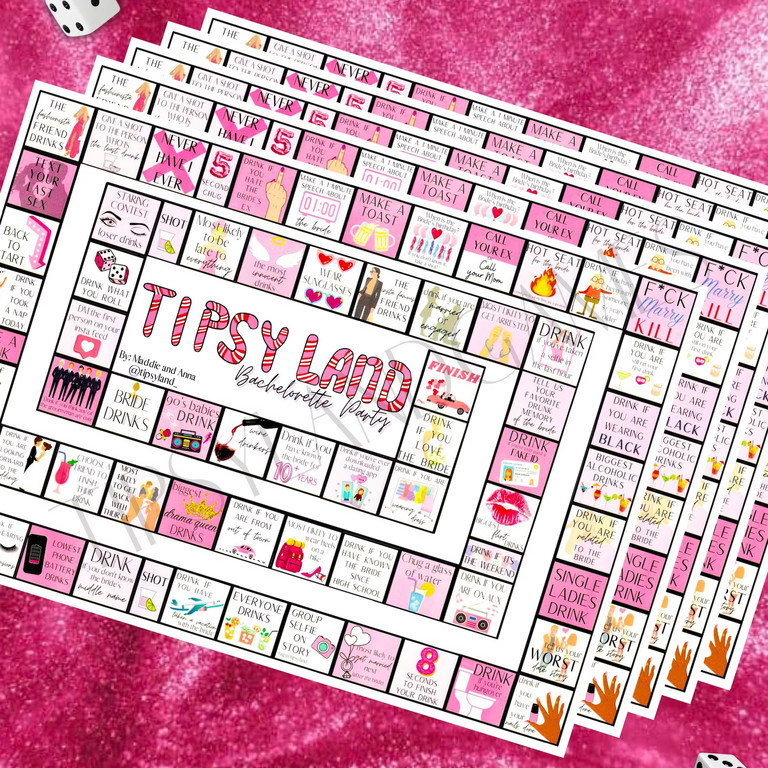 Like Candy Land for adults, Tipsy Land is a fun bachelorette party game to bond with your gals. And if you don't feel like drinking too much, you can always swap in some Southern favorites like an Arnold Palmer or Frosted Orange with a spacey twist.
Nash Bash Dare Cards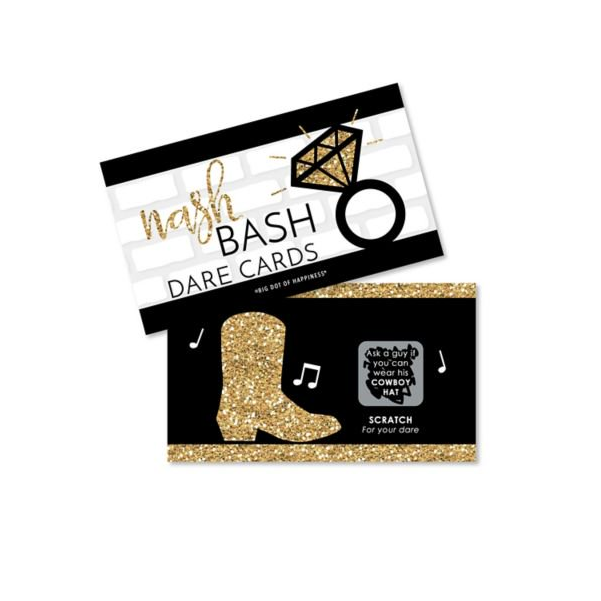 This Dare game will send you back to your middle school slumber party days. Spend a night out on the town completing these silly dares, and offer the perfect space cowgirl gift bag for whoever wins.
Space Cowgirl Games Bundle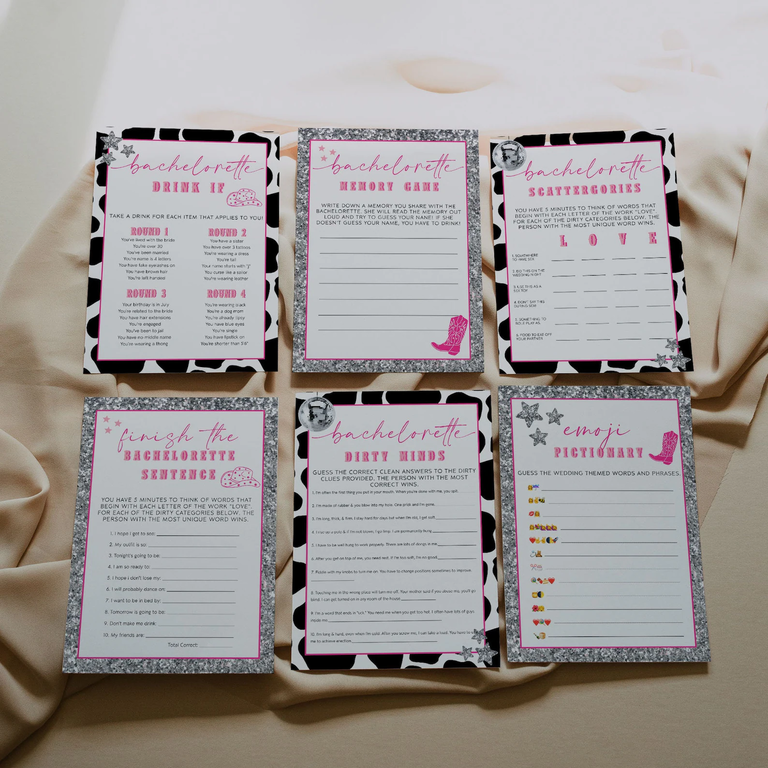 This bundle of space cowgirl-themed games is a one-stop shop for all your bachelorette party fun. From "Would You Rather" to a drinking memory game, you'll be lost in a fit of giggles before you know it with these cards.
Space Cowgirl Bachelorette Party Cake Decorations
Have your cake and eat it, too, at your bach party. You can even buy yourself some Dolly Parton cake mix and decorate your space cowgirl cake using some of these celestial cowgirl toppers.
Ride 'Em Cowgirl Cake Decoration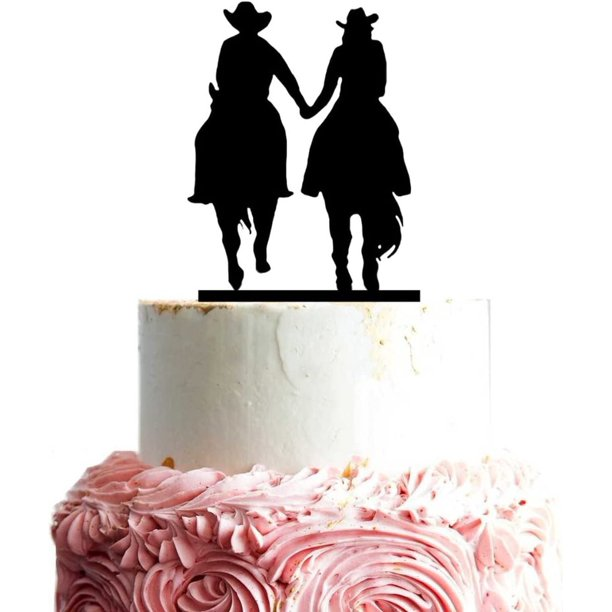 Ride off into the sunset with your favorite cowpoke when you use this cake topper. Add a fun bachelorette party spin by adding some glitter or stars for galactic pizzazz.
Cheeky "Yee Haw" Cake Topper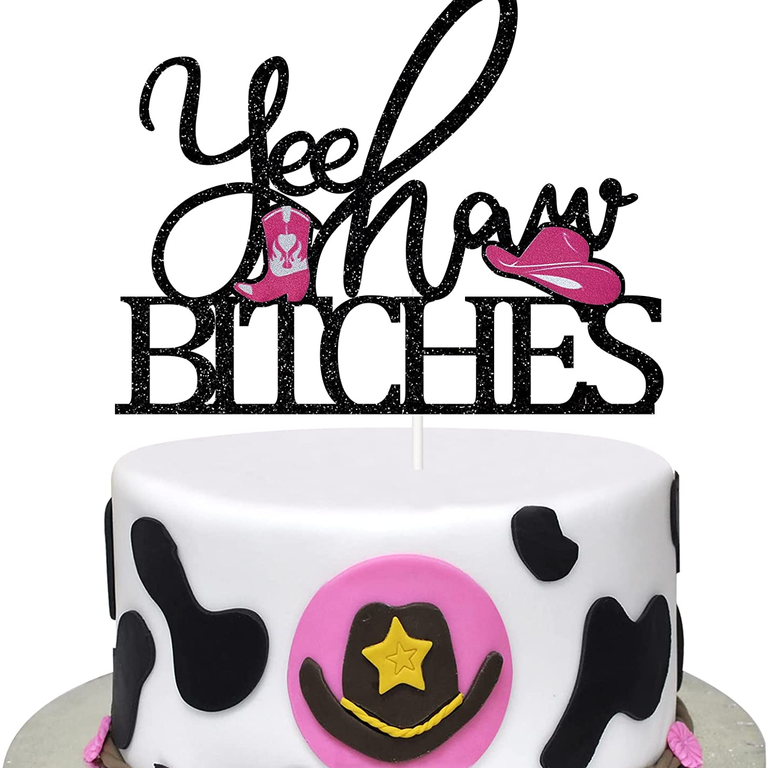 If subtlety isn't your thing, then this cake topper definitely will be. Start the party off on the right foot (or, should we say, boot) with this sparkly, sassy decoration.
Diamonds the Size of Planets Cupcake Toppers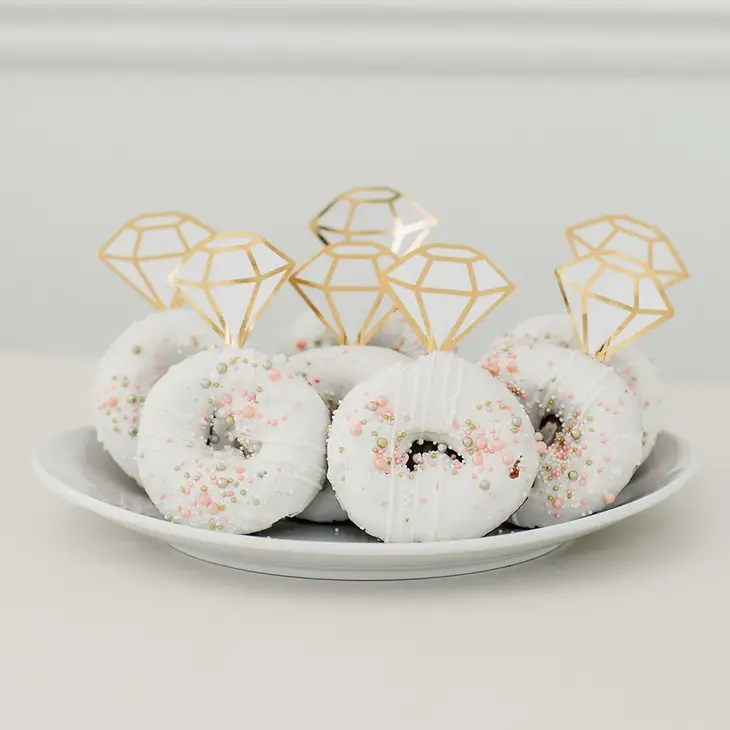 These cupcake toppers are "beautiful like diamonds in the sky." They'll fit in perfectly with all your celestial and Western-themed decor with their twinkling and shimmering.
Space Cowgirl Bachelorette Party Shirts
Everyone loves a matching tee moment. And these space-inspired Western looks will amp up your bachelorette weekend even more.
Retro-Style Cowgirl Bridesmaid Shirts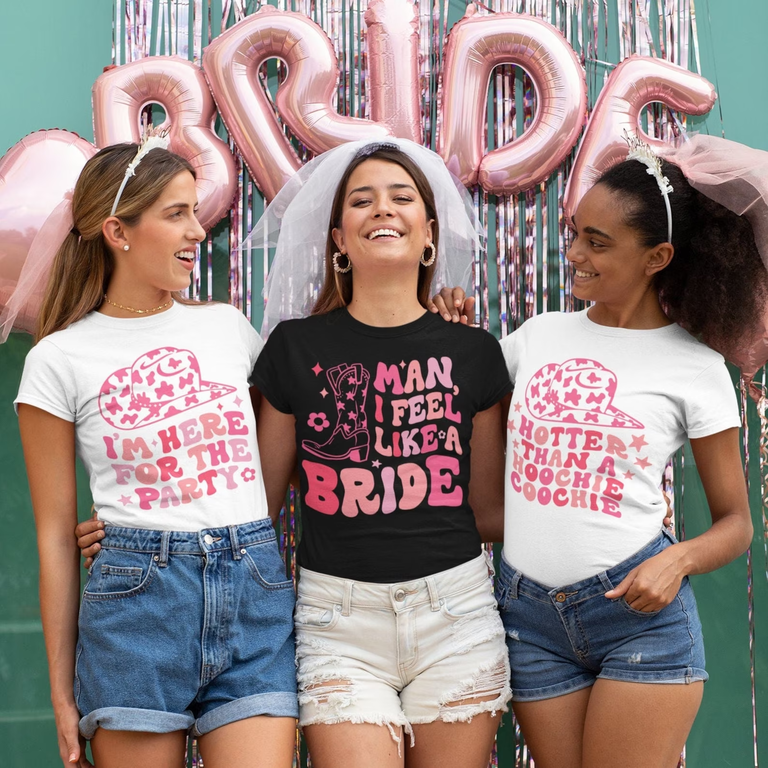 The hits just keep on coming with these country song-inspired tees complete with stars and retro vibes. Plus, these allow you and your best gals to choose the right shirt for themselves, from different colors to different quotes.
Boots 'N Bling Wedding Shirts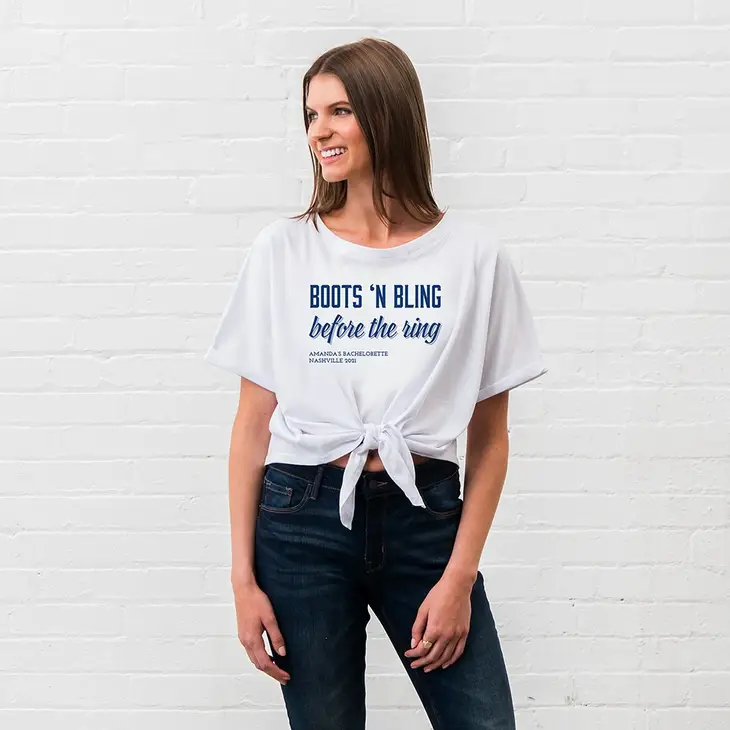 Show the world where the party's at with these personalized bach party shirts. It's all about the boots 'n bling, and you can pair these tees with a dazzling cowgirl hat for that space/Western aesthetic.
Take a Space Ride With a Cowgirl Shirt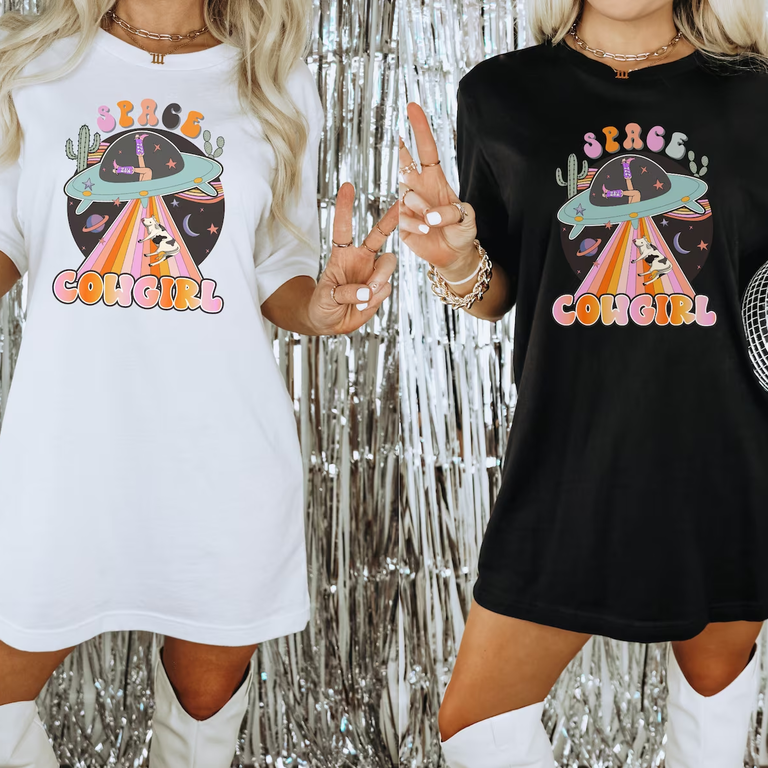 While you come in peace, you also come ready to get rowdy in these matching t-shirts. Kick up your space boots for a night out while you and your bridesmaids are styling and out of this world.
Last Rodeo Bachelorette Shirts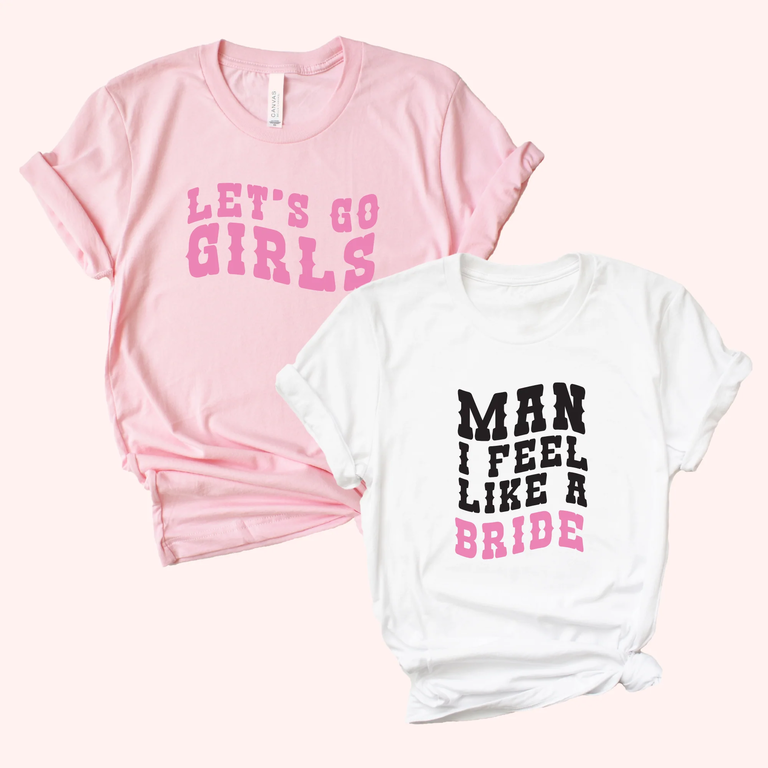 Wear your favorite Shania Twain lyrics on your last rodeo. These shirts go perfectly with bedazzled denim and glow stick bracelets for an extraterrestrial slant.
Planetary Farm Shirt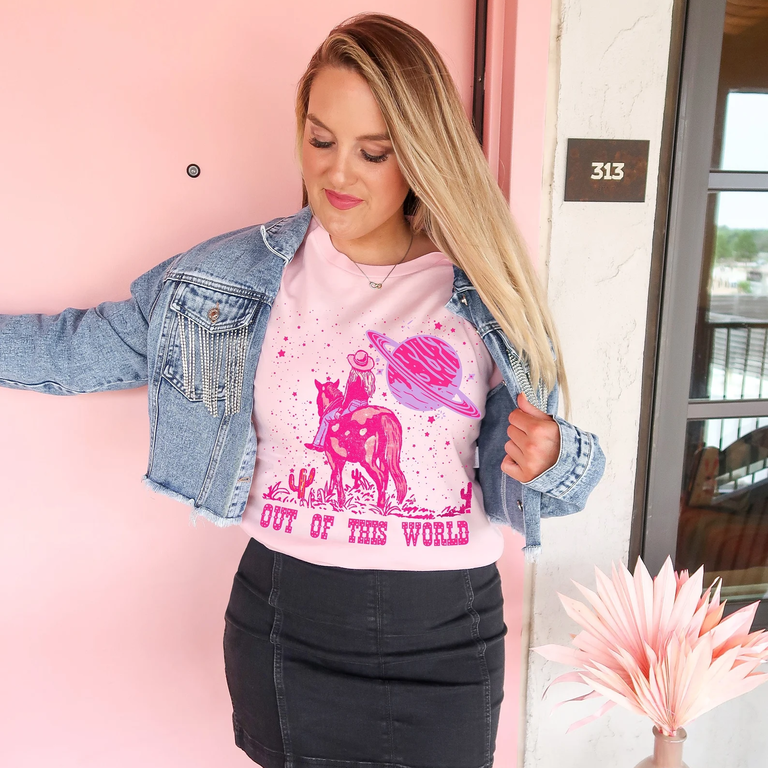 Feel "totally far out" in these bachelorette party shirts that mix your love for the wild wild West and the Milky Way. And these shades of pink match a ton of the decor on this list, making your bachelorette party planning a bit easier.
Space Cowgirl Bachelorette Party Welcome Bag Accessories
With the welcome bag, you're not only telling your girls what to expect for the weekend, but you're also gifting them some fab goodies for being there for you on your best day ever. Treat them with some of these cosmic, cowpoke commodities.
Howdy Partner Bag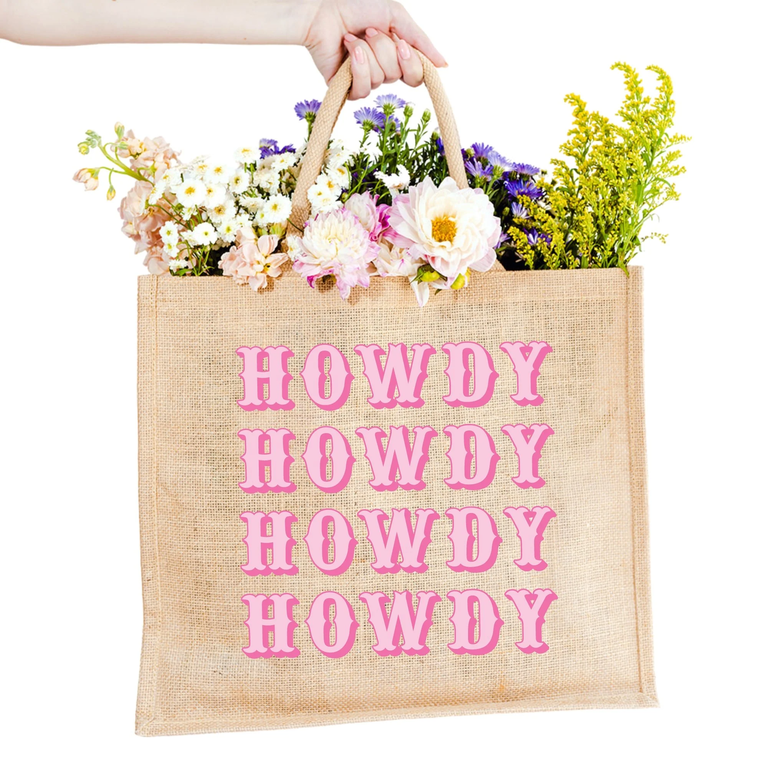 Welcome your favorite cowgirls with a "howdy" tote that will carry their goodies all weekend long. And this is one bag they'll be using even after the wedding festivities are over.
Wild Wild West Hangover Kit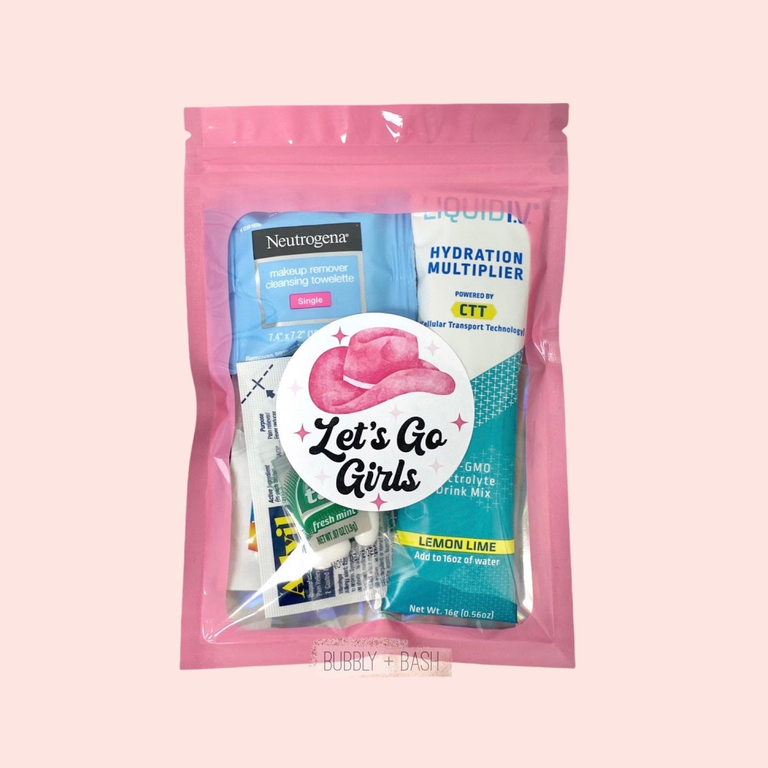 The Wild West could've used these hangover kits in their saloons. Don't let your best girls feel "spaced out" after all the fun by adding this to their welcome bag.
Last Rodeo Sleep Mask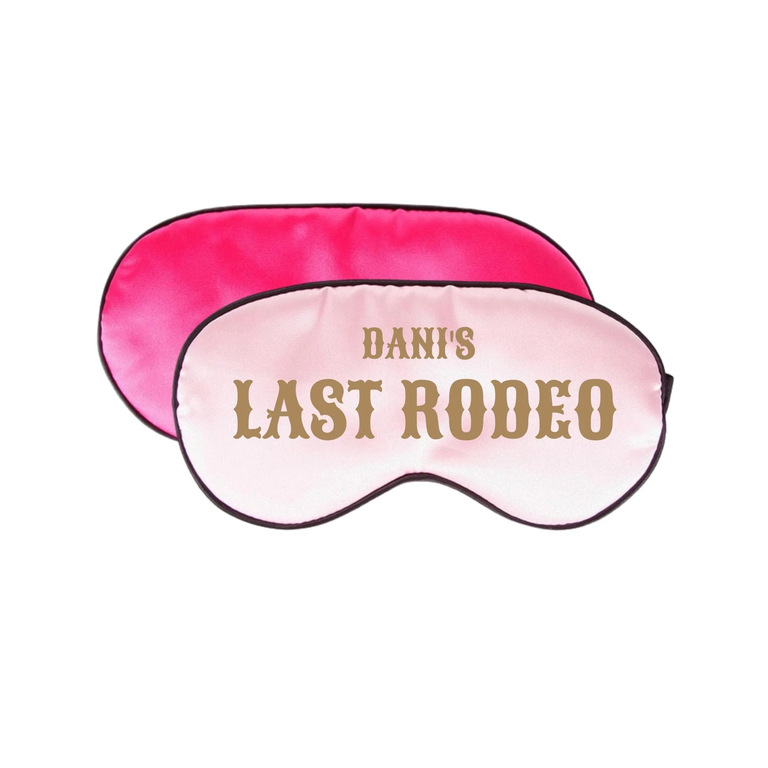 Celebrate your last rodeo with these colorful, customized sleep masks that will give your bridesmaids the shut-eye they need for a weekend full of partying. Choose from a ton of color options, including glitter, for that starry-eyed mood.
Shimmy and Shimmer Western Boots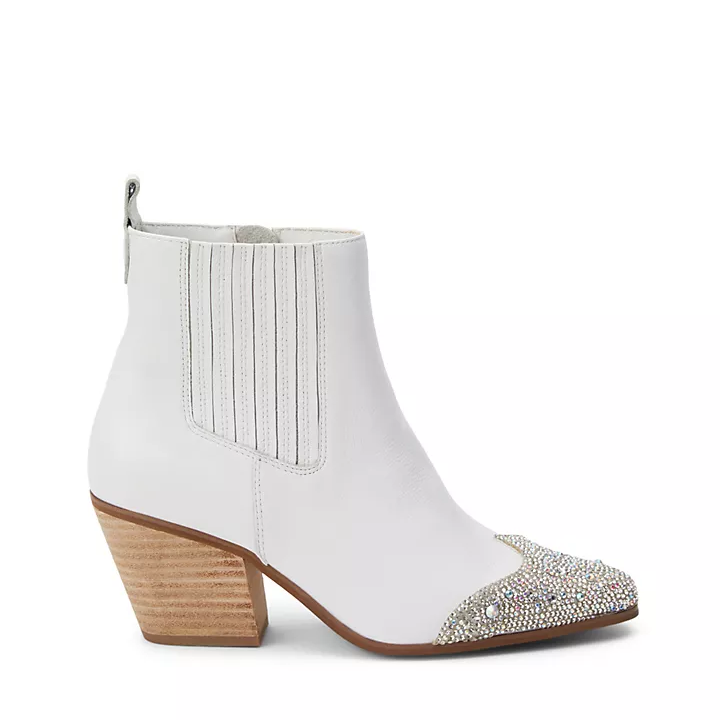 This is a bit of a luxury item for you and your girls, but it'll totally set the tone for the bachelorette fete. Not to mention, these glam cowgirl boots can be their wedding party shoes.
Rhinestone Ranch Hand Bandana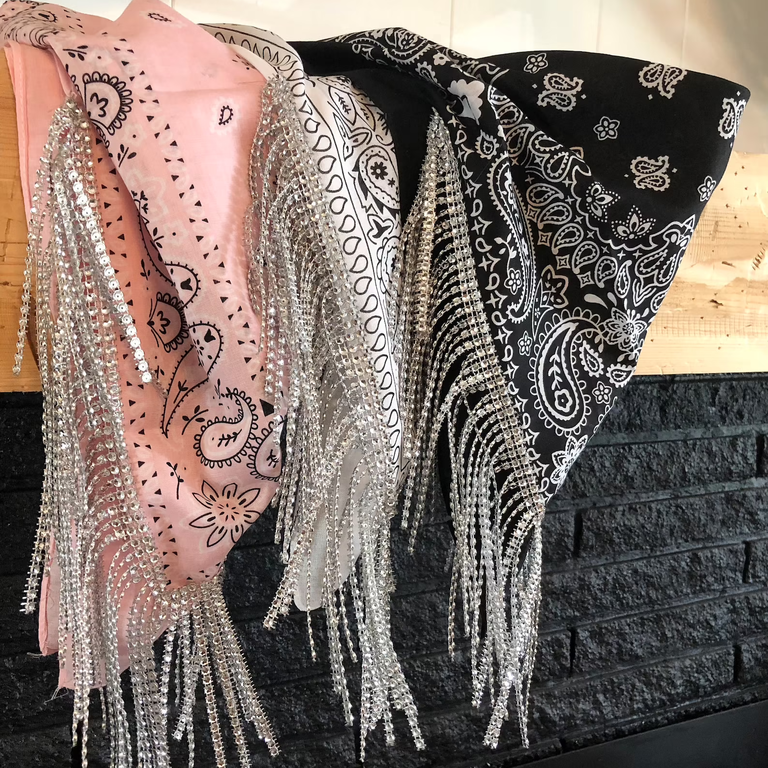 One easy way to make any Western-themed outfit a little more otherworldly? Add some rhinestones and luster, and you've got yourself attire fit for a space cowgirl.
Additional Space Cowgirl Bachelorette Party Supplies
If you need a few more ideas for your party, we've got you covered. Here are some extra (or extra-terrestrial) party supplies that'll have you saying "yee-haw."
Getting Hitched 'N Rowdy Can Cooler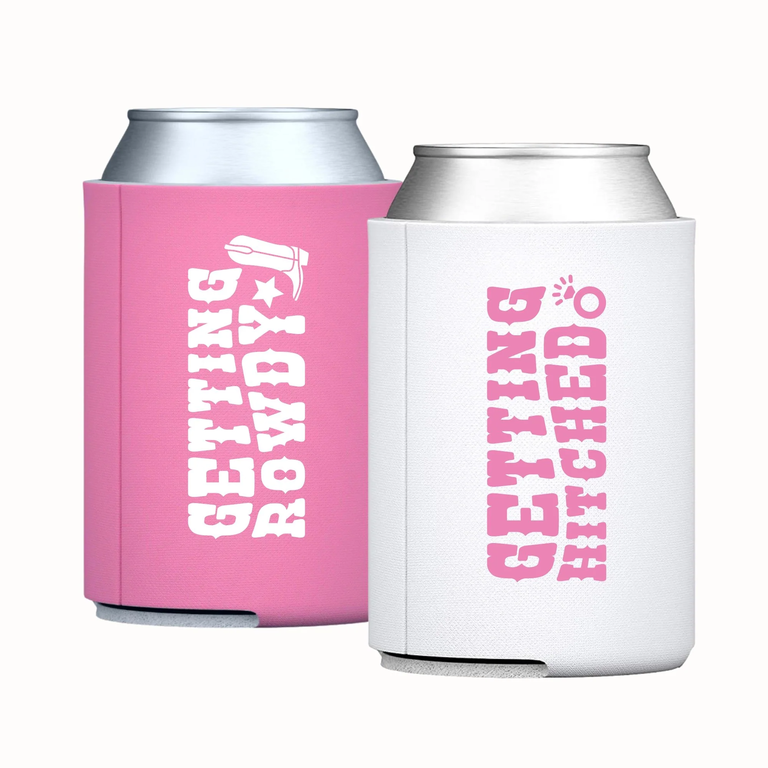 This can cooler not only keeps your drinks nice and icy but they also make great favors for your favorite ladies. Whether you're the one getting hitched or getting rowdy, these fab koozies let the party last.
Not Our First Rodeo Napkins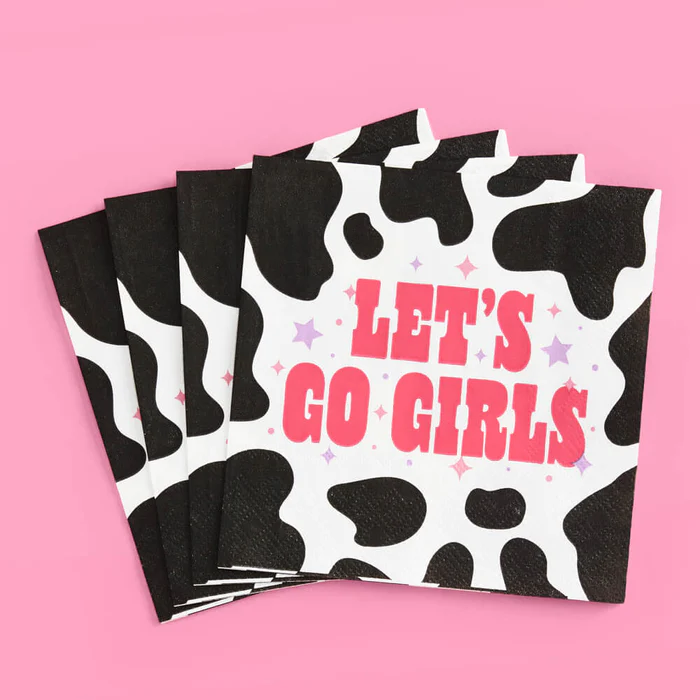 This definitely ain't your first rodeo, and these napkins absolutely scream "cowabunga." Have these on hand for snacks, little spills or to serve with your cake.
Cosmic Pink Cowgirl Hat
Your party isn't complete without the perfect cosmic cowgirl hat. With its pink glow and out-of-this-world shimmer, make sure you buy enough for every partygoer.
Cow Jumped Over the Moon Drink Pouches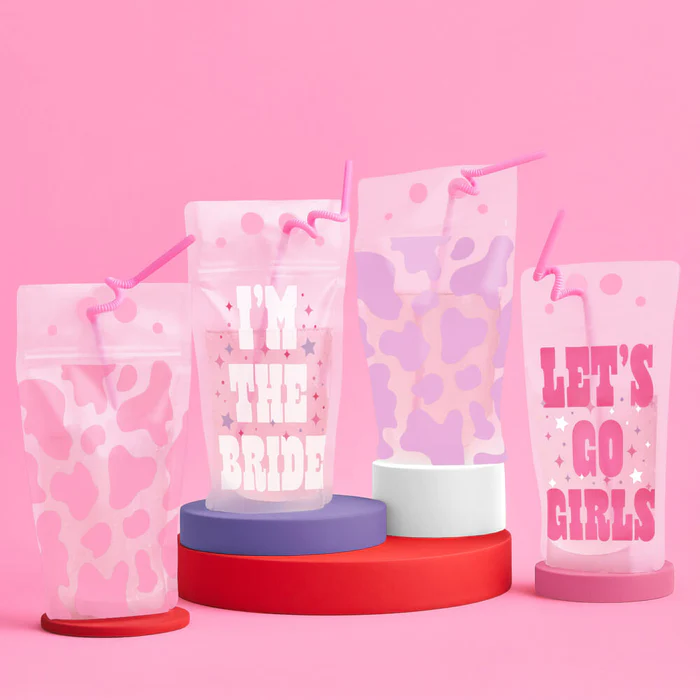 These reusable drink pouches make spills a lot harder to come by (which your bach weekend is going to need). Add your favorite spacey straws, and you're ready to go.