Top Tips to Choosing Your Formalwear
Fashion may not be your thing, but when it comes to getting gussied up for your wedding, you'll need to step up your game. Before you head to your local tailor or formalwear shop to find the tux that best suits you (sorry, we couldn't resist), check out our list of shopping tips.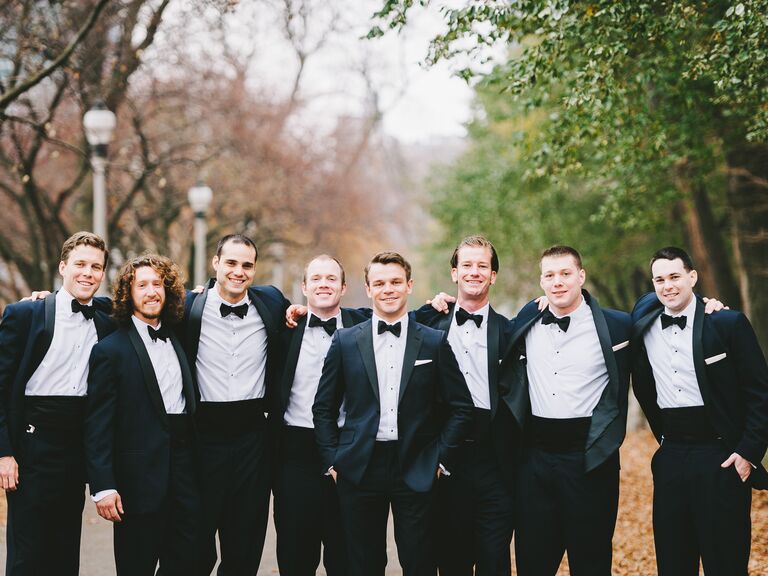 Suzy Clement Photography
Don't Wait Until the Last Minute
Getting your tuxedo may not require as much time as a wedding dress (which can take up to eight months!), but that doesn't mean you should wait until the week before the wedding to start shopping. "Make sure to leave yourself some time," says Victor Talbot Scognamiglio, owner of Victor Talbots. "We like to do multiple fittings, so that if we see something we don't like along the way or have to make adjustments, we have the opportunity to fix it a couple weeks before the wedding. And we always like to deliver everything at least two weeks before the day, so it's one less thing our clients have to worry about."
Coordinate with Your Fiancé
While you may want to maintain some element of surprise for your wedding day, consulting with your better half before you select your formalwear is a must. Of course, this is your day too, and you'll want to stand out just as much as your partner, but your looks should complement one another -- you don't want to turn up to the ceremony in a linen suit if they look ready to hit the red carpet. If you don't want to bring them along to your appointment, sit down with your partner beforehand to talk style.
Do Your Research
You've nailed down your wedding style and talked with your partner about what they're wearing; now it's time to start putting together your own look. Do yourself -- and your consultant -- a favor and go to your appointment prepared. Flip through some magazines or go online to get inspired -- look for cuts, fabrics and styles you like. Bring any photos or notes with you to your appointment to help your consultant get a feel for the look you're trying to achieve. The shop may not carry that exact same style, but the consultants will be better equipped to find something similar that matches your tastes.
Nail Down a Budget
Set a budget for yourself and stick to it, but keep in mind: You get what you pay for. "People will often see the $99 suit with the six free ties and think they're getting a great deal without realizing that a $99 suit is going to have very little workmanship and it's likely disposable clothing. And you can't really tailor things like that," Scognamiglio says.
But that doesn't mean you have to go out and drop thousands of dollars on a top-of-the-line suit either. "A big misconception people have when they're buying a suit or tuxedo is that if you spend a lot of money, it's going to last forever," says Scognamiglio. "That's not the case." Styles are constantly changing, so if you decide to splurge on a new tux instead of using a tuxedo rental, make sure it's made with quality materials and can be tailored to keep up with the times.
Find a Reliable Shop
Like tuxedos, all formalwear shops are not the same. Look for the one with the best selection, best service and knowledge. Ask family, friends, coworkers or your team of wedding professionals for recommendations. A good shop will constantly update its inventory with not only the latest suit and tuxedo styles, but accessories too (if you see a purple polyester jacket with wide-notch lapels or baby blue ruffles, run.). Plus, it should have countless tuxedo styles (you can call ahead to ask about its range of tuxes) based on your budget and wedding look and staff who are able to measure your properly and tailor your suit to perfectly fit your body.
Flatter Your Figure
Chances are, that double-breasted tux you saw your favorite celeb sporting at the Oscars may not look as amazing on you as it did on the red carpet. There's a wide variety of cuts for jackets, lapels, shirts and ties, and the average person doesn't usually have the eye or skill to know what looks best on their physique. So, to avoid looking like you're floating in fabric or trying to channel a stuffed sausage, ask your consultant for some recommendations. He'll help you find styles that will complement your body type and make you look like a million bucks -- whether it's a jacket that has a slimming effect or the tie that best accompanies your shirt. And don't run to the checkout after the first outfit you try on either -- we recommend trying on at least three garments to get a feel for what you like best.
Get Tailored
Don't underestimate the power of tailoring -- nothing looks worse than an ill-fitting wedding tuxedo. Once you've found a suit you love, it's time to give it the perfect fit. "We like to have at least three fittings," Scognamiglio notes. "The initial fitting is the chalking; the second fitting is to try everything on; and the third fitting is an opportunity to make any final adjustments if the person has gained weight, lost weight or if there are any last-minute changes we want to make." Give yourself plenty of time for these alterations, and don't wait until the day of to try everything on.
Read the Fine Print
If you're renting, before you sign on the dotted line, find out about deposits, alteration fees and return deadlines. Getting tuxedo rental costs ahead of time and distributing it to the entire wedding party will make it easier for everyone to track their responsibilities. Because most rentals must be returned the day after the event, make a plan with your best man to take it back for you.