Tuxedo vs Suit: Which Should You Wear on Your Wedding Day?
Wondering about the difference between a tuxedo and suit? Read The Knot's side-by-side comparison to discover the answer.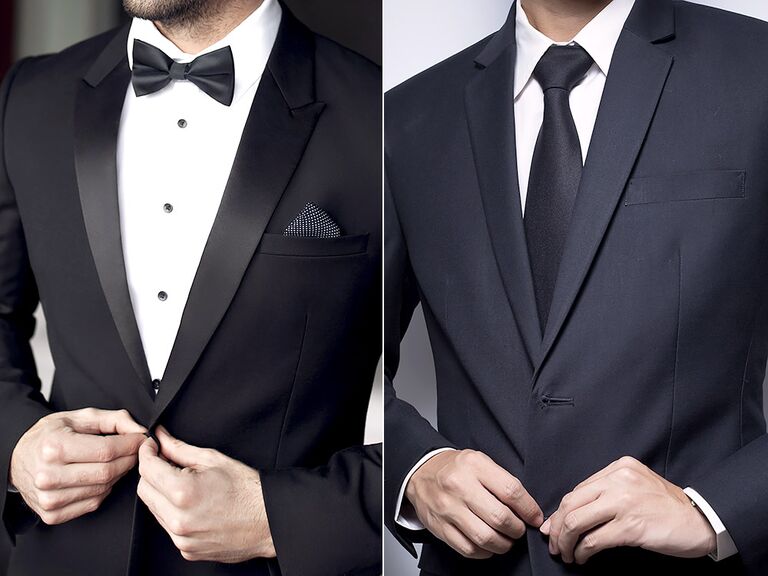 Shutterstock
Many don't understand the difference between a tuxedo and a suit, and with the style of tuxes changing, it's becoming even harder to tell them apart. When most people think of tuxedos they think of Daniel Craig as James Bond in his black dinner jacket and bowtie, but many modern tuxes go beyond the classic black-and-white look to incorporate newer styles in gray, tan, or navy.
Whether you're getting married or you've been invited to a formal event, it's important to know the difference between a tux and a suit, and when it's appropriate to wear each ensemble.
In this article:
Tuxedo vs. Suit Differences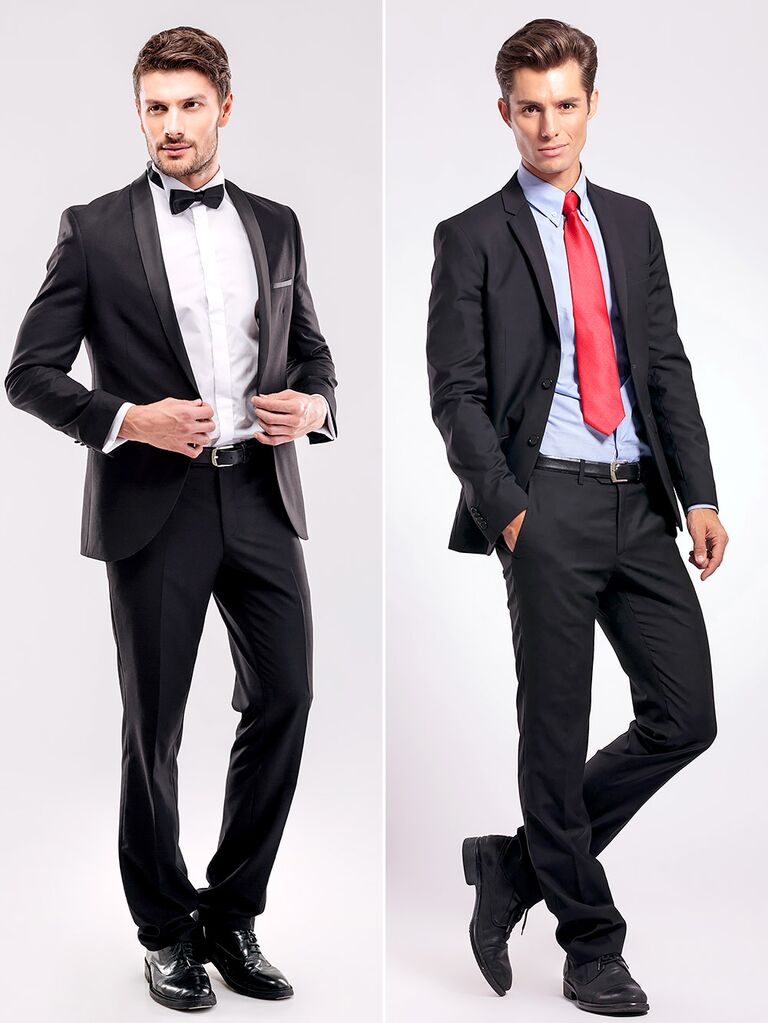 The definition of a tuxedo has changed over the years, but even the most modern tux has characteristics that set it apart from a suit.
Satin. The main physical difference between a tux and a suit is that tuxedos have satin details—satin-faced lapels, satin buttons and a satin side-stripe down the pant leg—suits do not. Modern tuxedos often limit the use of satin to a thin trim on the lapels and a skinny stripe down the pant leg, but this is still considered a tuxedo. On a suit, the jacket, lapel and pants all consist of the same material. Instead of satin buttons, a suit will usually have bone, plastic or fabric-covered buttons.
Accessories. Classic tuxedo accessories include a cummerbund, waistcoat, suspenders and a self-tied bowtie. However, these days, many men opt for less formal accessories. Long ties and high-stance vests are now acceptable to wear with tuxedos, depending on your personal style and how formal you want to look. Suits are more versatile than tuxes and can be dressed up or down, depending on the accessories, and can be worn with or without a vest. They also look great with both bowties and long ties.
Shirt style. Tuxedos are worn with white shirts that have either a wing collar or a turndown collar. Suits can be worn with a variety of dress shirts, in a solid color or pattern.
Shoes. Black patent shoes are usually worn with tuxedos. Loafers, oxfords or slip-on shoes are acceptable to wear with suits.
Events. Tuxedos are reserved for evening events only, and for formal occasions like black-tie weddings, charity galas and nights at the opera. Suits are appropriate for any time of day, and can be worn at less casual events like business meetings and dates.
Tuxedo vs. Suit Price
A high-quality three-piece suit can be purchased for $300 to $800. If you look for sales, you may be able to find a great suit for even less. Keep in mind that you'll still need a shirt, tie, and shoes, and you may need to pay between $30–$100 for alterations.
Multiple wears. The benefit to buying a suit vs. a tux is that you're more likely to wear it again. Many occasions call for suits, from work functions to weddings, and every man needs at least one great suit in his closet. It's even more likely that you'll wear the shirt, shoes, and tie again, even if the vest and jacket collect dust.
Buying. Tuxedos cost about $700 to $1,000 for the jacket and pants. You may be able to find a sale on a tuxedo, but generally you will be paying more than you would for a suit. You'll also need a shirt, vest or cummerbund, a tie, and shoes. You may also need to pay for alterations.
Renting. If cost is a concern to you, you can rent a high-quality wool tuxedo for $150 to $250. Many tux packages contain everything you need, including the vest, shirt, shoes, and cufflinks. If you think that you'll wear your tuxedo at least two more times, it may be worth it to buy instead of rent.
Unique tuxedos. Not every tuxedo has to be the classic black jacket and pants with a crisp white shirt beneath. These days, more grooms are showcasing their personalities and preferences by wearing tuxedos in a variety of colors, including shades of gray and blue. Even tan tuxedos have made an appearance at weddings. One of the more unique twists on the tuxedo look is the "Tropical Black Tie." You've probably seen it before in the movies or on the red carpet. A tropical black tie features a white dinner jacket over a white shirt with black pants and a black tie. The jacket typically includes one button front and self flap pockets. Suits will typically give you a lot more color and style options, so if you want to create a bold look that is all you, a suit might offer you more fashion freedom.
Suit or Tux for a Wedding?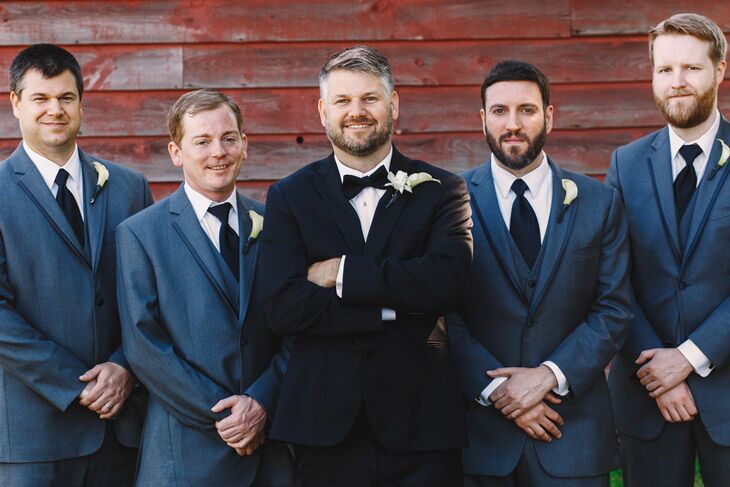 As a groom, whether you want to wear a tux vs. a suit on your wedding day is up to you, but there are a few factors to consider:
Time of day. Tuxedos are considered evening wear, and if you're having a brunch or daytime wedding, a suit will be more appropriate. If your wedding starts during the day but ends in the evening, either a suit or a tuxedo will make a fine choice.
Wedding theme. If you're having a black-tie wedding, you should definitely wear a tuxedo. If your wedding is more casual, you may be more comfortable in a suit. Consider what your bride is wearing. Will she be wearing a gown? Or is her dress less formal? If she's wearing a tea-length dress for your summer wedding, you should probably opt for a suit.
Personal preference. For many weddings, it's equally appropriate for the groom to wear a tuxedo or a suit. Some grooms want to look especially striking on their wedding day and wear something special, so they choose to wear a tux. Since it's difficult to tell the difference between a tux and a suit, all that matters is that you're wearing something that you like, that fits well, and is consistent with the style of your wedding.
Partner's preference. Don't have a preference on wearing a suit or tux for your wedding? Ask your partner their opinion. They may know exactly what they want you to wear. (Don't be surprised if you get color and accessory recommendations as well.) In the case of two grooms, it always looks great when the grooms wear a matching style, (either two tuxes or two suits), though individual styles and colors can vary to express your different personalities.
If you've decided to wear a tuxedo, you can choose to have your groomsmen also wear tuxedos for continuity. You may also decide that you want to stand out from the pack, and therefore have your groomsmen wear suits. You can also choose to make your look unique with different accessories than your groomsmen.

When it comes to deciding between a suit vs. a tux as a wedding guest, take a look at the invitation. If the invitation says "White Tie," "Black Tie Invited," or "Black Tie Preferred," you should wear a tuxedo. If the invitation says "Black Tie Optional" or "Formal," you may choose to wear a tuxedo or a dark suit. For all other weddings, your best bet is to wear a suit.
Still not sure what the best outfit is to wear on your wedding day? Then take this style quiz to find out what duds are the best fit for your unique personality. We also encourage you to take a look at all of our great groom style articles and advice.