10 Suit with Sneaker Pairings for Grooms & Wedding Guests
Thinking about lacing up a pair of fresh kicks at your wedding? Great call. Here's everything you need to know about when to do it and how to style them.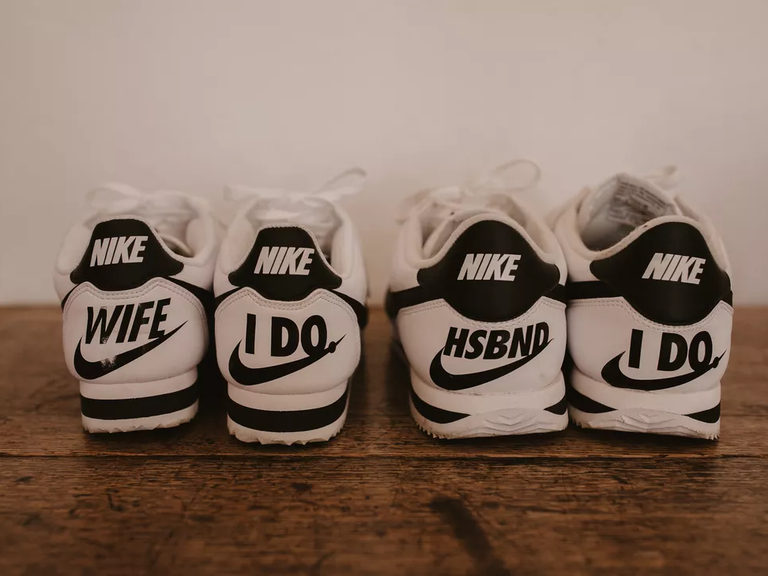 Photo: GOLDEN DAYS PHOTOGRAPHY
We have included third party products to help you navigate and enjoy life's biggest moments. Purchases made through links on this page may earn us a commission.
Maybe your rotation of Air Jordans is the centerpiece of your wardrobe or maybe you're just looking to eschew tradition and walk down the aisle in footwear more comfortable than your standard pair of dress shoes. Whatever your reason may be, pairing a suit with sneakers at a wedding is an increasingly popular sartorial swerve, especially at semi-formal and casual weddings. The sneaker scene has blown up in a big way over the last decade thanks to apps like SNKRS and CONFIRMED as well as resale platforms like StockX making hot kicks easier than ever to add to your footwear lineup. When you pair that with an increase in the popularity of wedding dress codes that skew slightly more informal than traditional black-tie affairs, you've got a trend on your hands.
Wearing a suit with sneakers, well, comes down to how you pair the two together. Certain sneakers are going to look better with specific suit cuts, colors, and styles. Whether you've got your suit picked out and are looking for a good pair of kicks to wear with them or you're trying to build your wedding fit around your favorite pair of Air Maxes, you've come to the right place.
In this article:
Can You Wear a Wedding Suit With Sneakers?
Short answer? Yes, you can absolutely wear a wedding suit with sneakers–provided the dress code allows for it. In almost every case (more on the exception later) you need to leave the sneakers at home for black-tie and formal weddings. Semi-formal weddings and dressy casual ones are the time to lace up sneakers.
In the instance of wearing sneakers with a wedding suit as a guest, my advice is (and will always be in instances of wedding guest dressing) to check with the couple if you're not sure if what you want to wear will be acceptable.
Sleek Suit With Sneaker Combos for Weddings
Sometimes the question isn't should you wear a suit with sneakers so much as which suit should you wear with which sneakers. On that front, I've got you covered. These are some of my personal favorite pairing options for wearing a wedding suit with sneakers. Use them as inspiration for your own fit or flatter my taste and click Buy Now.
For a Black Tie Wedding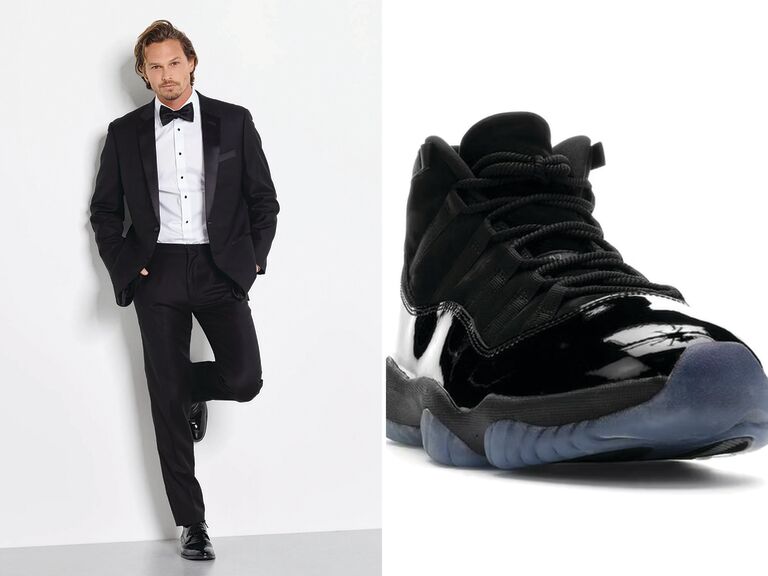 In almost any case, it's not going to be appropriate to wear sneakers with a tuxedo. There's one exception: grooms are the ones walking down the aisle, which grants you a little bit of leeway (it is your day, after all). If you're going to do it though, make sure the sneakers are worthy of being paired with The Black Tux's notch-lapel tuxedo–like these Air Jordan 11 'Cap and Gown' kicks. They were specifically designed with formal occasions like high school prom and graduations in mind. Might as well put them to their intended use.
For a Summer Wedding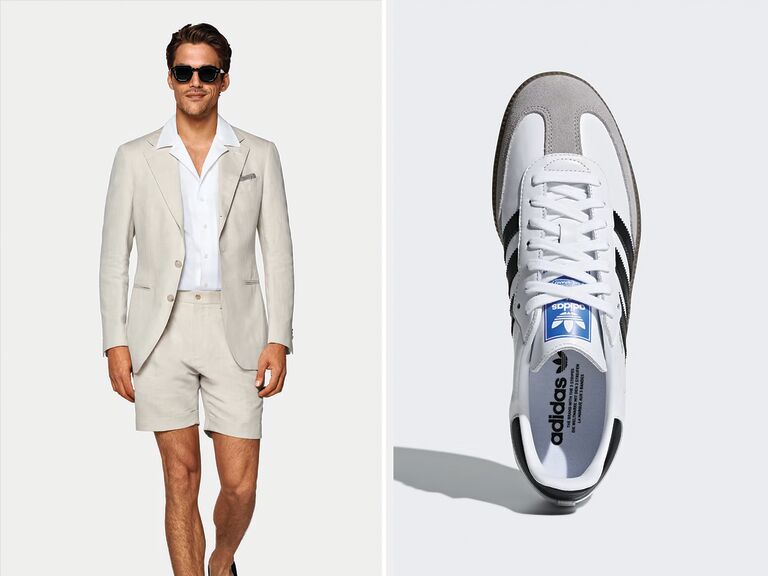 I've recommended this Suitsupply beauty on The Knot a few times in recent months because, well, I think suits with shorts should be more acceptable–especially during the hottest months of the year. Generally I'm inclined to suggest that a suit like this be paired with loafers but I'm pretty into the idea of throwing on a pair of classic adidas Sambas with it. It's the perfect blend of high and low for a summer wedding.
For a Black Suit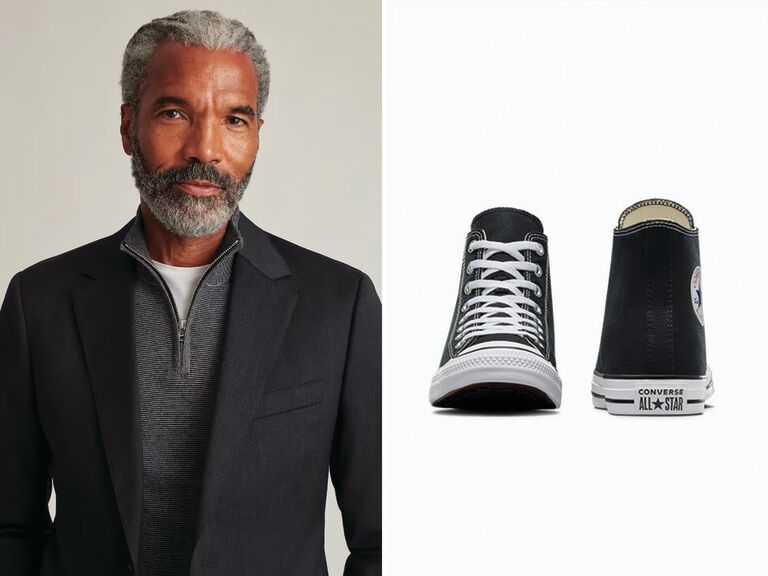 There's something undeniably cool about a simple black suit, especially if you pair it with a white shirt and a black tie. The difference between looking like you're going to a funeral and looking like you're wandering from cafe to cafe on the streets of some exciting European city can come down to footwear–so lace up a pair of classic black Converse Chuck Taylors with this perfect Bonobos Jetsetter suit in black and capture that vibe.
For a Tan Suit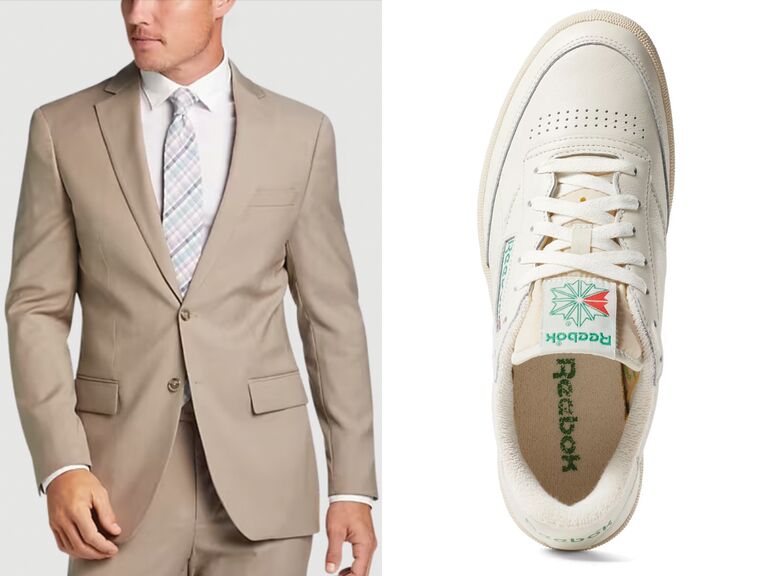 Tan suits, to me at least, can have a real laid-back vintage feel to them. Bring that energy out of this JOE by Joseph Abboud suit by styling it with a pair of Reebok Club C 85 Vintage shoes. They come in a creamy off-white and a slightly yellowed sole, meant to evoke an old-school feeling that will go great with this suit.
For a Femme Suit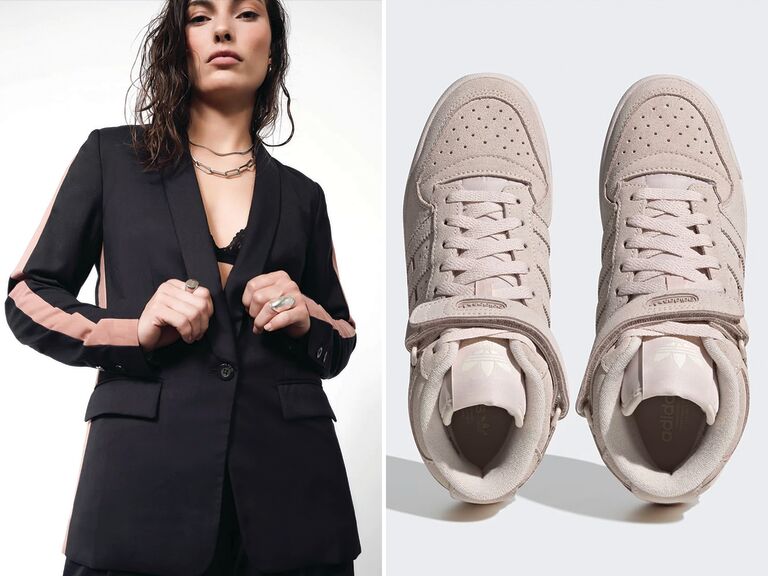 We're all about suiting that smashes the borders of gender and there's no reason you can't do that while also pairing a suit with a pair of dope kicks. These adidas Forum Mid 84s are one of the coolest and most reliable sneakers on the market these days, chunky and full of old-school basketball vibes. Among other colorways, you can find them in this cool creamy pink suede. It accents Wildfang's colorblock tux blazer perfectly.
For Comfy, Cozy Fashion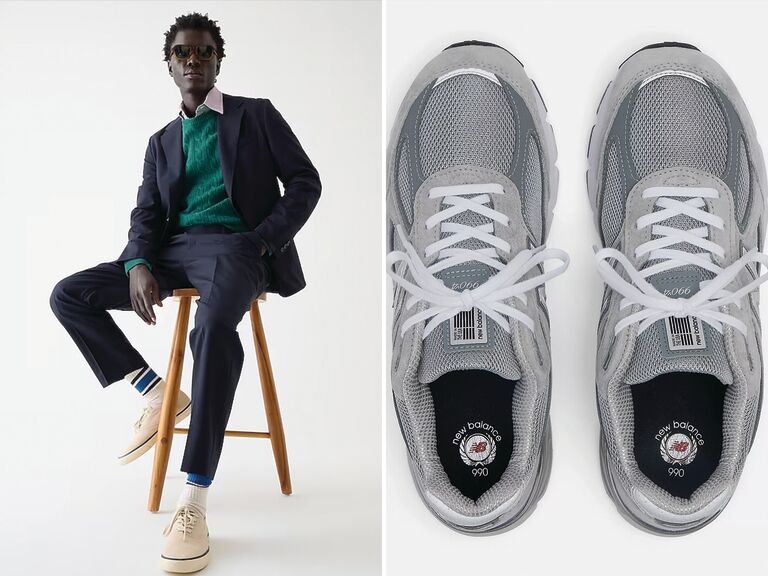 The New Balance 990 (specifically in grey) has long been the epitome of the Dad Shoe. It's comfy, it looks great, and you can beat your pair up for years and they'll only look better for it. If you want to walk down the aisle (or to your seat) in the kind of comfort only those signature New Balance orthopedic inserts can provide, wear your 990s with a suit that accompanies their vibe. A navy blazer (I'm partial to this Kenmare suit from J. Crew) worn with khakis or chinos is the perfect Dad Suit for these Dad Shoes.
For Making a Statement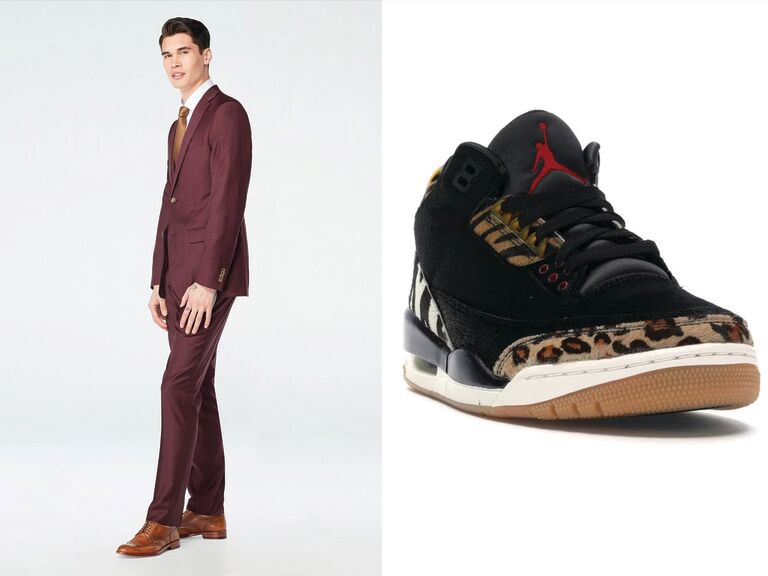 If simply wearing sneakers to a wedding isn't enough of a statement for you, try wearing these sneakers. The Air Jordan 3 'Animal Instinct' is a crazy collage of animal prints on one of the most popular sneakers of all time. If you pair these with a burgundy suit like the Indochino Hemsworth right here, you'll have a wedding fit all your loved ones will remember for a long time.
For the Fashion-Savvy
For the in-too-deep fashion heads, here's a combination for you: two of the hottest brands of the decade (so far) in a single wedding fit. For the suit, we're going to go with Rowing Blazers' ultra-wide wale corduroy blazer and pants, which channel the old-school Ivy League vibes the brand has become so renowned for reinventing. This is totally the sort of suit you can pair with sneakers, so for those let's go with these trendy adidas Sambas designed by British fashion icon-in-waiting Wales Bonner. You'll look like you stepped off of a magazine cover in this one.
For a Blue or Navy Suit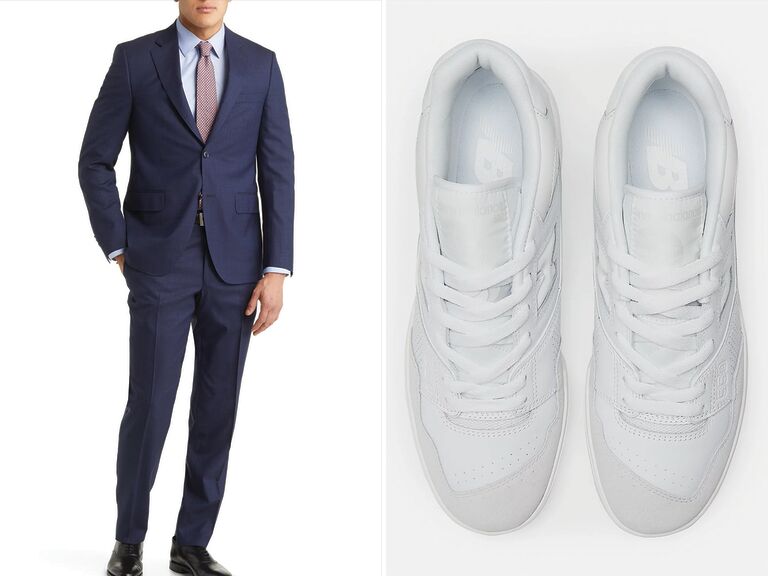 Blue suits can be a bit versatile when it comes to what color sneaker you pair with them, but I've always been partial to meeting their simplicity with more simplicity: a simple pair of white sneakers. The question is simply which pair of white sneakers goes best with a blue suit (like this one by Peter Millar, for example). Allow me to suggest the ever-popular New Balance 550, an old-school basketball low top that's been revitalized as one of the most popular lifestyle sneakers of the last few years. The white-on-white colorway will play perfectly with a simple blue wedding suit like this, giving it a playful edge and a fashion-forward look.
The Overall Best Sneaker To Wear With Suits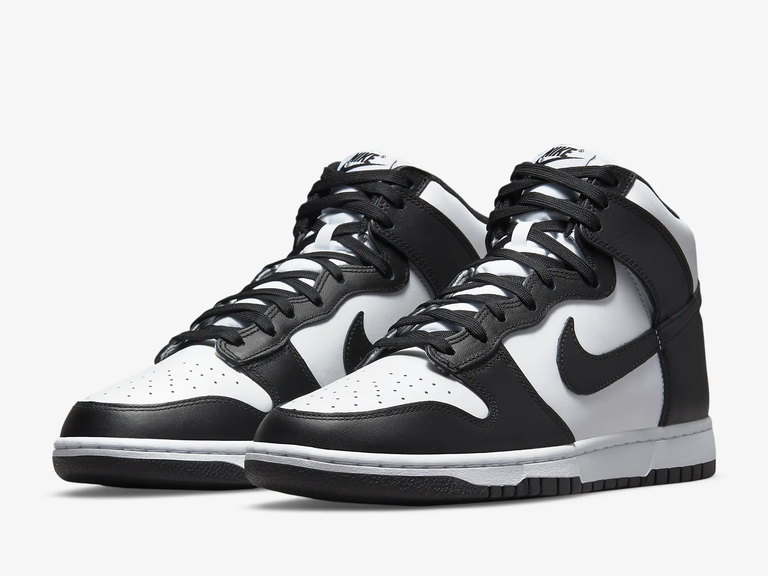 When in doubt, go with a pair of Dunks. The Nike Dunk is a shoe that exploded in popularity when the brand brought it back in 2020, quickly establishing itself as the sort of easy, approachable sneaker that never should have gone away to begin with. These days they're available in every conceivable color you can imagine, from a simple black and white colorway (Pandas, as they're known) to ones that pay homage to collegiate and professional sports teams alike, including University of Michigan and the Los Angeles Lakers (among others). This accessibility and ease with which you can style them make them great for individual wedding fits or or wedding parties looking to coordinate (it'll be easy to find a pair in everyone's size without paying crazy resale prices like you might with matching Air Jordans). They're the perfect sneaker to pair with a suit and come in a wide enough variety of colors that you'll have no trouble picking out a color that works with whatever it is you're wearing to your wedding.
Tips for Choosing Sneakers to Wear with Suits
Wearing sneakers with a wedding suit is easier than you'd think, but you still want to make sure you're doing your due diligence when putting the fit together. Whether you're looking to wear a casual wedding suit with sneakers or something a little bit more formal, here's everything you need to know about wearing sneakers to a wedding.
Which Dress Codes Permit Sneakers at Weddings?
The safe wisdom here is that white-tie, black-tie, and formal weddings won't permit sneakers. Cocktail attire is iffy, so the sweet spot where you can start working them into your fit starts at semi-formal dress codes. That, and anything less formal, is where suits with sneakers come into play. However, you should always check with the couple before making this decision.
Can You Wear Sneakers With a Groomsman Suit?
That's not a decision the groomsman gets to make. You'll need to consult with the groom regarding what it is you and your fellow groomsmen will be wearing for the ceremony. Matching groomsman sneakers could make for great photos and a great look the day of the wedding, but it's ultimately up to the person who's actually getting married.
How Do I Pick a Pair of Sneakers to Wear With My Suit?
The most important thing to consider when making this decision is that wearing a suit with sneakers is already a display of personal style. In terms of what kind of shoe to wear, don't overthink it–if you're someone who wears Chuck Taylors every single day, that's what you should lace up with your suit (albeit maybe a fresh pair). And if you're the sort of person who has a closet full of Air Jordan boxes, lean into that! There are plenty of J's that pair great with suits.
What you really want to take into consideration is color and specifically making sure your shoes will match your suit. If you're wearing a neutral suit like black, navy, beige, or grey, you'll have a lot of freedom in terms of the color of your shoes. If your suit is on the louder side or in a more distinct color like green, red, or purple, going with a more neutral sneaker may be the right move (or just lean all the way in and wear sneakers that are the same color).
Can You Change Into Sneakers At the Wedding Reception?
There's no hard rule determining whether or not it's cool to do this, but it's pretty common, especially for those at the wedding who show up in heels–it's hard to dance the night away in those. Don't stress the fashion of it too hard in this case. Wear kicks that are comfortable and have plenty of support (you'll need it on the dance floor).
As always, check with the couple before making this decision. That said, there's a pretty good chance they'll be fine with it. Honestly, it's a move I personally recommend–when I served as best man at a wedding last year, I forgot to bring my trusty New Balance 990s (complete with orthopedic inserts) to the venue and spent the evening regretting it. After a long night of dancing (hard) in brown dress shoes, my shins weren't too happy with me in the morning.