Your Guide to Planning the Ultimate New Year's Eve Wedding
Pop the champagne!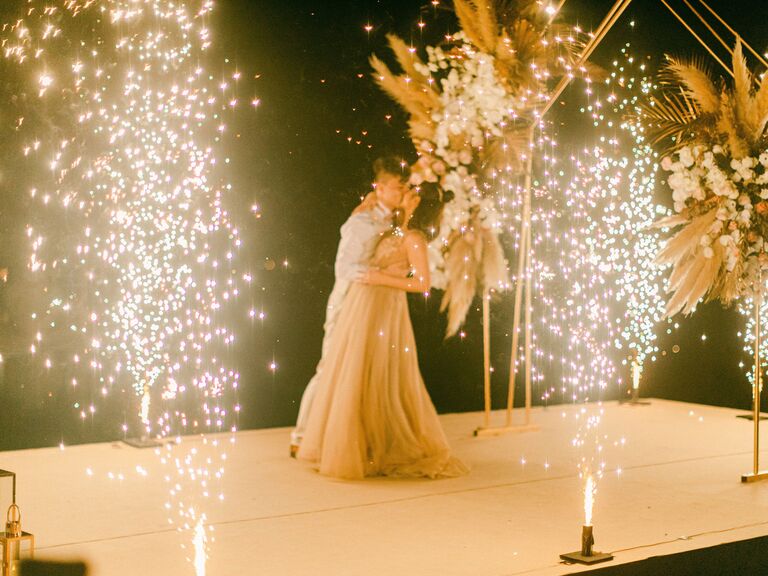 KEN TAN PHOTO
We have included third party products to help you navigate and enjoy life's biggest moments. Purchases made through links on this page may earn us a commission.
From the extra-special kiss at midnight to festive party props, there's something so special about New Year's Eve weddings. If you're dreaming of exchanging vows while the ball drops, we rounded up 37 New Year's Eve wedding ideas to help spark inspiration. Whether you want to lean into the chilly winter weather or the festive holiday, we have something for every kind of wedding.
We love New Year's Eve weddings because they require little decor and come with an even bigger excuse to party until the wee hours. Plus, how cute is it to wake up as newlyweds on the first day of the New Year? Count down to the end of December while scrolling through our favorite New Year's Eve wedding ideas below. Psst: Don't forget to work with your wedding planner and wedding venue to ensure your end-of-the-year bash goes off without a hitch.
New Year's Eve wedding: Good or bad idea?
Hosting a wedding on a holiday always comes with a set of pros and cons. Of course, they typically involve extra time off work, which means your guests might have more free time to come celebrate with you. Additionally, the festive atmosphere lends itself perfectly to a wedding.
However, traveling during the holidays can be challenging. Understand that airline tickets, hotels and Airbnbs might be more expensive than usual, which could impact whether or not your guests can attend. Additionally, the rates at certain venues may be more expensive than normal. As you begin wedding planning, ask your venue if they have any extra fees for booking on New Year's Eve.
Ultimately, it comes down to what you want as a couple. If planning a wedding on New Year's Eve feels exciting to you, then we think it's a great idea. If you don't love the idea for your big day, then book another day.
What time should a New Year's Eve wedding start?
While many weddings typically start in the early afternoon, New Year's Eve weddings are different. Since you'll likely want the event to go until midnight, start your event later. Plan for a 5 p.m. or 6 p.m. start time so that your party doesn't feel too long. If you want to keep the festivities going, you can invite your loved ones to a late-night afterparty.
Is New Year's Eve a popular wedding date?
There are so many reasons why a New Year's Eve wedding is fun. There's already a reason to party. It's set in the dreamy winter weather. Plus, your guests likely have time off from their normal schedules because of the holiday season. As such, New Year's Eve can be pretty popular among couples. Plus, many venues host New Year's Eve parties, so planning is key. If you're dreaming of a New Year's Eve wedding, we recommend booking your venue and vendors ahead of time. If you give yourself enough lead time, you'll have no problem booking for NYE.
Is it more expensive to have a wedding on New Year's Eve?
Given New Year's Eve is such a big holiday, it can be more expensive. Your vendors might charge higher rates that usual, as staff is usually paid more to work holidays. All of those extra costs could add up quickly, so it's important to get a full breakdown of your vendors' prices ahead of time so you know exactly how much you're going to spend. Additionally, you'll have to take into consideration the extra costs for transportation and housing accommodations.
Our Favorite New Year's Eve Wedding Ideas
Ready to get inspired? See our favorite New Year's Eve wedding ideas, below.
Disco Ball Reception Display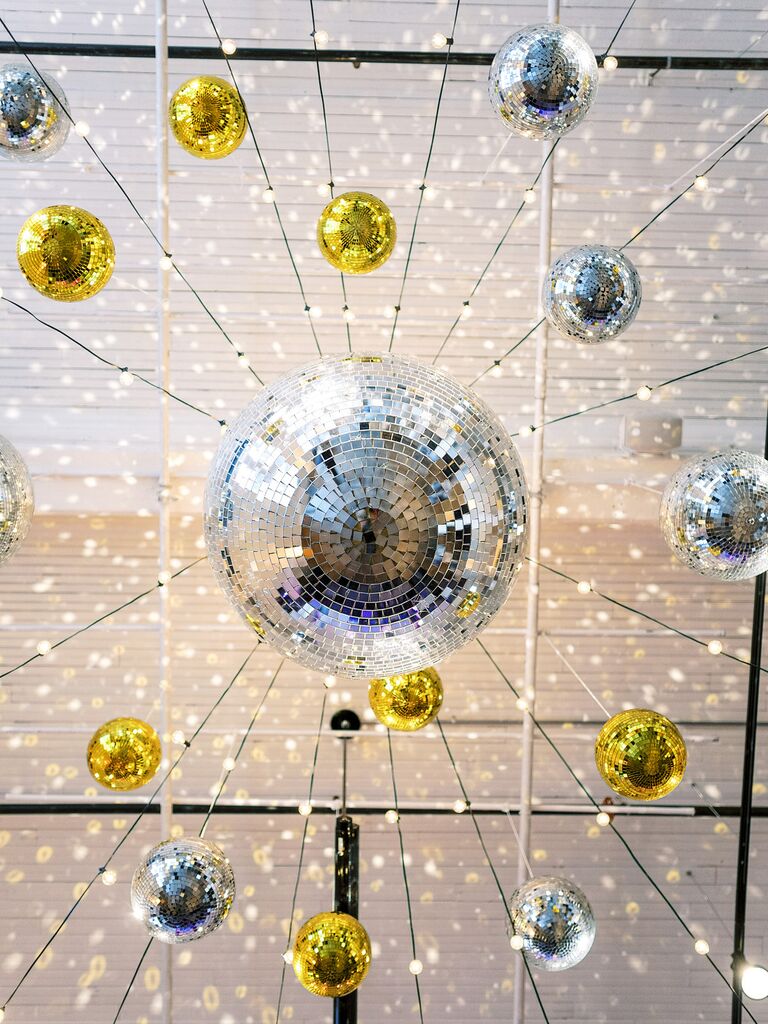 Hang different disco balls from the ceiling of your wedding reception to get your guests in the holiday spirit. Plus, they'll light up the entire dance floor.
Twinkle Light Dinner
Bring the sparkle of NYE to your wedding reception by dining underneath twinkle lights.
Champagne Wedding Welcome Wall
We love this creative take on an NYE champagne tower. Make your welcome cocktails instantly more festive by adding colorful balloons. Serve champagne to get the party started.
Disco Ball Wedding Decor
In a clever nod to the holiday, hang disco balls during your ceremony. It'll create an amazing backdrop for your pictures.
Ceremony Confetti
While many couples save the confetti toss for an epic exit shot, we love the idea of using it after you exchange vows. It's a festive way to celebrate the holiday too.
Glittery, Multi-Colored Wedding Manicure
Celebrate in style. Rock a sparkly, colorful wedding manicure for the occasion.
Disco Ball Wedding Welcome Sign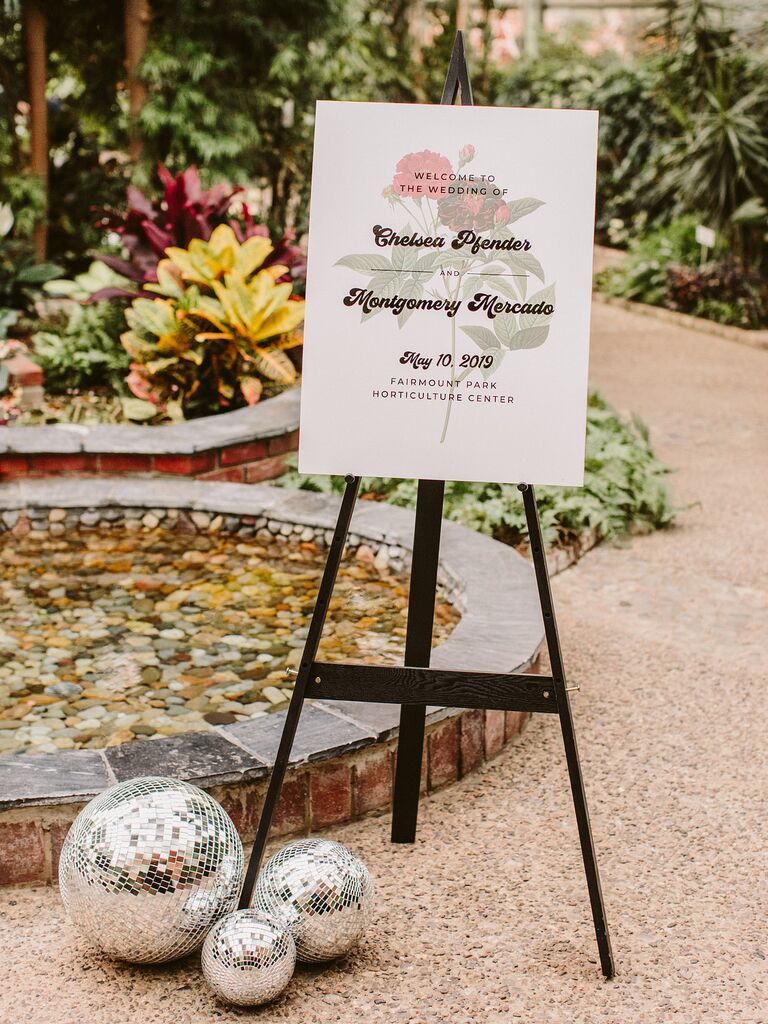 Place disco balls next to your wedding welcome sign to set the vibe for the event.
Colorful Eye Makeup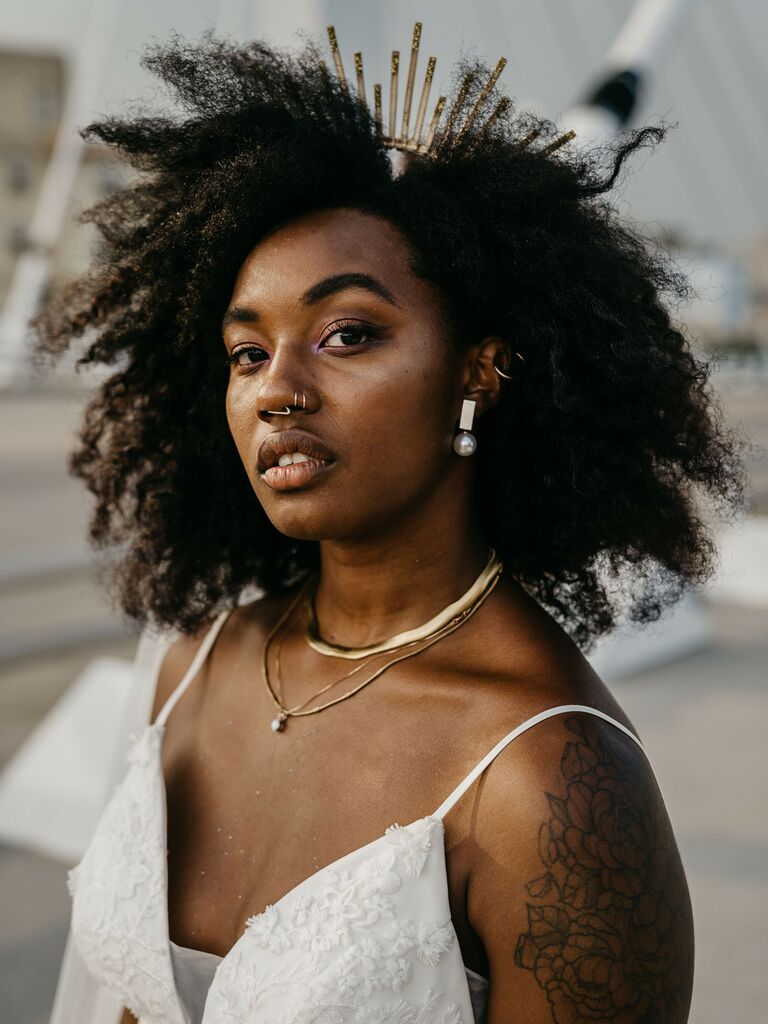 Embrace the holiday by getting creative with your wedding makeup. Use different colors for a fun and festive look.
Disco Ball Wedding Centerpieces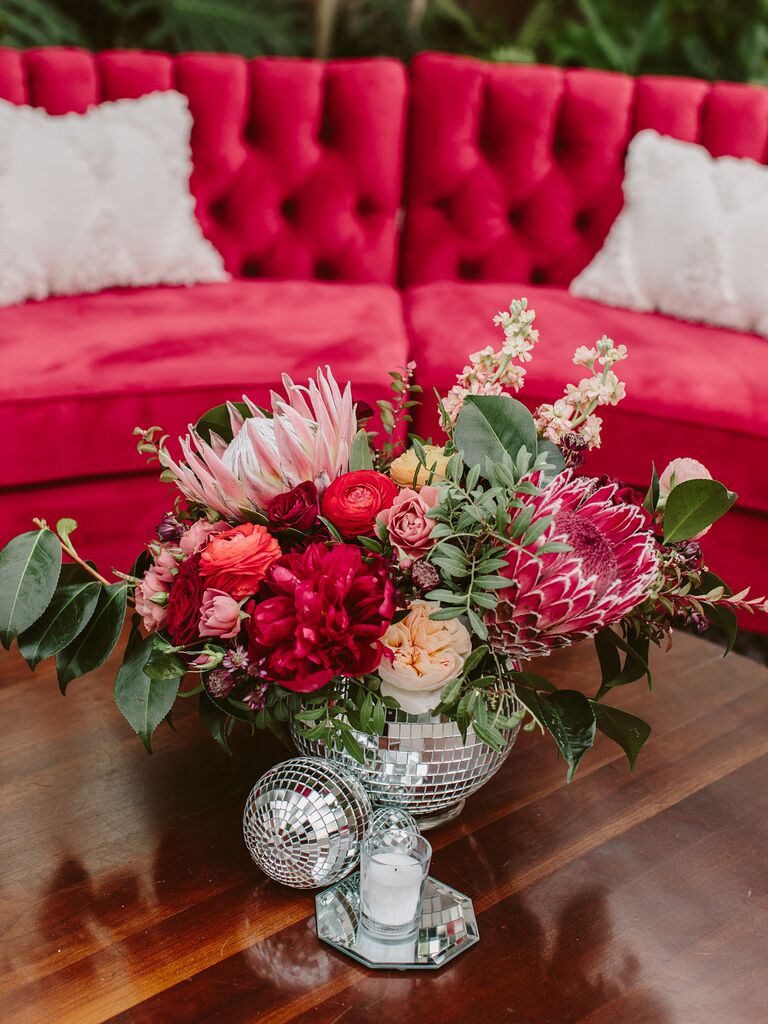 Create a bold arrangement filled with colorful flowers, and then add disco balls around the base. It's an elegant way to pay homage to New Year's Eve.
Black and White Venue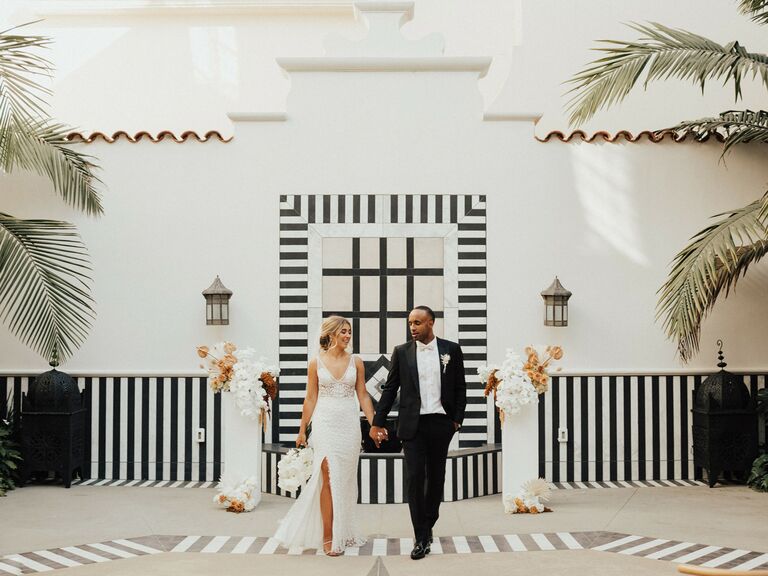 Since New Year's Eve is typically associated with sparkly colors (think: gold, silver and rose gold), we love the idea of getting married at a fun black and white venue so your glittery decor stands out.
Disco Balls and Neon Signs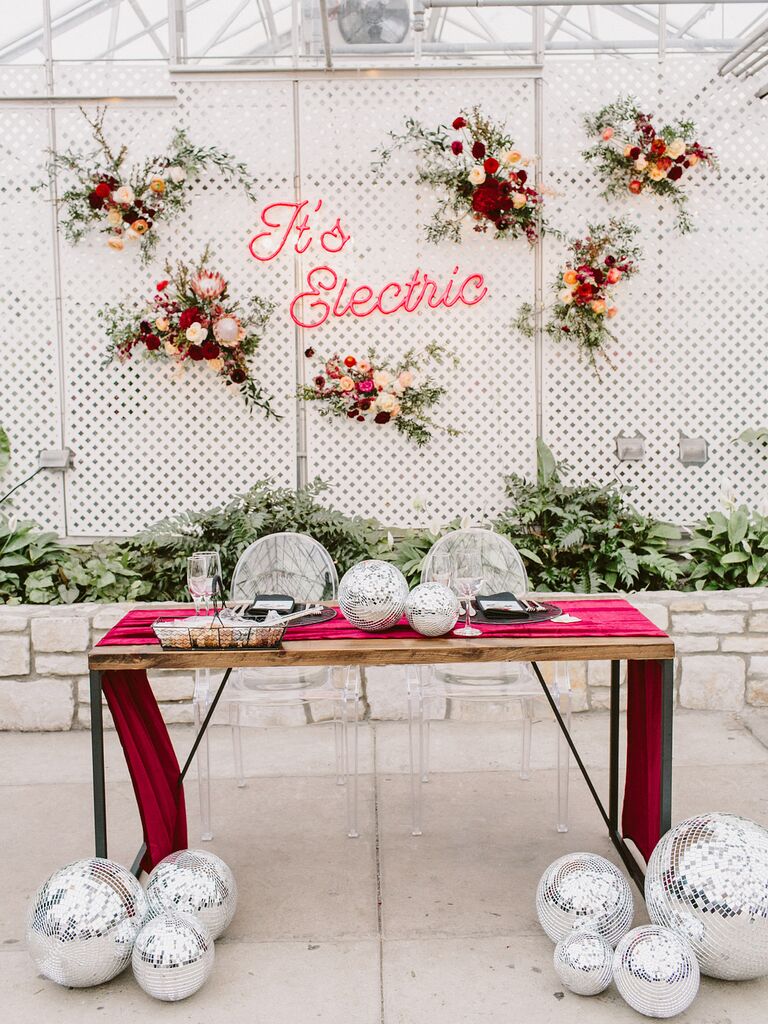 Nothing says party quite like a disco ball paired with a neon sign. Place them near each other for an on-theme sweetheart table.
Bedazzled Wedding Hair Accessories
Lean into the holiday by rocking on-theme accessories. We love the idea of a sparkly hat because you can take it off whenever you want.
Champagne Escort Cards
Toast to your love (and the new year) with champagne. Put a creative spin on the cocktail by using each glass as an escort card. Your guests can sip while they find their seats.
Black and White Wedding Outfits
Make your NYE party into a black-tie bash by rocking black and white wedding outfits. You'll look amazing up against the sparkly decor.
Snowball Fight Wedding Portrait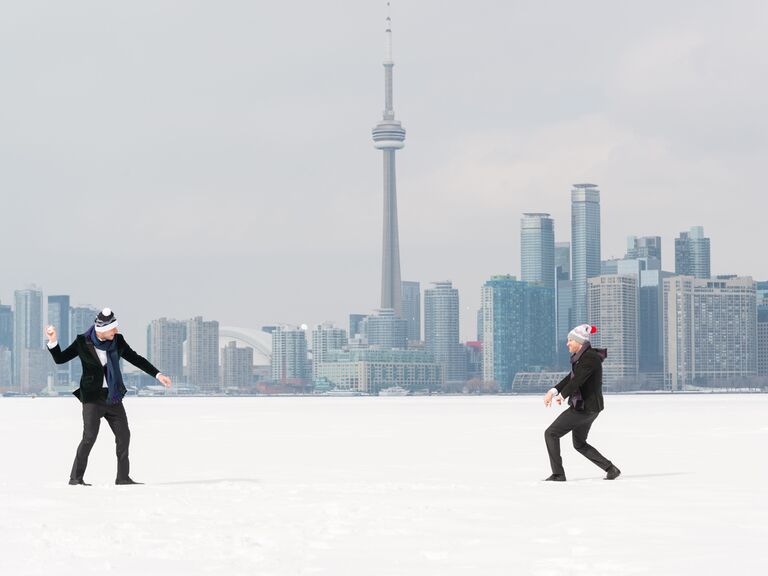 Embrace the cold winter weather. Stage an adorable snowball fight picture.
Big Balloon Decorations
What's a New Year's Eve party without balloons? Use white oversized ones for some festive wedding decor.
Sequin Wedding Party Outfits
Add some extra shine to your nuptials by asking your wedding party to wear sequined outfits. They'll sparkle in the disco ball light.
New Year's Eve Party Entertainment
Pull inspiration from the famous New York City NYE party by planning your own awesome bash. Hire talented performers to entertain your guests during the reception.
Sparkly Wedding Hairpiece
If you don't want to wear a sparkly wedding day outfit, consider rocking a glittery headpiece instead. Look through our roundup of wedding hairpieces for more inspiration.
Wedding Balloon Arch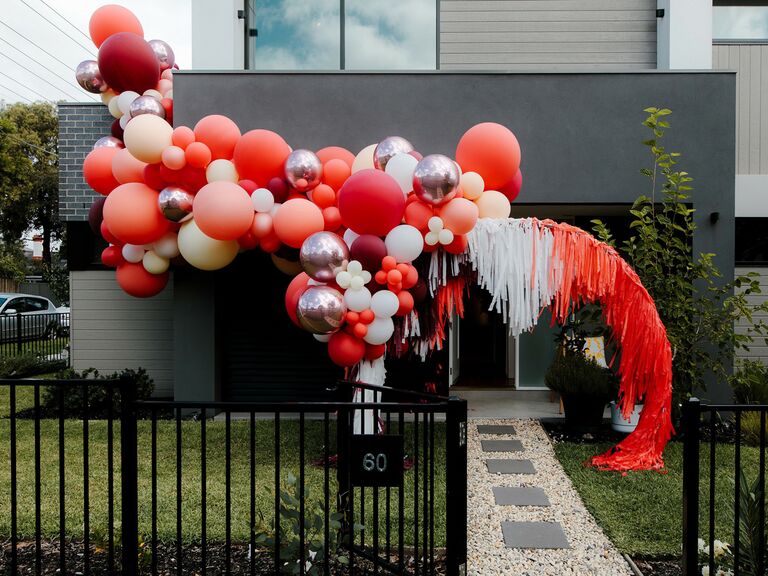 Welcome your guests to your wedding in style. Create a colorful arch and add balloons on one side for a unique twist on this popular decor trend.
Colorful Wedding Confetti
Give your wedding party confetti to throw during your portrait session. Not only will it look amazing on camera, it's also a fun break from traditional poses.
Sparkly Wedding Flat Lay
For an on-theme flat lay, place your stationery on top of a sequin tablecloth. The end result practically screams New Year's Eve.
Gold Wedding Table Setting
Lean into the holiday with a completely gold table setting. It'll look absolutely gorgeous in pictures.
Patterned Wedding Day Outfits
When it comes to a New Year's Eve wedding, your outfit options are endless. Have fun with it by rocking a bold pattern. (Pro tip: Look for one that uses the colors from the holiday, such as black and gold.)
Golden Wedding Headpiece
Swap out a conventional New Year's Eve headpiece for something more sophisticated. A golden headpiece is still on-theme but appropriate for a wedding.
Colorful Wedding Stationery
If you're planning a New Year's Eve wedding, you don't have to use black, white and gold as your color palette. Case in point: this bold yet elegant stationery suite.
Sparkle Fire Fountains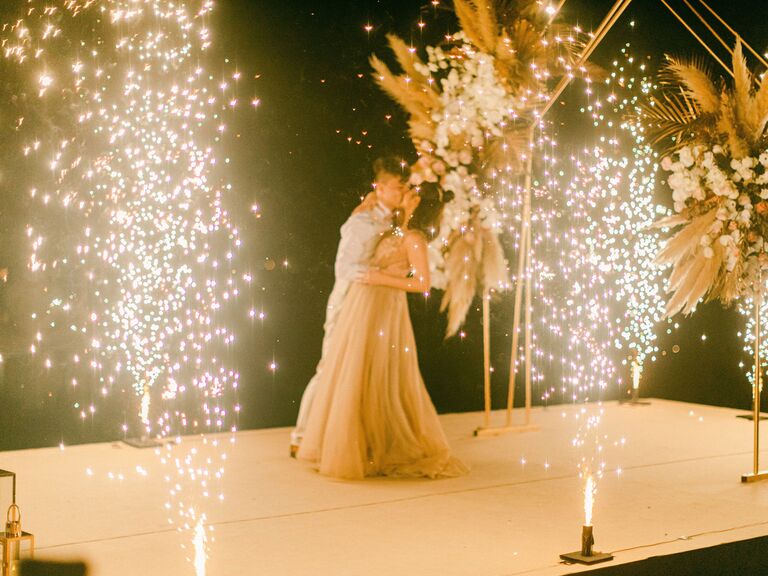 Add extra sparkle to your event with a fire element. Use fire fountains (like the ones in this picture), fireworks or hand-held sparklers. Just make sure it's safe to use these things in your chosen location.
Black and White Wedding Dress Code
Nail the New Year's Eve wedding theme with a black-and-white dress code. If you and your partner are planning on wearing white, ask your wedding party and guests to wear black. The pictures will look amazing.
Black, White and Gold Wedding Cake
Incorporate all of the classic New Year's Eve colors into your wedding cake. Work with your baker or cater to bring your vision to life.
Outdoor Winter Wedding Ceremony
If you and your partner love the winter weather, celebrate that. Exchange vows in a snowy spot—and then head inside to countdown to the new year.
New Year's Eve-Themed Wedding Stationery
Get your guests excited for the holiday (and your event, of course) by using New Year's Eve-themed wedding stationery.
Sparkly Ceremony Details
Set the tone for your nuptials by incorporating festive decor. Hang sparkly orbs from the ceiling and create an arch make out of fairy lights.
Disco Ball Wedding Cake
Here's a sweet and creative New Year's Eve wedding idea: Order your cakes in the shape of disco balls.
Glittery Wedding Accessories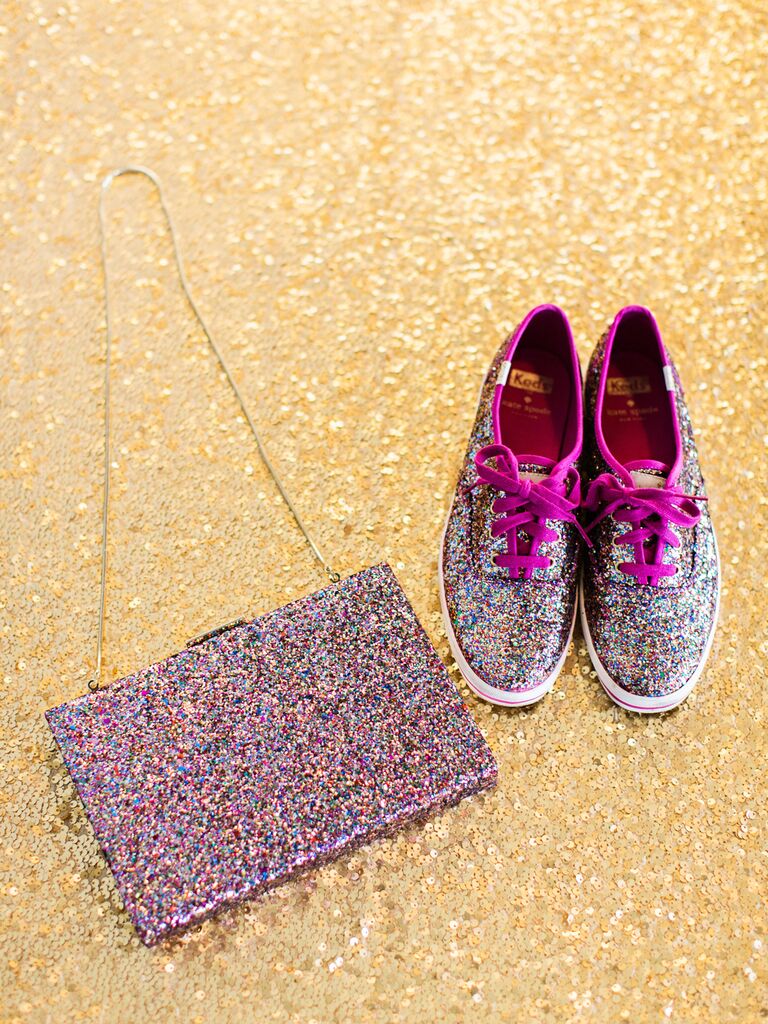 If you're looking for a subtle way to incorporate New Year's Eve into your wedding day outfit, this is it. Wear a pair of sparkly sneakers and carry a matching purse.
New Year's Eve Party Favors
We love this unique spin on an escort wall. Offer your guests a celebratory noisemaker and list their table number (or seat) on it too.
On-Theme Wedding Favors
Get your guests in the holiday spirit by offering New Year's Eve-themed hats and party favors to your guests. Psst: They're perfect for a photo booth. Make sure you take a picture at midnight!
Sparkler Wedding Exit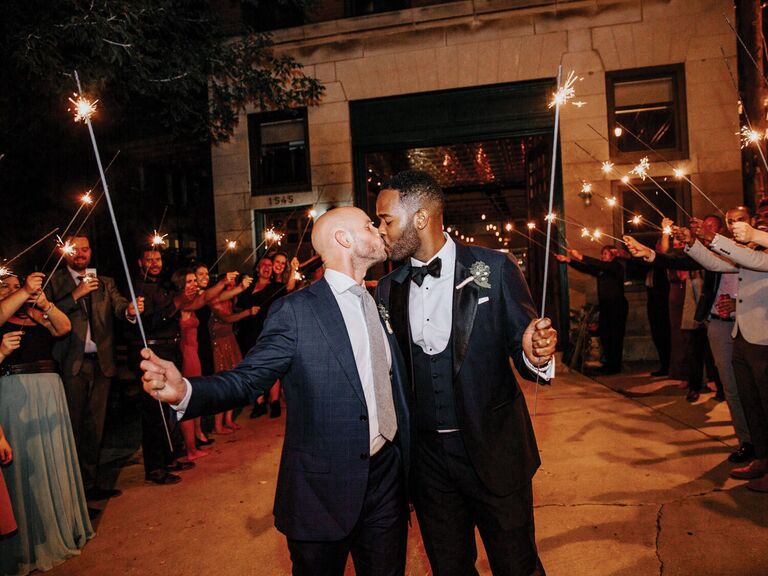 Celebrate the holiday and your marriage with an epic wedding exit. Give your guest sparklers to hold as you leave the reception.