How to Buy or Sell Used Wedding Dresses
Check out our reviews of the best websites for preowned wedding dress resale.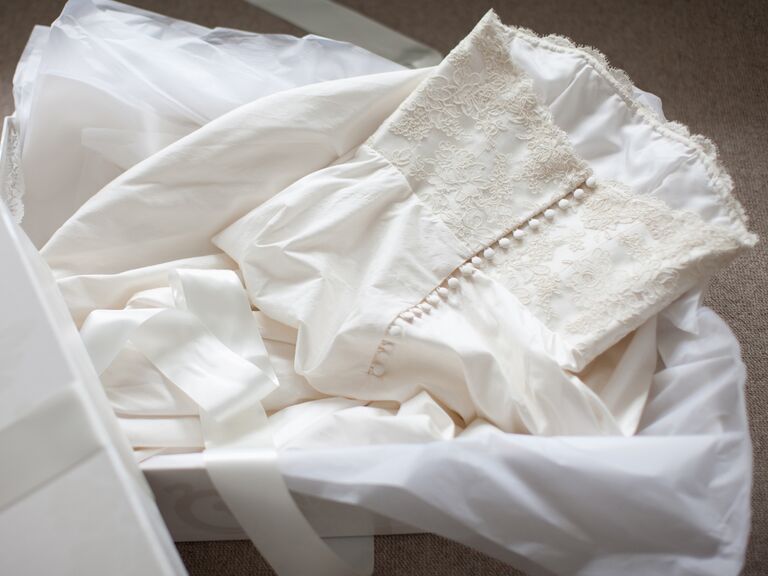 Getty Images
We have included third party products to help you navigate and enjoy life's biggest moments. Purchases made through links on this page may earn us a commission.
Whether you aren't the sentimental type or you're just savvy, selling your used wedding dress is an easy way to recoup some money from your wedding. If your dress is in good condition, consider listing it online over selling it to a thrift store, where the piece will reach a greater volume of potential buyers and can be more easily shared and promoted. If you're in the market to sell your wedding dress or looking to buy a used one, you may be tempted to turn to large online marketplaces like Ebay and Craigslist. While these popular websites are great for listing and buying everyday purchases, a website specifically for used wedding dresses can probably offer you a better deal and a more user-friendly service for this very niche (and important) wedding day purchase. Check out our tips for buying and selling a preowned wedding dress— plus our reviews of the best used wedding dress sites—below.
Tips for Selling Used Wedding Dresses
A used wedding dress in great condition and under two years old can usually sell for 50 percent of the retail price. And, if your dress is by a more recognizable brand like Oscar de la Renta or Vera Wang, you could make closer to 60 percent of its retail value. Some consignment websites also offer tools to help you decide what to charge.
Since there's a large demand for all kinds of secondhand wedding dresses, a designer label doesn't necessarily mean your dress will sell faster. But presentation does matter. Put your best photos forward to show off how amazing the garment really is. Hang your dress up in a well-lit environment and make sure to get clear, full-length photos of it from every angle. If there are intricate details on your gown (think: antique buttons, beaded straps, 3-D floral embellishments), it doesn't hurt to take some close-up shots of those. You may also want to include some photos of yourself wearing the dress (if you're comfortable with that), so potential buyers will know how it fits.
Finally, consider getting your dress professionally cleaned—Nearly Newlywed, a leading used wedding dress resale site, says it could sell twice as fast. (We recommend Wedding Dress Preservation by the Knot's Wedding Dress Cleaning Only package.)
What To Look For When Buying Used Wedding Dresses Online
Buying a used wedding dress can be a bit of a gamble, but as long you're cautious, it's a thrifty way to snag a designer wedding dress for half the retail value. Plus, if you get lucky and buy a preowned wedding dress from someone with a similar body type, you may not have to make too many alterations, which also cuts down your costs. Did we mention buying used wedding dresses is eco-friendly, too? It's an excellent way to reduce and reuse.
As long as the gown you found looks to be in good condition (if you can't see it in person, make sure photos show it clearly from all angles or ask to FaceTime with the seller to get a better look), a used wedding dress can be a terrific deal. A few tips: Since your dress will probably have to be custom-tailored to your body regardless, a larger size is easier to work with where alterations are concerned. Fabric can always be subtracted, but adding more fabric that perfectly matches the rest of the gown can be difficult (not to mention expensive). And because you're getting the wedding dress for a steal, you can put some of the money you save toward making sure it fits like a glove (and some extra dry-cleaning if necessary).
More words to the wise: Look carefully into your site or salon's authentication and return policies before committing to anything. That way, you'll know exactly what to expect in the event your pre-owned wedding dress shows up damaged or misrepresented.
Where to Buy and Sell Used Wedding Dresses Online
If you're trying to figure out where to buy or sell a used wedding dress, you have both online and brick and mortar options. What's the best choice for you? It depends on the buying or selling experience you're looking for. If you want to see your preowned wedding dress in person before you buy, we suggest perusing local consignment salons. Similarly, if you're selling your pre-loved gown but you aren't the most digitally savvy or concerned with making a commission, consider giving your dress to a local consignment salon or thrift store, or donating it to charity. However, if you're looking to browse a huge selection of gowns or give your preowned wedding dress a new life and make some cash, an online marketplace is your best bet. Below, we breakdown the pros and cons of the most popular sites to buy and sell used wedding dresses.
Nearly Newlywed
Part used wedding dress boutique, part inspirational blog, Nearly Newlywed saves sellers time and stress by handling all buyer interactions and shipping. The application process is quick and easy: Sellers just submit their measurements with a wedding dress description and photos of their gown. If their listing is approved, Nearly Newlywed takes it from there, answering any buyer questions and shipping the dress directly. So, sellers can sit back and relax while the website's experts do the grunt work. Bonus: The website also sells wedding-related jewelry and accessories. Why do we love Nearly Newlywed so much? This innovative marketplace makes putting used wedding dresses for sale (and buying them!) as seamless as possible. If you're purchasing a used wedding dress, the thorough authentication process ensures you're paying for the real deal and not a counterfeit wedding dress. And if you're selling, once your application is approved, your work is done. Be aware that this website charges a $20 listing fee, and once your dress is sold, you'll earn 70% of the final price.
Tradesy
A fashion-forward website geared toward designer brands, Tradesy offers a streamlined interface with a quick listing process. The website is curated like a high-end retailer site (think: NET-A-PORTER or Shopbop for preowned wedding dresses and other brand name items). Users can search used wedding dresses by label, size, style (think: "formal," "retro" and "destination") and more. Tradesy takes roughly 20 percent commission on sales, and promises prompt payment. They also cover shipping and return costs. If you're buying, Tradesy comes with a money back guarantee if wedding items are inauthentic, taking some of the worry out of the used wedding dress buying process.
Still White
A marketplace specifically for used wedding dresses, Still White may not look as fancy as other preowned wedding dress websites, but it offers a wide range of used wedding dresses. The over 60,000 listings (yes, you read that right) feature preowned wedding dresses from basically every designer of note—from Vera Wang and Pronovias to Essense of Australia and Maggie Sottero. This straightforward website gets down to the nitty gritty and lets users browse by dress condition, taking the mystery out of the secondhand wedding dress buying process (after all, a sample dress is usually more worn than something brand new). Sellers can create a listing for $25 or upgrade to a premium listing for $35—that means their dress will be promoted on the site. While it's an initial fee to create a listing, the website takes no commission, meaning sellers keep pretty much all of their sales. You know what we call that? A bridal fashion win.
PreOwned Wedding Dresses
Boasting tens of thousands of used wedding dress listings, PreOwned Wedding Dresses has been around since 2004 and offers a super-large selection. Sellers can list their used wedding dresses for a flat fee of $25 and can negotiate the price directly with potential buyers. But there are also some fees to use the site's recommended, protected forms of payment. The trick to selling on this website is making your wedding dress listing stand out, since the quantity of secondhand dresses on the site can feel daunting. Though it can be more difficult to navigate than other secondhand wedding dress websites, PreOwned Wedding Dresses has some extra perks: you can also buy and sell wedding party dresses, and there are lots of helpful wedding dress FAQs available, as well as an inspiration blog.
Poshmark
Poshmark is a marketplace for secondhand fashion, beauty and home decor that also has a smaller selection of used wedding dresses for sale. The listing process is simple: You snap photos of your used wedding dress and write product description yourself—no listing fees or approval process. For sales of $15 or more, you keep 80% of your sale and Poshmark's commission is 20%. Buyers also cover your shipping costs, and Poshmark sends sellers a prepaid shipping label once the sale of their dress is finalized. While this is a hassle-free approach for sellers, it also means buyers don't have the built-in security of an authentication process and could end up with a counterfeit garment. Buyer beware: All sales are final on Poshmark. However, a buyer may open a case with Poshmark if they don't receive their item or the item they receive is not as described.