How to Throw a Virtual Bridal Shower (or Bachelorette Party) and Still Make It Special
Ain't no party like a computer party.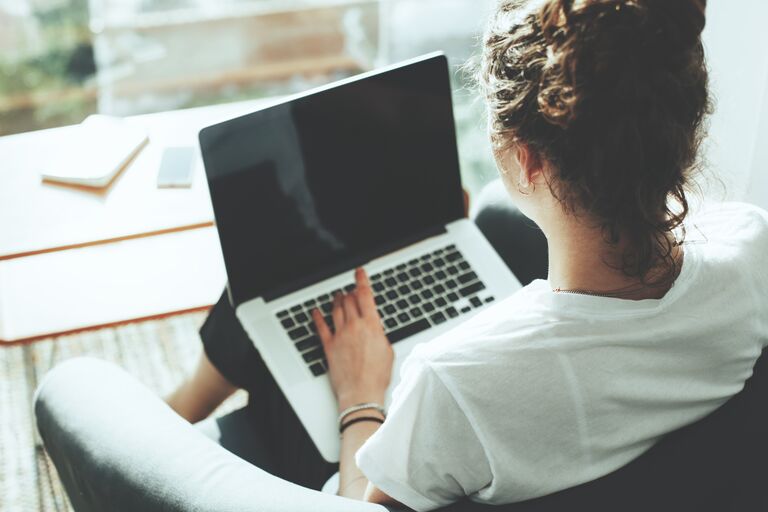 Alex from the Rock / Shutterstock.com
We have included third party products to help you navigate and enjoy life's biggest moments. Purchases made through links on this page may earn us a commission.
Due to the state of the coronavirus outbreak, many couples have had to postpone their spring 2020 weddings. But to-be-weds are also postponing pre-wedding events such as bridal showers and bachelorette parties. If that's the case, we're here to help.
We've compiled ways to host a virtual bridal shower (or bachelorette party) and still make the to-be-wed feel celebrated. While the in-person gathering might be scheduled for a later date, you can still plan a fun party for the soonlywed in the meantime (while adhering to guidelines proposed by the Centers for Disease Control and Prevention). Whether your bride-to-be loves a night on the town, a chill evening in or a group game night, know that you have options.
First, let your guests know that there's been a change of plans. Send a note with an explanation of your new event: while the event won't be taking place at the original location, it's still happening. Next up is finding the right service to use, including tools like Facetime, Hangouts or Zoom. There are also several apps and websites that are offering virtual group bach experiences and events. There are several different platforms that allow for virtual meetings. Just be sure to confirm that guests are all able to access the event.
Read on to see how to throw a virtual bridal shower or bachelorette party that your friend will absolutely love.
Have Guests Send Gifts and Cards
Gift etiquette during the coronavirus pandemic might be difficult to navigate. If the shower has been postponed, it's a best practice to purchase a gift for the new date.
However, it's still a thoughtful gesture to get your friend a little gift to show your support during her virtual event. You can mail something, sign the recipient up for a subscription box (think: FabFitFun or Maeven), or go online to gift virtual monetary presents. Most of her favorite boutique workout classes, restaurants and even wedding vendors are offering gift card options for future use. There are even apps, like Givingli, which allow you to give a gift card to your loved ones from a number of different retailers through your phone (it even lets you pick a virtual card and message to accompany the gift). Take time to choose a thoughtful gift your friend will appreciate, as they've had to reschedule so much.
For an added special touch, request each guest write a card or note that your friend can read during the online hang out.
Get Your Friend's Partner Involved
Add a sweet surprise to any of these options by getting your friend's partner in on the fun. They can surprise your partner with a sweet treat, a yummy cocktail or a bachelorette party sash. It's a fun way to involve both members of the couple (since they're likely sharing a space during this time). Plus, it will make your friend feel extra-special.
Create a Custom Snapchat Filter
Celebrate the to-be-wed in style by creating a custom Snapchat filter. It's a small, easy way to make the celebration feel more special. Guests can take silly pictures or funny videos during the event and post on their social media. You can either design your own filter in the app or you can buy one that's ready to go. We recommend checking out the options on Etsy—they've got designs for any theme, season, location or taste.
Host a Cocktail Hour
Share a drink with the bride-to-be online. Schedule the virtual hang out and indicate that it's BYOB (meaning everyone makes their own drink at home, of course). If the original event was a brunch, ask guests to try and make mimosas at home. If it was a cocktail-style party, have guests make their favorite drink and swap recipes. You can even surprise them with a bottle of champagne delivered to their door with Drizly, an on-demand alcohol delivery service. It's a fun way to spend quality time together and make the bride feel special.
Plan a Relaxing Spa Day
If your friend likes a quiet night at home, have her virtual bridal shower or bachelorette party reflect that. Rather than planning a high-key activity, suggest a virtual spa day instead. Ask guests to bring their favorite face masks, eye patches or nail polish to the meeting. If you want to make it more of a structured activity, guests can get a manicure kit online (we love this Olive & June one) and practice their nail art skills.
Emcee Computer Karaoke
If your bachelorette plans involved a night out on the town, keep the high-energy vibe going by becoming an emcee for online karaoke. You can use YouTube or apps like Smule to get the music and lyrics for your crew. Lead the fun by introducing contestants and hyping up members of your squad before they perform. It's a sure fire way to get everyone involved (and get everyone laughing).
Lead a Cooking Class
So maybe you were supposed to do something interactive, like a painting class or a cooking class. You can still make that happen with your webcam. Here's how to throw a virtual bridal shower or bachelorette party that involves cooking together: Find a simple recipe that your bride and guests can follow, and then lead them through it. Not only is it a fun activity for the group, it will also provide a delicious meal that everyone can enjoy together afterwards.
Coordinate a Workout Class
If the attendee of honor is always at a workout class or at the gym, plan a special surprise for her. Find a personal trainer or studio instructor that would be willing to host a live workout for her bachelorette party. Whether she loves kickboxing, barre or yoga, there are many fitness pros offering live workout classes online in light of the pandemic.
Have a Dance Party
Who doesn't love a good dance party? While it may not be the same as going out to a club with your squad, you can host a virtual dance party. Put together an awesome playlist with your friend's favorite tunes and get your guests moving. If you want to make sure everyone gets in on the fun, consider leading the guests through simple choreography. That way, everyone can show off their moves. If you want to take it one step further, you can lead an online dance-off after teaching everyone the steps.
Add old-school flair to your virtual bach party by breaking out a game for everyone to play. Opt for a classic board game or card game to get everyone involved. You can take it one step further by getting a customized game for your bash. We love Bundle, a company that creates a personalized board game based on your own memories and inside jokes. For a variety of different virtual games, check out the selection on Let's Roam.