11 Virtual Bachelorette and Bridal Shower Games That Are Actually Fun
Get your scorecards ready.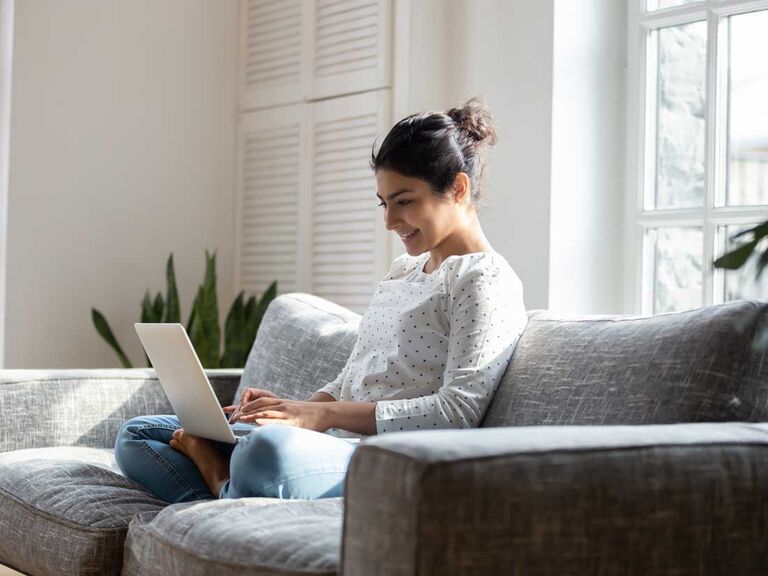 fizkes / Shutterstock.com
We have included third party products to help you navigate and enjoy life's biggest moments. Purchases made through links on this page may earn us a commission.
If you're planning a bachelorette party or bridal shower, there's a chance it may become a virtual celebration as a result of the COVID-19 pandemic. While having an online party likely wasn't the original plan, it can still be a memorable experience for everyone involved. And thanks to innovative solutions, there are plenty of virtual bachelorette party and virtual bridal shower games to play that are actually fun.
Though nothing can replace an in-person experience, a great game (or two) will make your Zoom meeting or Google Hangout special. To help ease the planning process, we've rounded up the best virtual bridal games that your guests will enjoy. (We pinky swear.) From online activity packs to custom trivia templates, these wedding games will liven up any digital party. Find our top picks below, and start planning your virtual wedding extravaganza.
Let's Roam is an app that specializes in themed outdoor scavenger hunts, making it a great activity for bachelorette parties. But since the coronavirus pandemic has affected public gatherings, the company has since released a new video platform that's made specifically for indoor parties. The brand's new Virtual Game Night pack includes a one-hour party with five rounds of games, where users have the ability to select which games they play every round. Options include themed trivia, virtual charades, sing-alongs and more. The game night pack can be purchased at $40 for a one-time use, or players can chip into a monthly subscription at $20-$30 per month with the ability to host four different game nights every month. Once the game is purchased, the host can send a unique URL to everyone who will be attending—meaning no one will have to download extra software or apps to play along.
If you have a group of eight or less, invite everyone to a Houseparty chat. The app allows eight users to video chat in different "rooms." There's no need to initiate a call, either—once users have downloaded the Houseparty app, they'll be notified when their friends join a room, meaning players can come and go as they please. Once your guests are all in a room, click the dice to start a free game. (Our favorite is Chips and Guac, but options also include Heads Up, Trivia and Quick Draw.) Even if you can't be in a house physically together, this game will mimic the experience for your virtual bachelorette party.
Bachelorette bingo is always a fun in-person game to play to get the party started. But with a little creativity, you can adapt this custom template to fit a virtual gathering too. Once someone purchases this template on Etsy, the files can be edited to fit your group. When you've finalized the card, share it with all of the attendees so they can print it out at home (or play from their phone). Have this serve as an ongoing game throughout the entire party—once someone gets Bingo, they win a prize.
What you put in the squares is completely up to you, although we love the idea of tailoring it to fit your virtual party theme (and the guests who will be attending). If you need inspiration to get started, here are some of our favorite box prompts:
Someone has WiFi problems
A pet comes into someone's video frame
Someone's audio or video cuts out
The bride-to-be takes a shot
Someone changes their digital background
A guest gets emotional
Someone shares an embarrassing story about the to-be-weds
Someone takes a picture for their Instagram Story
A guest's family member pops in to say hello
Someone is wearing a bridal party T-shirt
Looking for games that'll keep everyone engaged? Your group will get a kick out of Jackbox Games. You can purchase a party pack or an individual game from the brand's website or through any app store. In order to play, you'll just need your phone or a web-enabled device (meaning you can also play on an iPad, PlayStation, XBox or Nintendo Switch, to name a few). Once one person starts the game, you'll get a custom room code. All players can go to Jackbox.TV in their browser and enter the same game.
For virtual bachelorette parties and virtual bridal showers, we recommend everyone joins a Zoom meeting or Google Hangout first. One person should broadcast their game on a TV and join the group video chat with a laptop. Then, turn the camera to face the TV so everyone on the call can see. That way, participants can easily play along together.
Who knows the to-be-weds the best? Find out by creating a custom game with TriviaMaker. One person can build a trivia game that's all about the partners. When you're ready to play, the host can share their screen over a video chat to broadcast the questions for everyone to see. The best part about this game is that there's no limit to who can play, so it's easy to get everyone involved if you're hosting a large group. The couple can serve as judges to see which friends really know everything about them.
Perhaps you want to play a trivia game, but you'd rather use a physical scoresheet instead of a virtual game. If that's the case, download this file from Etsy and share with guests. (This option is also perfect for the host who would rather use a template than come up with their own ideas.) Once everyone joins the video chat, have the couple lead the game. When everyone has filled in their answers, the to-be-weds can judge who really knows them best.
If your crew loves Cards Against Humanity, Remote Insensitivity is a great virtual alternative. The rules for both games are similar: One player flips a card to reveal a fill-in-the-blank statement, and everyone else plays their best cards to win the round. While Cards Against Humanity isn't made to be played virtually, this alternative is specifically designed for online use. Once one person starts a game, they can share the unique URL with guests so everyone can join together. We recommend playing the game while everyone is on a video call so you can see (and hear) reactions to the unpredictable cards.
Famous Pair Trivia
Hollywood is full of perfect pairs: Chrissy and John, Beyoncé and Jay-Z, Goldie and Kurt, Amal and George, to name a few. To put your group's knowledge of famous power duos to the test, have the host put together a guessing game of the most iconic duos of all time. Call out one half of the couple, and have guests write their guess to complete the pair. To make it harder, include couples from TV, movies and books too. Not only is this free game perfect for a group of pop culture junkies, it's a fun way to accommodate a larger group that doesn't fit in a virtual game room. (To make it a visual experience, we recommend making a presentation and sharing the screen to make it more engaging.) Up the ante by offering the winner a gift.
Created by the same company that made Ellen DeGeneres's beloved Heads Up game, Psych! is a trivia game that encourages you to lie to win. Your group can join a game remotely though the free app. Then, prompts will encourage you to create false trivia answers to deceive your friends. You'll get points for tricking people into picking your answer and for guessing the correct choice.
Name That Tune
Perfect for a group of music-lovers, this free virtual bachelorette party or virtual bridal shower game idea is a fun way to keep up the energy at no extra cost. Have the host compile songs in a playlist for the game. Once everyone is ready, play a few seconds of the song without giving it away. Guests can receive points for correctly naming the title and the artist. Send the winner a special prize to up the stakes of the game.
This virtual game option requires a bit of creativity, but it'll be worth it if you're looking to spice up your party. For The Girls is an adult party game that'll break the ice and get everyone sharing secrets within no time—and yes, it's actually fun. The card pack includes 100 "Truth or Dare" cards, 100 "Never Have I Ever" cards, 100 "Rapid Fire" cards, 100 "Best of the Best" cards, 100 "Most Likely To" cards, and one die. To play virtually, have one person purchase the game and act as card czar. Once everyone joins a video call, the player in charge can manage the die and cards for everyone else. The game is simple, so there won't be any confusion if you do choose to play online. And with plenty of fun (and cheeky) questions, you'll make memories to last a lifetime.