How to Make Your Own Snapchat Geofilter for Your Wedding
Looking to personalize your wedding day even further? Make a custom Snapchat geofilter on The Knot!
by Ivy Jacobson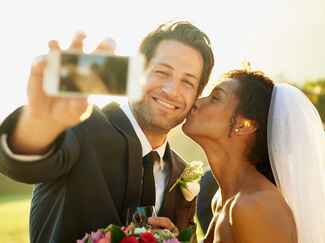 Were you as obsessed with the cute, techy way Snapchat CEO Evan Spiegel proposed to supermodel Miranda Kerr as we were? The custom proposal cartoon geofilter placed on the snap was so personalized and unique. Since then, couples have hopped on the tech trend and started designing custom filters for their own wedding events. Interested in customizing one for your own celebration? It just got a lot easier thanks to the new snapchat filter feature on The Knot—here's how to do it.
After creating a wedding website with us, we'll help you make your own totally customized geofilter. In other words: All of your wedding tech will be in one place. Convenient, right? But you don't even have to have designed a website yet—you can create personalized filters for any (or all) of your special events. Design different gorgeous templates for your engagement party, bridal shower, bachelor and bachelorette parties, wedding day and day-after brunch—or use a similar filter for each event for a stylish and cohesive theme throughout. 
Choose from a variety of pretty templates and thousands of graphics and fonts, then make it your own by adding fun emojis, your names, hashtag, wedding date or location. The choices are endless!
Ready to make some geofilter magic? Get started here.