5 Famous Brides Who Wore Vivienne Westwood Wedding Dresses
Carrie Bradshaw started a movement.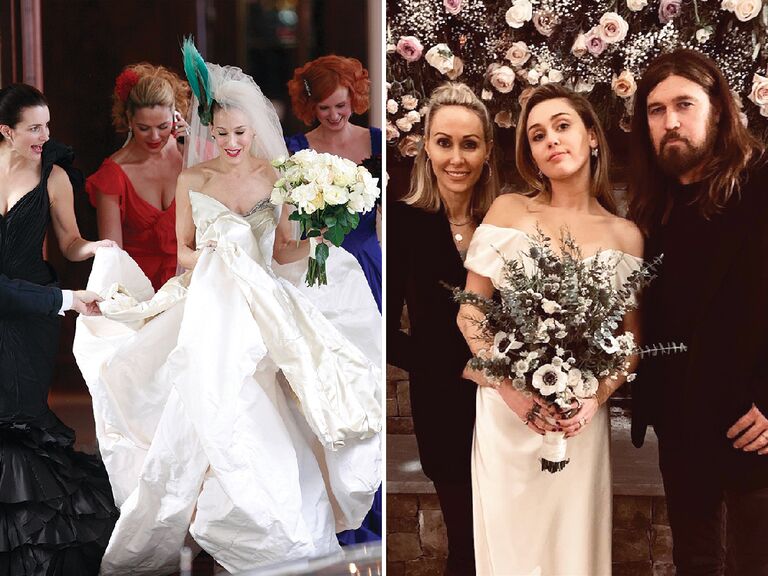 Marcel Thomas / FilmMagic,@TishCyrus / Instagram
When it comes to famous fashion designers, you probably know the name Vivienne Westwood. The illustrious British creator, best known for her edgy and innovative eye, made a name for herself as a pioneer of the punk fashion era in the 1970s. In addition to her couture and streetwear designs that pushed the boundaries of mainstream style, Vivienne Westwood also launched a bridal line too. (Notably, she made her own wedding dress for her marriage to first husband Derek Westwood in 1962.) Over the years, Vivienne Westwood wedding dresses have become a favorite of brides around the world—especially after one of her gowns took center stage in the beloved Sex and the City movie.
Here, we look back on five famous brides who wore Vivienne Westwood wedding dresses. From Miley Cyrus to Carrie Bradshaw herself, these Vivienne Westwood bridal looks encapsulate the brand's ability to expertly marry luxury with unconventional design tactics for ensembles that are simply unforgettable.
Carrie Bradshaw's Wedding Dress
Perhaps the most recognizable Vivienne Westwood wedding dress is Carrie Bradshaw's. The main character of Sex and the City, portrayed by Sarah Jessica Parker, won over the hearts of viewers as she balanced dating, writing and living in New York City in the 1990s. Following a six-season run on HBO, the series continued with a movie of the same name in 2008, which chronicled her highly-anticipated wedding to the polarizing Mr. Big, her on-again, off-again fling. For the occasion, Carrie Bradshaw wore a Vivienne Westwood wedding dress that would later start a movement. The memorable gown featured an angular strapless neckline, which led into a voluminous skirt with pickups. It was styled with an equally-lavish tulle veil and a teal feathered headpiece, along with metallic heels.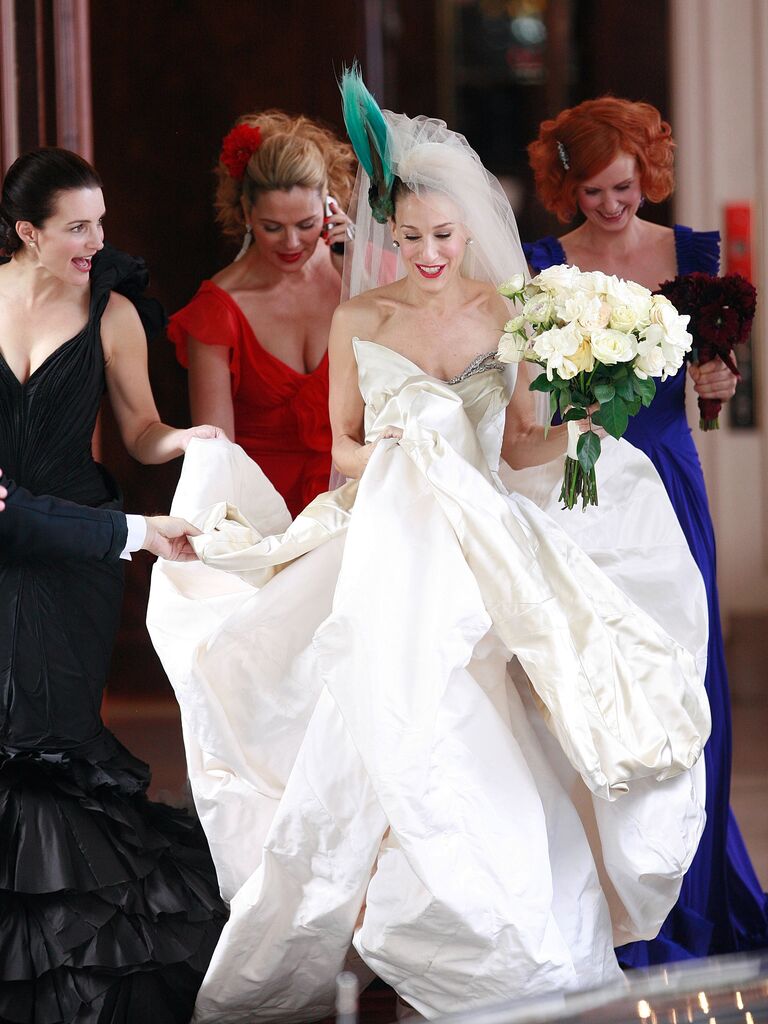 As fans of the show know, though, this iconic Vivienne Westwood wedding dress never made it down the aisle of the New York City Public Library. Mr. Big got cold feet before the couple swapped vows, which led Carrie to throw her bouquet at his head. Luckily, it wasn't the last time we saw Carrie Bradshaw's Viviene Westwood wedding dress. As the cast filmed season two of the revival series And Just Like That… in 2022, Parker was spotted roaming the streets of New York City in that exact gown, indicating this Vivienne Westwood bridal look will live on.
Miley Cyrus' Wedding Dress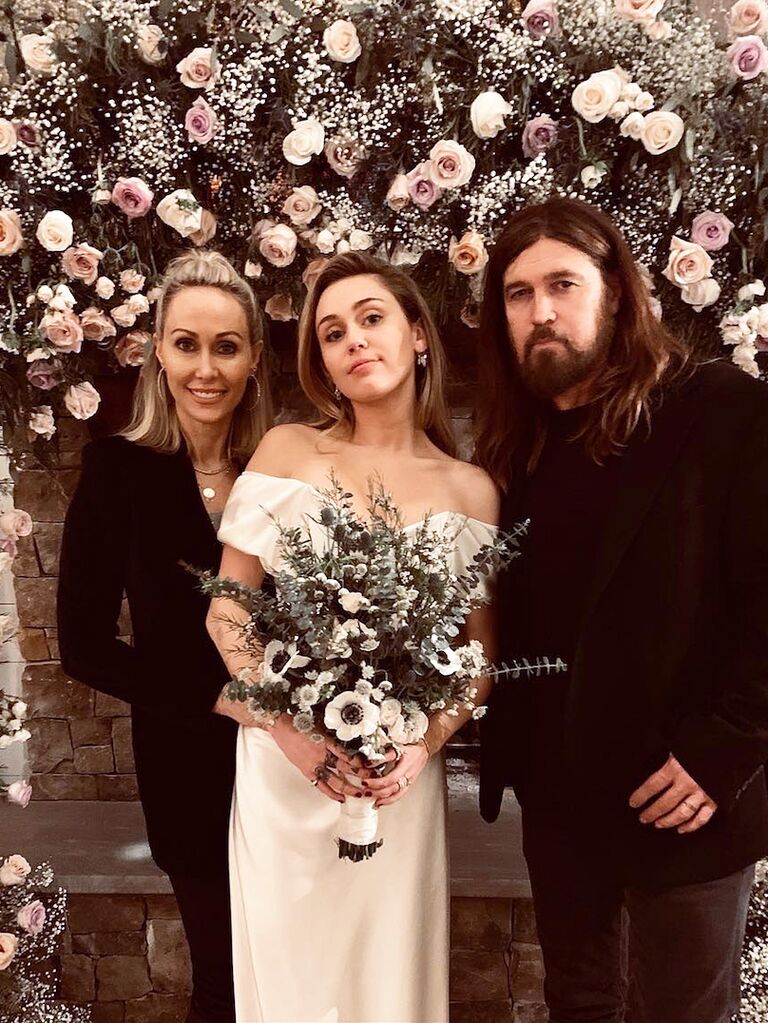 Miley Cyrus nearly broke the internet when she announced that she and Liam Hemsworth secretly got married at home in Nashville on December 23, 2018. The couple shared the news a few days later by posting photos from the intimate soirée on social media, portraying the bride and groom surrounded by their families amid lush displays of pink flowers in their living room. Miley Cyrus wore a Vivienne Westwood wedding dress for the occasion, which she selected from the label's made-to-order line.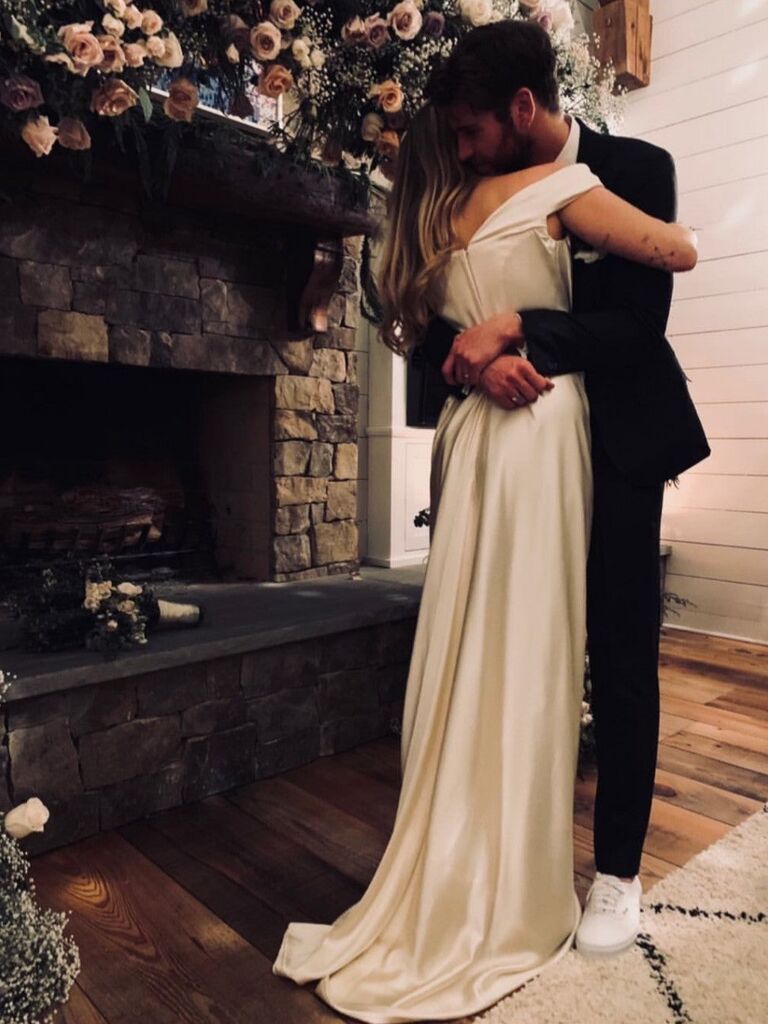 The minimal gown, which was worth $8,600, featured an off-the-shoulder neckline with a notch detail and a simple, flowy skirt. She wore her wavy hair down and accented her look only with a full green and white bouquet.
Lorraine Pascale's Wedding Dress
Model and chef Lorraine Pascale donned an elegant Vivienne Westwood wedding dress for her 2021 wedding in London, England. The flirty design blended tradition and modernity: it had an off-the-shoulder neckline, a mini tulip skirt, and a long train cascading from the back. Following the designer's death in 2022, the former British Vogue editor opened up to the publication about her decision to wear Vivienne Westwood bridal, noting that it was an easy choice. "For me, it had to be Vivienne, she was the heart, the soul, the rock and roll of British fashion," she explained. "I chose this style as I wanted something different…going short did not feel right for a wedding, and going long was a little traditional. So doing a little bit of both [for a 30-person wedding at Chelsea Town Hall in July 2021] was the perfect place for me to settle."
Georgia Fowler's Wedding Dress
Model Georgia Fowler wore multiple outfits throughout her January 2023 wedding weekend at her husband's family farm in Australia. In addition to a trendy Danielle Frankel ball gown, she also wore a custom Vivienne Westwood wedding dress for the ceremony. The strapless creation showcased the label's signature aesthetic, as it had a corset bodice with a curved neckline and a draped skirt.
"It was a true honor to wear a design from her final collection," the bride told Vogue Australia. "I had wanted to wear Vivienne Westwood for my big day for as long as I can remember. I always loved the brand, Vivienne herself and all it stands for. Her wedding dresses have the perfect mix of timelessness, sexiness, and elegance."
Anna Shaffer's Wedding Dress
When Harry Potter actress Anna Shaffer married Jimmy Stevenson, they had to pivot their 2021 wedding plans due to the pandemic and ultimately swapped vows at their local town hall in July of that year. While she admitted to not loving many bridal fashion designs, she told Vogue that Vivienne Westwood bridal stole her heart. "So many wedding dresses out there felt twee to me, reminiscent of communions and christenings…either too much going on, or not enough," she explained. "That's what I think Vivienne Westwood does so perfectly: she understands women's bodies, but channels sensuality and sexiness not through fragility and elegance, but structure and power. There is so much romance in the draping of her wedding gowns, but the silhouette is harsh and exacting, exhibiting the woman who wears it."
Perhaps unsurprisingly, a well-known Vivienne Westwood wedding dress may have inspired her final look. "Maybe it was my teenage self clutching my Vivienne Westwood bag, or that Carrie Bradshaw moment, or just the quiet hum of anarchy in me, who loved love, but wanted a white wedding on my terms," she continued. "But I knew that if it really was just this one dress on this one day, it had to be Vivienne Westwood. Putting on my dress for the first time I felt so unmistakably, unapologetically me. A strapless, off-white, corseted Betty Boop style that just skimmed the floor but I had altered to hit my ankles, it was my armor to march down the aisle in, ready for the next chapter. It was perfect, and me and my 16-year-old self will be forever indebted to queen Viv for that."