29 Harry Potter Wedding Ideas That Are Just Like Magic
Mischief managed.
At The Knot, we believe your wedding should reflect who you are as a couple. And if you and your partner are major Potterheads, then you should show off your Hogwarts pride on your big day. To help make it happen, we rounded up 29 Harry Potter wedding ideas that will bring all the magic. Whether you want to show off your Griffyndor, Slytherin, Hufflepuff or Ravenclaw pride, we have ideas for every kind of couple. We also included some of our favorite quotes and motifs (think: the Deathly Hallows and different Patronus shapes) from the beloved series. And of course, we'd be remiss not to include some of the most memorable spots from Hogsmeade! Don't mind the muggles—they won't understand.
Whether you want to incorporate a subtle nod to your love of the wizarding world or include it in every aspect of the day, we have suggestions for your ceremony and reception. Scroll through our favorite Harry Potter wedding ideas below to get inspired. Pro tip: Save your favorites to show to your wedding vendors so they can bring your vision to life. All aboard the Hogwarts Express!
Deathly Hallows-Inspired Arch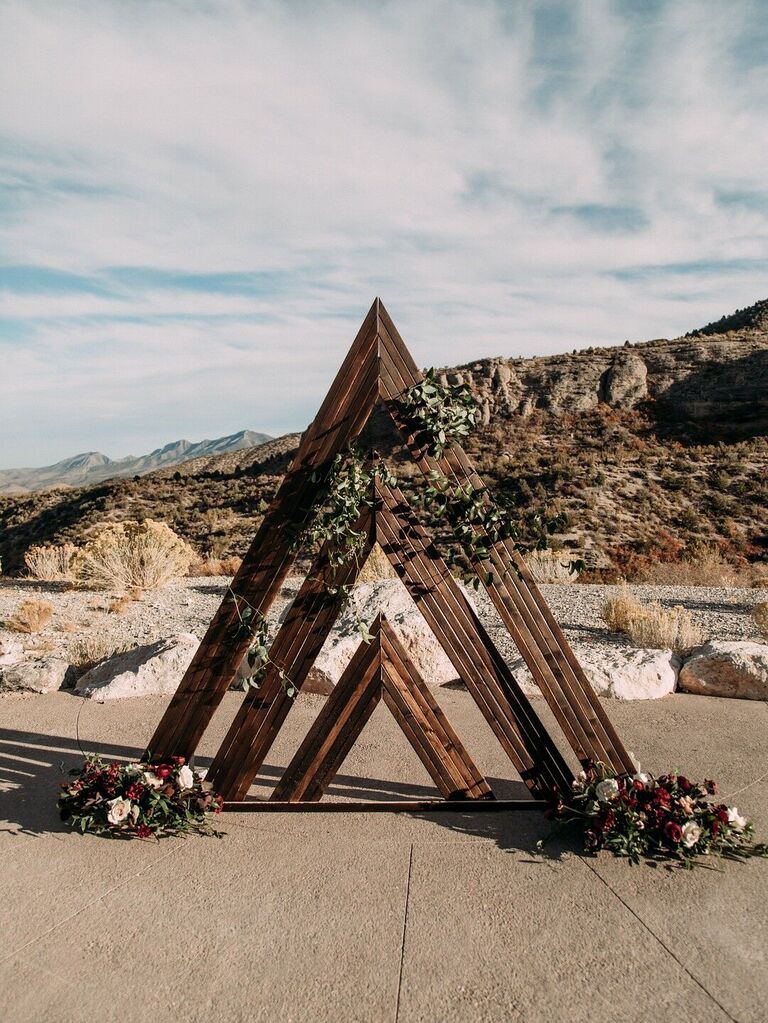 Looking for a Harry Potter wedding idea that isn't too in-your-face? We love this creative triangular arch, which is reminiscent of the Deathly Hallows. Fans of the franchise know the triangle represents the cloak of invisibility, which is a lovely symbol of your everlasting love.
Potion Cocktails
Welcome your guests to your celebration in style. Create cocktails inspired by some of the most notable potions from Professor Snape's class (think: Eye of Newt, Witch's Brew or Felix Felicis). Your guests can sip on the yummy drinks as they wait for the ceremony to begin.
Marauder's Map Escort Wall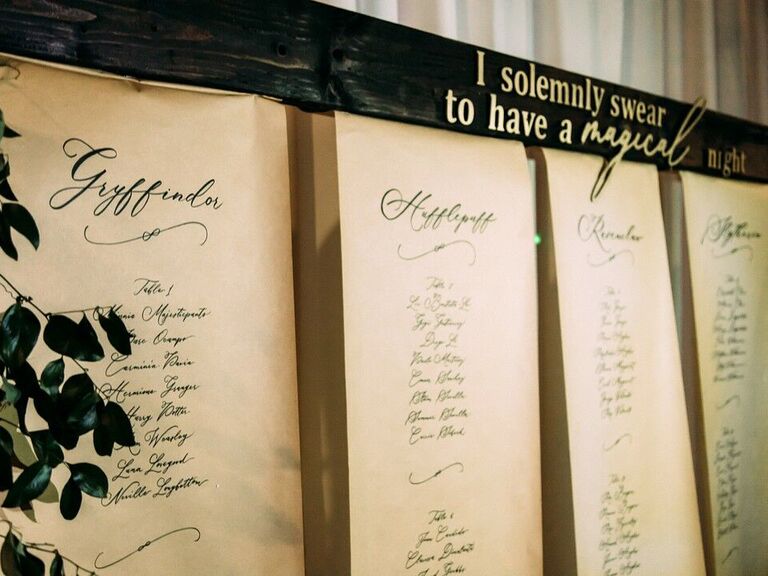 Pivot one of the most memorable quotes from Harry Potter into something a big more wedding-appropriate. We love the adaptation on this escort wall, which reads: "I solemnly swear to have a magical night." Go the extra mile by naming your tables after the different houses in Hogwarts: Gryffindor, Slytherin, Hufflepuff and Ravenclaw.
Dumbledore Welcome Sign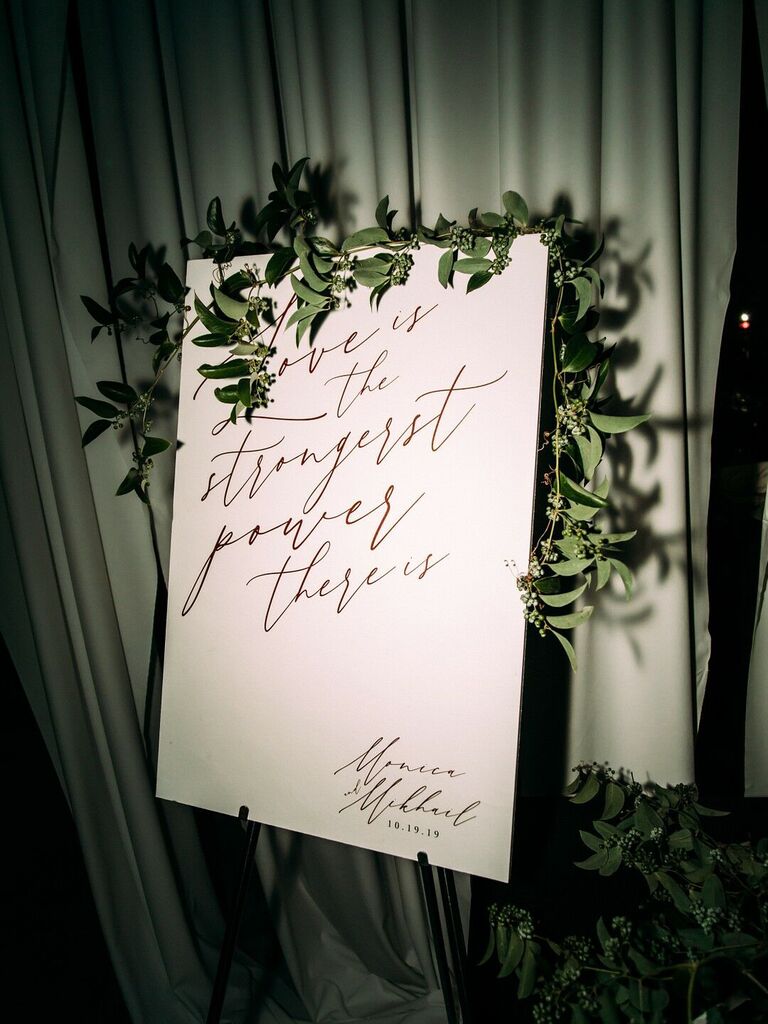 In addition to the magic and adventure, Harry Potter also contains some heartwarming quotes about love. We love the idea of including one of Dumbledore's most famous lines on your wedding welcome sign. Not only is it perfectly fitting for a wedding, it'll also clue your guests into your magical theme.
Golden Snitch Photoshoot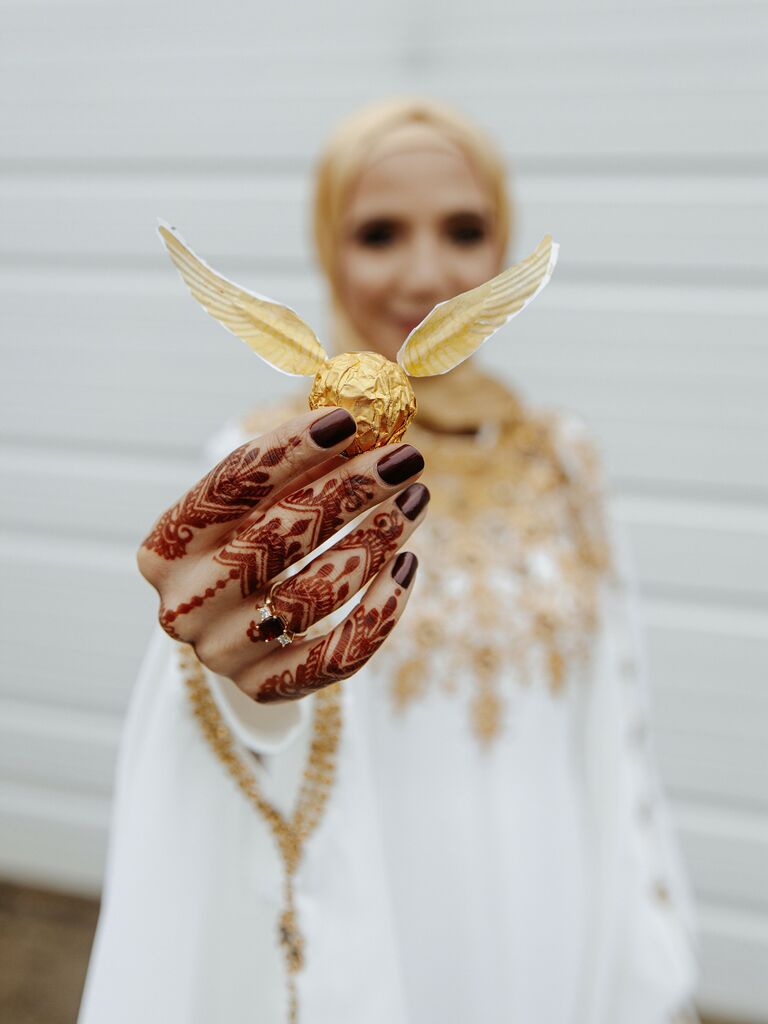 Get creative with your wedding portraits. For a memorable and magical photoshoot, include a golden snitch. It's also a fun way to show off your wedding manicure.
House-Inspired Florals
Incorporate Harry Potter into your wedding decor with colors that correspond to your chosen house. While we love the mix of Gryffindor and Slytherin colors here, feel free to use whichever colors represent you and your partner.
Golden Snitch Cake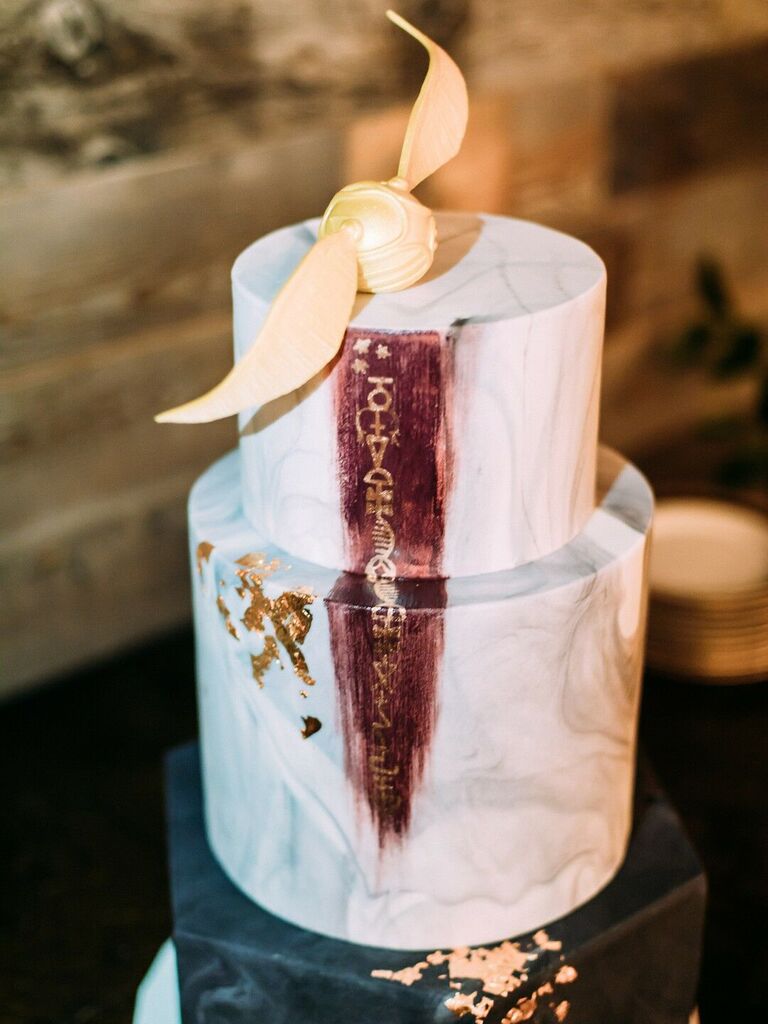 You won't need a seeker to find this snitch. Create a Harry Potter-inspired cake by incorporating colors of your selected house, and then place a golden snitch at the top for a sweet surprise.
Sparklers as Wands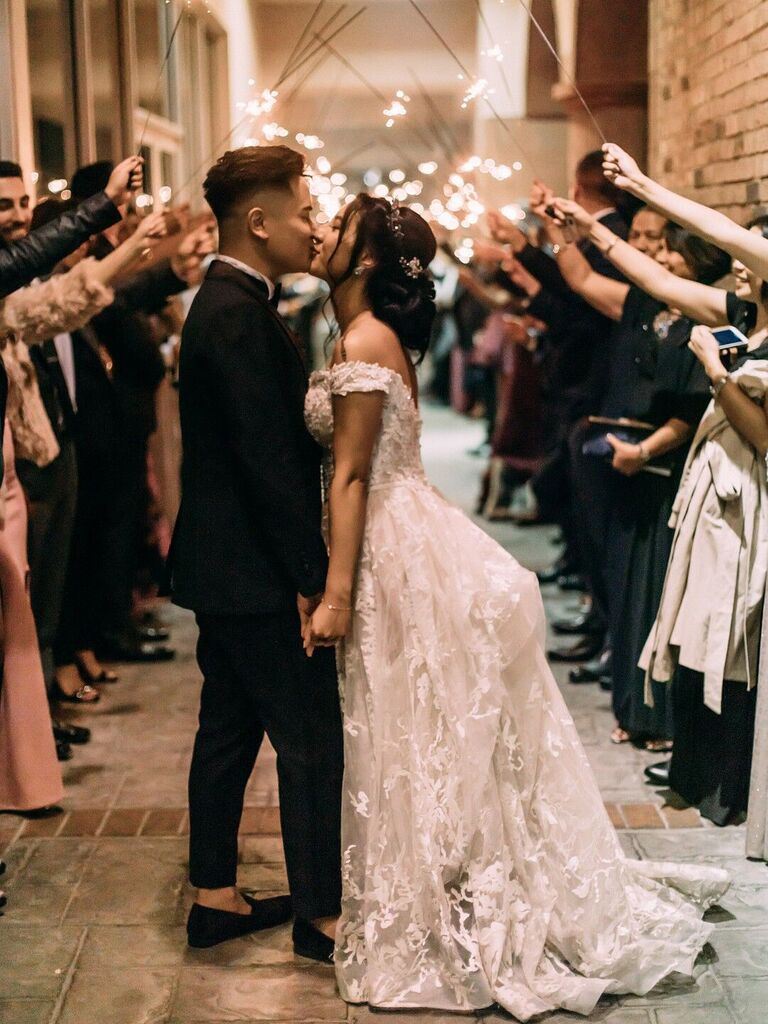 For a truly magical exit, give your guests long-stemmed sparklers. When your loved ones hold them up, they'll look just like wands.
Hogwarts-Inspired Signature Cocktails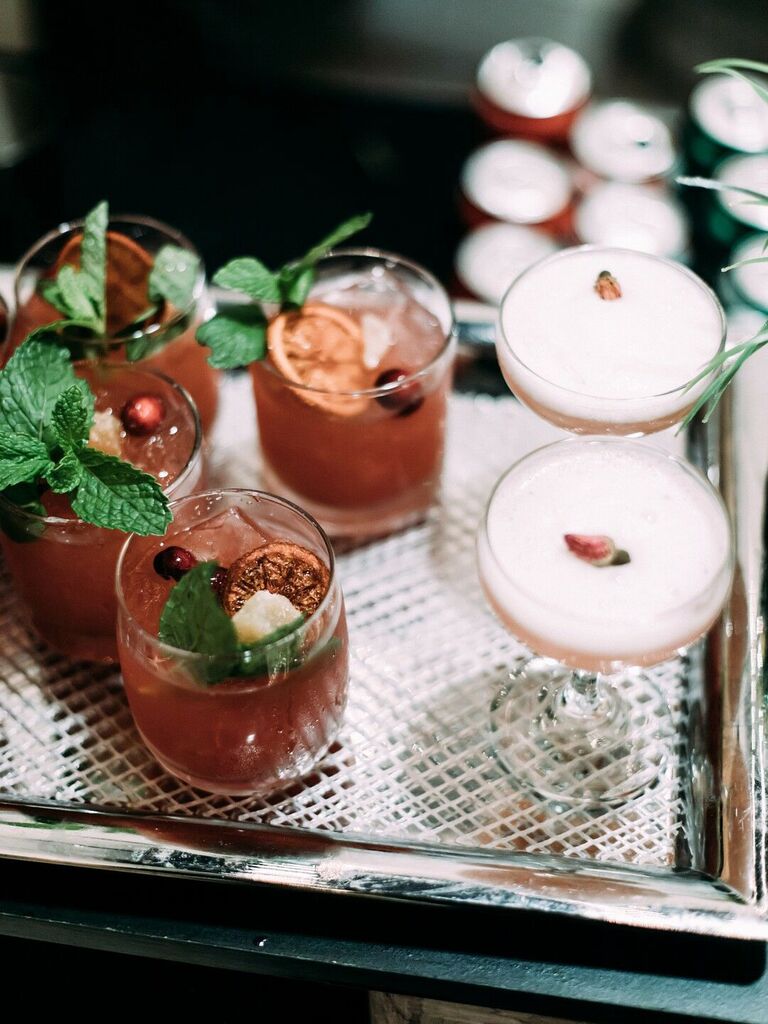 Combine your favorite drink with your favorite series. Work with your caterer to come up with creative Harry Potter-inspired names for your signature cocktails. The ones shown here are "Umbridge's Elixir" (because of the pink color) and "The Triwhiskey Cup" (in honor of the epic battle in the Goblet of Fire). Another idea? Serve a Hogsmeade specialty: butter beer.
Magical Tapestry Photo Booth Backdrop
Take a design note from Sirius and the Black family. Set up a photo booth backdrop that's reminiscent of the family tapestry at 12 Grimmauld Place, where your guests can take silly or serious photos together.
Daily Prophet Wedding Program
This just in from Rita Skeeter. Feature your nuptials on the front page of the Daily Prophet for a creative and memorable wedding program. Your guests will love reading through the ceremony details and any other information (read: spells) you choose to include.
House-Inspired Wedding Day Outfit
Whether you're a Gryffindor, Slytherin, Hufflepuff or Ravenclaw, show some pride on your wedding day. Rock an outfit (whether a suit, wedding dress or something else) in the colors of your assigned house for a personal touch.
Chocolate Frog Wedding Favors
Sadly, these chocolate frogs won't come to life, but they'll still make your guests smile. Gift your loved ones a sweet treat as a thank you for celebrating such a magical day with you. They'll transport your friends and family straight to Honeydukes.
Book Backdrop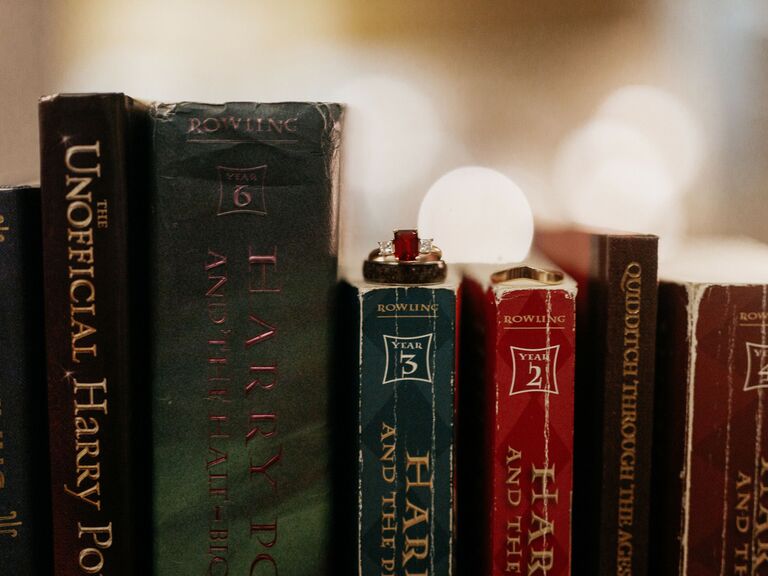 If you and your partner are particularly obsessed with Harry Potter books, try this creative photo idea. Place your rings atop a stack of your own personal library to show off your sparkling jewelry.
Flying Key Escort Cards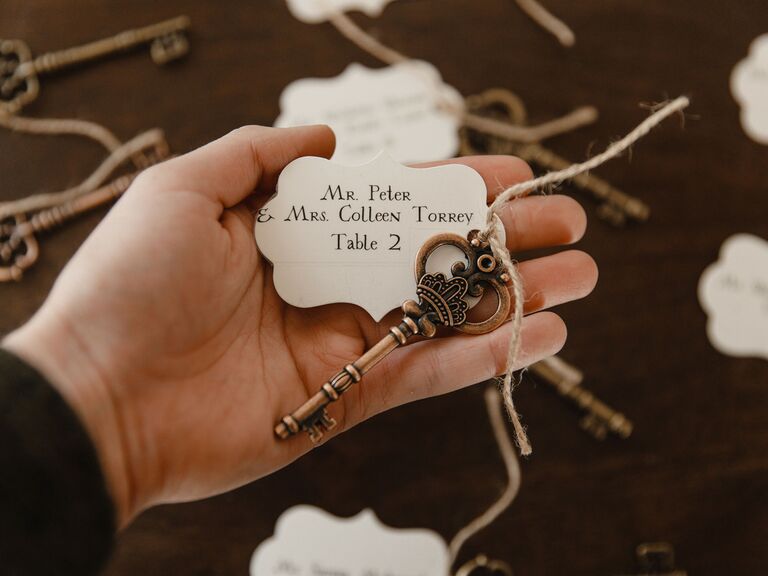 Who can forget the flying keys from the very first Harry Potter? Pay homage to the magical creatures by using small keys as escort cards for your guests.
Magical Photoshoot With Props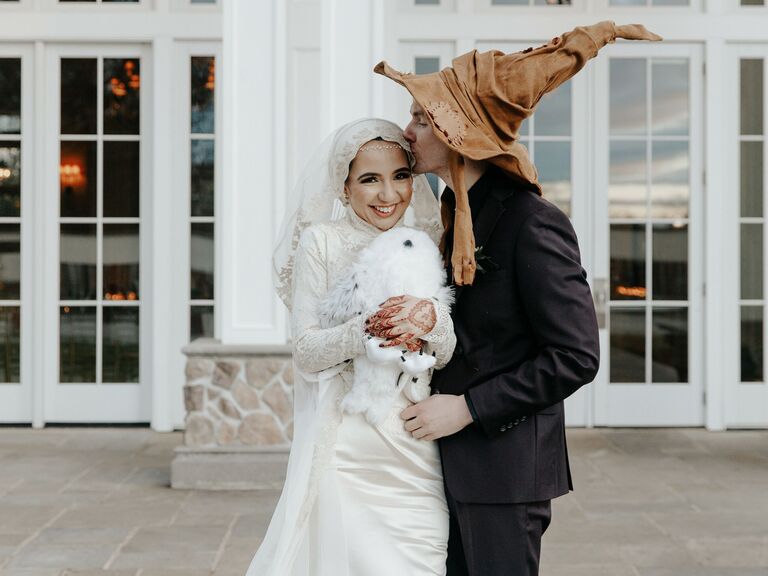 Show off your Hogwarts pride by staging an adorable photoshoot. Bring in themed props (like this stuffed owl and sorting hat) for a few cute and quirky pictures after your wedding ceremony.
Temporary Dark Marks
Love the spooky side of Harry Potter? Get members of your wedding party (bridesmaids, groomsmen or other loved ones) to rock a temporary tattoo in the shape of a Dark Mark. Then, gather them together for an epic group photo.
Patronus Cake Toppers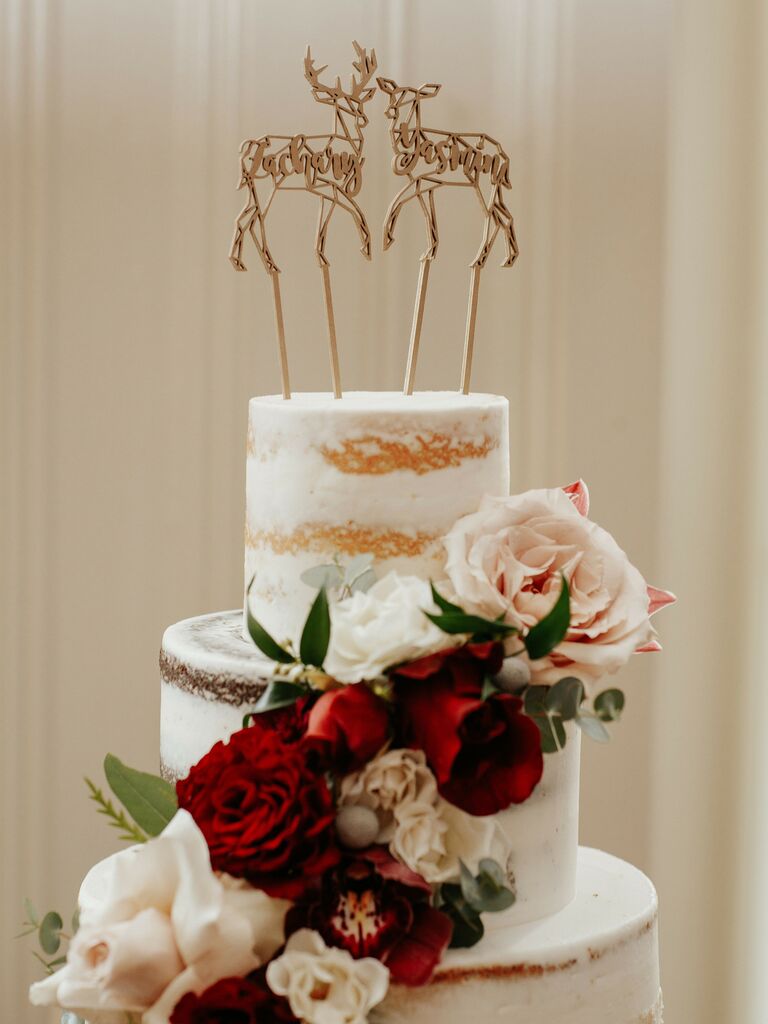 While there are so many wonderful cake toppers to choose from, we love this creative idea. Purchase props in the shape of a Patronus. Don't mind the muggles—they won't understand the subtle reference.
Hogwarts Pet Uniforms
Harry Potter fans know it's customary for a Hogwarts students to have a pet. Celebrate the tradition by including your own furry friends and dressing them up in Hogwarts uniforms.
Celestial Decor
Looking for a more subtle approach to a Harry Potter-themed wedding? Consider working in a celestial theme. It still plays into the magical vibe of the day without feeling too over-the-top. Plus, it incorporates colors from Ravenclaw!
Magic Mail Cake
Relive one of the most memorable parts of the series by getting creative with your cake. We're obsessed with this eye-catching display that depicts Hogwarts acceptance letters flying through the air.
Wedding Favor Riddle
Pay homage to one of the most famous riddles in the series: Open at the close. Attaching this note to your favors is a creative way to tell guests to enjoy them once the festivities have ended.
The Leaky Cauldron Sign
Transport your guests to Diagon Alley. Hang this creative sign (or one from another famous Harry Potter location). We love the idea of The Leaky Cauldron for cocktail hour!
Mystical Greenhouse Venue
Transport your friends and family to herbology class by hosting your wedding at a scenic greenhouse. But rather than dealing with screaming Mandrakes, they'll be surrounded by pretty greenery and string lights.
House Spirit Shoes
Show off your house pride with a pair of striking heels. We love the idea of Harry Potter-themed wedding shoes because they'll make a statement without overtaking the rest of your outfit.
Spooky Decorations
Channel the spooky side of the series with Halloween-themed decorations. We love the idea of keeping it consolidated to one cool display, which your guests can admire during the reception.
Great Hall-Inspired Reception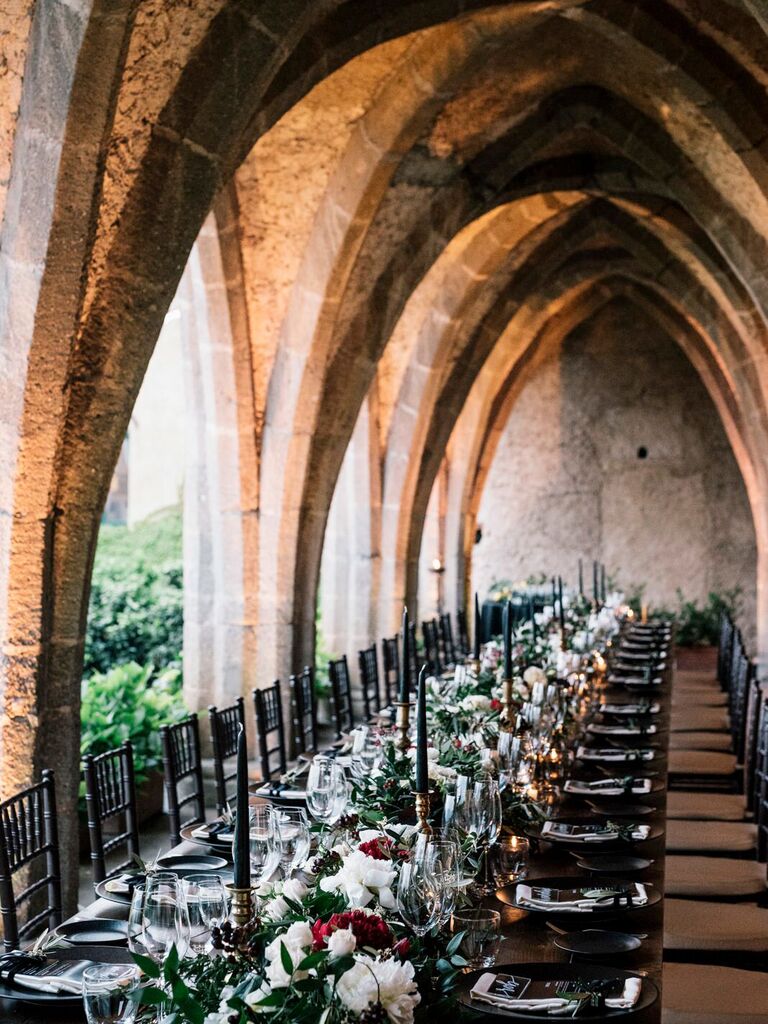 If you want a true Harry Potter experience, book a venue similar to The Great Hall in Hogwarts. Look for arches, wooden details and candles.
Forbidden Forest Adventure
Enjoy dinner, drinks and dancing in a spot that's reminiscent of the Forbidden Forest. The whimsical venue that will match your unique wedding. Don't forget to hang string lights to ward off any spooky creatures.
Dark & Moody Tablescape
For a look that's equal parts mysterious and magical, use dark candles and linens. Accent the look with bold-colored flowers. Your guests will be Instagramming the set up all night long.