Harry Potter Wedding Ideas That Are Totally Reception-Worthy
Our absolute favorite subtle (and not-so-subtle) nods to Harry Potter at weddings.
by Rachel Torgerson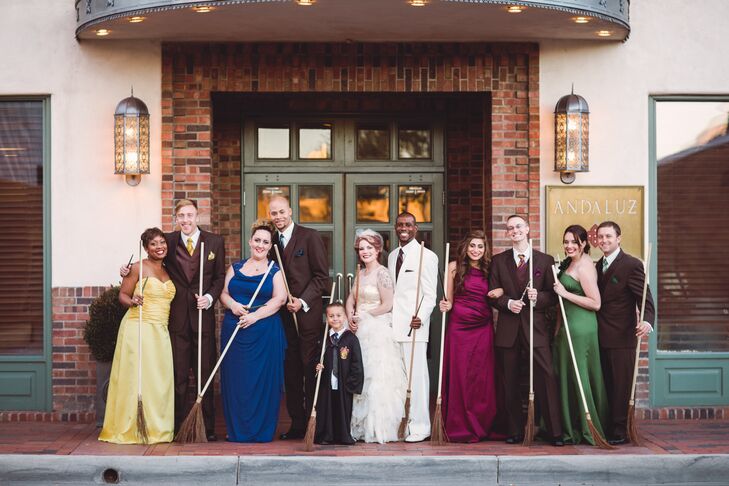 It seems like every time we turn around there's a new Harry Potter tribute at a wedding, and we seriously love it, being big #Potterheads ourselves (shh, don't tell!). From brooms instead of bouquets, to Goblet of Fire-themed signature cocktails there's always a fresh take on the J.K. Rowling classic fantasy novel. There's just something immediately fun-loving about a Harry Potter wedding -- if you've gone to one, I'm sure you've had a blast with all the accouterments.
Courtney and Basil, who recently had a full-blown Harry Potter wedding at the Andaluz in Albuquerque even gave out hand-made HP wands to each and every guest. "It was an arduous task, but it was all worth it to see all of the adults dueling at the wedding!" says Courtney. Sounds absolutely magical.
We're big proponents here of stamping your very unique personality onto your wedding and nothing screams personal like a quirk-filled Harry Potter soiree. See our favorite new Harry Potter wedding ideas, from a (completely realistic) Sorting Hat cake to potion-themed decorations, below.
A Sorting Hat Wedding Cake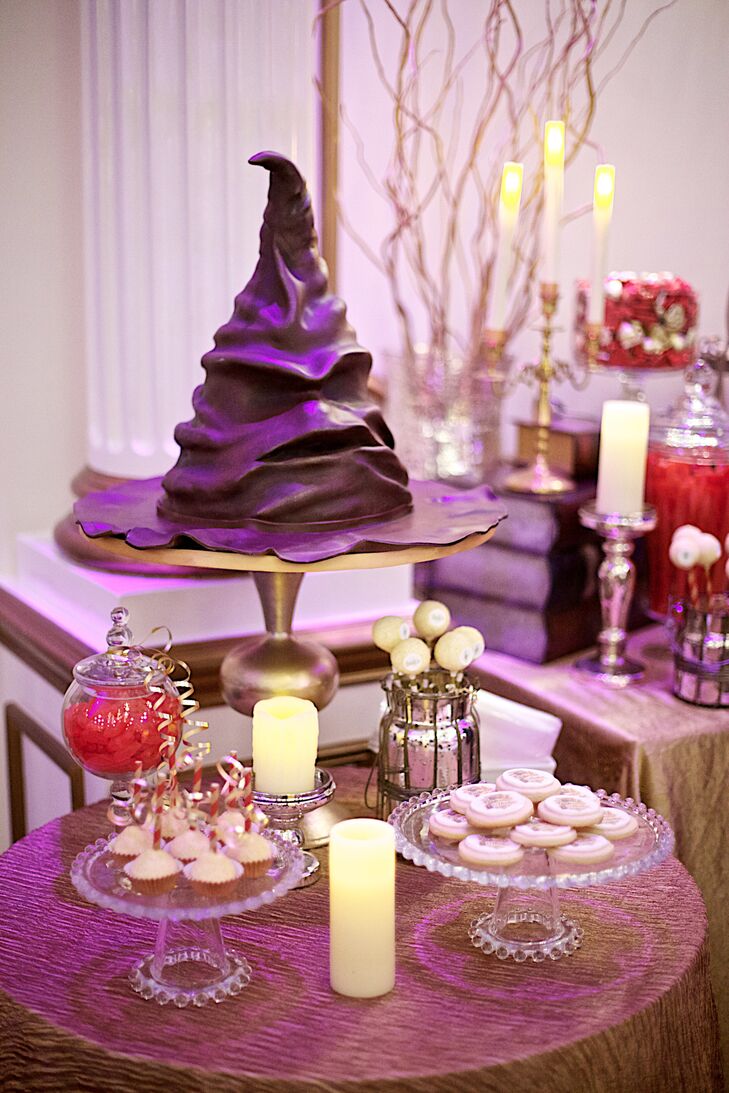 Seriously, how real does this Sorting Hat cake look? Displayed along-side cookies, cupcakes and cake pops, it certainly stands out.
From the album: An Elegant Gold and Ivory Wedding at Crystal Plaza in Livingston, New Jersey
Harry Potter House-Themed Bridesmaid and Groomsmen Outfits -- With Brooms!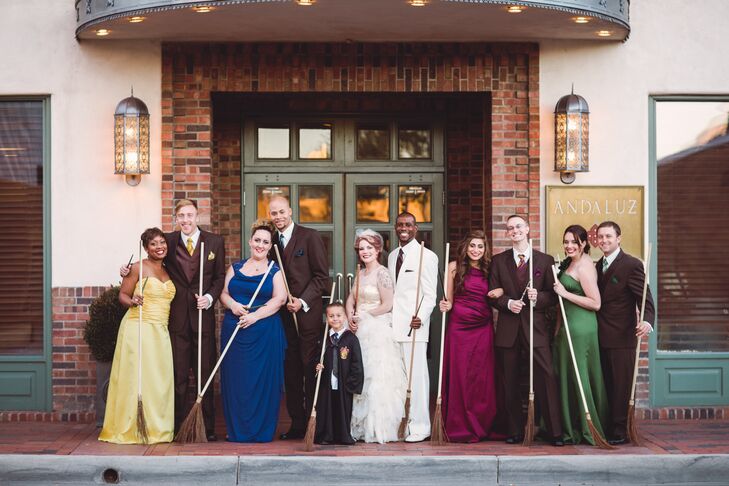 The bride and groom each had four attendants, so they had to have one girl and guy from each Hogwards house! Two Hufflepuffs, Ravenclaws, Griffyndors and Slytherins (ew!) stood up with the bride and groom at the altar and carried brooms in lieu of bouquets.
From the album: A Whimsical, Harry Potter-Themed Wedding at Hotel Andaluz in Albuquerque, New Mexico
Hogwarts: A History Harry Potter Groom's Cake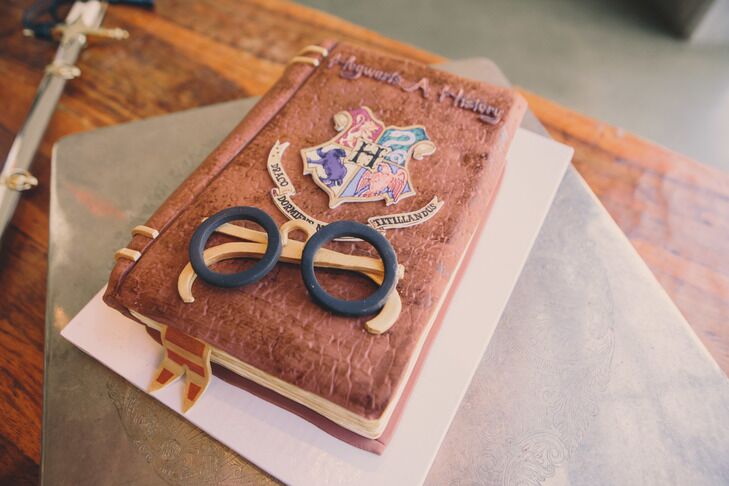 Amanda Summerlin Photography
This groom's cake looks like a verified Hogwarts textbook, which is good, since it was inspired by one! Would Hermione be fooled, though?
From the album: An Organic, Natural Wedding at Barr Mansion in Austin, Texas
Harry Potter Wand Wedding Favors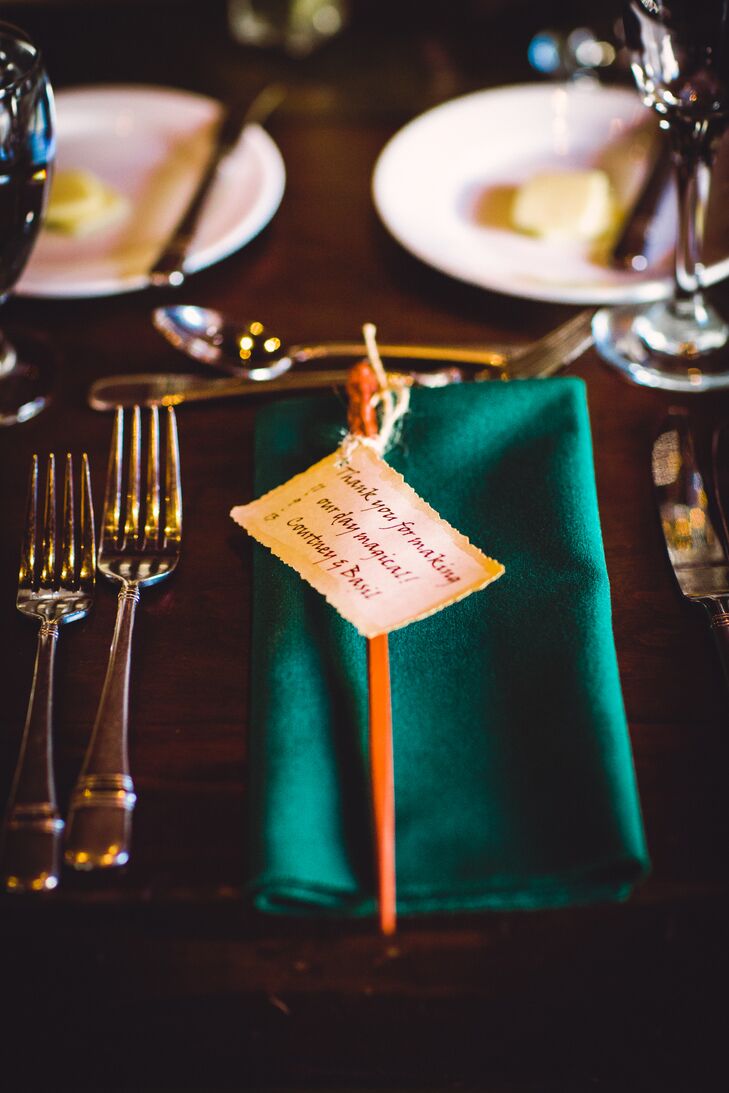 In search of a fun, Harry Potter DIY wedding idea? Consider giving each attending guest a wand fit for Ollivander's wand shop.
From the album: A Whimsical, Harry Potter-Themed Wedding at Hotel Andaluz in Albuquerque, New Mexico
Classy Champagne and Bourbon Harry Potter Signature Cocktails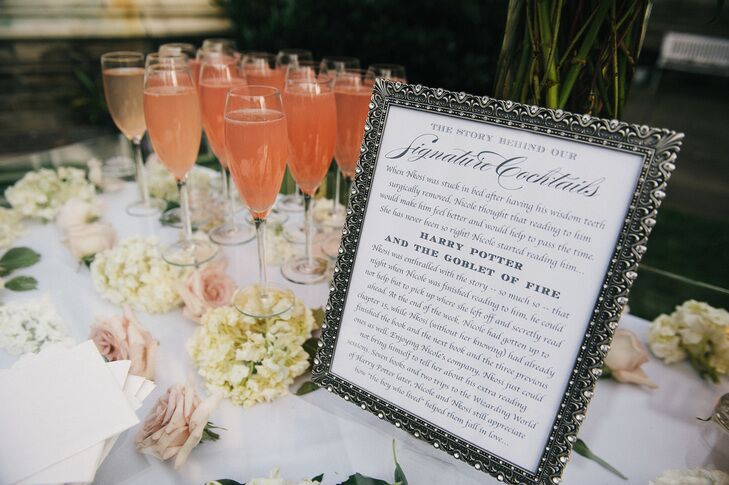 Signature drinks at Nicole and Nkosi's cocktail hour were called "Berry Potter" (fabulous pun), which was a mix of champagne, raspberry lemonade and vodka, and "Tumbler of Fire," which was mixed with bourbon.
From the album: A Romantic, Sophisticated Wedding at Greystone Hall in West Chester, Pennsylvania
Potions Class Reception Table Decor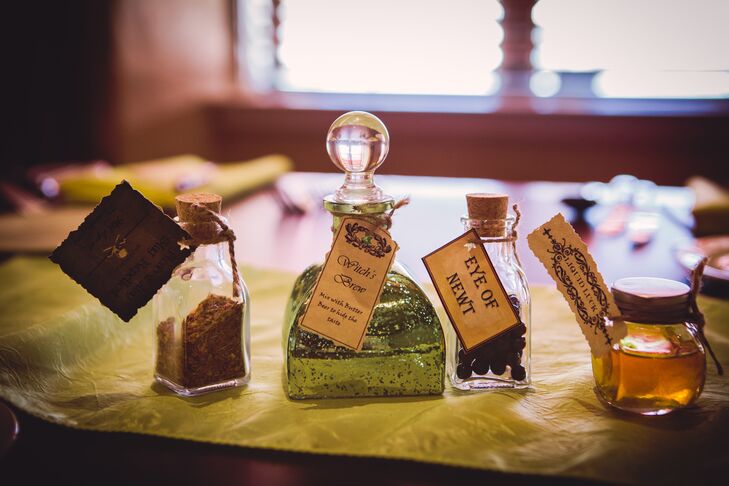 Eye of Newt and Witch's Brew were just a few of the potions that were readily available at Courtney and Basil's reception. Used as decor on the tables, the vessels added color and thematic interest to the ballroom, we just hope they didn't steal them from Professor Snape's personal store.
From the album: A Whimsical, Harry Potter-Themed Wedding at Hotel Andaluz in Albuquerque, New Mexico