Points for Your Wedding Catering Contract
Before you hire your wedding caterer and sign on the dotted line, it's important to double-check all the details.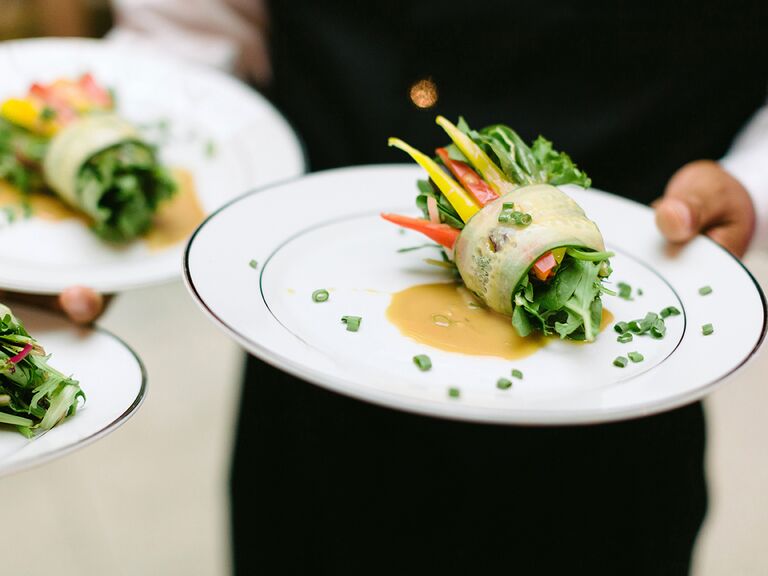 Theresa Choi Photography
First, check your catering contract to ensure all of the general info is on there. Then, it's on to the nitty-gritty details like rentals, staff, timing and the cake (if it's included). If you have any special requests you've talked through with your caterer, make sure those are noted on the contract. This may not be the most fun part of planning, but it'll save you a ton of time and energy later on if you get the contract right from the start.
General Info
[ ] Name and contact information for the venue.
[ ] The date, location, start time and length of your wedding. If your venue has different banquet rooms or ballrooms, refer to the one(s) you'll be using by its specific name.
[ ] The number of guests you expect at your event, and the date for your final head count.
[ ] The type of service you want (sit-down, buffet and so on). Be specific. If you want passed apps at cocktail hour and a family-style reception, spell that all out.
[ ] The number of courses served, including the cocktail hour
[ ] The menu for each course, including acceptable substitutions, should ingredients be unavailable (for example, if there's a blueberry shortage and blueberry pie just won't work, can your caterer serve cherry pie instead?).
[ ] Any special arrangements needed for children or guests with dietary restrictions, like gluten-free or vegetarian options
[ ] Where and when your to-go snack will be available (if your caterer will be providing an edible favor for guests).
[ ] Where and when your doggie bag will be available (knowing they won't have much time to eat during the night, some couples ask their caterer to package up their meal ahead of time so they can munch on it when they get to the wedding suite).
[ ] Proof of health license from the state.
[ ] Your caterer's proof of liability and insurance carrier information, including liquor liability insurance.
[ ] The latest date you can make changes to your menu.
Pricing and Fees
[ ] The price per adult guest (ask whether or not the price includes taxes or other fees).
[ ] The price per child guest and vendor (most caterers charge less for kids and for meals for your DJ/band and other day-of vendors you need to feed).
[ ] If you're hosting a buffet-style or tray-passed event, the method by which prices are determined: by the guest or by the plate.
[ ] The maximum market price you agree to pay for specialty items like lobster, crab and fine fish. (This is so important since it can really raise the price if you don't put a cap on it!)
[ ] Overtime policy.
[ ] Corkage fees, if applicable.
[ ] The estimated total cost for the reception.
[ ] The deposit amount paid.
[ ] The balance due.
[ ] The payment schedule.
[ ] The refund and cancellation policy.
Rentals
[ ] Any rentals and supplies the catering company will provide, like linens, china, serving platters, etc.
[ ] The total cost of rentals provided by your caterer or whether they are included in your package price.
Staff
[ ] The ratio of waitstaff and bartenders to each guest. The type of meal will determine the amount of workers you'll need. (For a sit-down meal you'll want one server for anywhere between one and three tables, but for a buffet-style meal the number of servers per guest could be lower.)
[ ] The name of the person overseeing the staff and the backup in case he/she is sick or unable to make it the day of.
[ ] The name of the person responsible for set up, cleanup and breakdown and any fees for these services.
[ ] The attire for servers and bartenders.
[ ] The cost per hour or flat rate for servers/bartenders, including overtime.
Cake
[ ] The wedding cake size, style, design, flavor and cost (if your caterer is making it).
[ ] The groom's cake size, style, design, flavor and cost (optional).
[ ] Any additional cake-cutting and service fees.
[ ] The packaging arrangements of the wedding cake for guests to take home if applicable.
[ ] The preparation and freezing arrangement for the top tier of the wedding cake, if you'll choose to save the top for your first anniversary (do it—it's actually pretty delicious!).
Bar
[ ] The types of beverages that will be served, including brands, where applicable. If you're including some premium liquors, say Johnnie Walker Blue Label, specify the number of bottles and if there's a certain time or place you want them served.
[ ] The times at which each type of alcohol should be served (for example, red and white wines during dinner or champagne for toasts and with dessert).
[ ] Mixers, nonalcoholic beverages and condiments you want included at your bar, as well as equipment your caterer will provide (shakers, stirrers, ice, garnishes and so on) and what they cost (if anything).
[ ] Nonalcoholic beverages you want to serve during dinner, including coffee and tea.
[ ] If you're buying alcohol from your caterer, cost per bottle/drink breakdown.
[ ] Your caterer's buyback policy (for example, if you ordered 75 bottles of wine and opened only 50, the price at which your caterer will "buy back" your unopened bottles).
[ ] If you're supplying your own alcohol, when and where it should be delivered to the caterer.
Still searching for a caterer? Find one in your area here.