26 Ideas For Your Wedding Menu That Aren't Overdone
Bon appétit!
When it comes to your wedding food, it's easy to feel underwhelmed by dishes you've seen a hundred times. You want to serve something special, right? To help spark inspiration, we've rounded up 26 wedding menu ideas that are anything but basic. Trade in traditional picks for something more authentic to you, the couple. From wood-fired pizza to sushi stations to portable oyster buckets, we have wedding menu ideas for every kind of couple.
Word to the wise: Before you make any huge decisions, ask your venue what their catering policy is. They may have in-house catering services that you're required to use or charge a fee if you want to bring someone else in. From there, you can work out things like seasonal selections, presentation specifics and serving logistics. Voice any dietary restrictions you want to accommodate (gluten-free or vegan food, for example). Work closely with your caterer or venue to ensure you feel comfortable with your wedding menu options. Once you understand what you're working with, then you can get creative.
The biggest dinner trend we're seeing right now? Interactive stations. Couples are moving away from a sit-down three- or four-course dinner where the food is brought to guests by waitstaff, and instead, having passed hors d'oeuvres during cocktail hours or self-serve food stations. Guests still have the opportunity to sit down and enjoy their meal, but there's less table-time and more mingling time.
Due to the pandemic, many couples are offering individually wrapped meals at their nuptials too. Rather than passing plates or bites, couples are offering pre-packaged meals for each guest, creating a personalized and COVID-conscious experience. Serve up all of your courses in a decorative box or picnic basket.
No matter how you decide to serve your food on your big day, make sure you craft a menu that reflects who you are as a couple. Let our favorite 26 wedding menu ideas inspire your reception menu.
How to Choose a Wedding Menu
Wondering how to narrow down all your options? We suggest personalizing your wedding menu to your love story. One of our favorite ideas is to pull ideas from each of your families. Is there a particular family recipe you always have? You can serve them both to celebrate the joining of your families. Another idea is to base your wedding menu off of your relationship. Nod to your favorite date-night spots or the meal you had when you got engaged. Including these personal details into your wedding menu will make your guests feel more connected to your love story.
Of course, the most important thing is to tailor your wedding menu to your own personal taste. If you're really struggling to choose, go with some of your own favorite foods (whether it's sushi or fillet mignon). It's still a special way to personalize your nuptials and make the day even more special. Work with your caterer to craft a wedding menu that's as delicious as it is meaningful.
Sample Wedding Menu
So, what does a wedding menu consist of? Typically, it includes a few appetizers, entree options (usually a few different ones your guests can choose from) and a dessert option. However, you don't have to follow this format at all. If you'd rather have a cocktail-style reception, you can absolutely do that. Or if you only want to offer one crowd-pleasing entree (think: pizza or pasta), you are free to do so. Once you've nailed down your exact menu, head over to The Knot Invitations to purchase wedding menu cards for each place setting. (You can also purchase place cards, table numbers and any other signage you need over at The Knot Invitations).
Our Favorite Wedding Menu Ideas
Ready to get inspired? Here are 26 of our favorite wedding menu ideas.
Traveling Seafood Station
Create an exciting interactive experience for your guests with a traveling seafood station. We love the idea of a bucket of oysters because it's the perfect blend of elegant and fun. Your guests can continue to mingle while they enjoy a fresh oyster (complete with sauce, of course). Psst: You can use this for any kind of seafood you'd like: lobster ravioli, sashimi or popcorn shrimp.
Wood-Fired Pizza
Rustic wedding couples, this one is for you. Get creative with your wedding menu and offer pizza. While it may feel too casual for a wedding, wood-fired pizza looks absolutely stunning–and it's a crowd favorite. Offer a few different options for toppings so your guests can pick their favorites.
Comfort Food Shooters
Comfort food, but make it elegant. A bite-sized grilled cheese paired with a small serving of tomato soup feels elevated, and the delicious food will keep your guests satisfied (or reaching for more!). This goes for any kind of comfort food you like—try mini shooters of BBQ mac and cheese or mini chicken and waffles with maple syrup.
Dessert Truck
Put your own twist on the traditional dessert table by bringing in a dessert truck instead. While we love the idea of freshly-scooped gelato, you can serve any sweet treat you desire. Consider doughnuts, freshly-baked cookies, churros or s'mores. The sky's the limit!
Dim Sum
Whether the traditional Chinese meal is a nod to your cultural background, your love of travel or your personal taste in food, it's bound to be a hit at your wedding. Dim Sum typically consists of a variety of different dishes your guests can sample and choose from. We especially love this option because it's so interactive and customizable—your guests can build their own plate!
Sushi Station
Calling all sushi lovers: This wedding menu idea is perfect for you. Setting up a sushi station is so fun because your guests have total control. They can choose how many rolls they want and what kind of rolls they want too. Plus, it's a fresh, light food that so many people enjoy. Pro tip: Make sure to include a few vegetable options if you have any vegan or vegetarians attending your nuptials.
Fast Food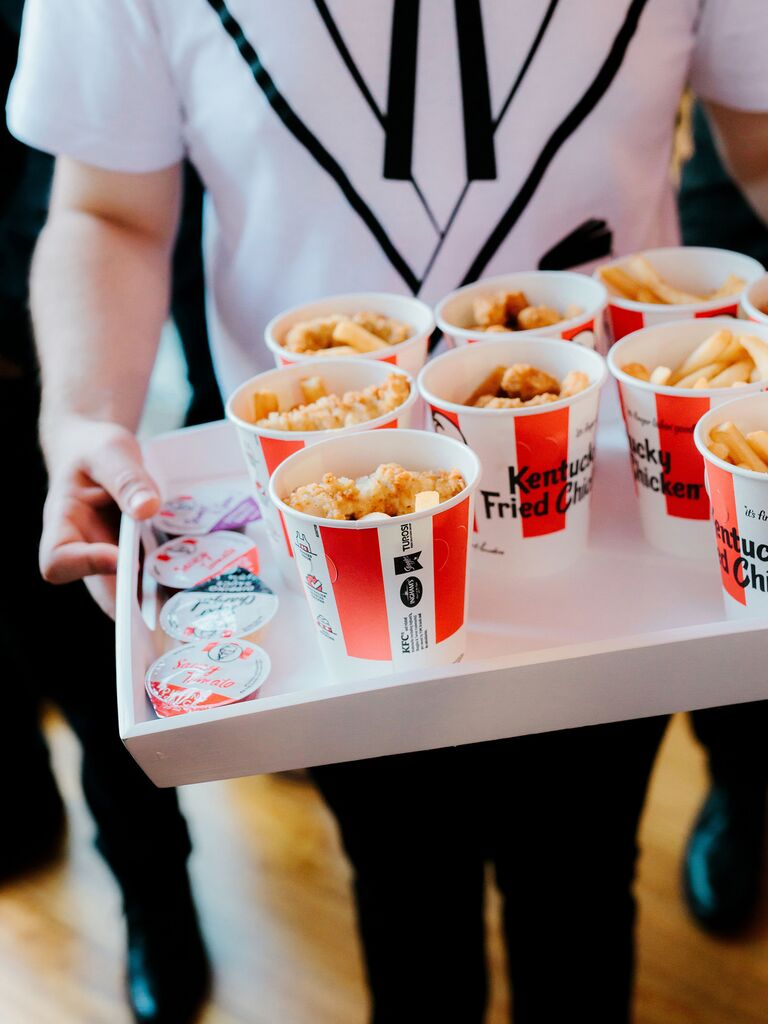 Forget the idea that you have to serve ultra-fancy food at your nuptials. Whether you're hosting a casual celebration or an elegant wedding, an appearance of your favorite fast food will get the party going and immediately get everyone excited to dig in. Just the smell alone will have everyone's mouths watering. Plus, it's a unique way to put your own stamp on your wedding day.
Picnic Basket Meal
While many couples have recently served individually-wrapped meals due to COVID, we love the idea of preparing a special set up for your loved ones. Present them with a basket full of food for them to enjoy—from appetizers to entrees to desserts. This idea would work especially well for couples hosting a garden wedding, park wedding or vineyard wedding, as it truly feels like you're taking your guests out for an epic picnic meal.
Build-Your-Own-Brunch-Bowl
While brunch may call to mind stacks of pancakes and plates of eggs, there are other options. If you're looking for a unique spin on breakfast foods, consider serving açai bowls. They're basically smoothie bowls with a variety of toppings. Make the experience interactive by sweating up a station full of different toppings (think: fresh fruits, seeds, nuts and granola). While açai bowls are one option, you can take this in any direction you'd like. For example, you could set up a DIY breakfast bowl station complete with hash browns, eggs, and other yummy foods.
Charcuterie in a Cup
It's no secret everyone is obsessed with charcuterie tables. However, it can be difficult for guests to serve themselves if there's crowding at the display. Enter this creative wedding menu idea: charcuterie in a cup. Pass out a pre-made assortment of cheeses, meats, crackers and fruits for your loved ones to enjoy.
Cheese Station
We know—we had you at cheese station. Offer your guests a mouth-watering selection of different cheese complete with different items to pair it with. Ideas include crackers, freshly-baked bread, fruit, vegetables and nuts. Serve it buffet-style so everyone can build their own platter.
Colorful Salad
Green salads at weddings don't have to be boring. Work with your caterer to create a colorful mix of veggies that will entice your guests and keep them satisfied until the main course. Bonus points for tying the colors into your wedding's color palette!
Fresh Poke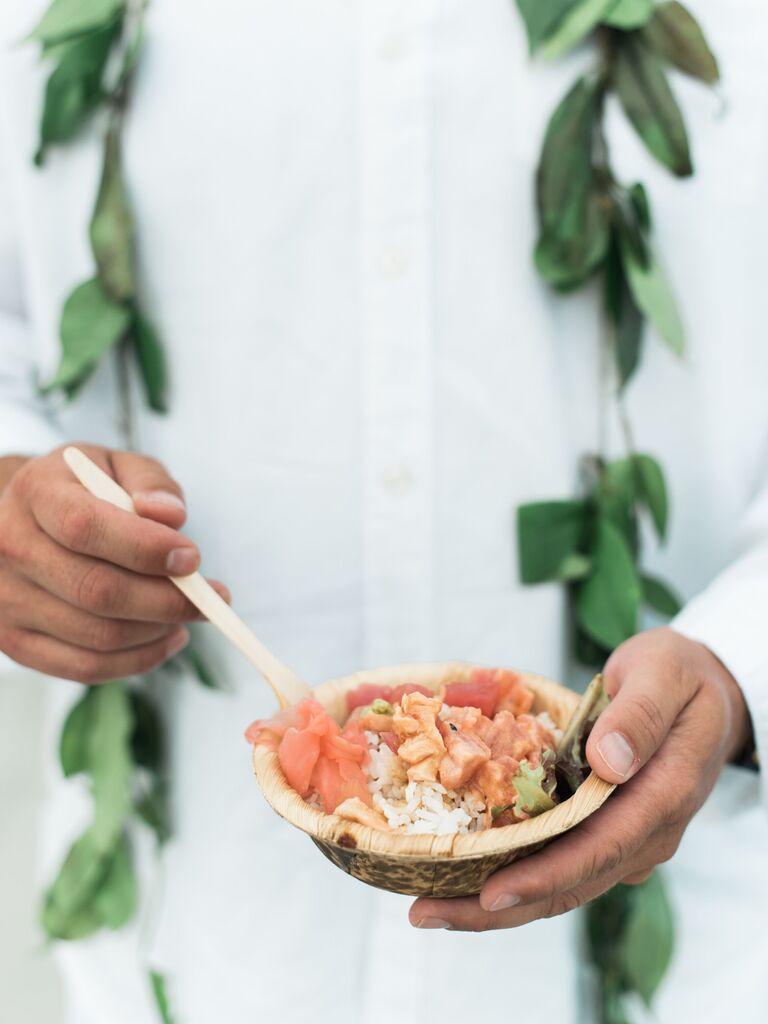 Put your own twist on a fish dish by serving fresh poke. You can either offer a selection of different pre-made bowls or allow your guests to build their own bowls. It's a unique way to serve seafood that your guests will absolutely love. Have vegetarian guests? Offer a tofu bowl to accommodate them.
Dessert Remix
When it comes to your wedding dessert, we encourage you to think outside the box. An ice cream taco, for example, is a creative spin on two delicious foods. Other dessert mash-up ideas include brownies stuffed with oreos, s'mores cookies and ice cream cakes.
Food & Beer Flights
Whether you're saying "I do" at a brewery or your go-to date night activity is to try out different brews at your local spot, this wedding menu idea is for you. Create a brewery experience at your nuptials by serving your guests a flight or food and beer. Whether you opt for hot dogs, sliders or other delicious bar food is totally up to you!
Pretzel Bar
Who doesn't love pretzels? Offer your guests the ultimate experience with a self-serve bar. Your guests can grab however many pretzels they want and top them with a variety of sauces. We love this because it can be salty or sweet—just include different toppings such as caramel, hot mustard and blue cheese.
Seasonal Vegetable Dish
Celebrate your wedding's season with a plate full of delicious vegetables. It's a welcome shift away from a traditional roasted vegetable stack—and it will look absolutely stunning in pictures. Another bonus? Anyone can enjoy this dish regardless of dietary restrictions. Offer it family-style or as a served entree.
BBQ & Beer
If a flight of food and beer feels a little too involved for your taste, consider this foolproof pairing instead. Serve up a few BBQ staples: burgers, hot wings, pulled pork and pasta salad. Then, offer your guests their choice of accompany beer (we love these decorative mini bottles). It'll feel like the most epic backyard bash ever.
Grilled Kabobs
If you're looking for a more elevated BBQ meal, consider grilled kabobs. They're quick to cook, easily customizable and absolutely delicious. Fill them with your favorite foods, and serve them up hot off the grill.
Mexican-Style Veggies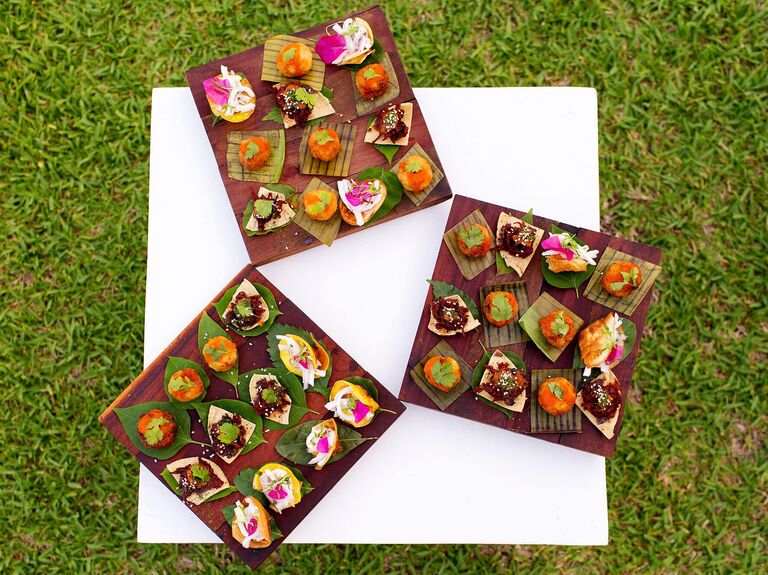 Vegetables don't have to be boring. One way to spice up a veg-friendly menu is to get creative with your presentation. Mexcican dishes like tostadas, veggie chips and stuffed vegetables feel elevated, creative and fun (plus they taste absolutely delicious).
Local Fare
If your wedding venue is known for a particular kind of food, include it on your wedding menu. It's a unique way to personalize your wedding. Whether it's your hometown, the city where you and your boo live or a meaningful destination, tailoring your wedding menu to local tastes is a way to make the day feel even more special.
Mini Tacos and Margs
Turn your wedding into a full-blown fiesta. Serve your guests bite-sized tacos and a mini bottle of mixed margarita to get the party going. They're both small, so your guests will have no problem holding them during cocktail hour.
Caprese Kabobs
We love this inventive spin on traditional Caprese salad. Rather than serving it on a plate, place mozzarella, cherry tomatoes, basil and balsamic on a skewer for your guests to enjoy during cocktail hour.
Portable French Fries
We couldn't make a roundup of wedding menu ideas without french fries! A popular late-night snack choice, this is a crown favorite. Elevate the snack food by serving it in small cups and accompanying sauce.
Bao Buns
Bao buns are a top pick because they're so event-friendly. These wrapped buns are easy to hold and eat whether your guests are standing for cocktail hour or excitedly chatting at dinner. Plus, they're an unexpected treat and highly Instagrammable.
Breakfast Staples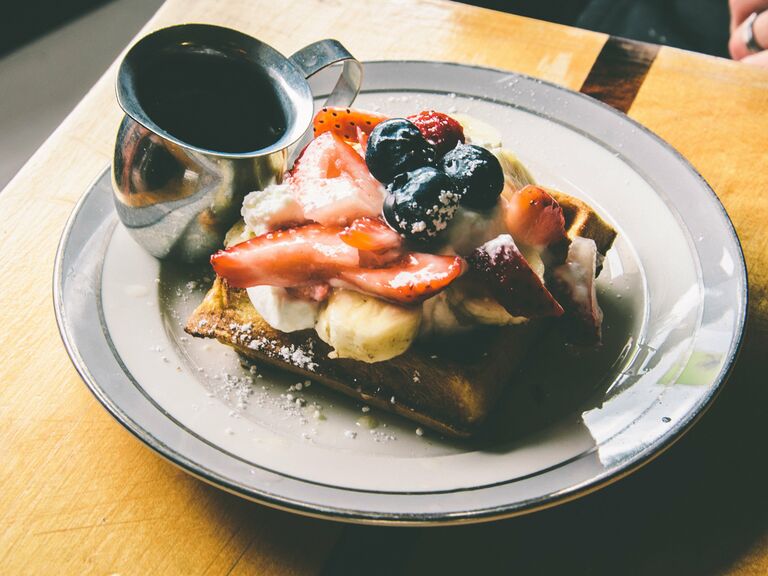 If your favorite meal is breakfast, your wedding menu should reflect that. Host a brunch wedding or serve breakfast for dinner. Include pancakes, waffles, eggs, bacon and any other morning munchies you love. Pair it with an espresso martini, mimosa or a Bloody Mary for a boozy brunch vibe.