17 Entree Ideas for Your Wedding Menu
Treat yourselves (and guests!) to one of these unique culinary delights.
When it comes to figuring out your wedding menu it's easy to feel underwhelmed by dishes you've seen a hundred times. You want to serve something special, right? But also within budget. First thing's first: ask your venue what their catering policy is. They may have in-house catering services that you're required to use or charge a fee if you want to bring someone else in. From there, you can work out things like seasonal selections, presentation specifics and serving logistics. 
The biggest dinner trend we're seeing right now? Interactive stations. Couples are moving away from a sit-down three- or four-course dinner where the food is brought to guests by waitstaff, and instead, having passed hors d'oeuvres during cocktail hours or self-serve food stations. Guests still have the opportunity to sit down and enjoy their meal, but there's less table-time and more mingling time. Let our favorite 17 wedding menu ideas inspire your reception menu.
Lobster With Mashed Potatoes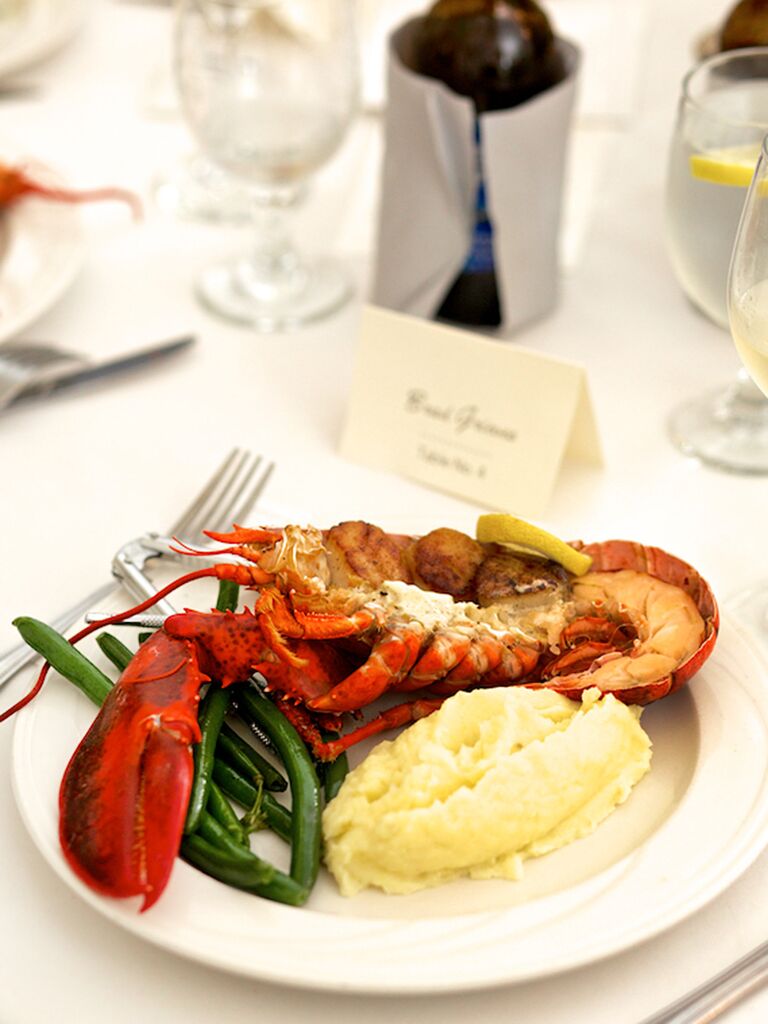 From: An Elegant Wedding at The Phoenix Room in Newburyport, Massachusetts
Nothing says fine dining quite like fresh lobster – especially if you're hosting a coastal reception and hope to tie local cuisine into your wedding menu.
Vegetarian Vegetable and Couscous Salad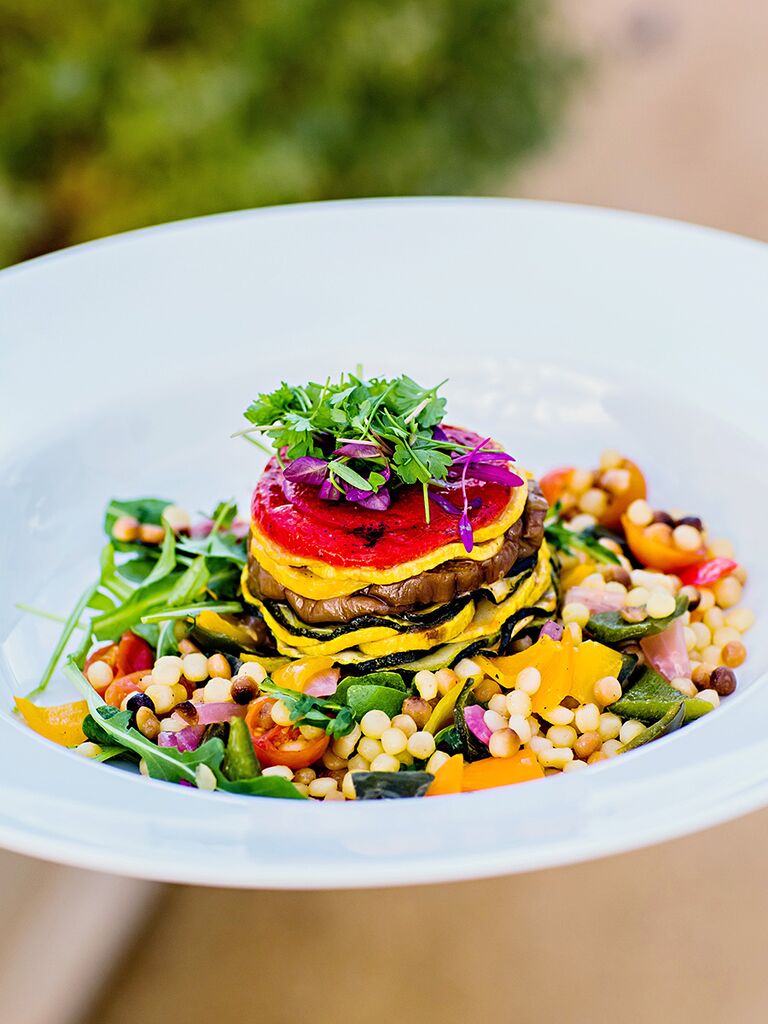 From: A Contemporary Jewish Wedding in Sonoma, CA
Tying the knot in the spring or summer months? Try incorporating fresh, seasonal veggies into plans for your wedding food.

Seasonal Food With Flavorful Seasonings and Sauces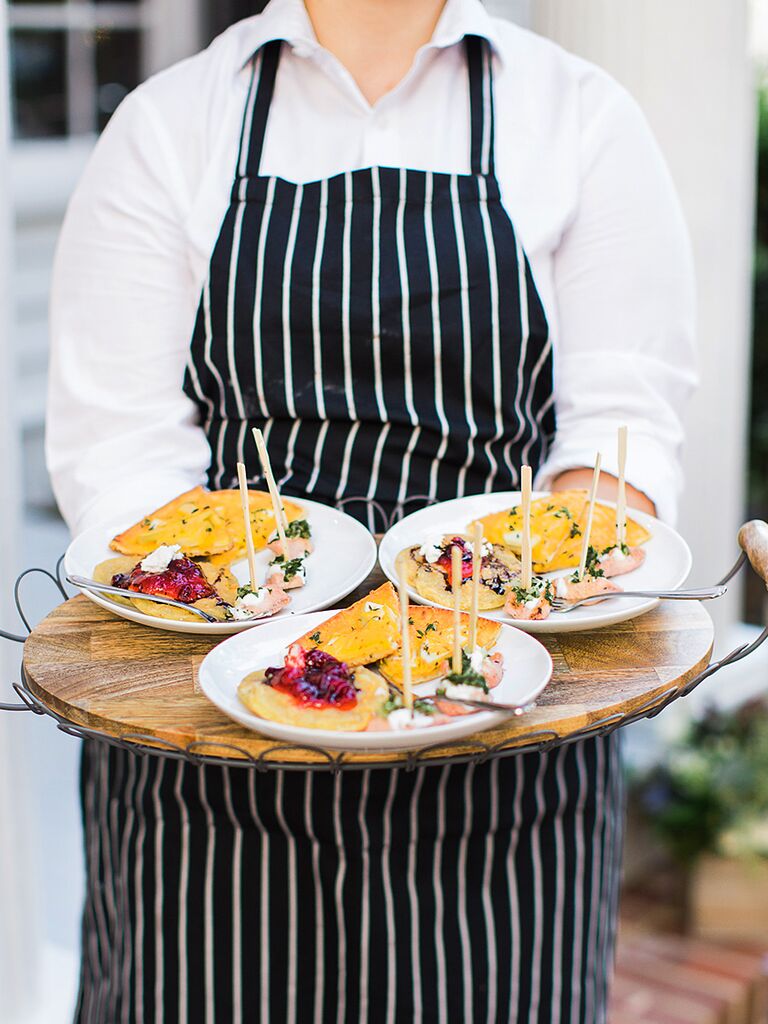 From: An Outdoor Fall Wedding at Leslie-Alford-Mims House in Holly Springs, North Carolina
Fall flavors can be equally as bold, especially in the South. Our favorite wedding food ideas seamlessly blend bold ingredients with a regional twist.

Filet Mignon With Green Beans
From: An Oheka Castle Wedding in Huntington, New York
American fine dining trends might come and go, but filet mignon remains a timeless favorite.

Barbecue Favorites: Fried Chicken, Mac and Cheese and Biscuits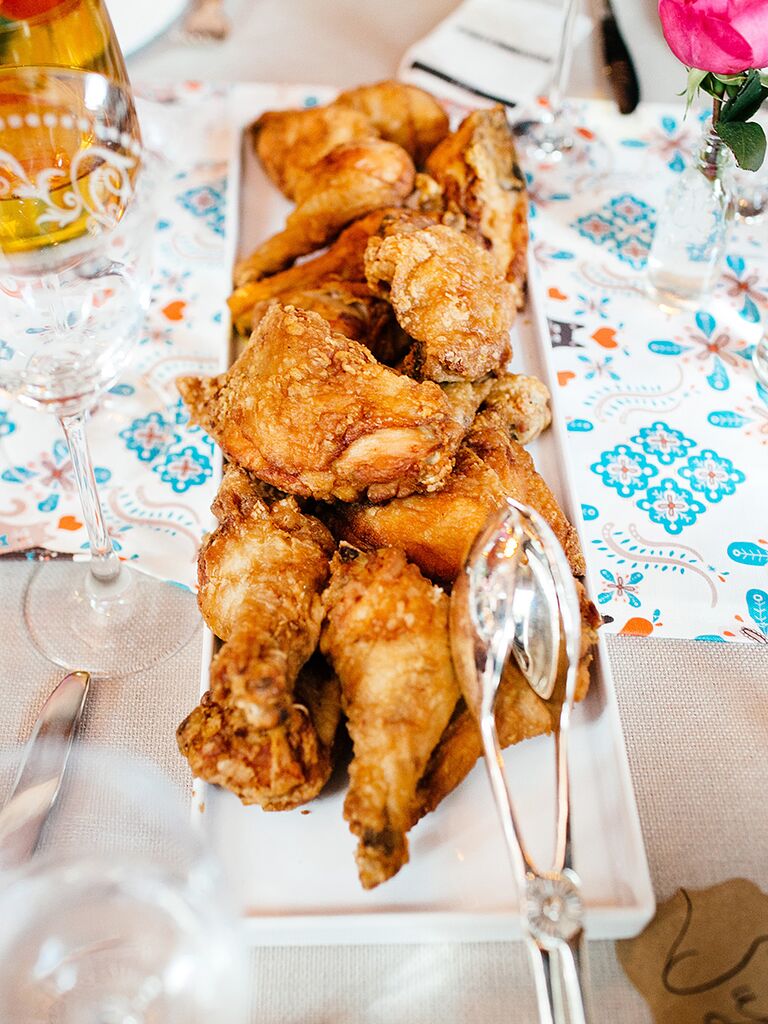 From: A Green Building Wedding in Brooklyn, New York
Spice up your wedding menu with some barbecue classics. Self-serve buffets make it easy to pick your favorite piece of chicken.

Seasonal Salad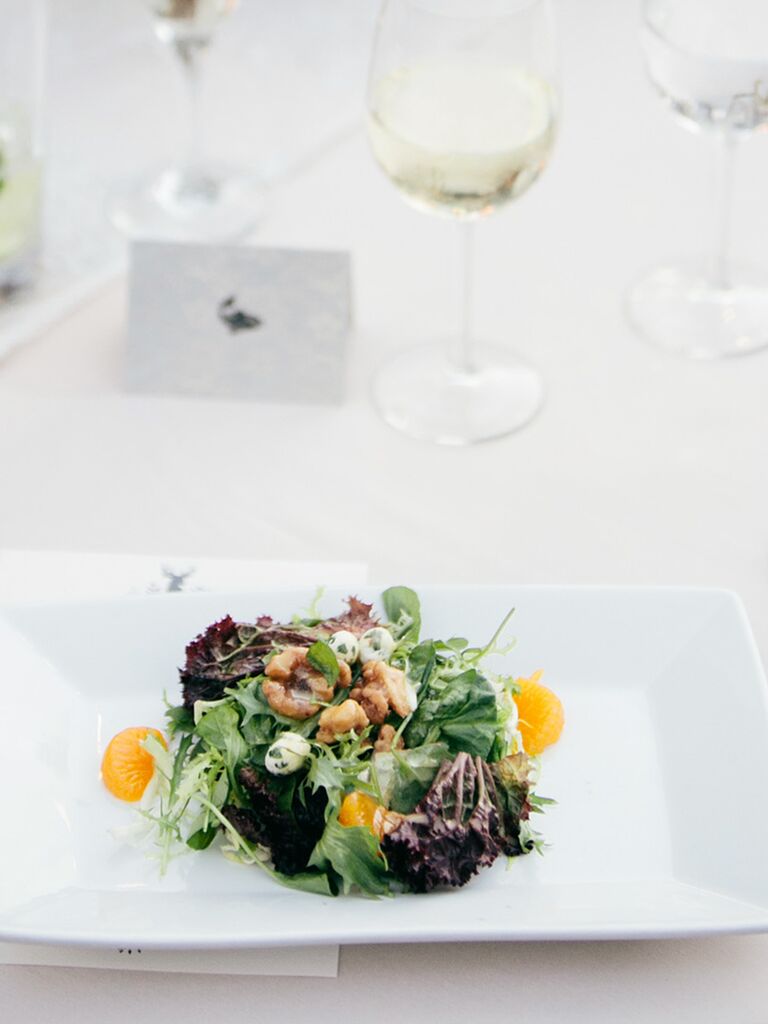 From: A Whimsical, Rustic Chic Wedding at Tiato in Santa Monica, California
Who says salads have to be boring? When it comes to wedding food, there's nothing more chic or flavorful than a seasonal salad made with fresh, local vegetables.

Chicken and Waffles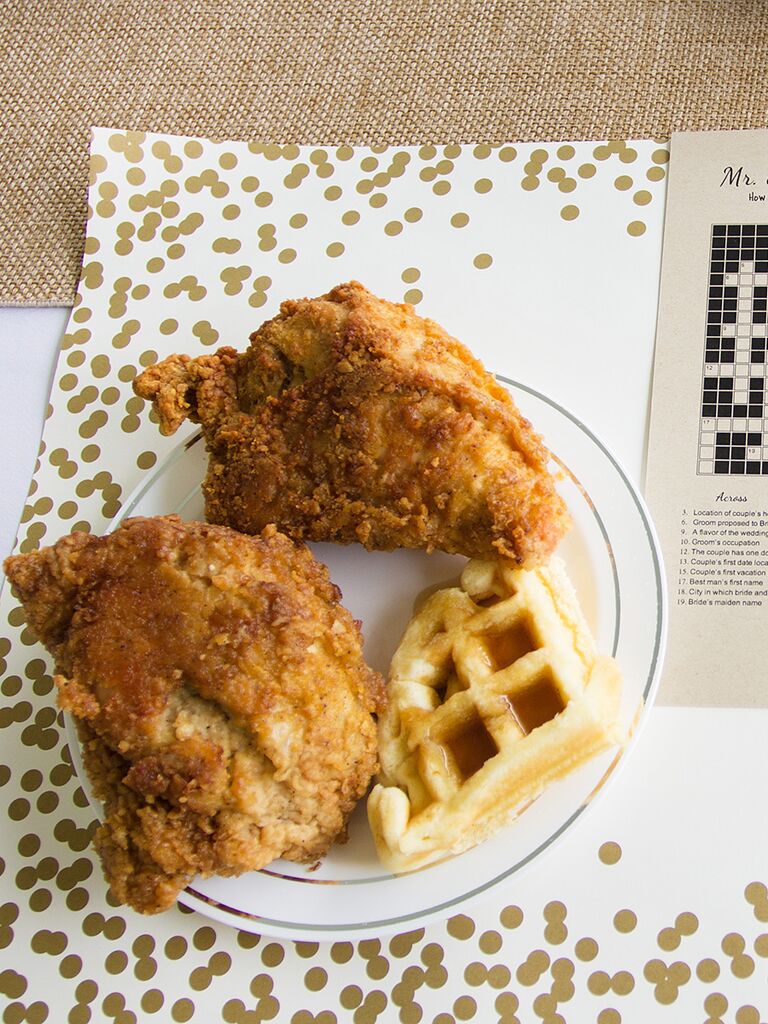 From: A Shabby-Chic Southern Wedding at Historic Masonic Amphitheater in Clifton Forge, Virginia
Your wedding menu should be a reflection of your favorite flavors and cooking styles. Brunch lovers will rejoice over a plate of chicken and waffles – just don't forget the napkins.

Fajita and Taco Bar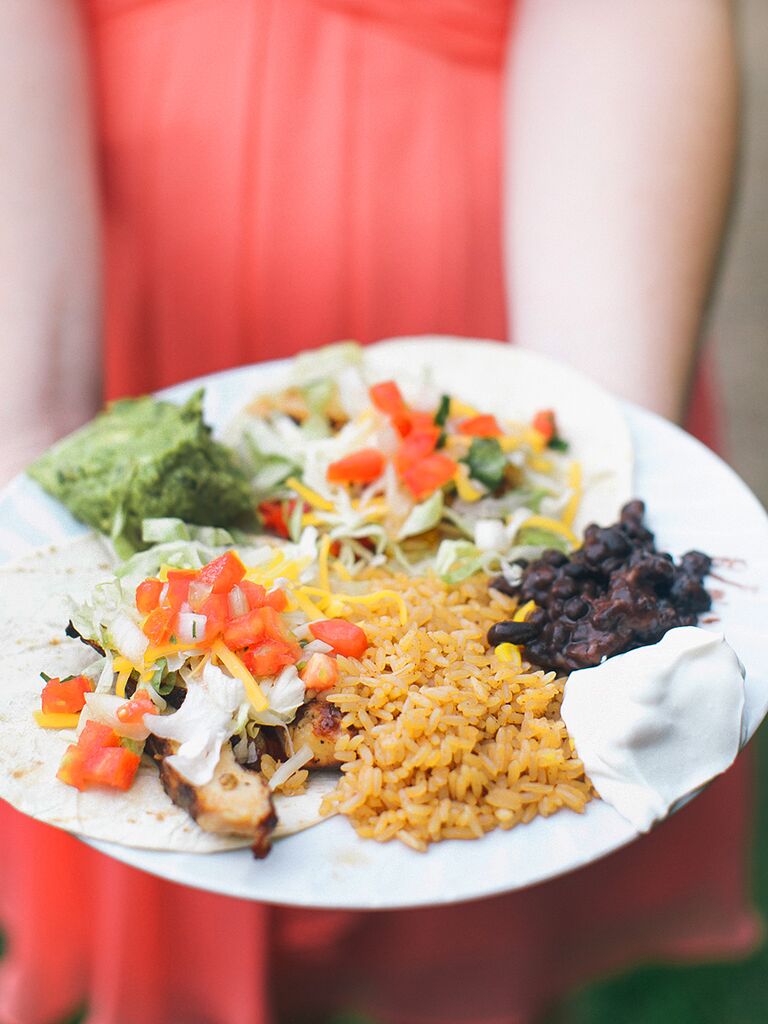 From: A Bright, Backyard Wedding at a Private Residence in Yardley, Pennsylvania
Sizzling fajitas are sure to excite your guests, especially when served alongside black beans and rice.

Cucumber-Rolled Fresh Greens and Peppers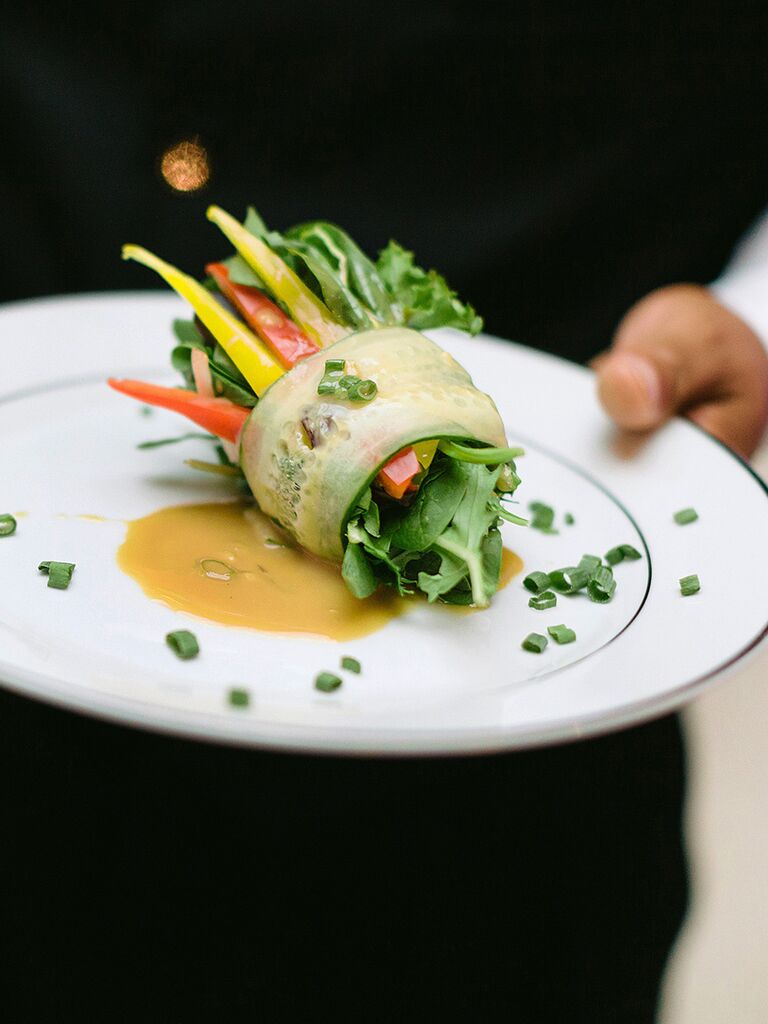 From: A Walters Art Museum Wedding in Baltimore, Maryland
If there is a more elegant way to serve vegetables, we haven't seen it yet!

Wood-Fired Family-Style Pizza Dinner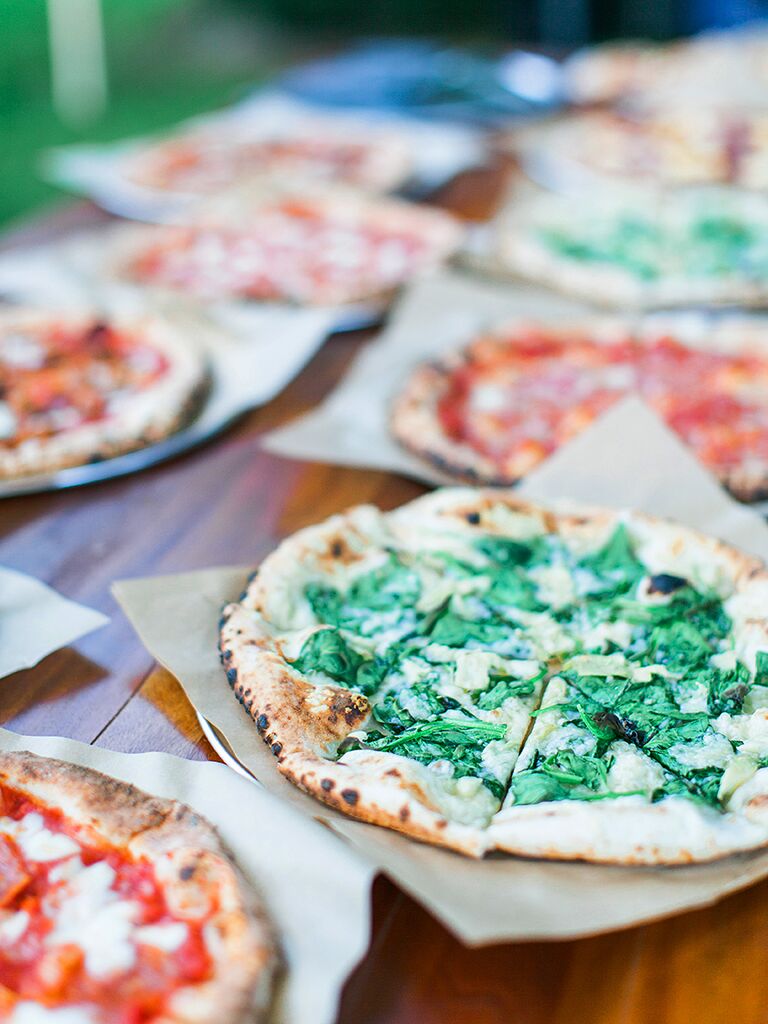 From: A Vintage Garden Wedding at a Private Residence in Saugatuck, Michigan
When it comes to wedding food ideas, there's no need to reinvent the wheel – especially when you're dealing with a dish as universally beloved as pizza.

Family-Style Fall Vegetable and Fennel Salad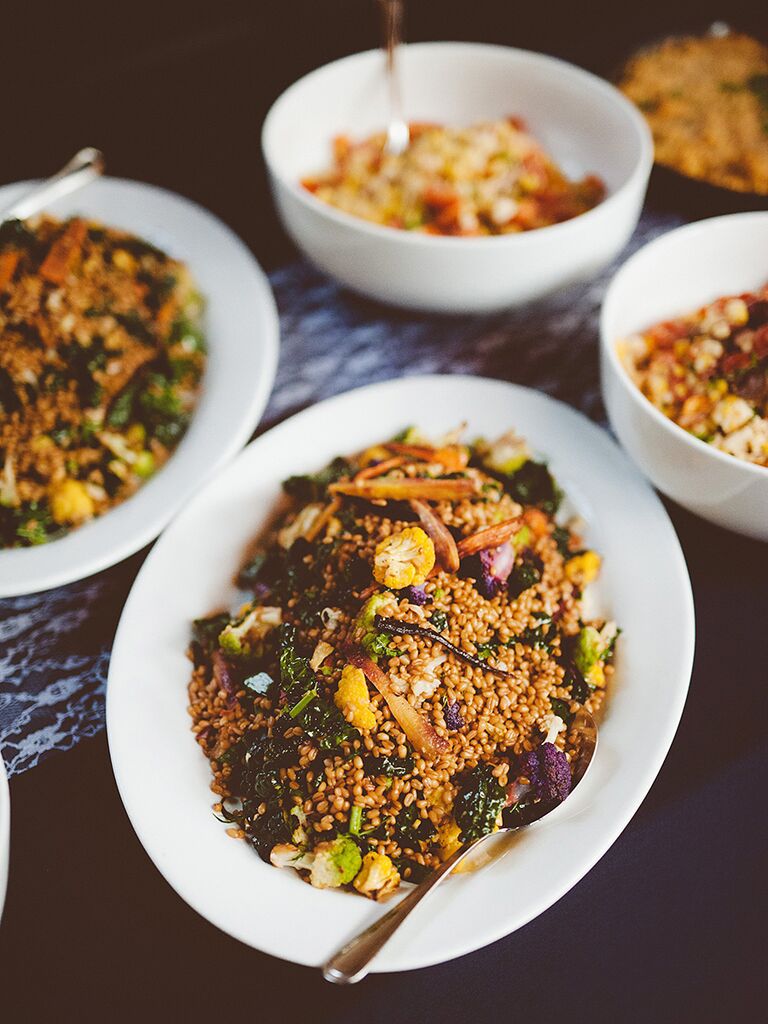 From: A Industrial Elegant Wedding at 501 Union in Brooklyn, New York
Who says vegetables can't be hearty? Purple cauliflower, kale, and carrots will make you rethink everything you know about vegan food.

Brunch-Style Bagel Bar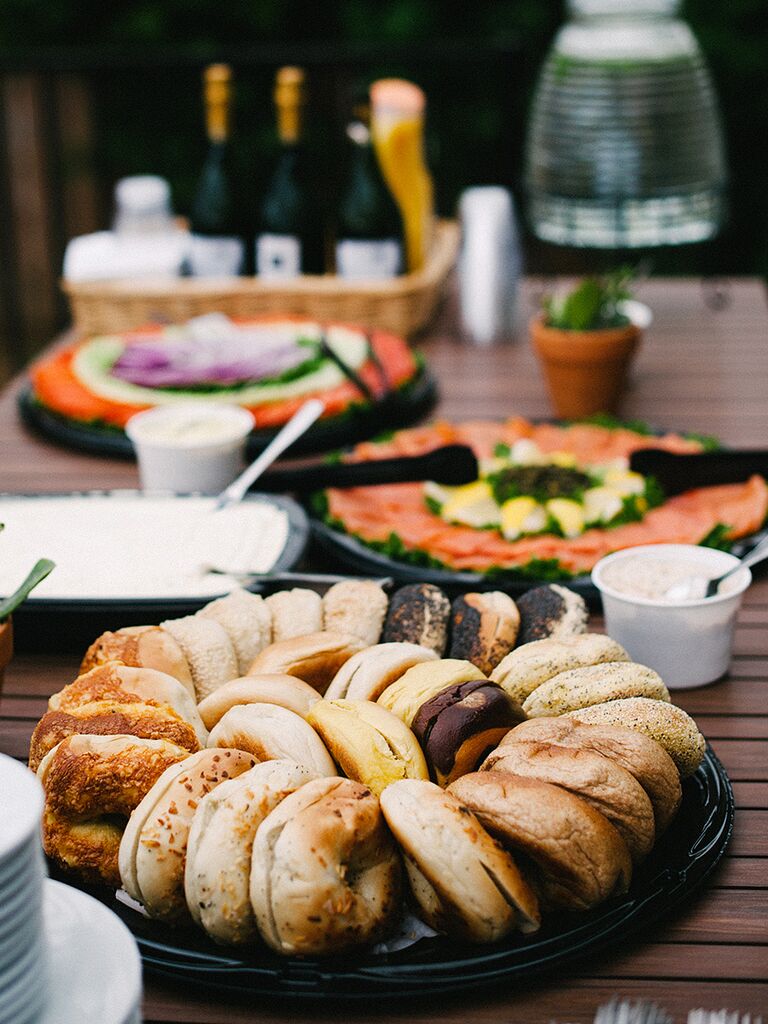 From: An Organic, Rustic-Themed Backyard Wedding at a Private Residence in Los Angeles, California
This wedding menu allows for ultimate customization. Pick and choose your favorite flavors, combine with toppings like lox and cream cheese, then pair with a delicious selection from a mimosa bar.

Freshly Grilled Corn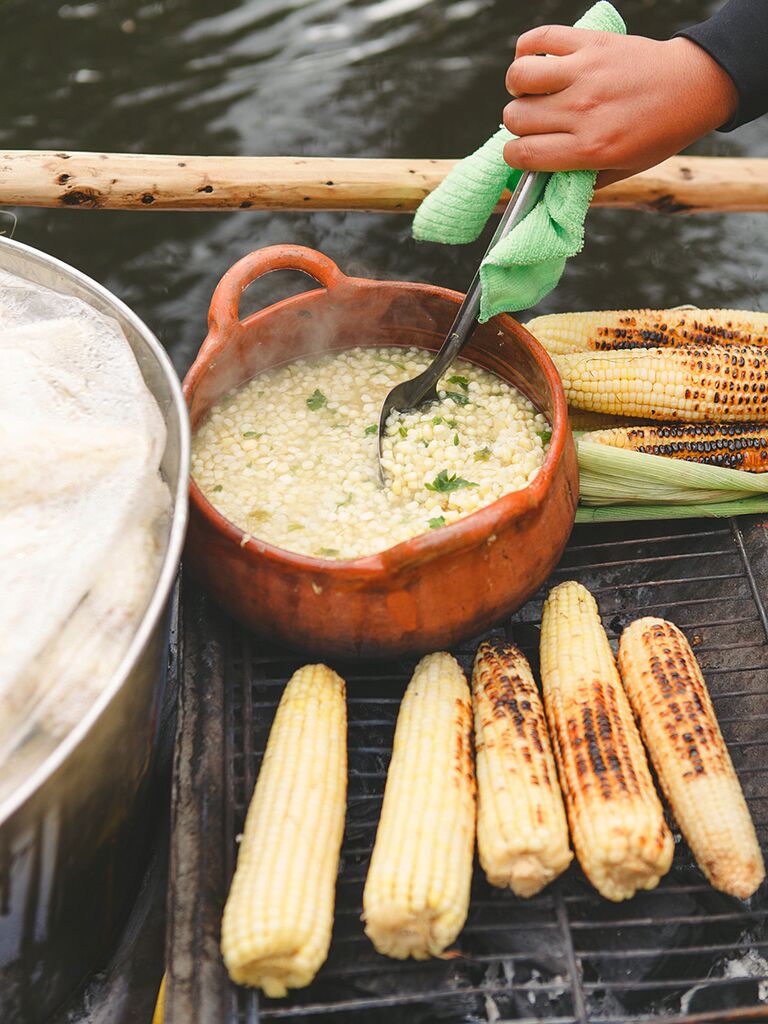 From: A Colorful Mexican Fusion Wedding at Four Seasons Hotel in Mexico City, Mexico
Summer sweetness is embodied in freshly-picked corn. Put it on the grill and you're on your way to creating a modern wedding menu your guests won't soon forget.

American Family-Style Dinner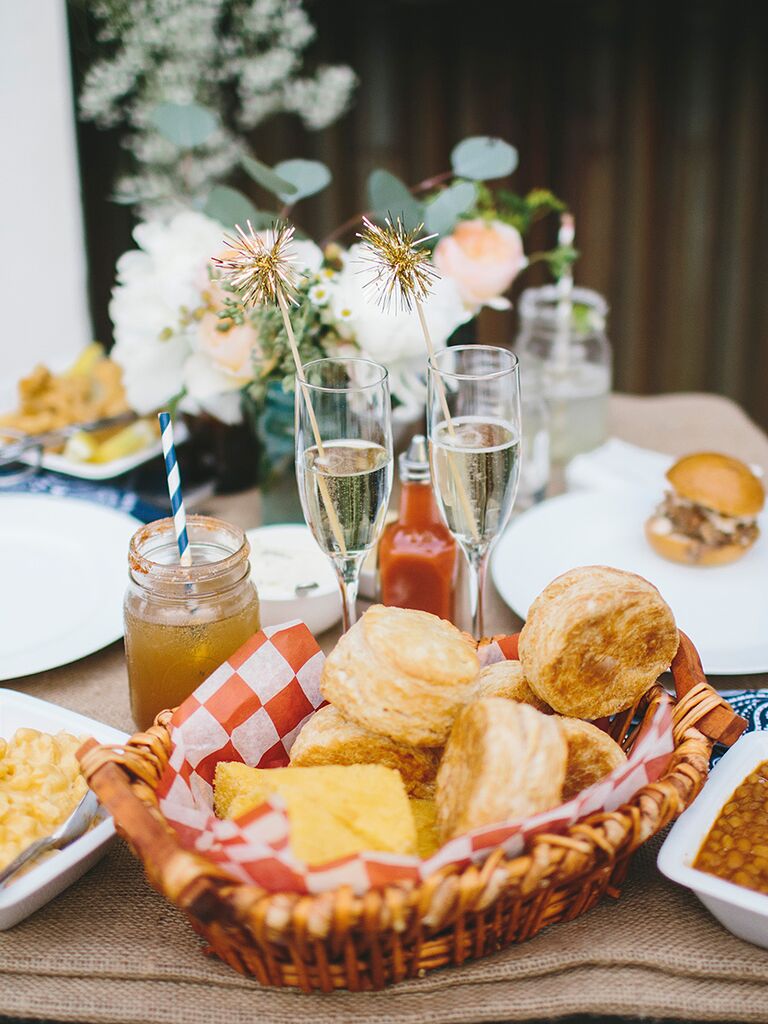 From: Hip, Vintage Americana Wedding at TBD Brooklyn in Brooklyn, New York
Sweet tea and champagne might not be the most classic of combinations, but when paired with buttery biscuits, gooey macaroni and cheese, and sliders, this wedding food is undeniably appealing.

Grilled Chicken and Cherry Tomato Skewers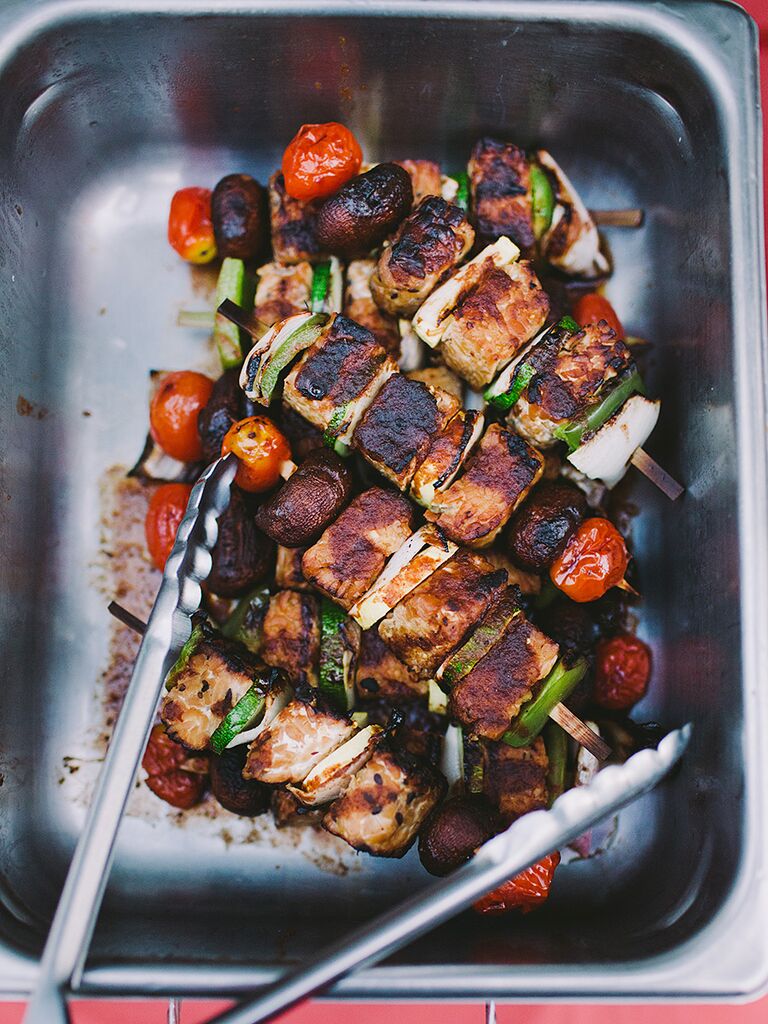 From: A Whimsical and Nautical Wedding at Bold Colorful Life Estate in Boothbay, Maine
Mushrooms, zucchini, cherry tomatoes and grilled chicken are grilled to perfection for this back-to-basics-inspired wedding menu. Add a s'mores station for late night snacking guests can DIY.

Spring Green Salad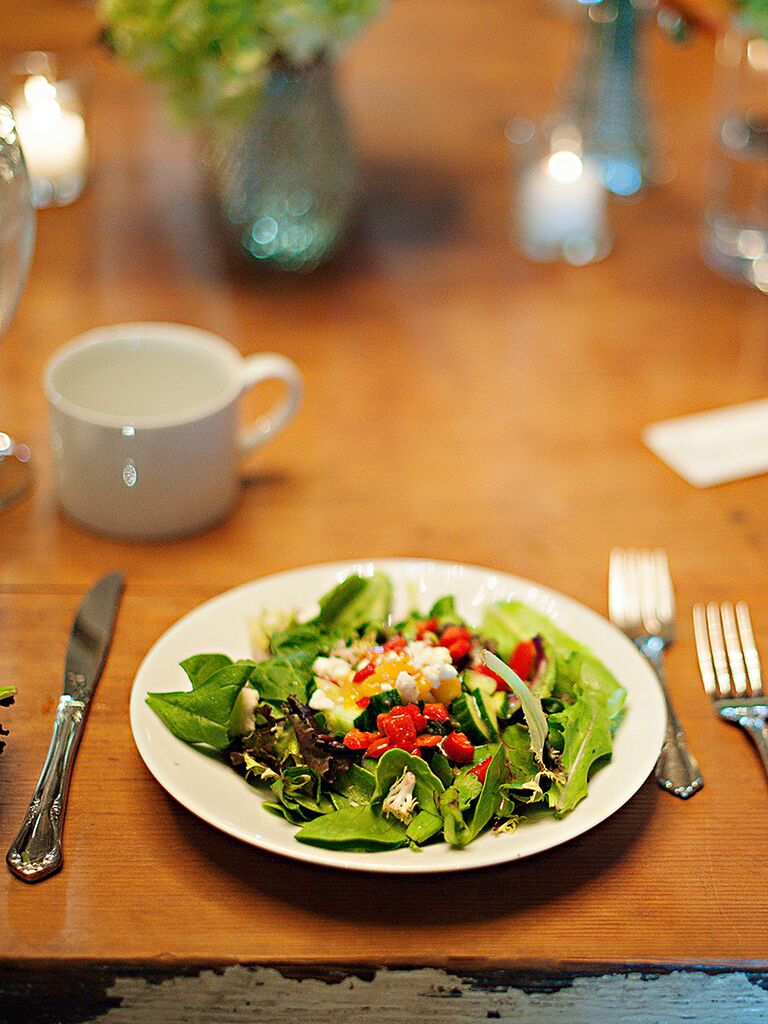 From: A Modern Orange Wedding With Rustic Twist at The Guild in Kansas City, Missouri
A hearty salad with spinach, tomatoes and goat cheese makes for an ideal appetizer or entree.

Butternut Squash, Fresh Fruit and Stake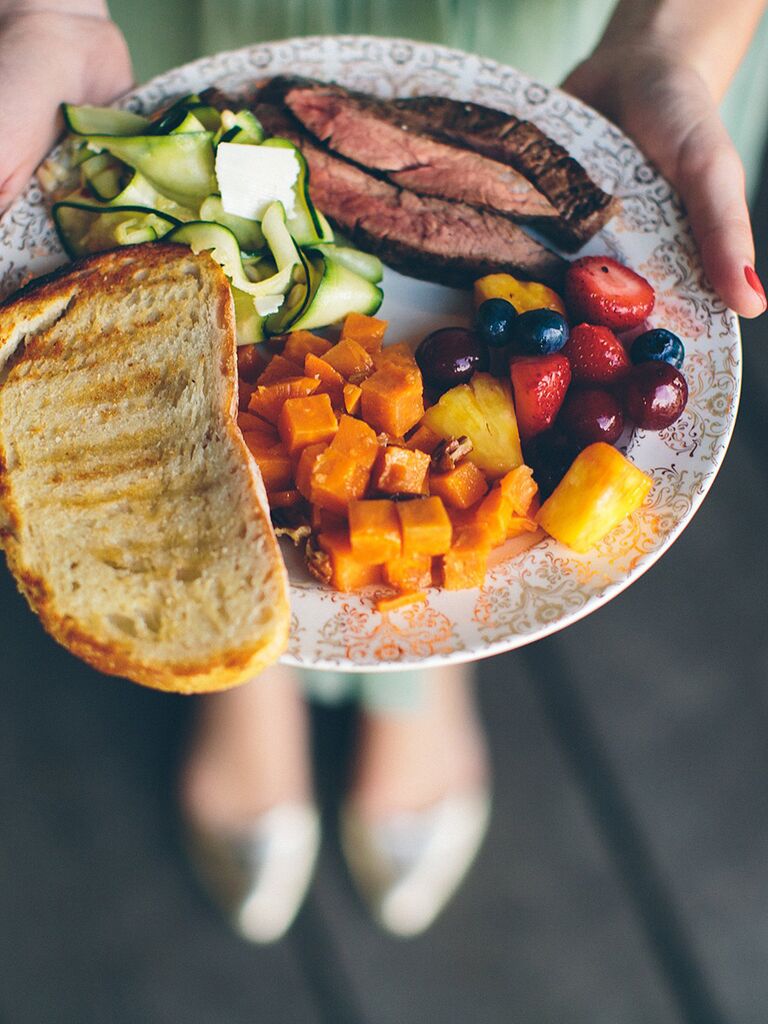 From: A Snowy Mountain Lodge Wedding in Centennial, Wyoming
Zucchini ribbons will make you rethink everything you ever knew about vegetables. Pair it with steak, butternut squash, toast and fresh fruit from a truly memorable wedding menu item.