52 Wedding Food Ideas to Create a Menu That You Love
As the saying goes, the way to the heart is through the stomach.
When it comes to your wedding food, it's easy to feel underwhelmed by dishes you've seen a hundred times. You want to serve something special, right? We get it. To help spark some culinary inspiration, we've rounded up 52 wedding food ideas that are anything but basic. Trade in traditional picks for something that's more authentic to you to create a wedding menu that you truly love. From wood-fired pizza to sushi stations and portable oyster buckets, these ideas will grab your taste buds' attention.
In this article:
How to Choose Your Wedding Menu
Once you've finalized your wedding venue and date, you can start researching wedding caterers and thinking about the types of food you want to include on your menu. Here are a few details to consider before moving forward.
Review your venue contract first.
Before you make any decisions about your wedding menu, double-check your venue policies and requirements. There may be in-house catering services that you're required to use or a list of preferred wedding vendors that you need to choose from. If your venue has a preferred vendor list and you don't want to use one of their recommendations, they may charge a fee to hire an outside caterer.
Think about the type of wedding food you want to serve.
If you already know that you want a specific type of food for your wedding, do your research to find a caterer who's able to meet your needs before signing any contracts. While most catering companies can easily handle standard menu items and basic entrees, you might need to find someone more specialized if you're looking for something beyond that. Dietary-restricted foods, traditional cultural meals and out-of-the-box requests (like a custom ramen noodle bar) are best handled by chefs with some prior experience.
Infuse your personalities into the wedding menu.
"As you are planning your wedding menu, consider soliciting ideas and feedback from family members or offering a family favorite or cultural dish," says Jennifer Morris, the director of catering at Kimpton Shane Hotel in the Midtown neighborhood of Atlanta, Georgia. "This will help make the dining experience more personal while showcasing love and unity." Morris recommends incorporating food that reflects a part of your relationship, like a dish you ate on your first date or your go-to drinks as signature cocktails.
If you're feeling stumped about wedding food ideas, leave it to your catering team to share their expert recommendations. Once you've determined a budget, the meal formality (casual buffet or seated four-course dinner?) and a general wedding theme, your caterer will have a better idea of what types of food match your vibe. On The Knot Marketplace, you can search for local wedding caterers based on cuisine type, price range and more.
Example Wedding Menu
So, what does a wedding menu actually consist of? Typically, it includes a few appetizers, entree options (usually at least one or two your guests can choose from) and dessert. Check out these sample wedding menus shared by the team at Kimpton Shane Hotel and then head to The Knot Invitations to browse paper menu cards and signage.
Sample Plated Wedding Menu
Appetizers (passed, set stations or combination of the two)
Salad course
Plated entree
Wedding cake and desserts
Sample Buffet Wedding Menu
Appetizers (passed, set stations or combination of the two)
Salads
Sides
Proteins
Wedding cake and desserts
Simple Wedding Food Ideas
There's nothing wrong with keeping your menu simple and fuss-free, but that doesn't mean it has to be boring. These easy wedding food ideas hit the mark for creativity and taste.
1. Bruschetta Bites
Toasted garlic bread and seasoned veggies are a crowd-pleasing combo. This appetizer is relatively easy to make and serve, especially if you're feeding a large guest count.
2. Sushi Station
Pay homage to your favorite date night activity by setting up a sushi station for cocktail hour. Guests can choose their own rolls—just be sure to include some veggie options for vegan guests and those who don't eat seafood.
3. Asparagus Spears
Asparagus is naturally in-season during the late winter and early spring months, but this wedding food idea is one that we'd try all year round. Serve the spears with a custom seasoning or toppings, like a dressing or parmesan cheese.
4. Wood-Fired Pizza
It's hard to say no to a hot slice of pizza, especially a wood-fired flatbread. Agree on a few toppings with your caterer beforehand or allow your guests to customize their own pizzas.
5. Spring Rolls
You might not have thought about serving spring rolls at your wedding, but these apps are easy for your guests to grab and go as they mingle. Fill yours with vegetables and optional meat or seafood depending on what you like.
6. Watermelon and Feta Cubes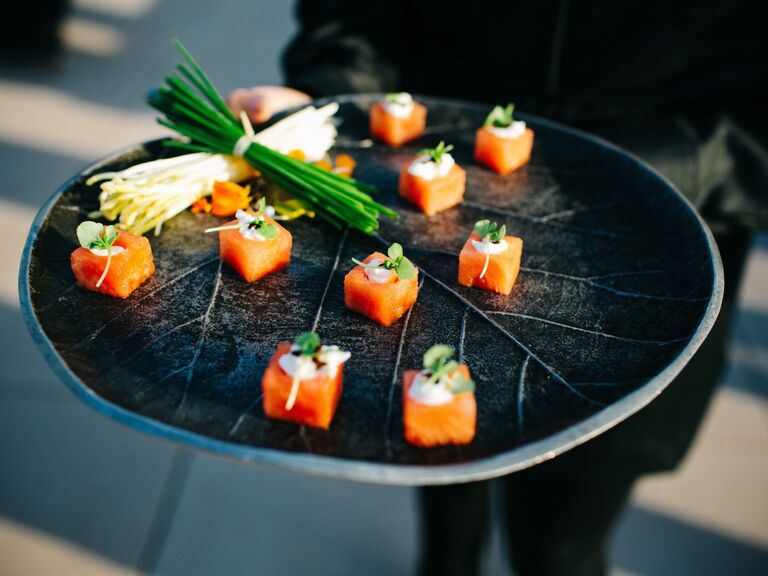 We love this refreshing wedding food idea for a summer reception. The tangy feta cheese balances the sweetness of the fresh watermelon, and you can add a sprig of mint or drizzle balsamic vinegar on top.
7. Caprese Skewers
Try this inventive (and convenient) spin on traditional Caprese salad. Rather than serving it on a plate, place mozzarella, cherry tomatoes, basil and balsamic on a skewer for your guests to enjoy during cocktail hour.
8. Raw Bar
If you're getting married in a region that's known for fresh seafood, setting up a raw bar at your wedding is a must. Include shrimp, oysters, crab claws or other options from the catch of the day.
9. Cucumbers and Hummus
In search of vegetarian or vegan-friendly options? Garnish sliced cucumbers or other veggies with dollops of hummus in a variety of flavors.
10. Prosciutto-Wrapped Peaches
Anyone who loves a sweet and savory combo won't be able to pass up this easy wedding food idea. Wrap thin slices of prosciutto around fresh peaches or nectarines for a tasty summertime appetizer.
11. Spring Salad
The salad course at your wedding doesn't have to be boring. Work with your caterer to choose a mix of veggies that's delicious and colorful, like this plate of radishes, mixed greens and yellow peppers. Bonus points for tying the colors into your wedding's color palette.
12. Grilled Kabobs
Grilled kabobs are an easy wedding food idea if you're trying to keep things casual but don't want to go the buffet route. They're quick to cook, easily customizable and absolutely delicious. Fill them with your favorite meats or veggies and serve them hot off the grill.
13. Lobster Rolls
If you're planning a coastal New England wedding, it's probably already a given that you're serving lobster rolls at some point. Don't be surprised if these are snatched up quickly by your guests—be sure to ask your caterer to save a few on the side for you and your spouse.
14. Bite-Size Tacos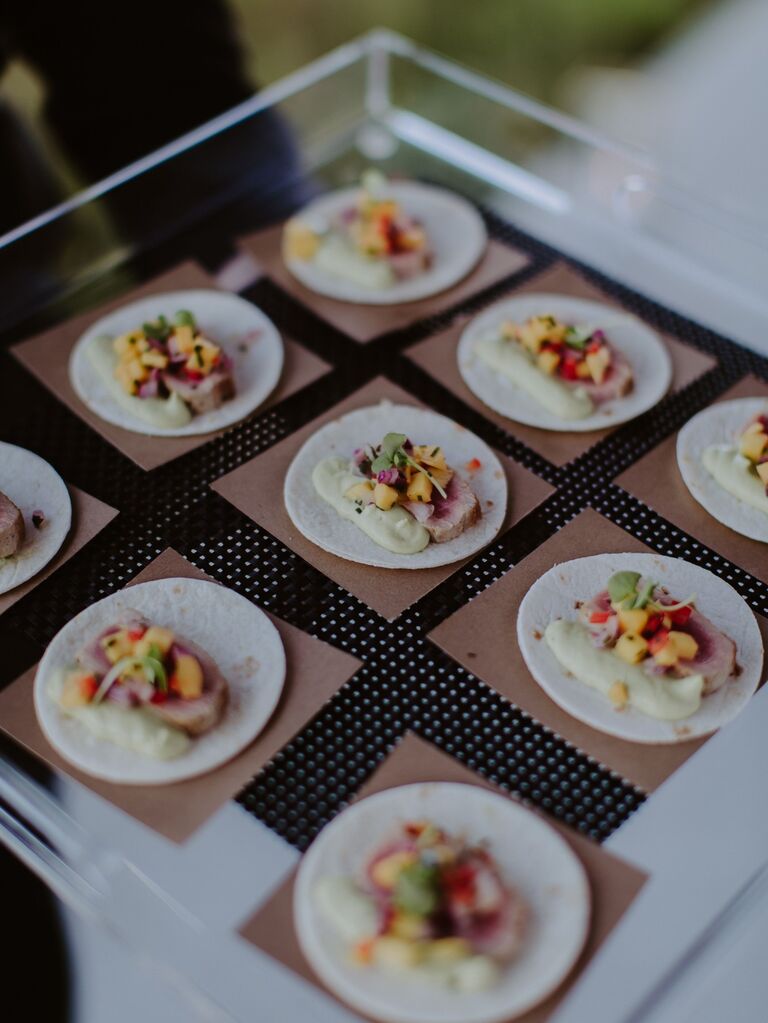 Is there anything cuter than mini tacos? These bite-sized tortillas can be filled with your choice of meat, veggies and other toppings depending on the season.
Unique Wedding Food Ideas
Looking for unique wedding food ideas that your guests haven't seen a dozen times before? Check out these hors d'oeuvres and entrees that go beyond chicken or fish.
15. DIY Crostini
As much as we love breadsticks, this do-it-yourself crostini station takes the concept to a new level. Guests can snack on the toasted bread slices and add optional toppings to their liking, from ricotta cheese and honey to sundried tomatoes or pesto.
16. Wontons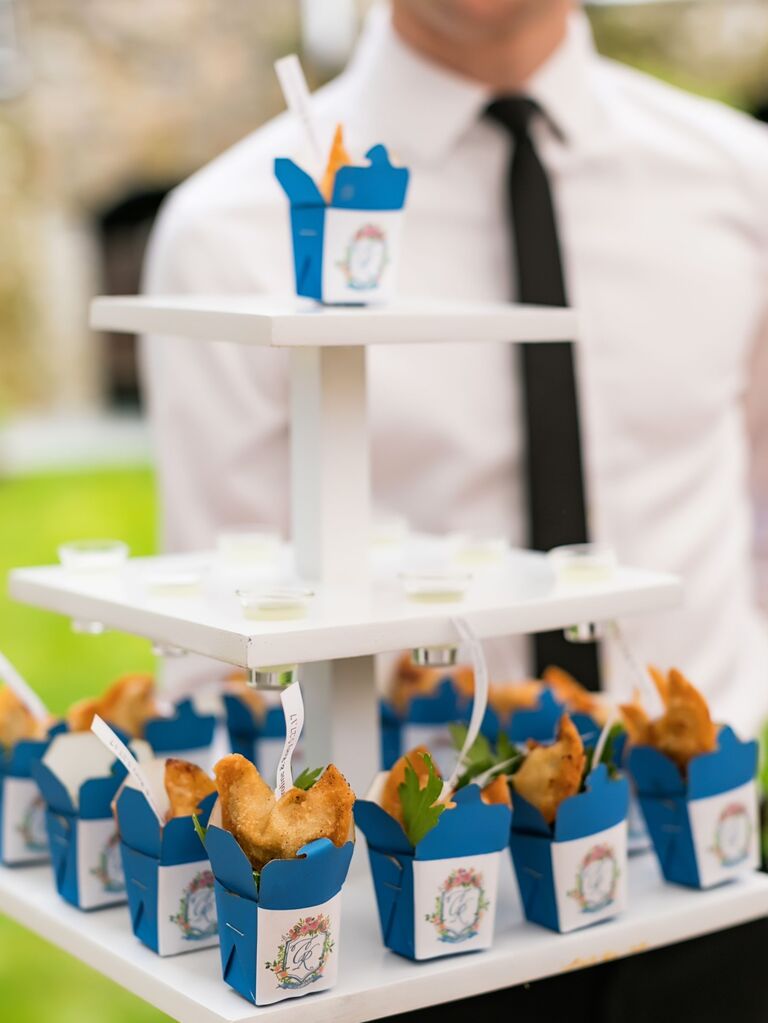 Whether you're infusing your Chinese heritage into your wedding menu or you simply love traditional Chinese cuisine, treat your guests to fried wontons as a unique wedding food idea. Serve them in miniature to-go boxes for an extra-cute effect.
17. Steak Frites
This gourmet appetizer is an upgraded take on the classic steak and fries pairing. The fries are wrapped in thin slices of meat so guests can enjoy the whole thing in one bite.
18. Poke Bowl
Put your own twist on a fish dish by serving fresh poke. You can either offer a selection of different pre-made bowls or allow your guests to build their own bowls. It's a unique wedding food idea if you're planning to serve seafood but want to think outside the box.
19. Crab Cake Bites
You might have thought about serving crab cakes at dinner, but you can offer them as hors d'oeuvres, too. Garnish bite-sized crab cakes with tartar sauce or classic Old Bay seasoning.
20. Antipasti Station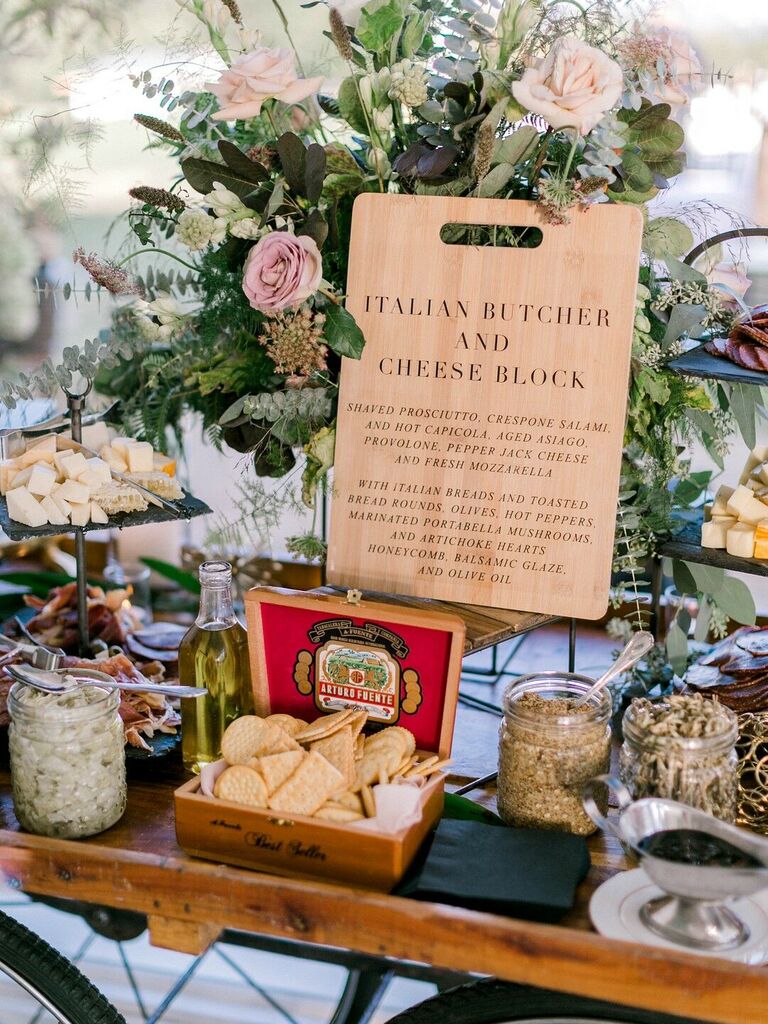 Take a page out of Italian menus and family meals by kicking off the cocktail hour with an antipasti spread of olives, bread, dipping sauce, sliced meats and a variety of cheeses.
21. Paella
Serve paella as a course during your sit-down meal. Not only is it an unexpected wedding dinner idea, but guests will love watching how the rice and ingredients are cooked in the large pan.
22. Gazpacho Shooters
Chilled gazpacho is a refreshing and unique appetizer idea for a summer wedding. These mini shooters make it easy for your guests to try the chilled soup without the need for utensils.
Casual Wedding Food Ideas
Forget the idea that you have to serve ultra-fancy food at your nuptials. If you're in search of backyard wedding food ideas or dishes that don't feel too overdone, consider these recs.
23. Fast Food Buckets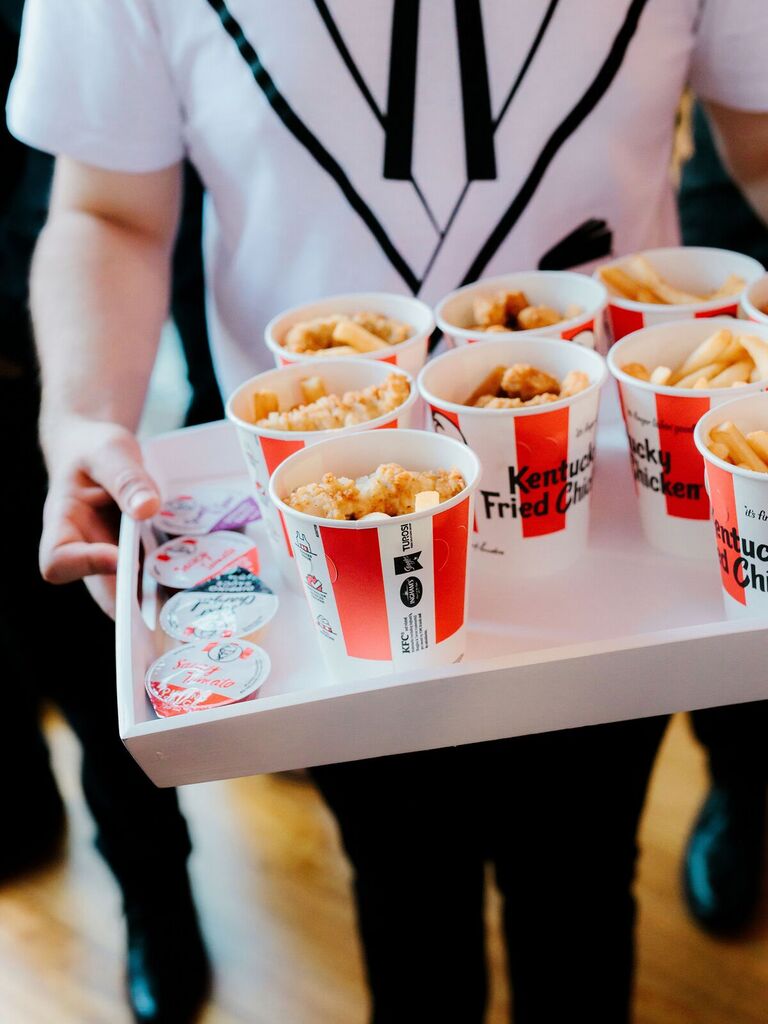 Copy this idea for your late-night wedding snack or as a surprise at the after-party. The appearance of your favorite fast food will get everyone excited to dig in, and it's a fun way to put your own stamp on the wedding day.
24. Steamed Bao Buns
Bao buns are a top pick because they're so event-friendly. Whether your guests are standing by the bar at cocktail hour or excitedly chatting at dinner, these wrapped buns are easy to hold and eat.
25. Bratwurst and Beer Flights
Whether you're saying "I do" at a brewery or your go-to date night activity is trying different brews together at your favorite local spot, your guests will love this casual wedding food idea.
26. Fruit Skewers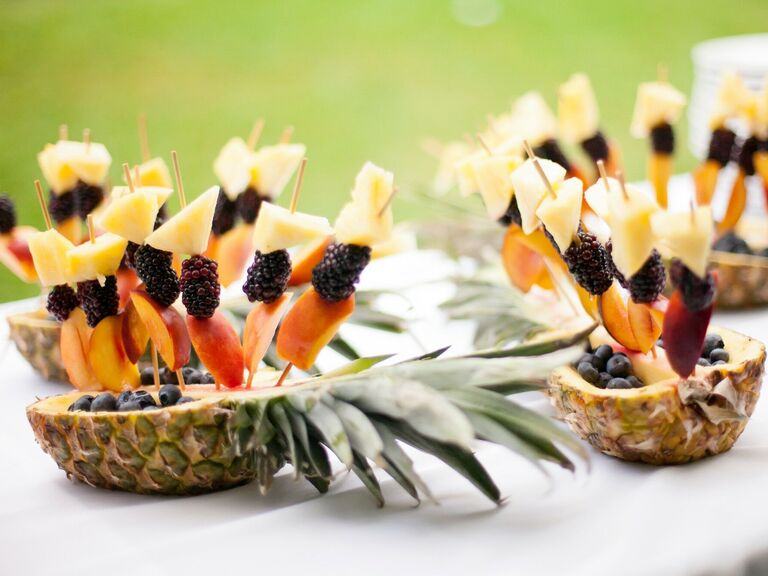 Fresh fruit is ideal for a casual brunch wedding or a hot summer celebration. This creative pineapple display helps the fruit to feel a little more styled, and the skewers make it simple for guests to take their pick.
27. Pigs in a Blanket
Tap into childhood nostalgia and serve bite-sized pigs in a blanket paired with miniature beer steins and toothpicks.
28. Grilled Panini
From ham and cheese to mozzarella and tomato, there are so many different panini options to choose from. Cut them into smaller squares that are perfectly sized for the appetizer course.
29. Chips and Salsa
Your guests will be thrilled to find chips and salsa (or guac) waiting for them at their tables. Kickstart a Mexican-inspired wedding menu by serving this as the first course, and keep the margaritas flowing.
30. Portable French Fries
A popular late-night snack choice, french fries are a crowd favorite when it comes to casual wedding food ideas. Elevate the snack by serving fries in small cups with accompanying sauce.
31. Sliders
Sliders are a year-round favorite, whether you opt for simple cheeseburgers or branch out with something more expected, like pulled pork or buffalo chicken. Either way, they're substantial apps that guests will love.
32. Mini Grilled Cheese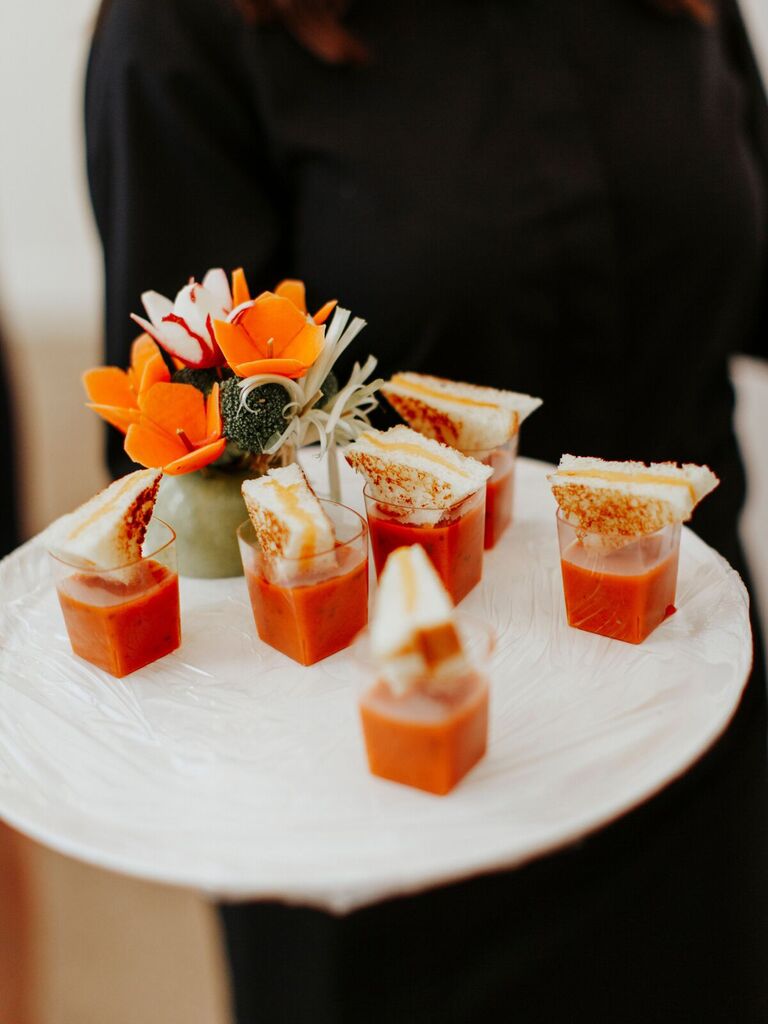 Comfort food, but make it elegant. A bite-sized grilled cheese sandwich paired with a small serving of tomato soup feels like an elevated version of an old favorite.
Fun Wedding Food Ideas
Interactive elements and food stations will help your guests remember your special day. Here are some of our favorite fun wedding food ideas, from appetizers and drink pairings to soft pretzels with toppings.
33. Charcuterie Cones
It's no secret everyone is obsessed with charcuterie tables, but with dozens (or hundreds) of guests to serve, you also need to think about how to prevent crowding at the display. With these charcuterie cups, you can pass out a pre-made assortment of cheeses, meats, crackers and fruits for your loved ones to enjoy.
34. Mozzarella Bar
We know—we had you at cheese station. Offer your guests a mouth-watering selection of different cheeses complete with crackers, freshly-baked bread, fruit, vegetables and nuts.
35. Oysters on the Go
Create an exciting interactive experience for your guests with traveling seafood servers. The catering staff will personally shuck oysters for guests (with hot sauce, of course) as they mingle during cocktail hour. If oysters aren't your favorite, consider lobster claws or popcorn shrimp.
36. Pancake Stack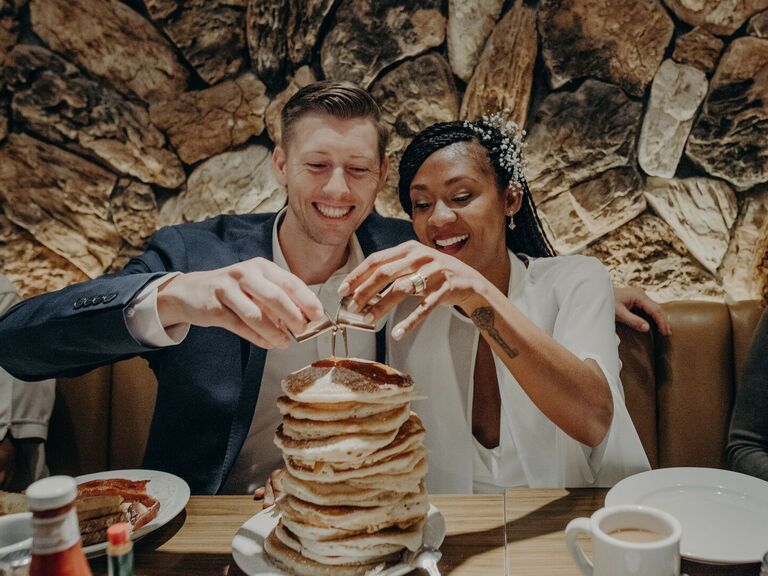 If your favorite meal is breakfast, we're all for incorporating that into your wedding menu. Even if you're not planning a brunch wedding, you can serve breakfast for dinner—pair pancakes, waffles, eggs and bacon with espresso martinis or mimosas to hit the spot.
37. Dim Sum
Let your guests build their own dim sum plate by serving a variety of dishes to sample and choose from. It's the perfect way for people to try dim sum if they've never had the chance before.
38. Tacos and Mini Margaritas
Serve bite-sized tacos and mini bottled margaritas to get the party going. They're both small, so your guests will have no problem doubling up during cocktail hour.
39. Picnic Meal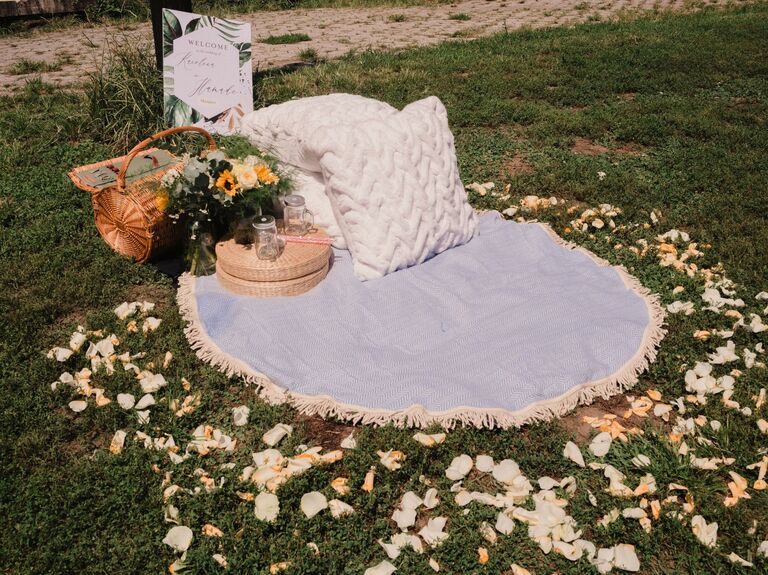 Set up picnic stations around your cocktail hour space for a creative and fun wedding food idea. Serve picnic-inspired foods, like pasta salad, baguettes, club sandwiches and watermelon slices for guests to enjoy al fresco.
40. Late-Night Diner Food
Turn the reception into a themed late-night party that's inspired by an old-fashioned diner (named after you and your partner, of course). Chicken tenders, fries, waffle stacks, hash browns and omelets should all make it onto the menu.
41. Flavored Popcorn
Refuel guests' energy during the cocktail hour or on the dance floor with grab-and-go popcorn. Offer sweet and savory flavors, like salted caramel or chocolate drizzle, so there's something for everyone.
42. Soft Pretzels
This soft pretzel display is a fun food station for your guests, and it doubles as reception decor. Set it up with toppings and a variety of dipping sauces.
Rustic Wedding Food Ideas
For an outdoorsy theme, turn to rustic wedding food ideas like farm-to-table menus and Southern-style dishes.
43. Comfort Food Buffet
If you're planning a low-key rustic wedding, pull inspiration from potluck meals (even if you're not hosting an actual potluck) for a family-style vibe. Comfort food dishes like corn on the cob, mashed potatoes and mac and cheese will be a hit with guests young and old.
44. Elk Bites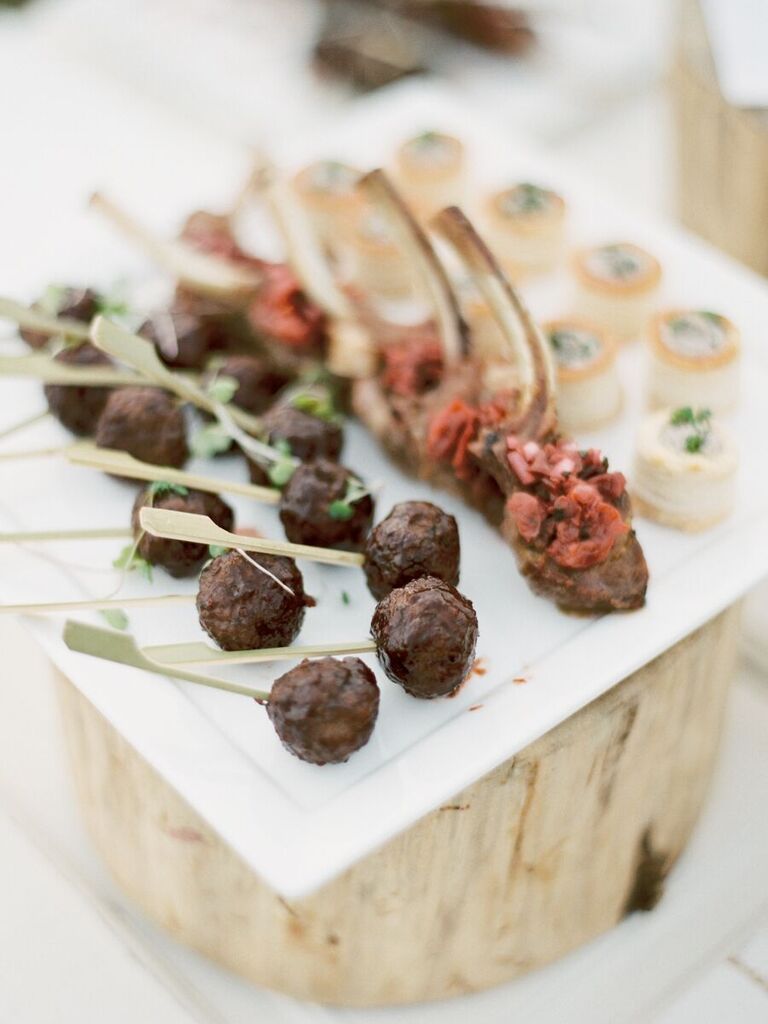 Instead of steak or chicken bites, serve elk bites for a slightly more rustic-inspired food idea for your menu.
45. Ham and Cheese Biscuits
No Southern wedding menu is complete without biscuits, and there are a few ways to spice them up for your own reception. Try sweet potato-flavored biscuits for something a little unexpected, or garnish them with edible flowers for a charming look.
46. Bacon Topping Bar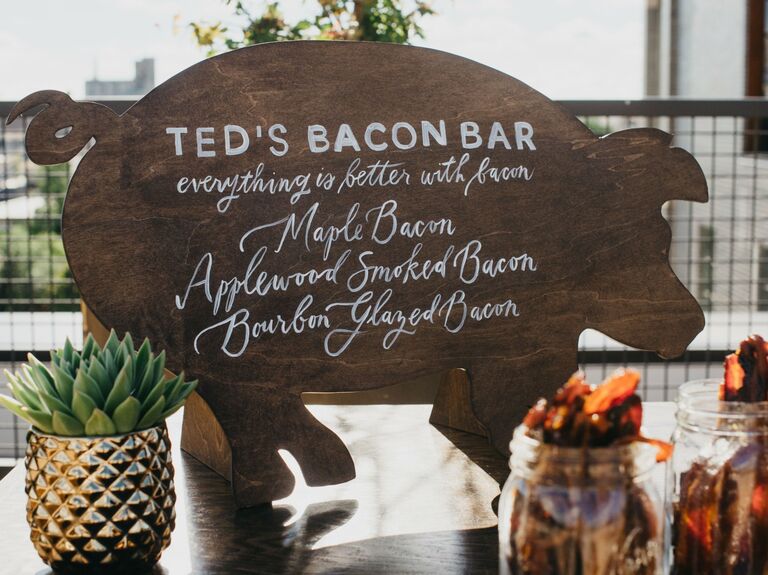 For the serious bacon lovers, this bacon bar is all you could ever need. Include different flavors that your guests might not have tried before, like bourbon glazed bacon, honey barbecue or cinnamon.
47. Grilled Veggies
Celebrate your wedding season with a plate full of delicious seasonal vegetables—aim to source them locally if possible (perhaps even from your wedding venue!). Call out the farm-to-table approach on special menu cards at each table.
48. Fried Chicken
Whether you follow a secret family recipe or leave it up to your caterers to work their magic, country-style fried chicken is a go-to rustic wedding food idea, especially for backyard receptions and low-key groups.
49. Quail and Mushrooms
This hearty entree is perfect for a rustic fall wedding if you want to take a fancier approach with your menu choices.
50. Pickle Station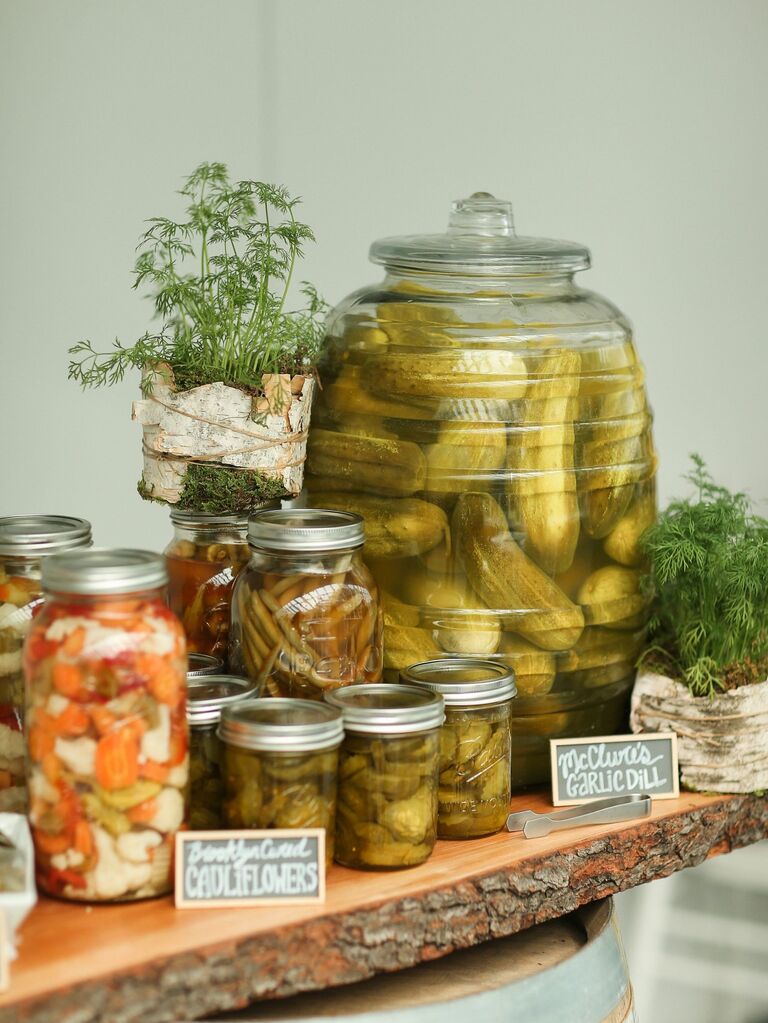 From classic dill pickles to pickled cauliflower, this rustic wedding food idea is also totally unexpected for your guests. Pickle lovers will enjoy snacking on the different options during cocktail hour or adding them as a side dish for the entree course.
51. Pre-Portioned Salads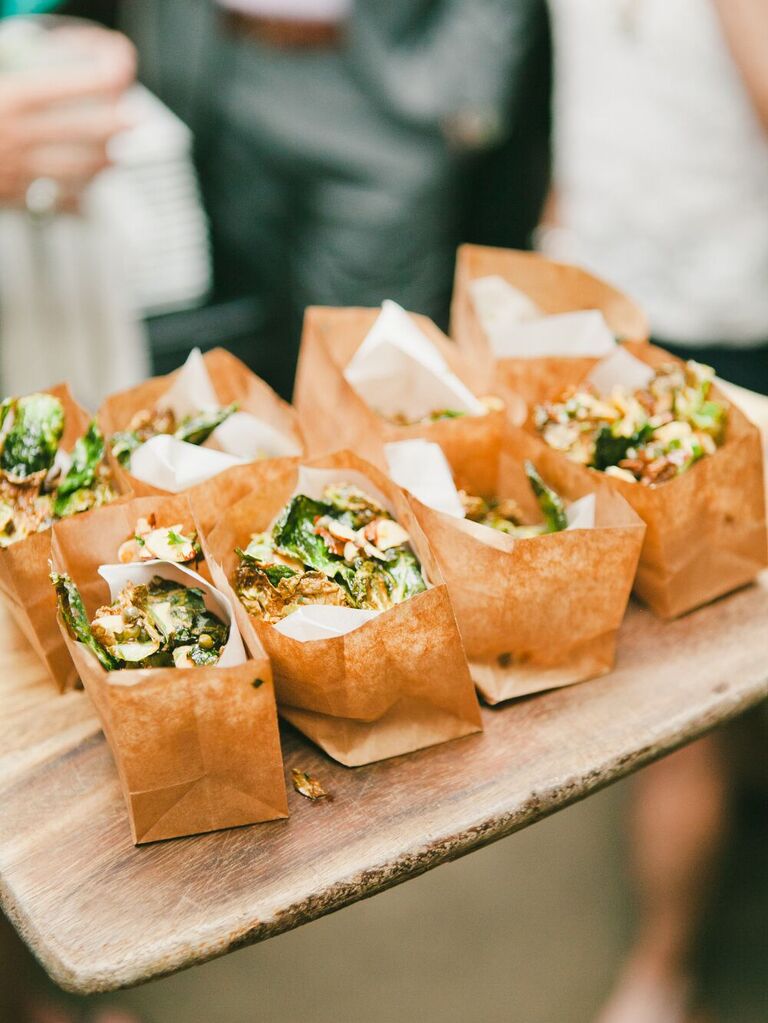 A basic salad doesn't quite seem rustic on its own, but when you portion the helpings into brown paper bags, the appetizer takes on a whole new life. These pre-portioned servings are cute and practical—a win-win.
52. Bacon and Pimento Cheese Bites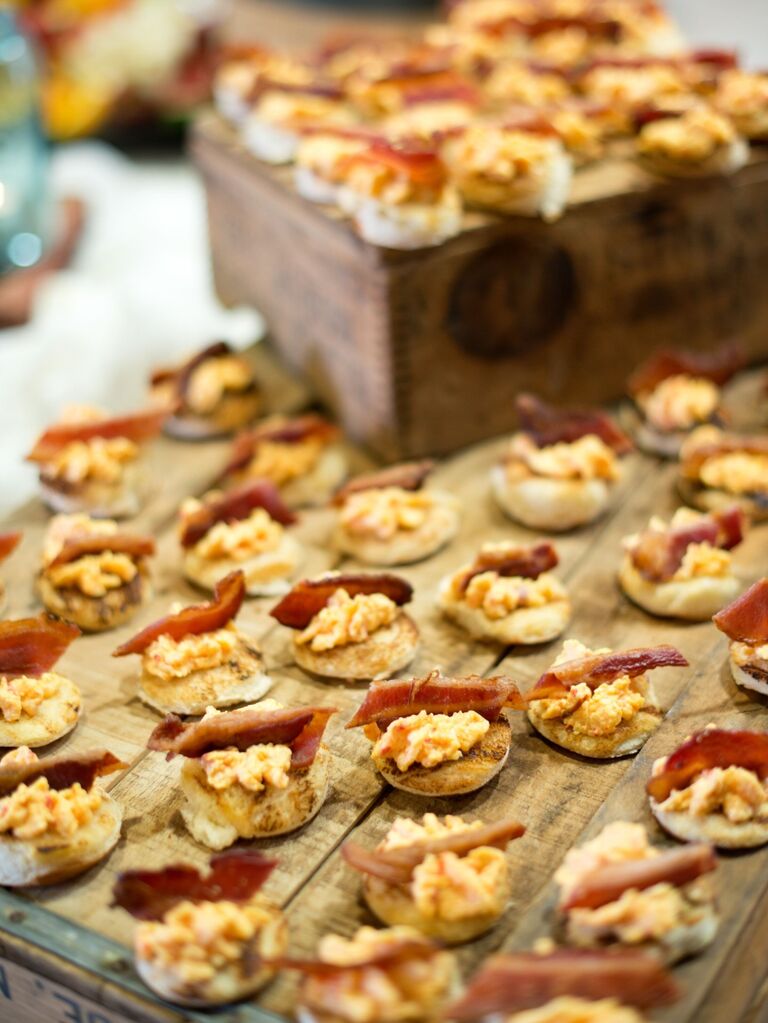 Guests will have a hard time turning down these bacon and cheese bites. Add them to standard party crackers or incorporate a sweet flavor element, like mini pancakes or waffles.