9 Of-The-Moment Wedding Food Trends, According to Experts
We'll take one of everything, please.
WILSON LAU PHOTOGRAPHY
One of the best ways to personalize your wedding day is to be intentional with your menu choices. The food you serve at your nuptials can tell a story: about your relationship, about your families or about your future. To help spark inspiration, we rounded up our favorite wedding food trends that we predict will be everywhere in 2022. From hyper-personalized menus to of-the-moment ideas (think: creative food stations, individual servings or plant-based menus), we have ideas for every kind of couple. Work with your wedding planner and your wedding caterer to help bring any (or all) of these ideas to life. These expert-approved tips will leave guests gushing about your reception long after you say "I do.
Personalized Food Stories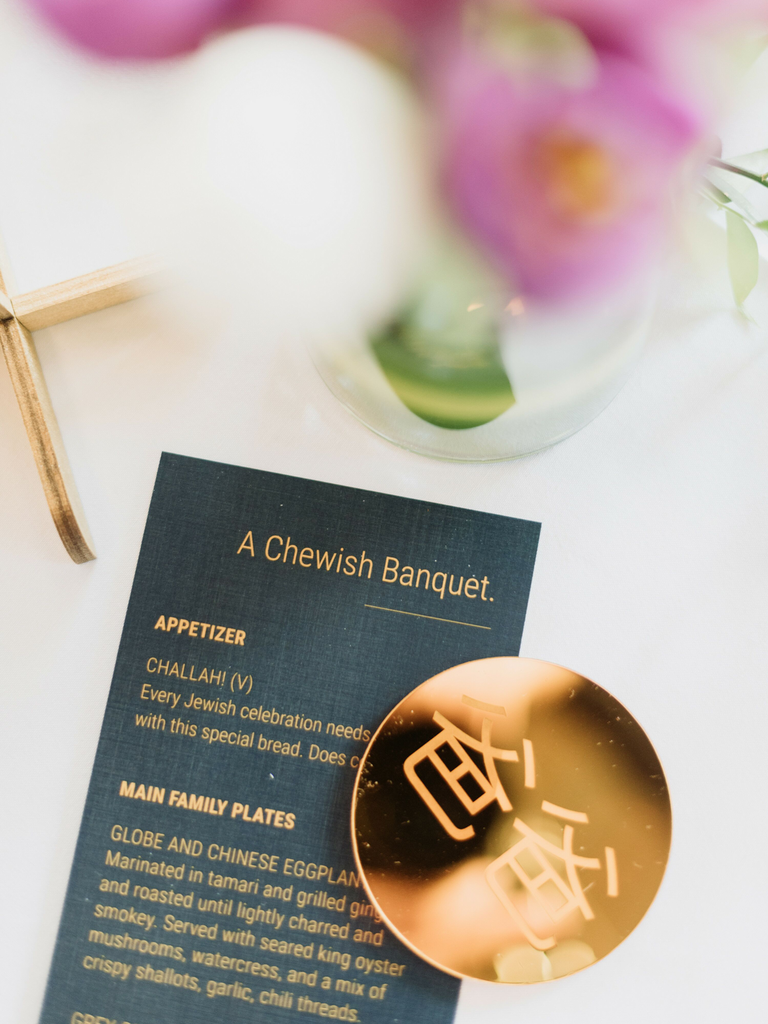 Our favorite wedding good trend for 2022? Personalized food choices. More and more couples are using their wedding day menus to share their stories and connect with their guests. "As humans we bond over food—from our first bite of food as a kid to the food we enjoy on our first date to the food we share with loved ones for special occasions," says Jove Meyer, owner and creative director at Jove Meyer Events in Brooklyn. "Couples should focus on incorporating their favorite foods into the wedding, they should think back on the foods that mean something to them and their loved ones."
That means ditching the typical wedding menus and thinking outside the box. "Think about the food you enjoyed on your first date or on your first anniversary, or think about your favorite restaurant and or food truck," Meyer adds. "If you love to cook, then incorporate your favorite recipe and or a family recipe as a special touch to make the food even more special."
Pro tip: Alyse Balderrama, wedding planner at Event Shoppe Chicago in Chicago, recommends thinking about all the notable restaurants you've been to (whether for a first date or for a proposal) and asking if they could cater your wedding. Or, pull inspiration from your go-to spot instead. "Your signature drink could be a favorite beverage from a restaurant you frequent as a couple," says Desireé Dent, owner of Dejanae Events in Chicago.
Other suggestions? Think of your favorite vacations and the foods that defined it. Or, reminisce on the dinner parties you've hosted and the menus you put together for them. "Think of the meals you dream about and that bring you the most joy, and find a way to include those items into your big day," Meyer says.
If matching the actual dishes from your past feels too granular to you and your partner, use flavors that reflect your personalities. "If you have always been described as 'bold,' then offer an entree with a spicy element," Balderrama says. "Do you want to highlight how delightful your partner is? Focus on the sweetness of your dessert."
Take the presentation into account too—this reflects who you are in a creative way. "Wedding food is all about creating an experience for your guests, and how the food is served is a major factor," Balderrama says. "If you and the person you're marrying love to enjoy fine dining, then serve the food in a way that reflects that. If you're more laid back, offer your guests a buffet. If you both are more excited about starting the dancing, then opt for a pre-plated entree."
All of this will make an incredible impression on your guests and create memories that will last a lifetime. " Memories connected to food are the best, as they come alive every time you eat that same food—so make your wedding come alive with happy memories of the food you both love," Meyer says.
Make It Yours: The world is your oyster here. Sit down and think through all the possibilities with your partner until you find a menu lineup that feels authentic to you. "Don't feel stuck in having to serve a certain kind of food, or using food to show off," Meyer says. "If the food is delicious, plentiful and meaningful, you're doing it right!"
Plant-Based Menus
Calling all veg heds: Plant-based menus are on the rise. With high-profile events like the Met Gala serving vegan food, more couples are going to start requesting this for their nuptials. "More and more guests are requesting vegan and vegetarian options—and offering plant-based options is the best way to accommodate everyone," Balderrama says. "It's cost-effective, more sustainable and so delicious that your guests won't even know."
Make It Yours: The term "plant-based" might call to mind salads and roasted vegetables. However, there are so many exciting vegan foods to choose from. Whether you want a jackfruit pulled pork sandwich or a fried chicken sandwich made of seitan, the options are endless.
Thoughtful Late-Night Snacks
Late-night snacks aren't a new concept, but experts agree 2022 will see a new spin on the tradition. "Late-night snacks aren't going anywhere, but I predict that couples will make the selections more about the foods they love to eat when out on a date or at home watching movies," Dent says.
Meyer agrees. "Late-night foods will become a more important part of the food experience, not just a last minute decision," he says. "They'll be well thought out and planned in advance—a true and special food experience to enhance and keep the party going."
Make It Yours: Brainstorm with your partner to create a list of your personal favorite snacks. Give guests a small bowl of spiced-up ramen, crispy pizza rolls or hand-rolled burritos. If you have more of a sweet tooth, consider ideas like cosmic brownies, ice cream sandwiches or hot donuts.
Interactive Food Stations
Interactive food stations were one of our biggest trends in 2019—but they fell away due to the coronavirus pandemic. However, Dent says they're coming back in 2022. "During the cocktail hour, guests will be able to select hors d'oeuvres from small stations featuring light bites ornately displayed in mini vessels," she says. "These elaborate displays look like art and make for great conversation."
Make It Yours: Skip hyper-formal options and serve your guests fun, exciting bites. Think: a traveling oyster station (complete with sauce, of course), a hot pretzel table (plus accompanying dipping sauces) or grazing table full of sushi.
Couple's Choice
Gone are the days of the formulaic wedding menu. Meyer predicts that next year, couples will reimagine their day-of food and serve their personal favorites. "I think couples will move away from super formal foods and lean into incorporating their favorite foods throughout the event," he says. "We'll see more comfort foods at cocktail hour and dinner (think: carbs, cheeses, all the good stuff)."
Make It Yours: Don't be afraid to show your personality here. Any of your favorite foods are fair game: pizzas, tacos, sushi, dim sum, takeout or fast food. Psst: Brunch is included here. Offer your guests delicious breakfast foods (like chicken and waffles or avocado toast) along with mimosas for a unique meal experience. Not only will your guests love the delicious food, they'll feel even more connected to your love story.
Private Chef Experience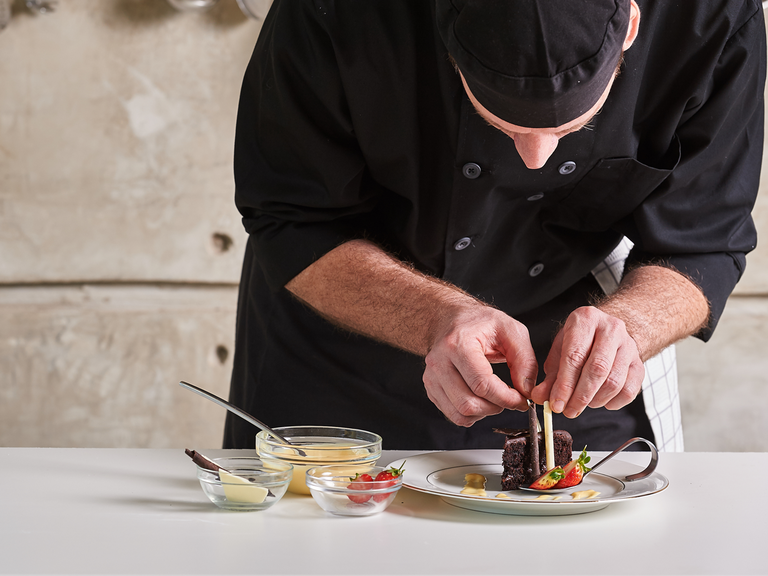 One trend on the rise? Hiring a private chef for your event and having them put together a personalized tasting menu. "This turns your guest's dining into an unforgettable experience and is perfect for an intimate wedding with all your closest friends and family," Balderrama says. "Couples are always looking for new ways to elevate their wedding and make it unique—this is the perfect way to do both."
Make It Yours: If the idea of hiring a private chef for your whole wedding isn't in your budget, think of different ways to incorporate this trend. Maybe they can create appetizers or desserts—or perhaps they can craft the meal for your rehearsal dinner.
Individual Servings
COVID-19 changed the way wedding receptions worked. Menus were reimagined into individual servings for a safe, seamless experience. And that change is here to stay. Expect to see this trend become more elevated in 2022. Experts predict items like sushi flights, caviar tastings, personal dessert platters will be everywhere in the coming year. Plus, the presentation will be elevated as well with a surprise reveal, decorative serving ware and unique garnishes.
Make It Yours: Think of your favorite foods that can easily be packaged up into a miniature version. Some of our favorite ideas include individual charcuterie boards, a flight of sliders or a tiny wedding cake.
Edible Flowers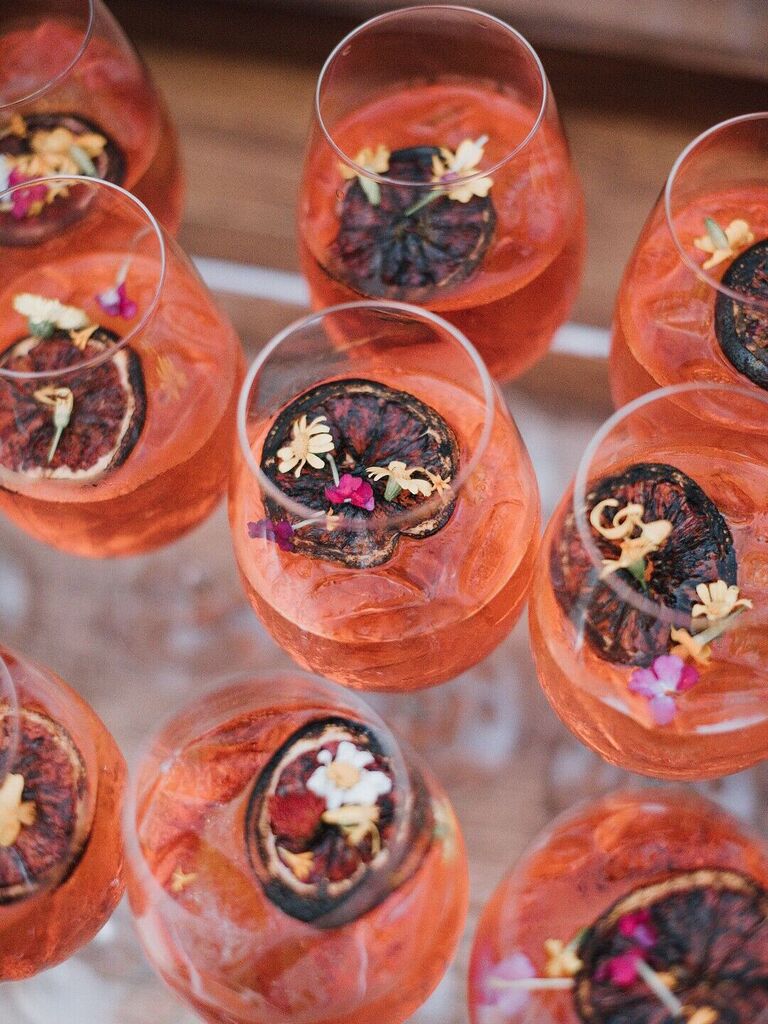 Good news for the flower-obsessed: Edible flowers are going to be everywhere (from cocktails to cuisine) in 2022. "It's important to remember that guests eat with both their eyes and their stomach," Balderrama says. "Your wedding day is full of beautiful details, and your food should be one of those. Incorporating florals into your food is unexpected and will definitely be something that your guests will remember."
Make It Yours: Work with your caterer to incorporate your wedding flowers (or wedding colors) into the platings. Keep the color of the dishes in mind too to avoid any clashing. And if you don't love the idea of flowers in your food? Add one into your signature cocktail for a sweet and unexpected surprise.