11 Of-the-Moment Food Trends for Your Wedding
We'll take one of everything, please.
Energize your wedding menu with our favorite of-the-moment catering trends, like eye-catching displays and preceremony sips. These foodie-approved ideas will leave guests gushing about your reception long after you say "I do."
Midnight Snacks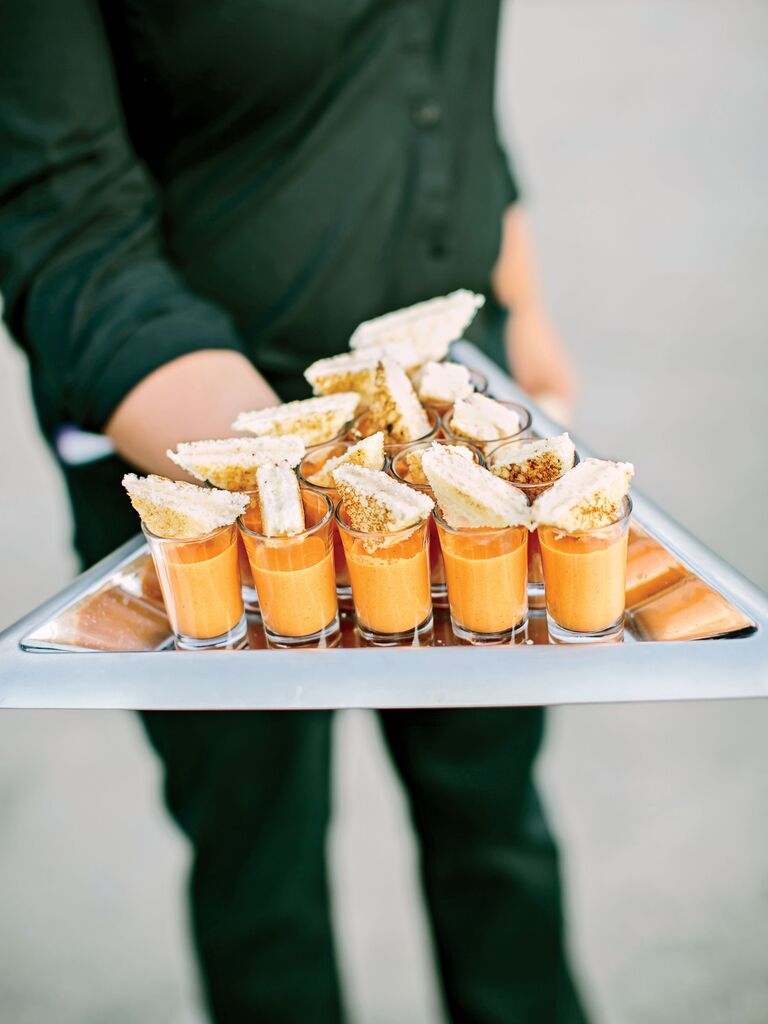 Guests will no doubt work up an appetite on the dance floor, so treat them to a second round of bites featuring your fave comfort foods. Casual menu items like mini sliders and grilled cheese triangles with tomato soup shooters will delight the crowd, and are a great way to cap off an evening of celebrating.
Make it yours:  Offer an oldie but goodie: pretzels. The salty treat is the new "it" snack, and even high-end caterers are getting in on the fun. The team at Abigail Kirsch in New York City serves them dangling from clear umbrellas—really! Package yours in wax paper sleeves so guests can easily tote them from the dance floor to the after-party.
Daring Displays
Give partygoers something to feast their eyes on with a wow-worthy display. "Clients are always looking for fresh ideas, and the more visual, the better," says Peter Callahan of Peter Callahan Catering in New York City—and the mastermind behind the apple tree. Get guests up and interacting with their surroundings with an especially memorable food moment. 
Make it yours: Work with vendors on an idea that marries charm with an activity, like picking apples off a faux tree or choosing a doughnut hung from a wall.
Locally Sourced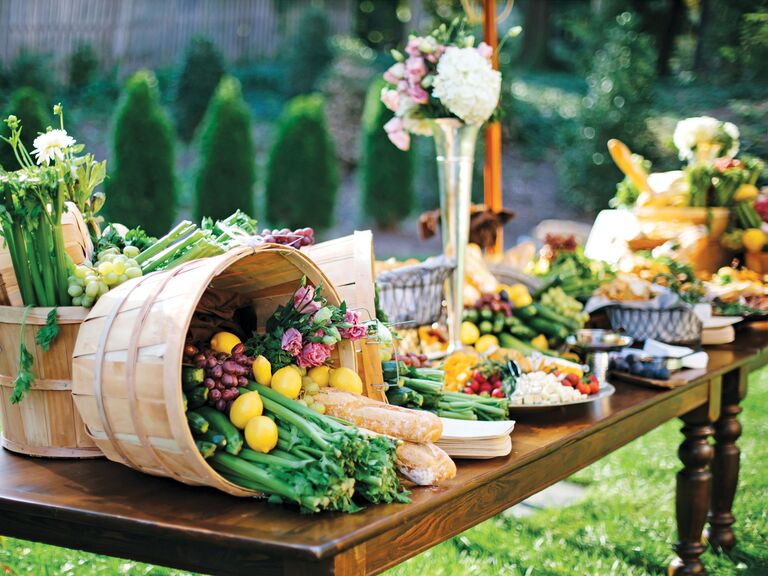 Center your meal around farm-to-table ingredients unique to your reception locale for a fun way to give loved ones a "tour" of the area with each bite. Not only can you trim down your catering costs by choosing local, in-season fruits and vegetables, you'll end up with dishes that are more flavorful—and colorful—too.
Make it yours: Go with an all-veggie menu. It's a gutsy choice, but when your picks are that fresh, even the most die-hard meat lovers won't miss their beef. Hire a caterer who specializes in veggie-based dishes—they'll be able to plan a meal that will leave guests satisfied.
Family Style
Instead of a buffet or plated dinner, serve the main meal family style (every table passes dishes among themselves) for a casual vibe that gets your guests interacting. Your reception will take on the effortless, relaxed feel of a dinner party, and guests can sample a bite of everything without having to choose one meal.
Make it yours: Get the best of both worlds with a "European" family-style spin. Every guest selects their main protein (like a traditional beef, chicken, fish or veggie dish), but the sides are passed around the table for sharing.
Specialty Bars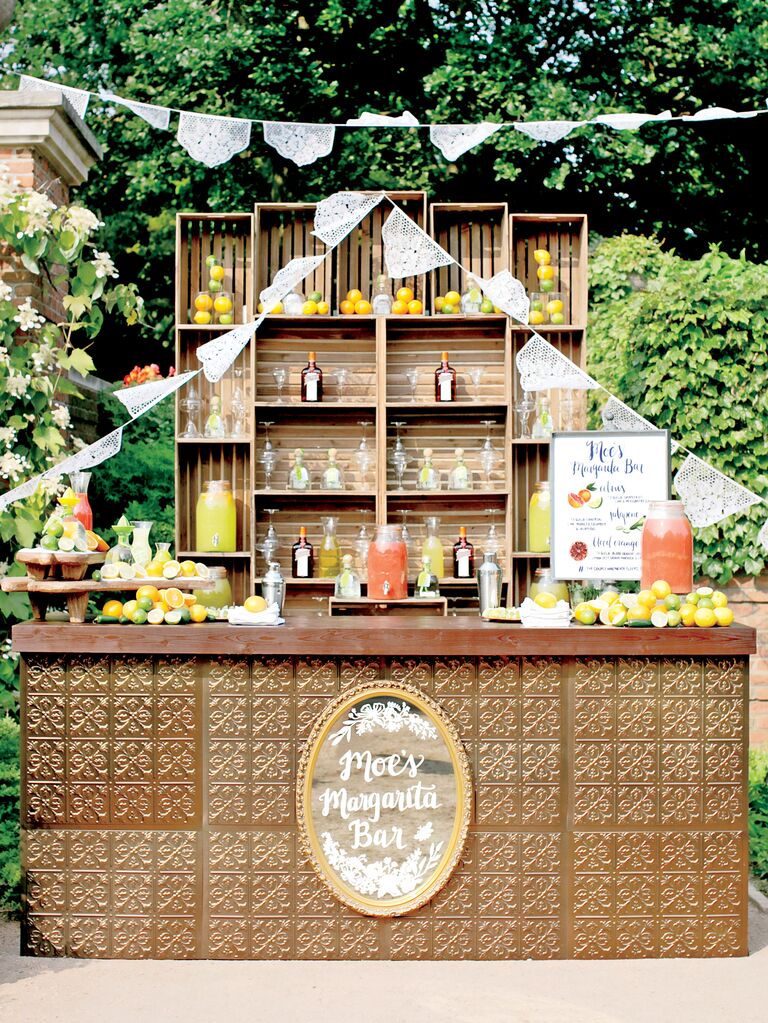 Take the signature cocktail to the next level by setting up a special spot at your reception (also known as a satellite bar) where you can serve a favorite brew or spirit, like whiskey, gin or trendy Aperol. Or hire a flair bartender to wow guests with some mixology magic.
Make it yours: Try a spin on fresh seasonal sips. The team at Paula LeDuc Fine Catering in California treats clients to what they call their From the Garden bar, which pairs popular spirits, like vodka and rum, with fresh herbs, edible flowers and house-made juice blends, like strawberry rhubarb and red bell pepper basil.
Foodie Favors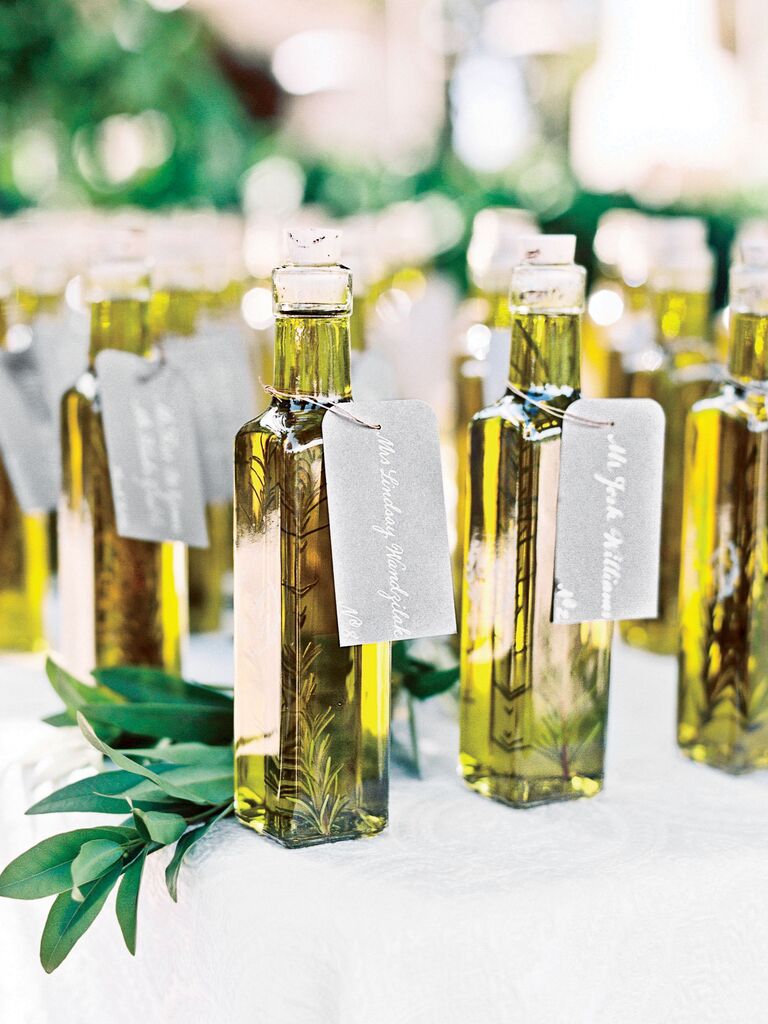 Edible gifts are one thing you can guarantee guests won't leave behind. Thank family and friends for celebrating with a beautifully packaged (and delicious) treat reminiscent of your reception locale. Luxe chocolates, fresh-baked cookies, homemade Limoncello, or regional olive oil and balsamic vinegar are all total crowd-pleasers.
Make it yours: Go for a breakfast theme with your food favors and pull together baskets of essentials, like jam and biscuits, tea or coffee, cinnamon buns, cereal bars and more. It's a thoughtful solution for guests leaving town early the next morning and perfect in lieu of a day-after brunch.
Dessert Swaps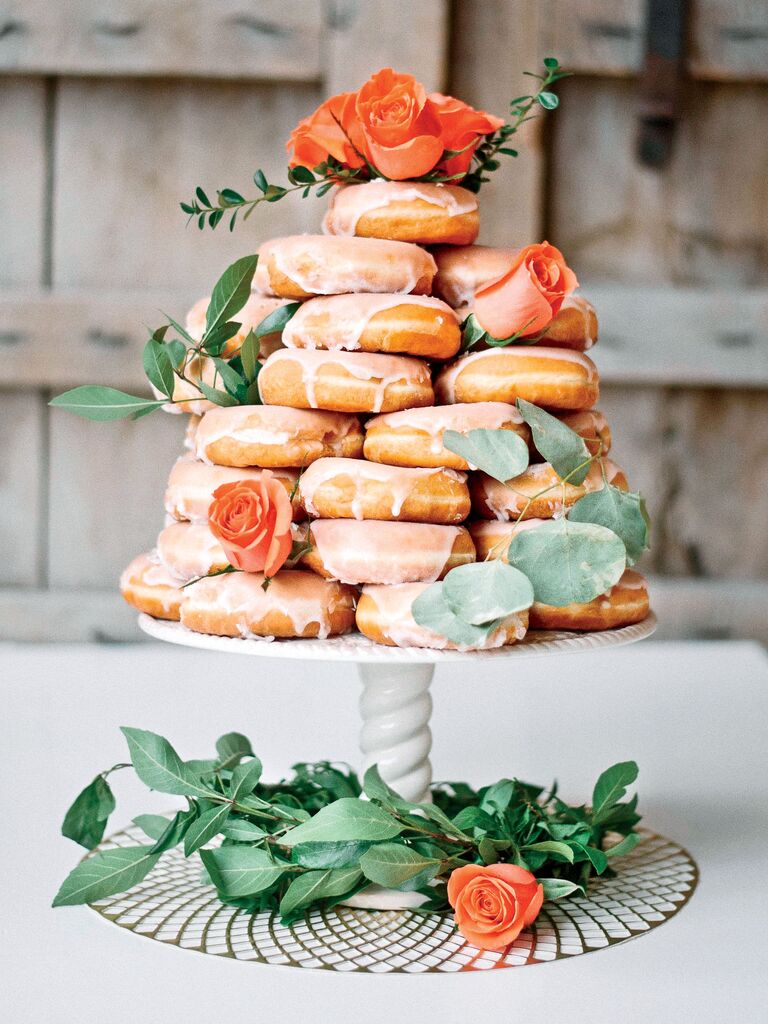 Cakes will always reign supreme, but more couples are supplementing traditional tiers with desserts in their favorite flavors. A variety of pies, a French-inspired croquembouche or a stack of doughnuts all satisfy a sweet tooth and feel unexpected.
Make it yours: Dish out treats like ice cream sandwiches, churros, crepes and more from food trucks for a playful dessert hour on wheels.
High-End Tastes
Lend a luxe feel to dinner with a multicourse (five or more) menu, complete with wine pairings. Complex flavors and intricate plating are surefire ways to impress your guests. "We've seen a trend toward artistic plating that offers a lot of white space for a clean, modern feel," says Alison Awerbuch, executive chef and partner at Abigail Kirsch.
Make it yours: Tasting menus are known for their unique dish names. Work with your caterer to dream up a fun, personalized menu as a tribute to you and your partner.
Kickoff Cocktails
Get the party started early by offering beverages before the ceremony while guests await your "I dos." Refreshing mixers or alcohol-free sips, like sweet tea, will set the mood for your reception and evoke a celebratory atmosphere.
Make it yours: Serve mini bottles of champagne (with pretty striped straws, of course) so guests can pop the cork and cheers when you're officially wed.
Cultural Cuisine
Celebrate your heritage with a menu that fuses both your cultures (think Indian cocktail hour meets Southern dinner). You could also pair each speciality with a beverage, like mini margs and tacos or hand rolls and sake.
Make it yours: The team at Paula LeDuc takes requests to re-create family-favorite recipes. Ask your caterer if they'll do the same, then surprise guests with grandma's legendary mac and cheese.
Roaming Dinner
Instead of a seated meal, offer guests a plethora of passed apps, filling small plates and interactive stations. "Our staff serves guests from barker trays that are tied behind their necks for a fun stadium feel," Awerbuch says.
Make it yours: Hire a few expert servers to interact with guests and delight them with everything from oyster shucking to mozzarella pulling on the go.