Tackling Wedding Dress Trunk Shows
Trunk shows can be a great opportunity to find your perfect wedding dress -- and maybe even meet the designer! Here's our know-it-all guide.
by Cindy Hobson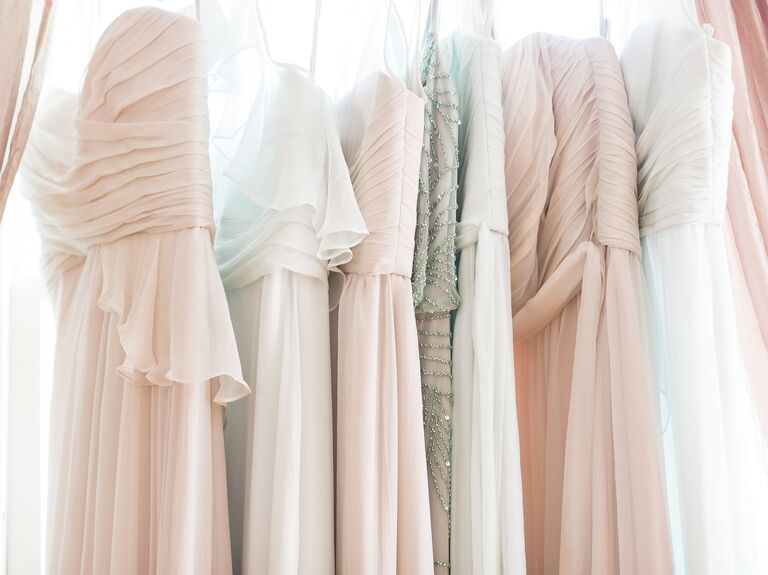 Kelsey DeWitt Photography
Attending a favorite designer's trunk show maximizes your chance of finding the dress of your dreams. Wondering how? We've got answers to all your questions.
What Is a Trunk Show?
It's a special event at which a wedding dress designer (or representative from the company) visits a bridal boutique on a set day with his or her entire line of new dresses. Brides schedule appointments to try on the dresses and meet with the designer.
Why Have Trunk Shows?
Since most bridal salons often only carry a few dresses from a select group of designers, trunk shows allow customers the opportunity to see and try on dresses that they wouldn't ordinarily see at that store. If you find a dress you like during a designer trunk show, ask if the store carries it. If it doesn't, find out which stores do or get ready to buy!
Who Benefits?
The bride benefits because she has the opportunity to talk to the actual designer, to discuss the gowns and any changes she may want to make to the one she's considering for herself. Designers benefit because they get to watch brides try on their gowns and listen to their comments. It's a great opportunity for them to learn directly from the consumer what they're doing right -- and wrong! The bridal salon benefits because it gets to show -- and possibly sell -- dresses that aren't part of its regular stock.
When Are They Held?
Call local bridal boutiques and department store bridal salons to see when and if there are trunk shows scheduled, and with which designers. Trunk shows are planned well in advance, so stores should be able to give you a list of dates. The shows last from one to three days, and appointments book up quickly. Call early!
Anything Else I Should Know?
Understand that a trunk show is not technically a sale. The dresses are not marked as discounted. But, most trunk shows do offer a discount for placing your order on the spot, sometimes up to 20%, so don't be shy about asking. Even if the salon doesn't offer a discount, the designer may throw in a few extras (buttons down the back, additional length on the sleeves or the train) without charging you more. This relatively small savings could make a big difference if you're working with a tight budget.